The VALORANT Champions Tour is Riot Games' first official attempt at a global circuit for stoking competitive VALORANT. Spawned out of the early success of the First Strike events, the Champions Tour is a year-long circuit of regional competition culminating in a Champions event to crown the first world champion.
For all things VALORANT Champions Tour, including the circuit structure, participating teams, scheduling, notable moments and more, we've created a comprehensive guide to keep you informed.
VALORANT Champions Tour format
The VALORANT Champions Tour will begin with the Challenger series of events, regional tournaments with an open qualification system. There will be three sets of Challenger events with three weekends each. The open qualifiers will produce eight teams to compete each weekend. The top four teams from the first weekend will bypass the open qualifiers for the second weekend. The top four from the second weekend will advance to the first Masters event while the bottom four bypass the third weekend's qualifiers. Finally, the top four from the third weekend will also advance to the first Masters.
For the first set of Masters events, each region hosts its own tournament. Eight teams from North America competed in a double-elimination bracket. Eight European teams used two GSL-format groups leading into a four-team single-elimination bracket, as did the eight Korean teams. Brazil used a basic single-elimination bracket. While all the regions use different formats, the VCT points breakdown is the same for all of them.
First place will earn 100 points, second place earns 70 points, and third and fourth each earn 45. The fifth and sixth place team will earn 20 points, and seventh and eighth will each earn 10. Masters Two will not be a series of regional events, but one big international event featuring 10 teams from around the world. No information on format or point distribution has been announced yet.
Teams that compete in the three Masters events will earn points toward qualifying to the world championship event, Champions. Additionally, the team that wins the final Masters event will qualify directly for Champions regardless of their points total. After that final Masters event, four Last Chance Qualifiers will produce the final four teams for Champions.
Here's the regional distribution of Champions teams:
Three teams from North America: two via circuit points and one via Last Chance Qualifier (Oceanic teams will have qualifications through NA)
Three teams from Europe: two via circuit points and one via Last Chance Qualifier (CIS, Turkey, and Middle East/North Africa teams will have qualifications through EU)
Two teams from Brazil via circuit points
One team from Latin America via circuit points
One team from Japan via circuit points
Two teams from Southeast Asia via circuit points
One team from Korea via circuit points
One team from Brazil-Latin America Last Chance Qualifier
One team from Japan-Southeast Asia-Korea Last Chance Qualifier
The winner of the Masters 3 event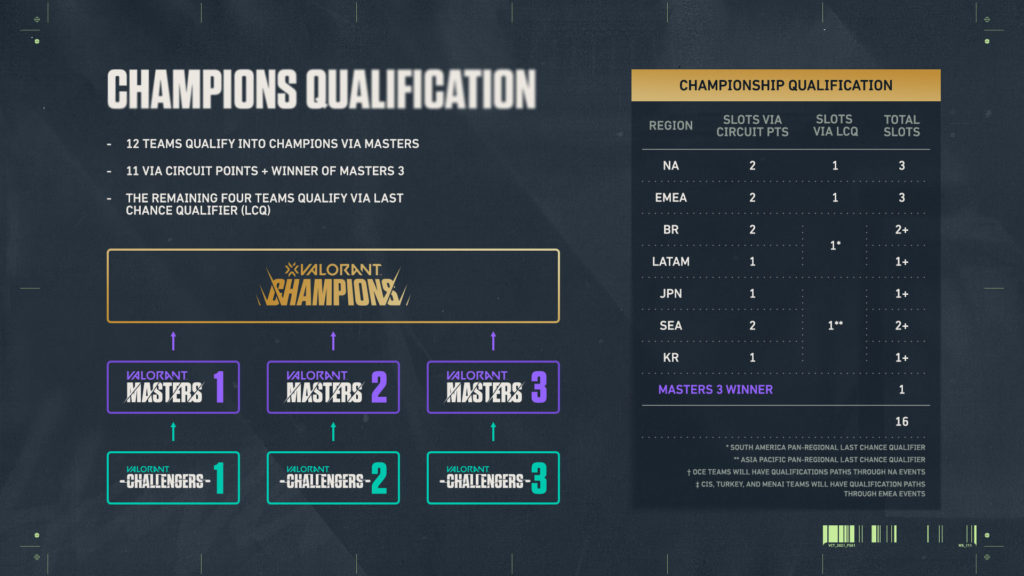 While the esports team at Riot hasn't given any specific details on the tournament format for specific events, it refers to the Champions event as its own "version of [League of Legends] Worlds." Will it proceed with a double-round robin group stage or will it go with a format that allows for more best-of-threes? We'll update this section when that information becomes available.
VALORANT Champions Tour schedule
The full schedule for the entire VALORANT Champions Tour is still tentative, as are most region's dates for Phase Three. The only set dates for upcoming VCT events are for Masters 2 in Reykjavik and Masters 3 in Berlin.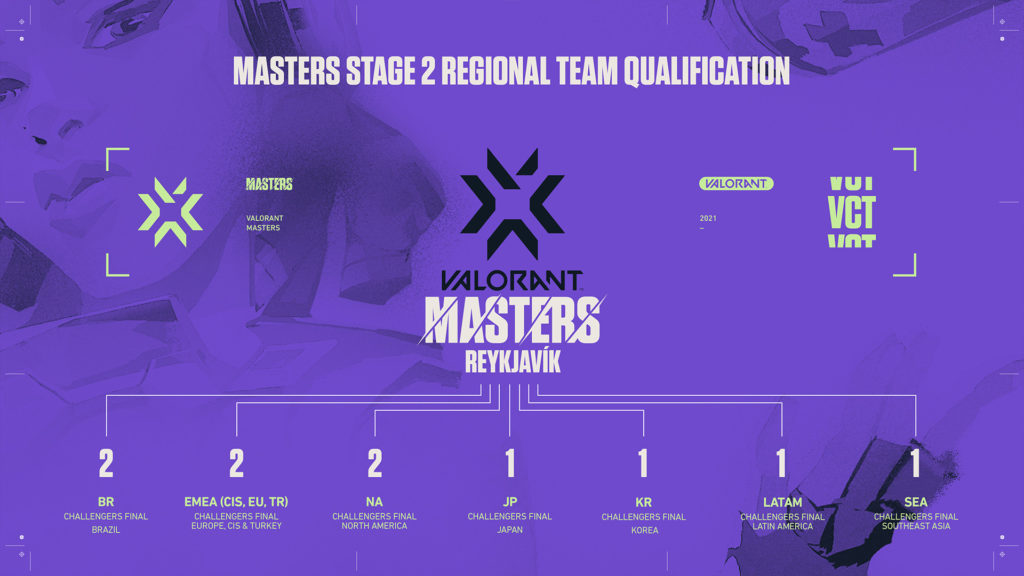 Masters 2 is scheduled to take place from May 24 to 30 in Reykjavík, Iceland after the conclusion of the League of Legends Mid-Season Invitational. Masters Three in Berlin is scheduled for Sept. 9 to 19.
VALORANT Champions Tour results
VCT Stage Two
North America
The open qualifier system has no regard for teams that ran deep at the first Masters. In the final round of open qualifiers for Challengers One, three of the top four at Masters fell shy of qualifying. Sentinels, FaZe Clan, and Gen.G all stumbled at the final hurdle. Four teams earned their spot at the Challengers Final via Challengers One: 100 Thieves, XSET, Team Envy, and Version1.
Challengers Two presented an opportunity for four more teams to book their ticket to the Challengers Final. At Challengers Two, Sentinels returned to their Masters One form, Cloud9 Blue continued to thrive after adding floppy, NRG rode the momentum of duelists Tex and ANDROID, and Andbox continue to rise after signing vice and mada.
At the North American Challengers Finals, Sentinels recovered and showed their early stumble was just a fluke, winning four straight series and only dropping three total maps to book their ticket to Iceland. After losing to Sentinels in the first round, Version1 went on an impressive run of their own in the lower bracket, winning four straight themselves to secure the second NA spot. They would fall to Sentinels again in the grand finals, but both teams now advance to Reykjavík.
Europe
For the second stage of VCT, Europe altered the format of their Challengers events, given they share a Challengers Final with the Turkish and the CIS regions. Both Europe's Challengers events would feature a single-elimination bracket, with the top two teams from each qualifying for the EMEA Challengers Final.
Both FunPlus Phoenix and Guild Esports locked in their Challengers Final spots, with FPX's 3-0 defeat over Guild in the Challengers One final serving as icing on the cake. Team Liquid and Fnatic both advanced to the Final after finishing up top at Challengers Two.
Both Liquid and Fnatic continued their impressive runs at the EMEA Challengers Finals. They both finished top of their groups with consecutive wins, then dominated their respective competition in the semifinals to earn their spot in Reykjavík. Between the two teams, they combined only lost one map before the grand finals. With their Masters spots secured, they both competed in a tremendous grand final series that went to five maps, with Liquid edging out the 3-2 win in the end.
Other regions' Stage Two results
Korea: NUTURN Gaming defeated DAMWON Gaming 3-0 (13-10 Bind, 13-11 Split, 13-11 Ascent) to advance to Masters Two.
Japan: Crazy Raccoon defeated Absolute JUPITER 3-1 (CR 13-3 Ascent, CR 13-5 Icebox, AJ 14-12 Bind, CR 15-13 Haven) to advance to Masters Two.
Southeast Asia: X10 Esports defeated FULL SENSE 3-1 (X10 13-6 Ascent, X10 13-10 Icebox, FS 15-13 Bind, X10 13-9 Haven) to advance to Masters Two.
Brazil and Latin America: Challengers Finals results TBD.
VCT Stage One
North America
In the second Challengers event, both Team Envy and Sentinels stole the show, looking like the two most dominant teams in Europe. XSET and Immortals joined them in qualifying for Masters One first. In Challengers Three, FaZe Clan came alive and decimated the competition, with no one able to generate an answer for their aggressive Smeag style. 100 Thieves, Luminosity, and Gen.G joined them in qualifying for the final four Masters spots.
At the first Masters event, all eyes were on two teams: Sentinels and FaZe. Sentinels needed to field a sub at the last minute and widely considered the best available option in Tyson "TenZ" Ngo on loan from C9. Fans also wanted to see if FaZe's Smeag style was sustainable. Sentinels surprised everyone with how fluently TenZ adapted to playing with the team and vice-versa, while FaZe continued to rampage through the competition.
It wasn't until the two teams met in the upper bracket final when Sentinels really demonstrated how good their team is, when they became to first to finally slow down FaZe, defeating them 2-0. They impressed even more in the grand finals, defeating FaZe again 3-0 to claim victory at Masters.
Europe
Alliance, Ninjas in Pyjamas, FunPlus Phoenix, and Team Heretics all qualified via Challengers Two. Challengers Three was a showcase for both new and smaller esports organizations, as Guild, DfuseTeam, Ballista Esports, and Acend all booked their ticket to Masters One.
The grand finals of EU Masters One came down to the dominant looking, First Strike champion Team Heretics taking on the rising roster of Acend. What took place was a tremendous, back-and-forth series that went to all five maps, with Acend sneaking out a win in the final round of regulation on map five, Ascent.
Other regions' Masters One results
Brazil: Team Vikings defeated Gamelanders 3-0 (13-9 Haven, 13-9 Bind, 13-11 Ascent)
Japan: Crazy Raccoon defeated Absolute JUPITER 3-0 (13-11 Bind, 13-4 Ascent, 13-5 Haven)
Korea: Vision Strikers defeated NUTURN Gaming 3-2 (NU 13-11 Bind, VS 13-2 Icebox, VS 13-6 Haven, NU 15-13 Split, VS 13-3 Ascent)
CIS: Gambit Esports defeated forZe 3-0 (13-7 Ascent, 13-10 Bind, 13-10 Split)
Turkey: Futbolist defeated BBL Esports 3-0 (16-14 Bind, 13-8 Split, 13-6 Ascent)
Latin America North: LDM Esports defeated LAZER 3-2 (LDM 13-7 Icebox, LDM 13-11 Bind, LAZ 13-6 Haven, LAZ 13-10 Ascent, LDM 13-4 Split)
Latin America South: Australs defeated Wygers Argentina 3-0 (13-5 Ascent, 13-5 Icebox, 13-5 Bind)
Southeast Asia: X10 Esports defeated Team SMG 3-2 (SMG 13-10 Icebox, X10 13-6 Bind, SMG 13-8 Split, X10 13-10 Ascent, X10 13-9 Haven)
VALORANT Champions Tour Points Leaderboard by region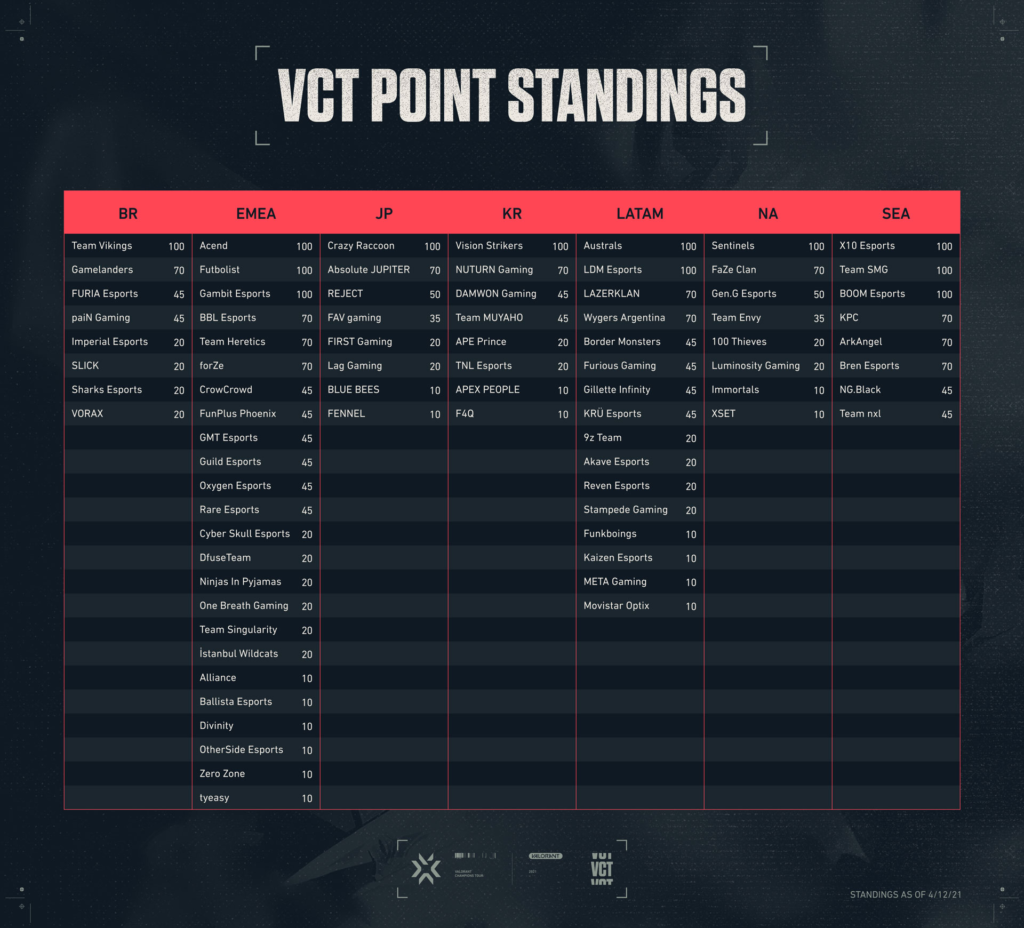 VALORANT Champions Tour teams to watch
The beauty of the open qualifier system is that virtually any team, whether they're a familiar face or a complete unknown, has a chance to make it as far as the wins can carry them. That being said, there are a number of dangerous teams that have been on fire as of late and would consider anything less than contention at Champions as a disappointment.
With regional events now on hiatus until the end of Masters Two, all eyes are on the competition in Reykjavík. Sentinels are considered one of the strongest teams in the world, let alone North America, and are poised to make a deep run. Version1, an unknown during the first VCT stage, is now on a hot streak and look to stay hot in Iceland. Both European teams have risen in form dramatically since each making a roster moves. Both NUTURN and Crazy Raccoon knocked off what was considered the consensus best team in each of their regions, and now look to carry that momentum into a strong international showing. X10 continue to dominate Southeast Asia, and look to now best represent a widely looked over region.
The teams not attending Masters 2 will have perhaps the longest break they've ever had between now and Stage 3. Several teams are already making moves, which you can track below.
VALORANT Champions Tour roster change tracker
We'll be tracking the major roster changes before and throughout the VALORANT Champions Tour. Our tracker begins at the start of December when First Strike ended.
May 2021
May 4: Team Heretics moves RUBINO to inactive roster.
May 3: TSM moves cutler to inactive roster
April 2021
March 2021
March 31: TSM adds brax as sixth member of roster.
March 30: OG adds Kuba as a stand-in, moves aKm to temporarily inactive roster.
March 29: Excel Esports announces full roster: davidp, B1GGY, Honeybee, Happy, Ale, coaches Jumpy and Fields.
March 28: Team Vitality signs JESMUND and LoWkii
March 27: Illuminar Gaming signs Chakalaka roster
March 26: Andbox signs vice and mada, move Rebo to inactive roster.
March 25: 100 Thieves releases Silenx after standing-in for Nitr0 in Challengers 1.
March 24: NRG sign tex.
March 23: Team Heretics temporarily moves niesoW to inactive roster.
March 21: Team Vitality moves M4CHINA and feqew to inactive roster.
March 20: TSM releases LunarKats from women's roster, adds ARIANARCHIST on trial.
March 17: TSM announces women's VALORANT roster: cath, athxna, LunarKats, Zoessie, mle.
March 16: Cloud9 parts ways with vice.
March 15: CLG Red enters VALORANT, adds bENITA as captain.
March 12: Cloud9 White adds Keiti after successful trial.
March 10: Sentinels and Riot suspend sinatraa after allegations of sexual abuse. Tyson "TenZ" Ngo will compete in his place NA Masters One on loan from Cloud9.
March 8: Excel Esports adds Davidp from G2 Esports.
March 3: Equinox releases entire roster of cute fat boy, Paincakes, tex, mina, and DXN.
February 2021
January 2021
December 2020
---
Make sure to follow us on YouTube for more esports news and analysis.