Fortnite: Battle Royale players have just gotten a new set of free challenges to enjoy this summer.
The 14 Days of Summer event has started, and it will bring new challenges and daily rewards to all players, regardless if they have the season nine Battle Pass. Epic Games will reveal a new challenge daily with its own reward, and players who finish off all challenges can unlock the Smoothie back bling by the end of the event.
All challenges from 14 Days of Summer are related to this time of the year. Although it's only summer in the upper half of the world, players who are freezing in winter can get a bit warmer with the beach vibe of the Fortnite island.
Data miners have found all of the challenges that are coming as part of 14 Days of Summer. Although Epic hasn't confirmed them, these data miners are reliable and are usually right when they leak that kind of information. The list below shows all the challenges leaked by ShiinaBR.
Here's the full list of 14 Days of Summer challenges and rewards already available in the game. Click on the links to be redirected to our guide for that specific challenge.
Day 14
The final 14 Days of Summer challenge asks players to destroy grills with the Low 'N Slow pickaxe.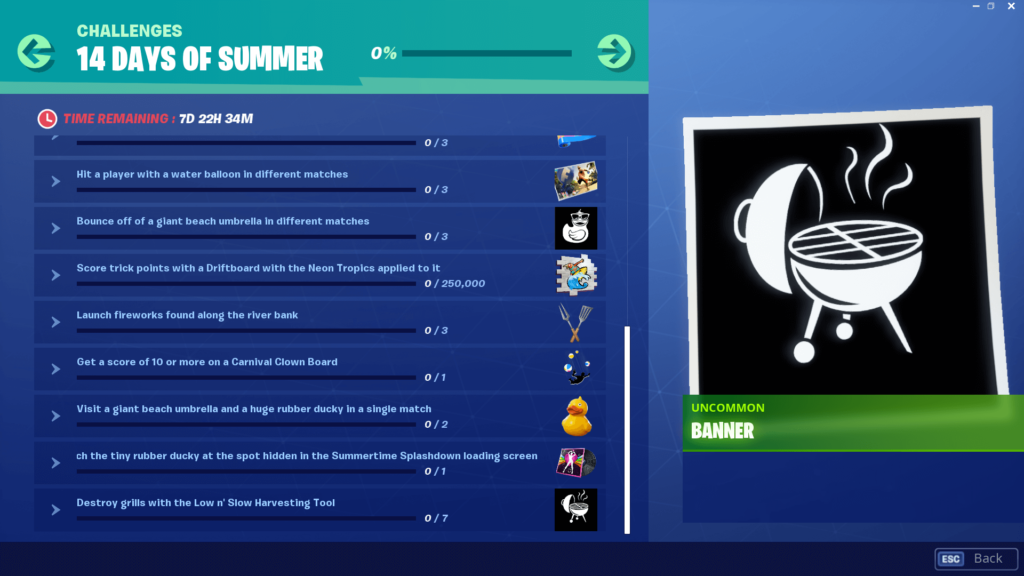 Day 13
This challenge asks players to "search the tiny rubber ducky at the spot hidden in the Summertime Splashdown loading screen." You'll earn the Sparkles music as a reward for completing this task.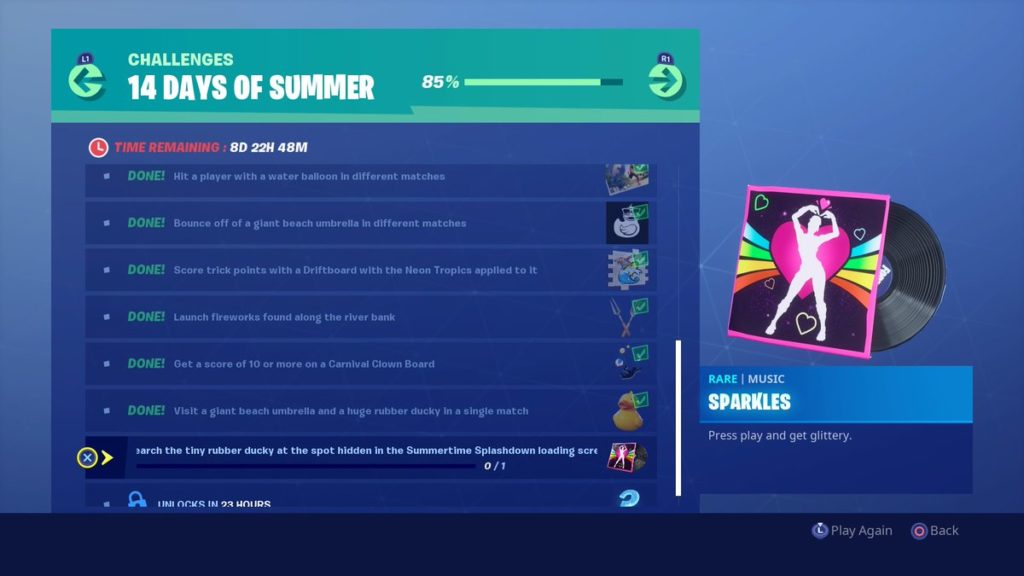 Day 12
For this challenge, you'll need to visit a giant beach umbrella and a huge rubber ducky in the same match. Once you do this, you'll be rewarded with the Quack Pack back bling.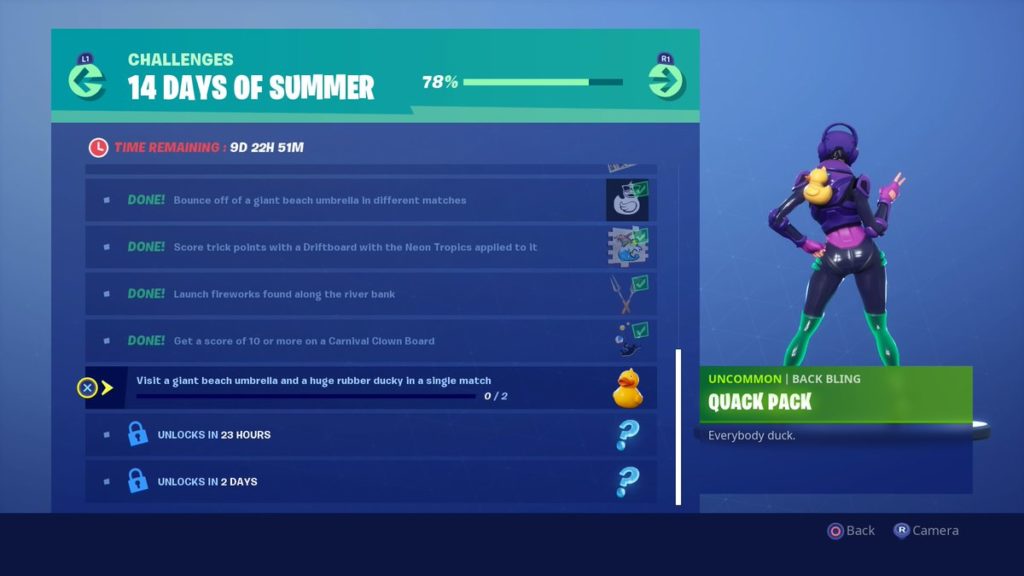 Day 11
Find carnival clown boards and score 10 points or more on them to complete the day 11 challenge. You'll get the Beachballs contrail as a reward.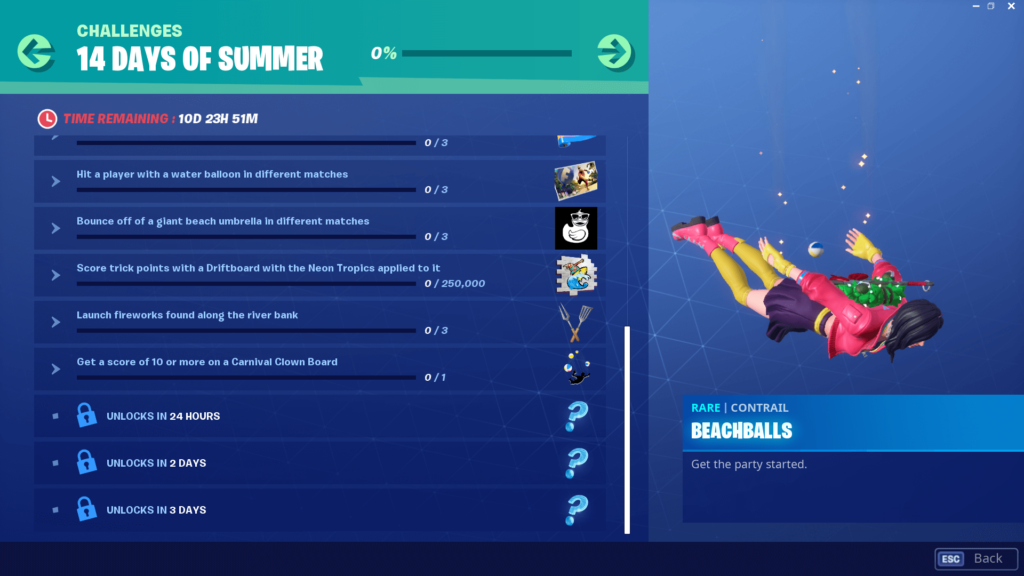 Day 10
You must find fireworks along the river bank to complete this challenge. Doing so will reward you with the Low 'N Slow pickaxe.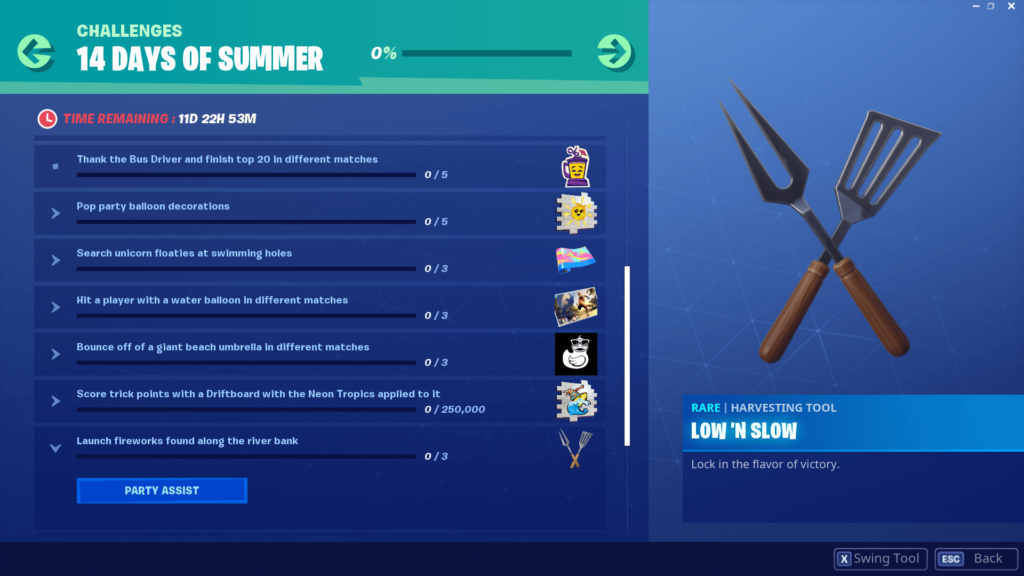 Day nine
Players need to score 250,000 trick points with a Driftboard with the Neon Tropics wrap applied to it to complete this challenge. They'll get the Surfstick spray as a reward.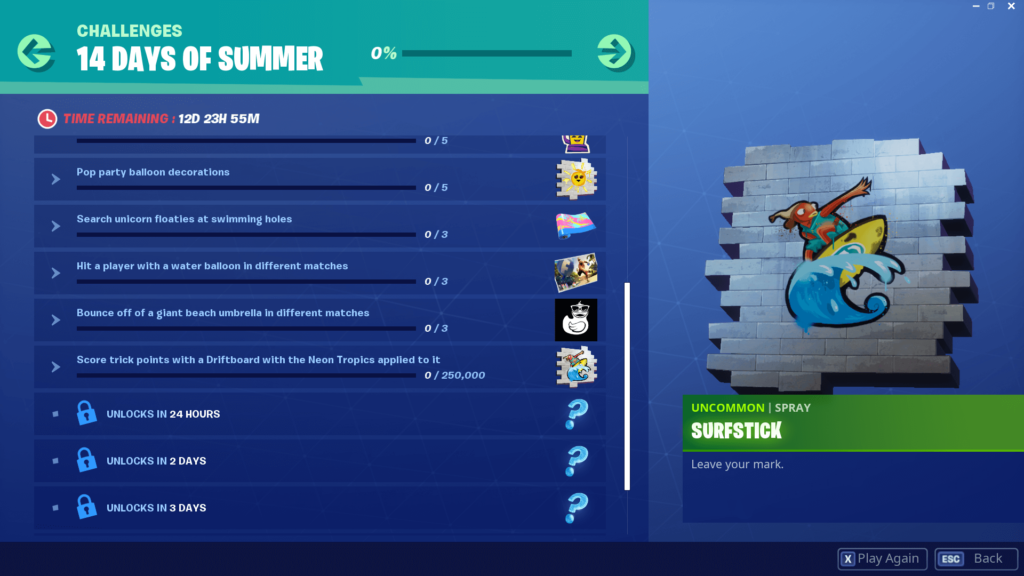 Day eight
You need to bounce off of a giant beach umbrella in three different matches for this challenge. When you do so, you'll get an uncommon banner as a reward.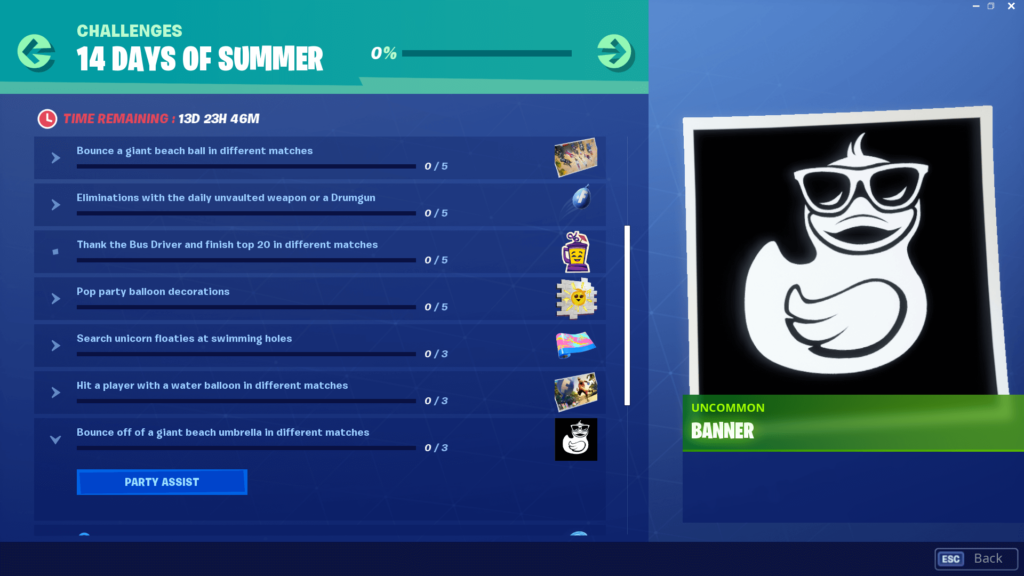 Day seven
Players must hit others with a water balloon in three different matches. Doing so will unlock the Summertime Splashdown Loading Screen.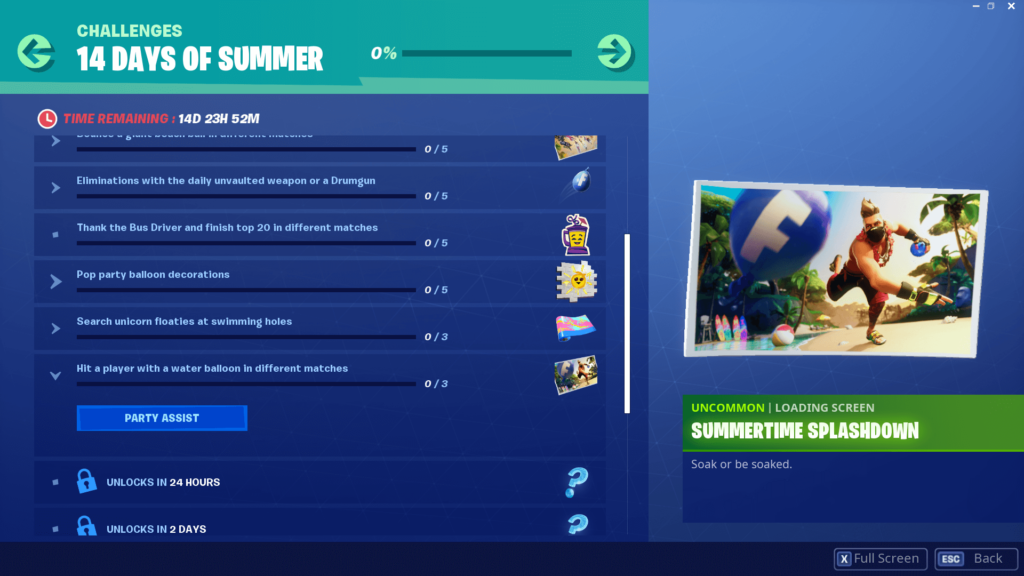 Day six
This challenge tasks players with searching three different unicorn floaties at swimming holes. The reward for this is an uncommon wrap called Neon Tropics.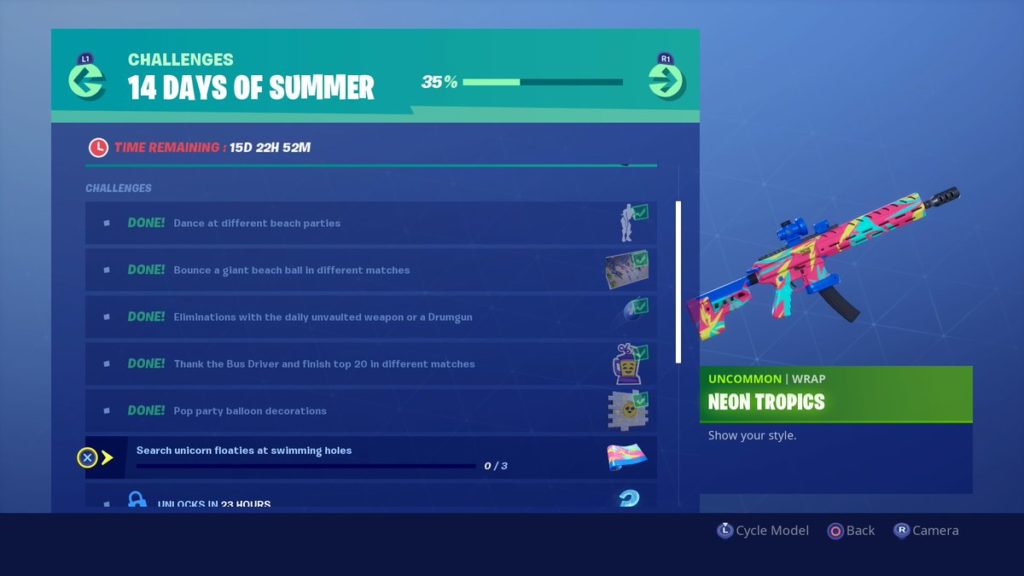 Day five
The fifth challenge for this event asks you to pop five party balloon decorations. If you do this, you'll be rewarded with the Sunny spray.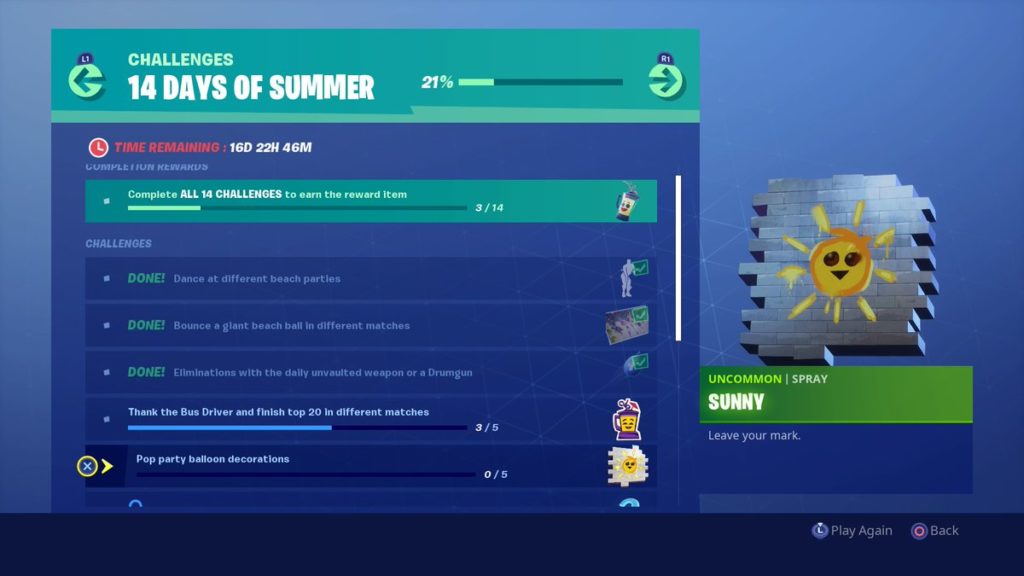 Day four
This time, you'll have to thank the Bus Driver and finish Top 20 in different matches five times. You'll get the Perfect Blend emoji as a reward.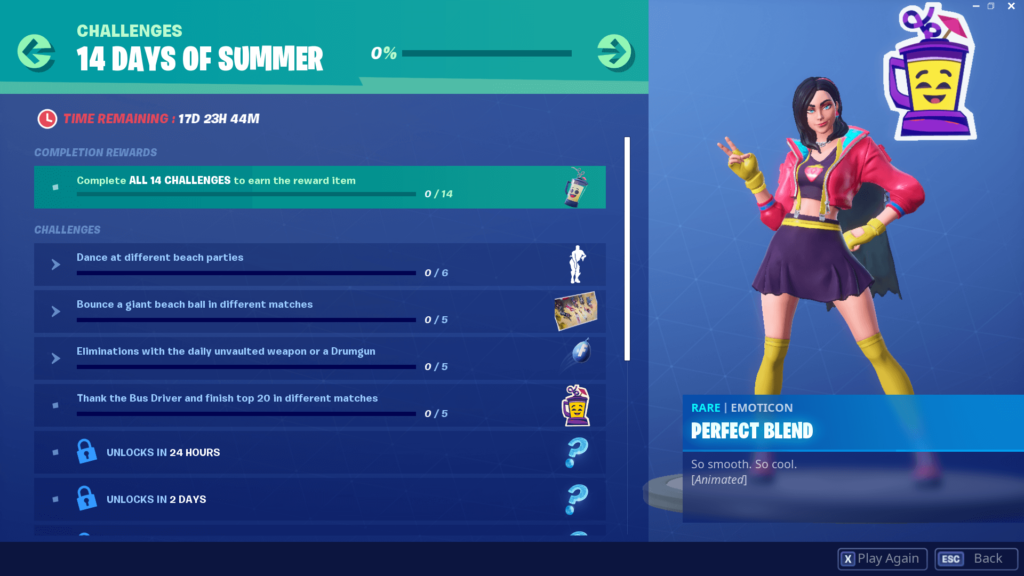 Day three
Day three will ask you to get five eliminations with the daily unvaulted weapon or a Drum Gun. Completing it will give you a rare toy, Water Balloon.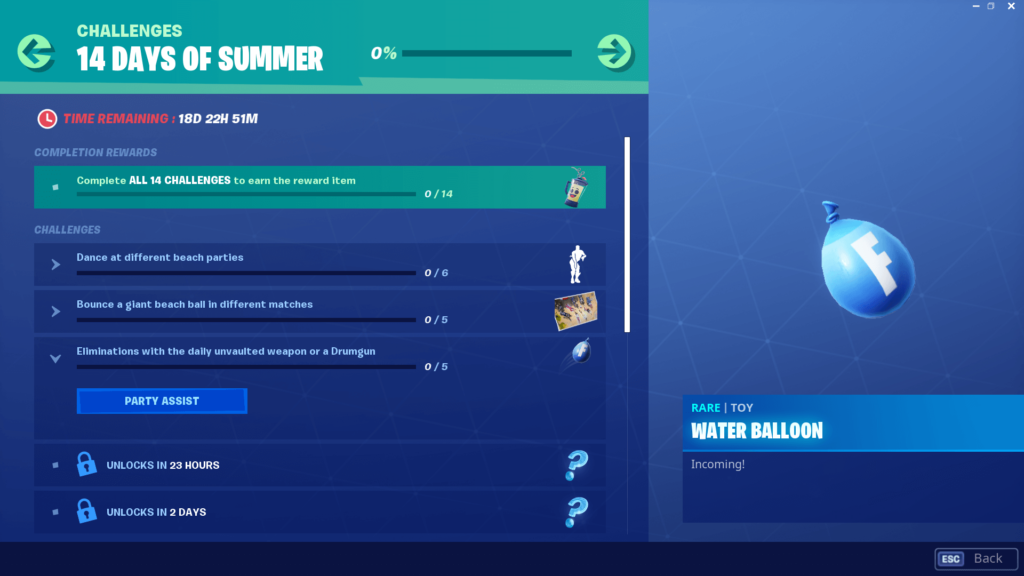 Day two
This challenge will send players looking for giant beach balls to bounce in five different matches. It will unlock the Soak it Up loading screen for those who complete it.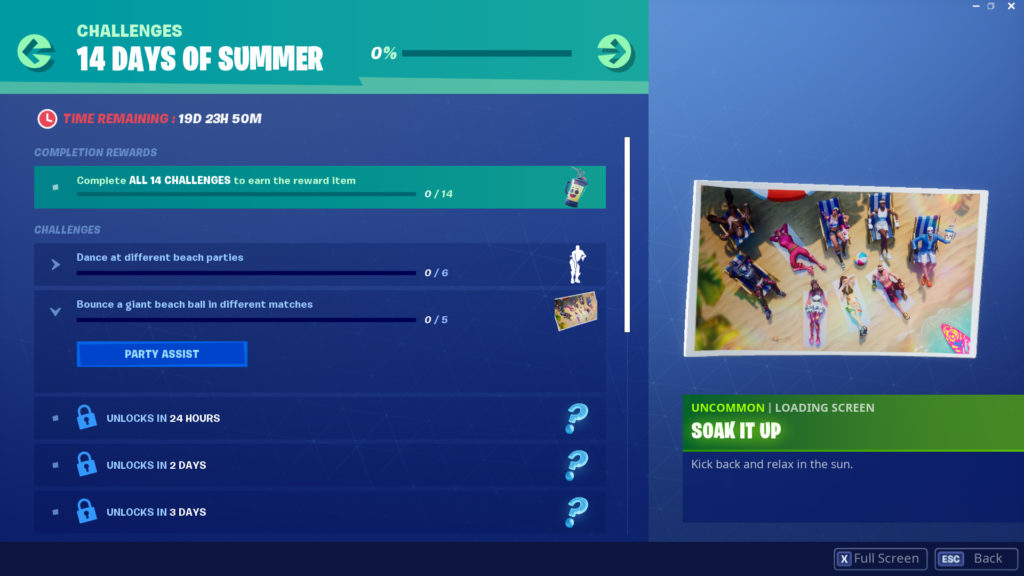 Day one
The first challenge asks players to dance at different beach parties. Completing it lets players unlock the Deep End emote.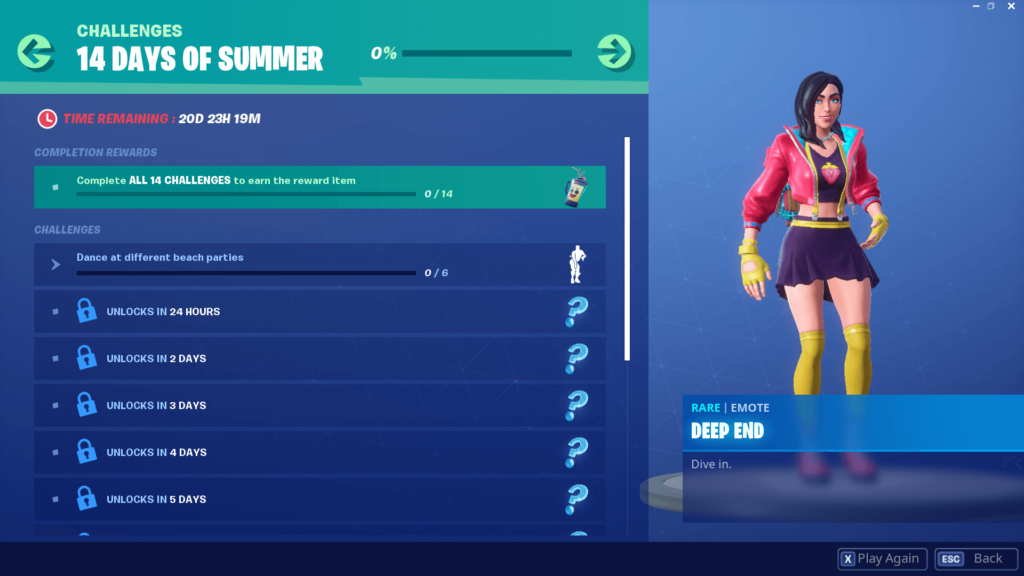 We'll update this story as Epic releases more challenges.