Free Fire's newest update, Project Cobra, was officially dropped today and Garena released the patch notes in a blog post. Players are already able to download the OB26 update on the battle royale's app.
During Project Cobra, the Bermuda Remastered map will be brought back to different Free Fire modes. The map was introduced on Jan. 1 and temporarily removed on Jan. 17 for updates.
Related: Free Fire reveals collab with Attack on Titan
One of the features of the update is the new character, Shirou, who shows his strength in many Cobra effects that become more impressive and powerful. Garena also revealed that a new character named Skyler, inspired by Vietnamese singer Son Tung M-TP, will become available soon.
Free Fire's Clash Squad mode is also getting a new season starting today that goes until April 14. Players who rank up to Gold III or higher will receive a Golden MP5 as the season's exclusive item reward. The game mode will also have map-based stores that will bring more weapons to players. Finally, a new mystery box was added to Clash Squad's casual mode.
In the battle royale mode, Project Cobra brought a new UAV-Lite so players can scan the surroundings for enemies, a new war chest item to make looting easier, a revival card and revival point items that allow players to be redeployed in casual mode, and a vending machine update.
Free Fire's training grounds also received two updates. In terms of map and graphics updates, the mode now has a new island, features, mini-games, and a race track. There was also a training grounds store update that's brought new items such as the Fancy Hammer and Giant Dice.
A new gun called the MAG-7 is being introduced with Project Cobra. The shotgun has a high rate of fire and promises to be great in short-range combat.
Many weapons were also balanced with the new update. The Vector will have its damage and range reduced so players have more time to react to it. The M1014 had its damage increased to make it more competitive, while the M1887 and PARAFAL had their ranges decreased. The Woodpecker and the SVD had their ranges reduced, the UMP received more armor penetration, the M249 now has increased movement speed, and the Groza had its rate of fire and damage increased.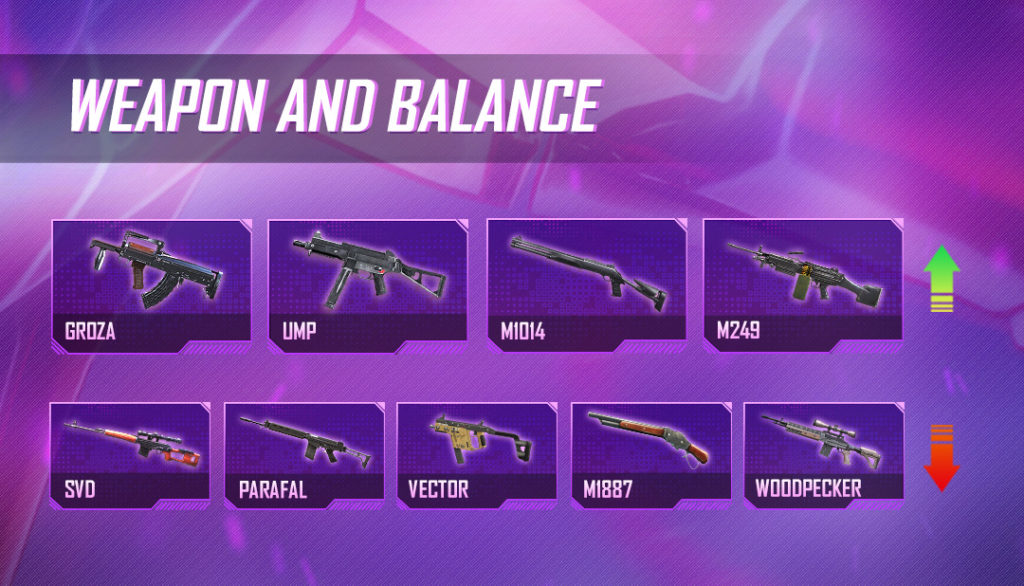 Finally, Garena is making updates to Free Fire's social system and has introduced a Dynamic Duo, which is a series of milestones and achievements that players can unlock together by purchasing the Golden Vow.
More information can be found in the official blog post.