A full rundown of the upcoming Magic: The Gathering Standard-legal set for Arena was revealed in the July State of the Game by Wizards of the Coast today, along with mobile improvements and what's coming in the future.
Scheduled to release digitally on July 8 via Magic Online and MTG Arena, the Dungeons & Dragons: Adventures in the Forgotten Realms (AFR) spoilers have revealed massive amounts of flavor and new mechanics. The upcoming Standard-legal set replaces the traditional Core Set that drops every year prior to fall rotation. Players on MTG Arena will also get a chance to grab alternative art bling from AFR with its release on July 8. 
Here are the July MTG Arena State of the Game notes from WotC.
AFR dungeons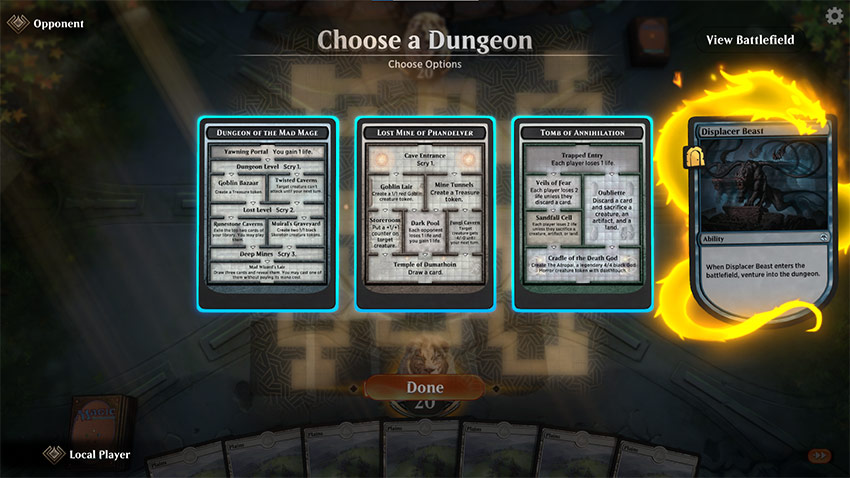 Dungeons have arrived in Magic via a new mechanic called Venture. There are three dungeons in total: Dungeon of the Mad Mage, Tomb of Annihilation, and Lost Mine of Phandelver.  The dungeons don't go into a player's deck or sideboard, starting outside the game instead. 
Related: How to Venture MTG dungeons in Forgotten Realms
When a player uses the Venture mechanic for the first time, all three dungeons will appear, allowing players to pick their dungeon of choice. Once in a dungeon, room options will get highlighted in MTG Arena, allowing players to choose their path through the dungeon. 
Right-clicking on a dungeon card within MTG Arena will reveal additional information and flip through the dungeon's options. Players can also hover over an AFR dungeon card on PC.
AFR dragons
Sticking with the D&D flavor of the AFR set, dragons are also featured in a variety of rarities. Players can grab a dragon pet within MTG Arena when the set launches on July 8.
Related: AFR spoilers reveal 5 MTG dragons at each rarity
AFR flavor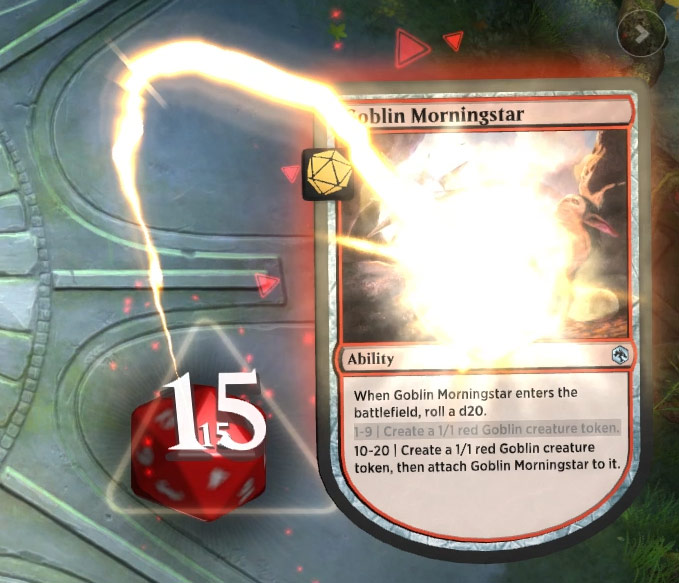 The upcoming AFR set contains massive amounts of D&D flavor, including flavor text on basic lands. WotC carried this flavor over to MTG Arena by "tweaking their presentation." Cards that don't have rules text will show the flavor text instead. 
Flavor words are another way WotC has packed D&D into the set. These flavor words are in front of abilities on AFR cards. They don't have "any mechanical impact," according to WotC, as the abilities on the cards would normally exist anyway.
D20 roll
In addition to the Venture mechanic, the AFR set contains a variable effect on the results of rolling a d20 die. All die rolling is handled by MTG Arena. Multiple types of cards contain the d20 mechanic, from creatures to artifacts.
Mobile improvements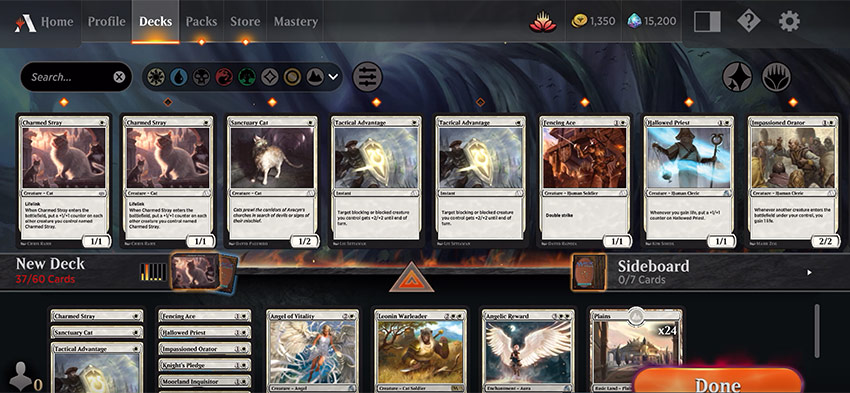 The horizontal deck builder in MTG Arena will begin working on mobile with the release of AFR on July 8. An interface was also implemented for adding and removing Magic cards from the horizontal deck builder in Constructed modes. 
Clicking on a MTG card will bring up the interface that allows players to add or remove a card. PC players can drag the card out of the deck as a shortcut, removing all copies. The interface is mostly for normal Constructed mode. It only works on lands in Limited and Singleton events.
Other mobile improvements that will take place with the AFR release include going full control mode via holding the avatar or phase ladder, an increase of in-hand card size when drafting on a tablet, and an "Add Lands" tech for 100-card decks.  
Future of MTG Arena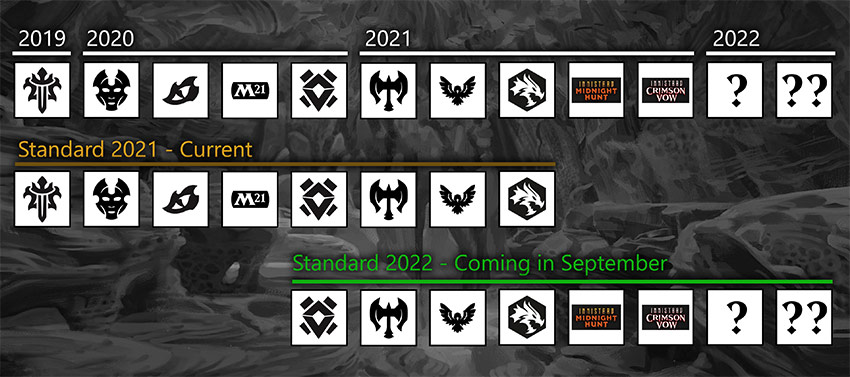 With the return of local game store events, WotC is updating the FNM at Home event in MTG Arena. Instead of taking place on Fridays, the FNM at Home event will take place on Tuesdays and Wednesdays, becoming the Midweek Magic event. The FNM structure for the event will remain the same and players will still be able to contact a local game store for a code. The first Midweek Magic event will start on July 13. 
Work on incorporating the Pioneer format into MTG Arena has been put on hold, according to WotC. This includes Pioneer Masters sets. WotC still has "a solid plan" for Pioneer Masters but will instead focus on expanding the Historic format in other ways for the time being. 
Players can get ready for fall rotation with the addition of Standard 2022 Play and Standard 2022 Ranked best-of-one queues that are being added to MTG Arena on July 8. More information on fall rotation will drop later in July.