Finding a compact desk to suit your needs is a tall order. There are many limiting factors to consider, and picking a desk just because it is small won't guarantee you a comfortable gaming experience.
Factoring in the number of compartments that will help clear desktop space is crucial. Small gaming desks that offer you excellent cable management and additional space-saving features are also desirable. A compact gaming desk should provide comfort in the tightest of spaces.
Below are some of the best gaming desks for small spaces that provide you with these features.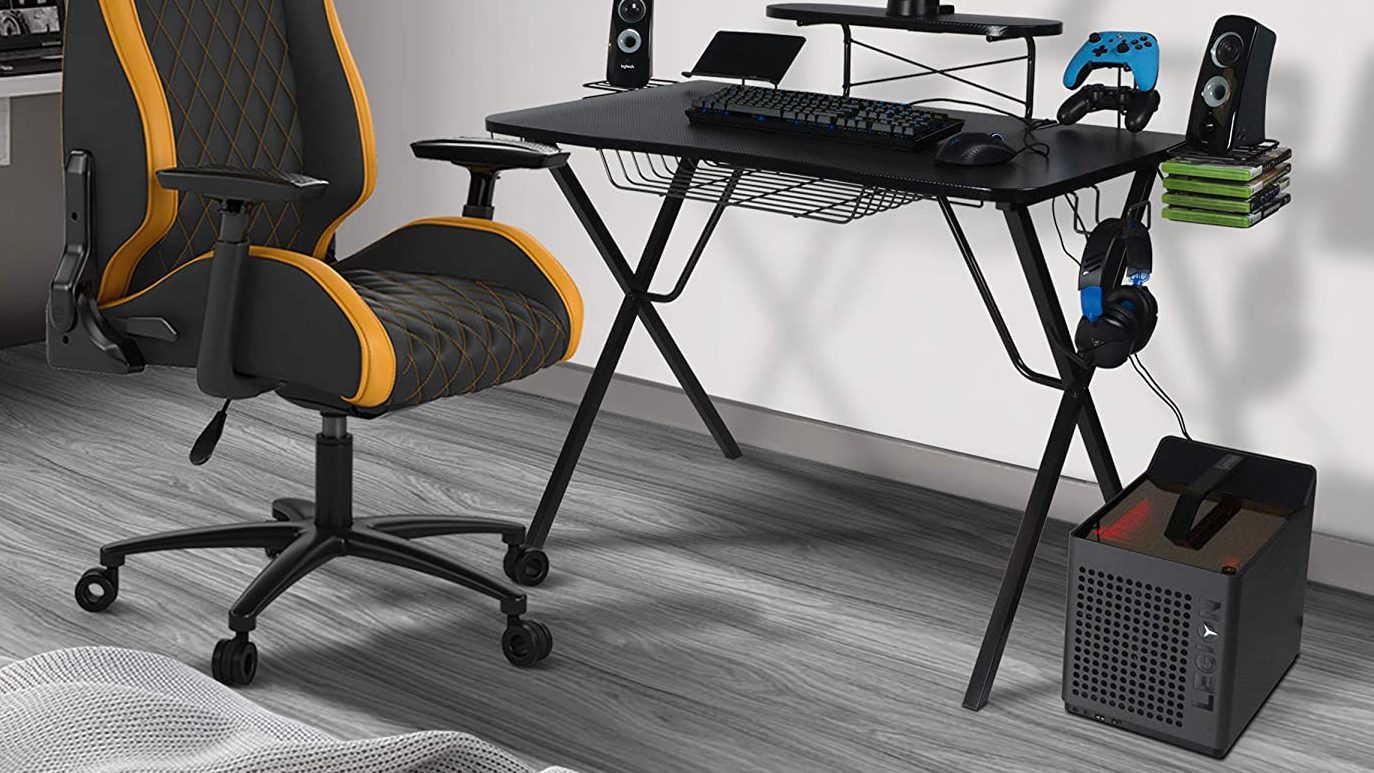 Featuring a 40.25-by-23.5-inch top, the Atlantic Original Gaming desk offers you ample space for your gaming gear. The expansive design accommodates a multi-monitor setup perfect for multitaskers or streamers with little room to spare. It has speaker stands with under-mounted gaming storage. The inbuilt cable management keeps cables away from your feet and makes a setup look tidy.
It boasts of a sturdy steel leg construction to accommodate massive weights up to 88 pounds. The Atlantic Original Gaming Desk can hold several gaming monitors, your headphones, speakers, and other items without any worries. Its charging stand is ideal for gaming tablets or phones. Since it accommodates your phone, you can quickly respond to messages or calls without reaching into your pockets.
The rounded edges and curved front provide comfort to your hands, allowing strain-free maneuvers. Its headset hook offers quick access to your headphones or VR headset. Additionally, the Atlantic Original comes with an under-mounted basket for your most essential items. This basket allows you to clear the clutter from the desktop.
The elevated shelf stand accommodates a 32-inch monitor. This monitor shelf gives you more space on the desk to store your gaming necessities. Finally, the cup holder keeps beverages close to avoid lengthy game pauses when you need to grab a drink.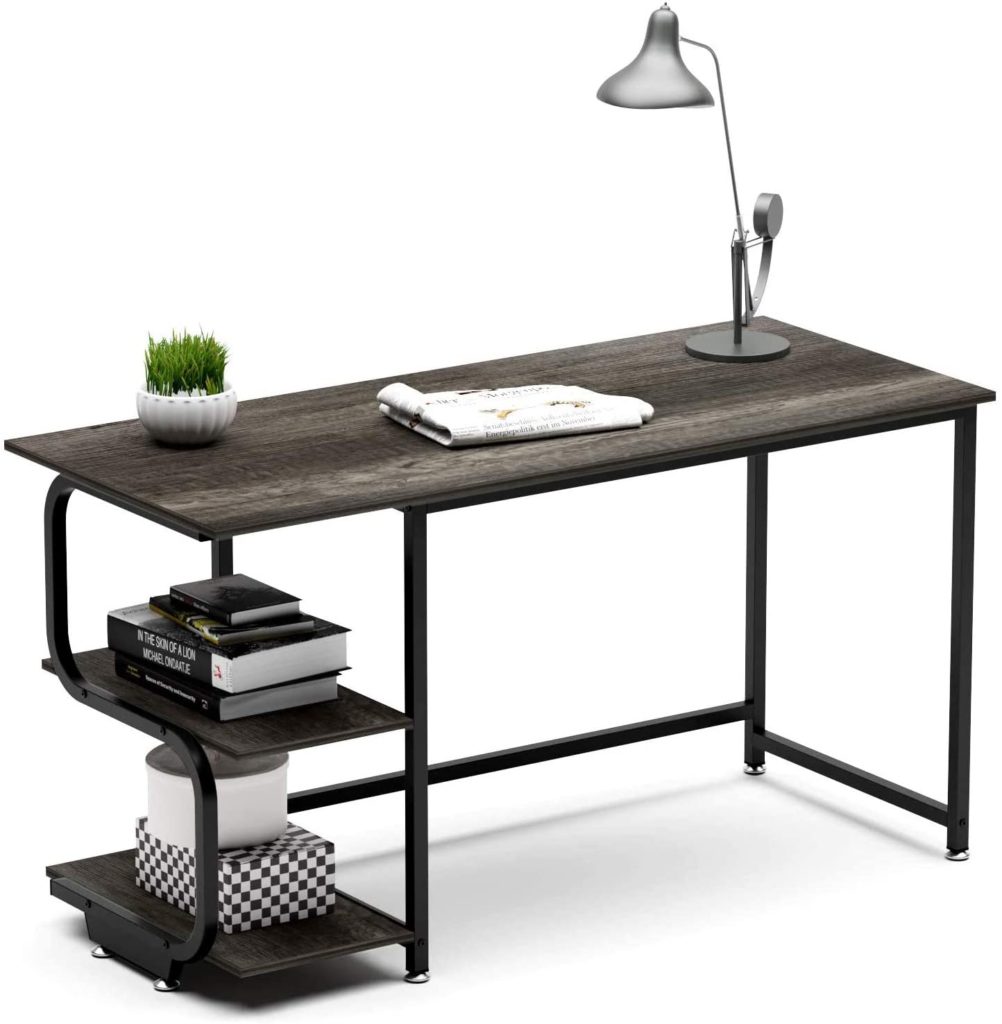 With two-tier shelving, this Teraves reversible desk offers ample storage. These shelves are perfect for gaming consoles, headphones, and other devices. The adjustable legs allow you to set the ideal height for gaming and level out the desk on uneven floors and carpets.
As a reversible desk, the Teraves desk offers users flexibility in how they position the desk. The reversible design allows you to place the shelves to your left or right to fit your gaming needs. Users should be able to squeeze several monitors on the 47-by-23-inch desktop. The top is made from P2-grade particleboard, which cuts down the weight of the desk.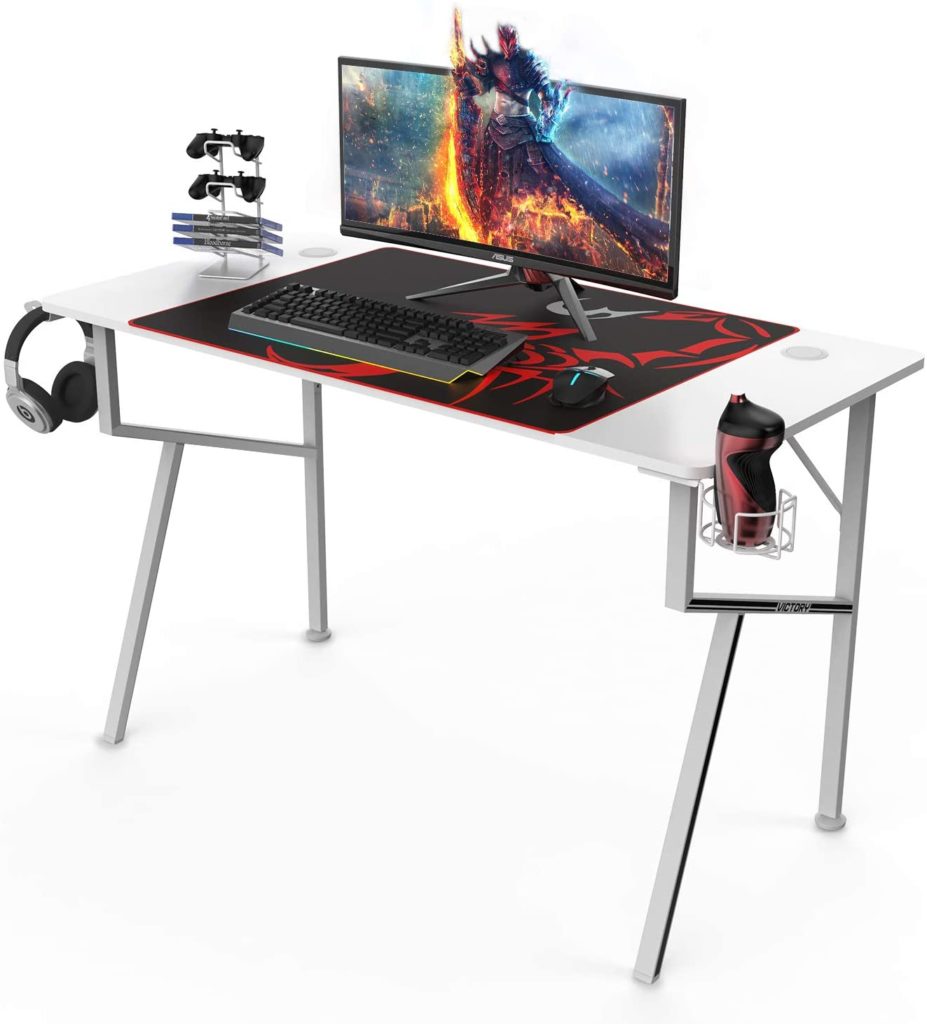 The Designa gaming desk's 47-inch top provides adequate space for a large monitor like the 43-inch ViewSonic VX4380-4K. The desk's headset hook offers a convenient way to store your headphones. With the integrated cup holder, you won't have to get up in the middle of gaming to grab a drink or worry about leaving a ring of water on the desk.
The included controller rack accommodates two gamepads and three games. This ensures secure storage and provides more desk space. Designa's gaming desk also uses steel legs and has two balance bars to minimize desk movement. The adjustable leg pads help this desk stay in place on uneven surfaces. As a bonus, it also ships with a mousepad.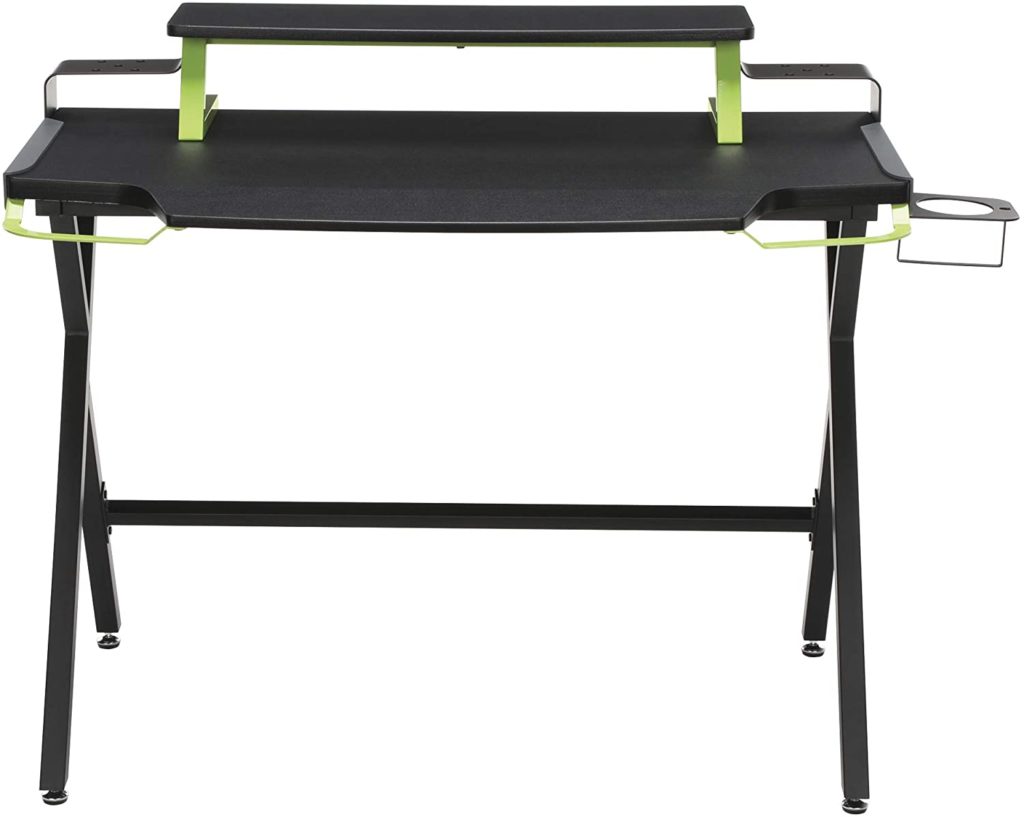 The RESPAWN 1000 comes with a monitor stand to raise your monitor to eye level. The included monitor stand provides a comfortable viewing angle and may help prevent back and neck pain after long gaming sessions. Also, the stand offers more space for your gaming essentials. The front support is great for resting your feet, while the beveled front edge provides comfortable forearm support.
Respawn's 1000 desk supports up to 200 pounds. Its adjustable glides make this desk suitable for uneven surfaces. Additionally, it features a cup holder that allows you to have your drink within reach without taking up additional desk space. The headset holder secures your headphones when not in use, giving you a bit more elbow room. The built-in speaker shelves also help clear clutter from the desktop for unobstructed gaming.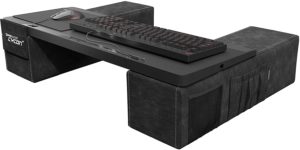 If you are looking for a gaming desk suitable for gaming on a large TV or in a shared space, Couchmaster's CYCON² is a perfect choice. Unlike a traditional gaming desk, the CYCON² allows you to relax on the couch. At just 9.24 pounds, the CYCON² weighs significantly less than a traditional desk, making it easy to take this desk from room to room.
The CYCON² features six USB 3.0 ports for your mouse, gamepad, keyboard, headset, tablet, and smartphone. The included USB 3.0 ports allow for the same level of accessibility you'd have at a traditional desk with your PC close at hand. Couchmaster's desk also has a cable management system with magnetic flaps for secure storage. The magnetic flaps keep cables out of your way, making it an excellent selection for a comfortable gaming experience.
The desk also comes with a power cable that connects to your PC providing ample supply for demanding devices. Couchmaster's CYCON² features memory foam padding to be gentle to your thighs. At 23 inches by 32 inches, it's one of the smallest gaming desks out there. Its compact size allows for easy storage when not in use. Additionally, buyers will also be saving money and space since this desk eliminates the need for a gaming chair.
This article includes affiliate links, which may provide small compensation to Dot Esports.