The best Teamfight Tactics players from Oceania and North American regions competed over the course of two days for a seat at the first Galaxies Championship.
Only two TFT players out of the total 24 competing at the OCENA Qualifier Finals would advance to the Galaxies Championship. Following numerous qualifiers over the course of 12 weeks, 24 players competed on Aug. 14 to 15. A full list of competitors from the regions, and how they qualified, can be found here.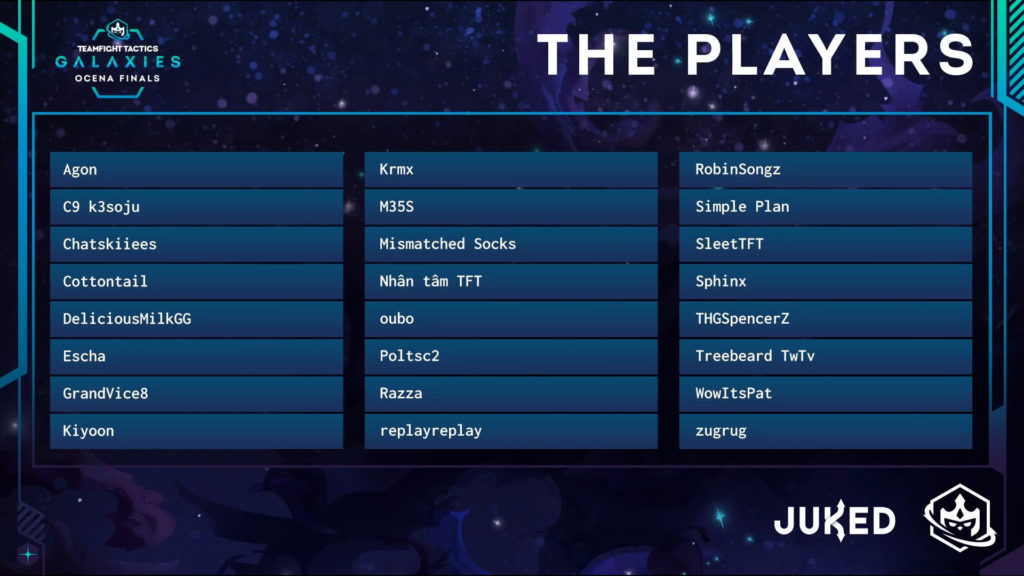 Day one, Aug. 24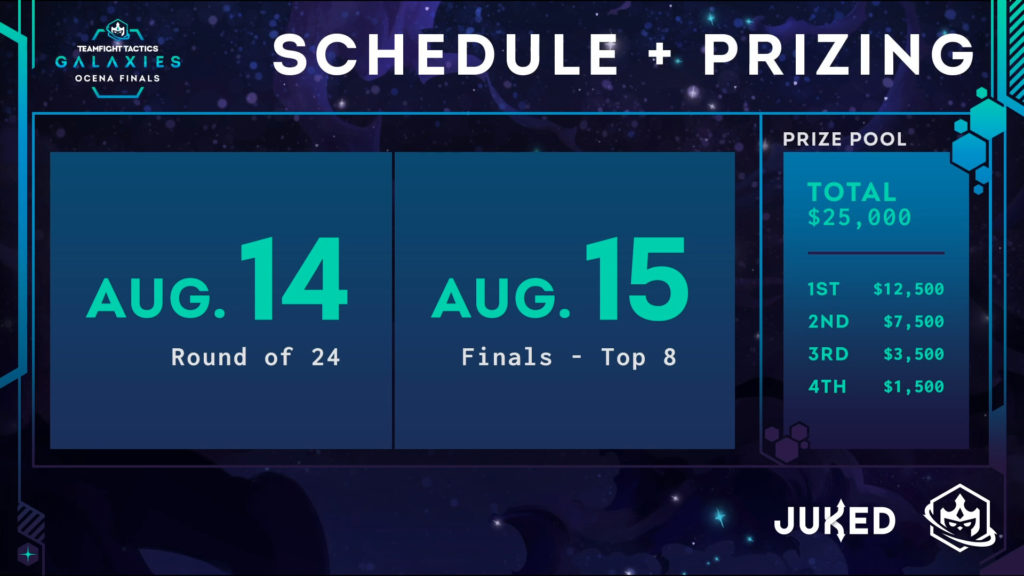 The first day of the Teamfight Tacitcs OCENA Qualifier Finals featured a total of five rounds. Only the top eight players, with the highest total points, advanced onto day two. Points were awarded per finish in each lobby, with eighth place earning one point and first place, eight points.
Round one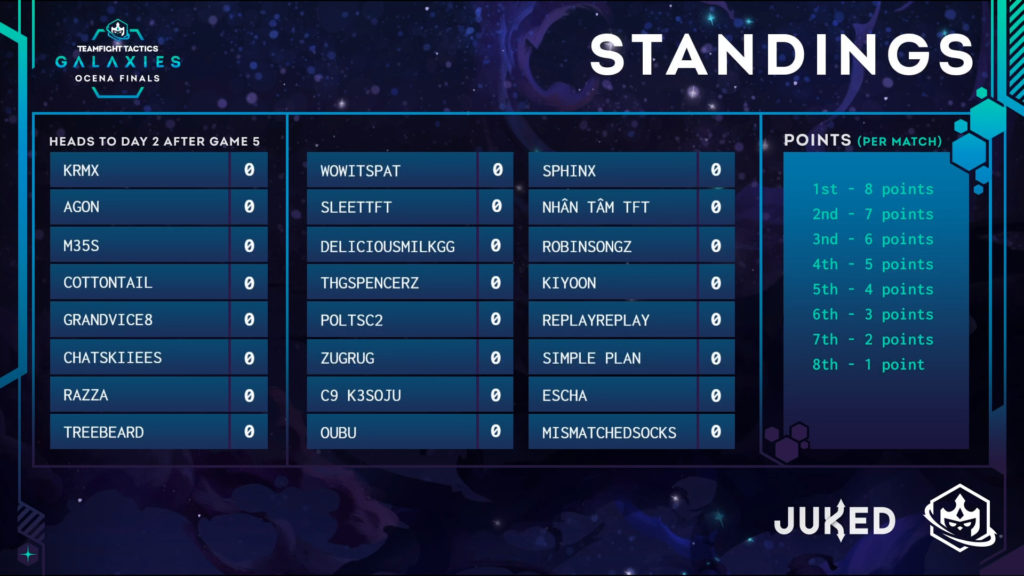 The first round in the feature lobby was fought in a normal Galaxy, with comps like Cybernetics and Mech placing in the top four throughout all three lobbies. Winners in round one were M35S, WowitsPat, and Kiyoon.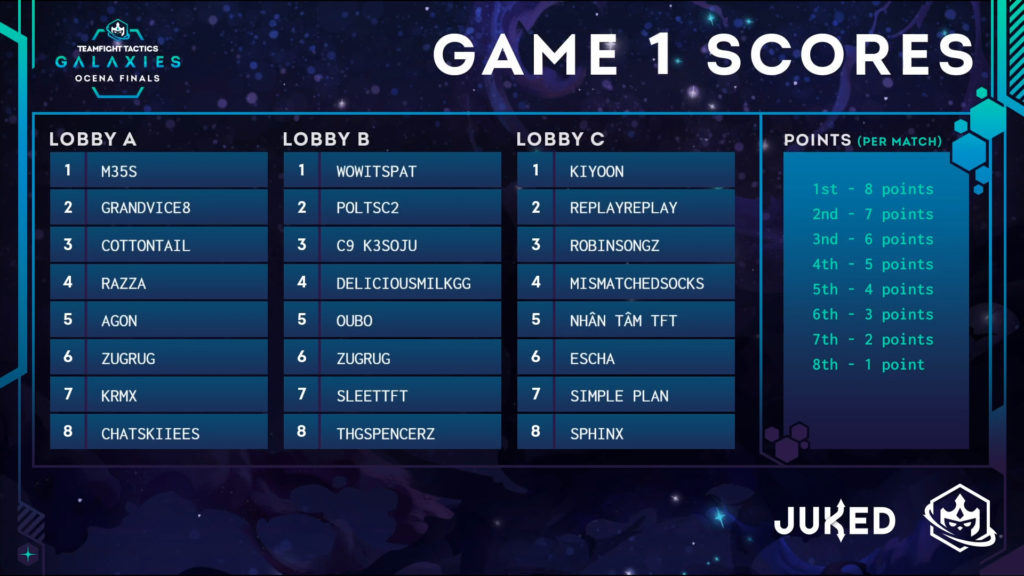 Round two
Agon had disconnected during round one due to a power outage and was unable to connect via mobile to play in round two. This left lobby B in round two with seven players, as opposed to eight, and one of the most likely players to advance getting bumped due to circumstances beyond his control.
Standings heading into round two featured Grandvice8, PoltSC2, and ReplayReplay on the heels of the round one winners. Not too far behind the leaders was CottonTail, RobinSongz, k3soju, Delicious Milk, and Mismatched Socks.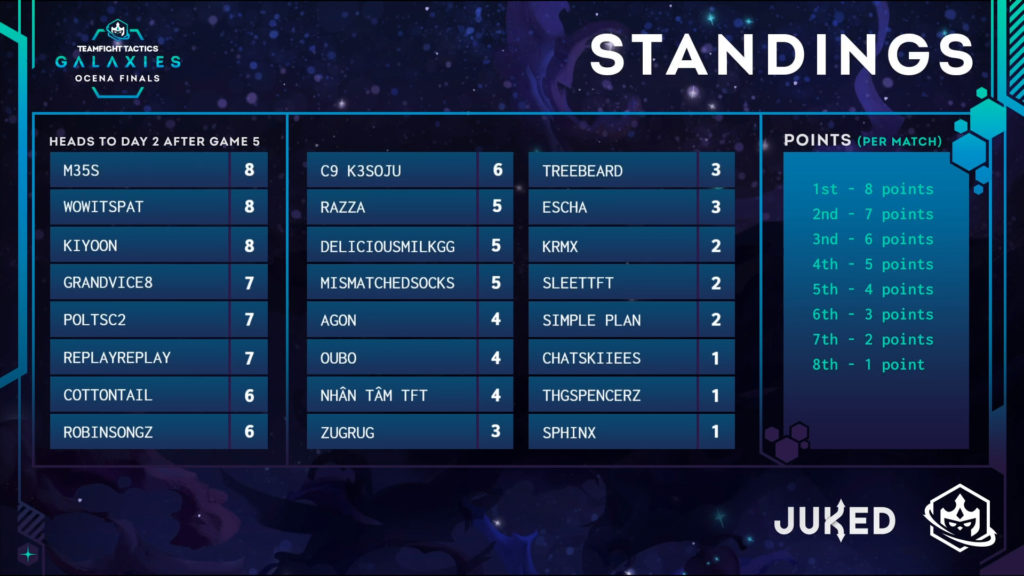 Sphinx in the feature lobby was on the brink of elimination but slotted into Astro Sniper for a win-streak that would earn him a first-place finish. RobinSongz also finished first in lobby A, and OUBO in lobby B.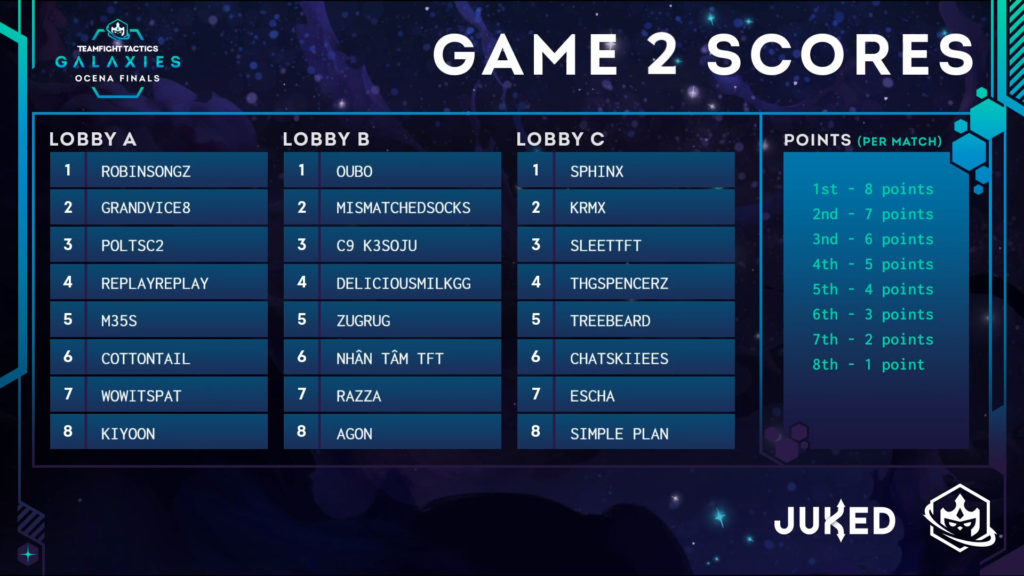 Round three
After two rounds of gameplay, RobinSongz and Grandvice8 were at the top of the leader board with 14 points. Close behind them was PoltSC2 at 13 points, along with OUBO, Mismatched Socks, k3soju, ReplayReplay, and M35S at 12 points.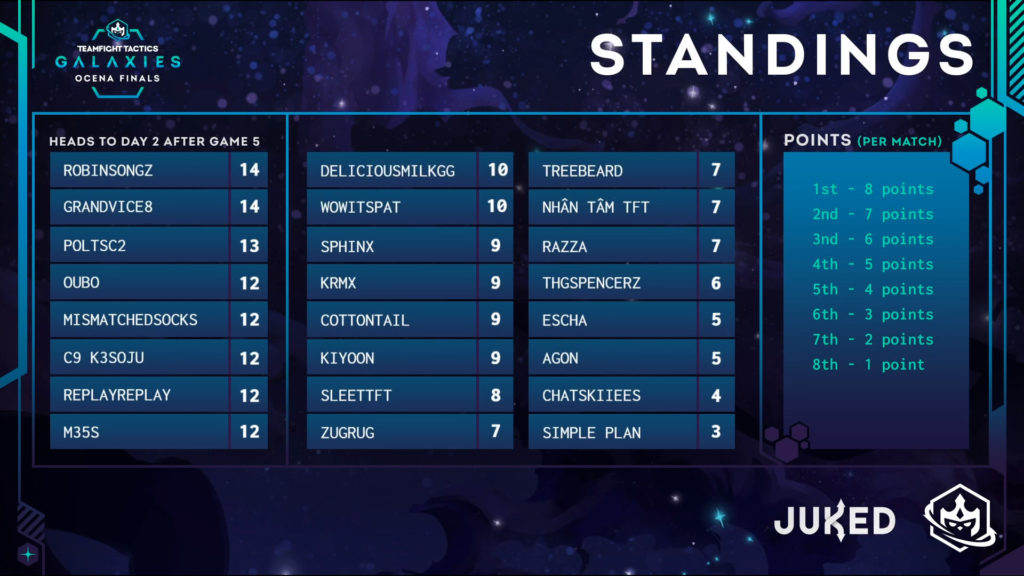 The feature lobby was in Binary Star, with Kiyoon earning the first-place finish with Astro Sniper. Also finishing in first was Mismatched Socks in Lobby A, playing Blademaster with a perfect Master Yi, and Razza in lobby C.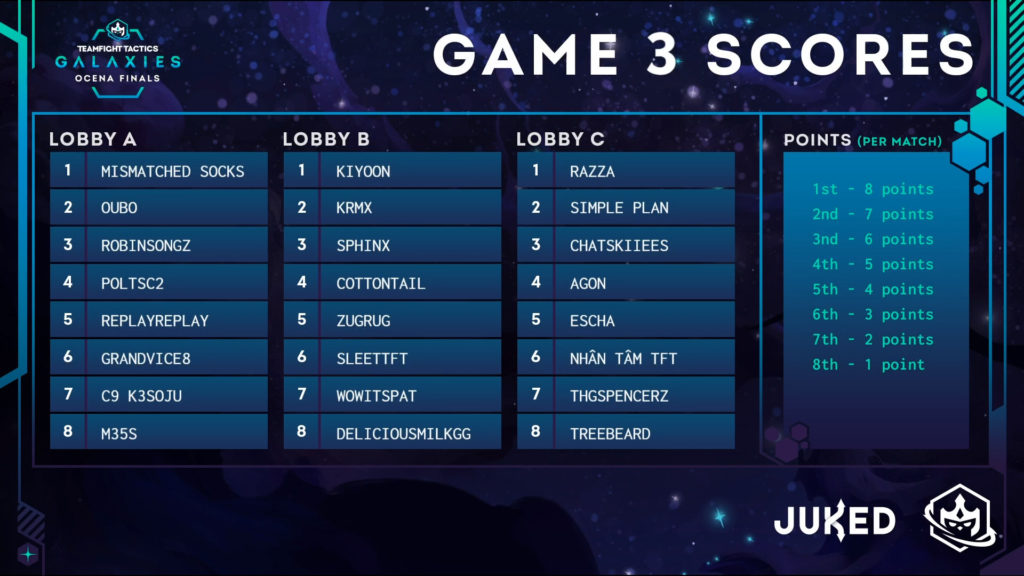 Round four
Heading into round four, Agon was back on the scoreboard, able to return in round three. To keep scoring fair in regards to tiebreakers, Agon was given a score of zero for round two.
Mismatched Socks and RobinSongZ were at the top of the leaderboard with 20 points. OUBO was right on the leaders heels at 19 points, along with PoltSC2 at 18 points. Kiyoon and Grandvice8 were at 17 points and Krmx and ReplayReplay were at 16 points.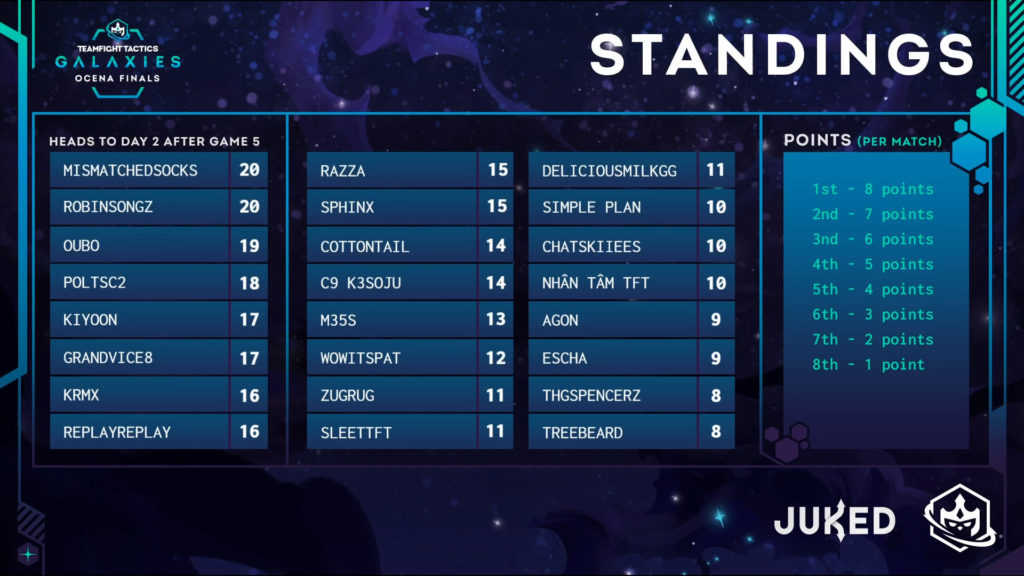 Sitting at two HP, Cottontail ran six Star Guardians to finish in first, beating out M35S who was dominating the lobby with Mech. Other lobby winners included Nhân Tâm TFT and RobinSongZ.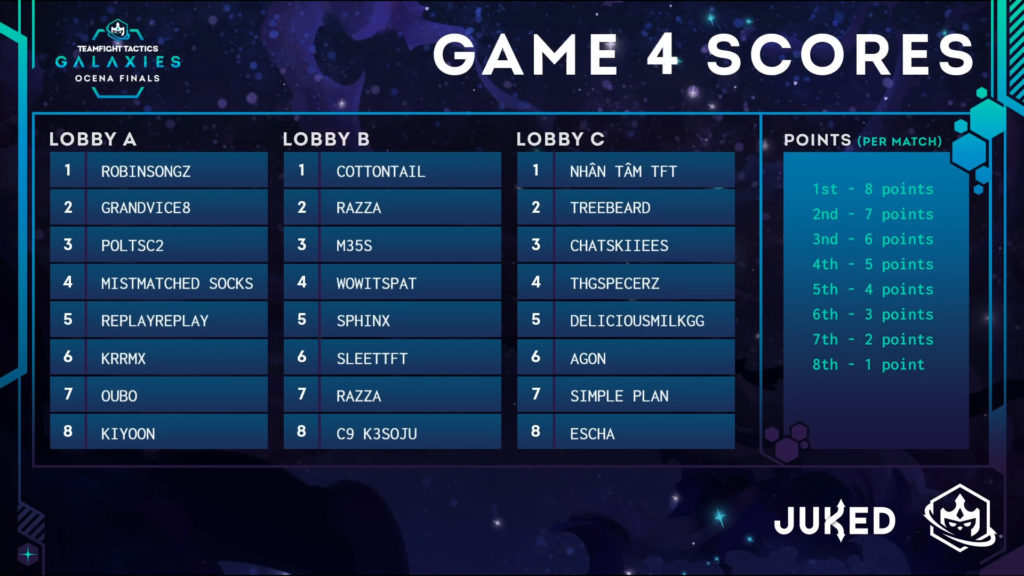 Round five
Heading into the last TFT round of the day, RobinSongZ was at the top of the leaderboard with 28 points. Mismatched socks was in second at 25 points, while GrandVice8 and PoltSC2 were tied in third at 24 points. Also seeking a top-eight finish was Cottontail, OUBO, M35S, ReplayReplay, Sphinx, and Krmx.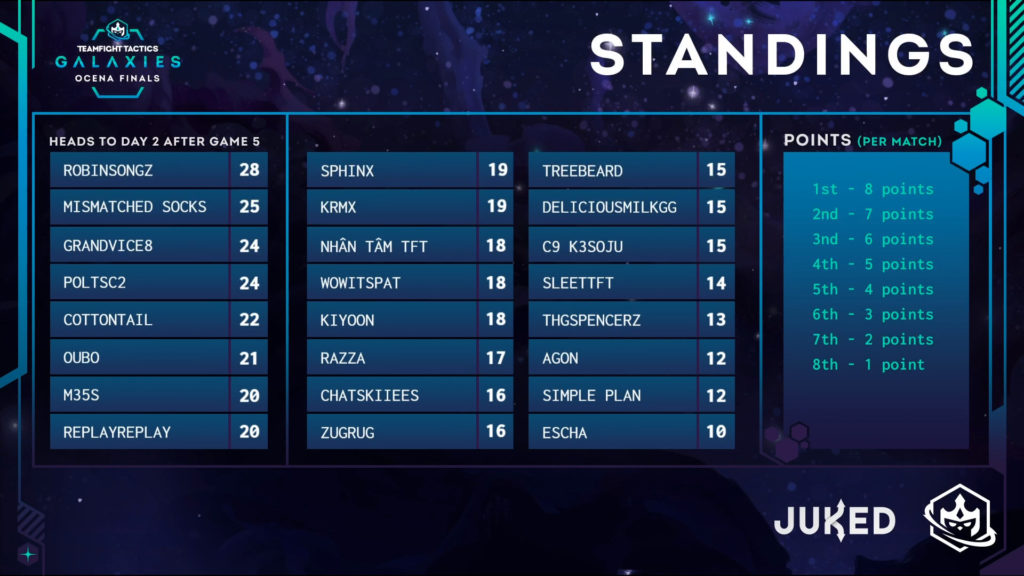 PoltSC2 and M35S finished at the bottom of the feature lobby in round five, sitting on the bubble for top-eight. And ReplayReplay finished eighth, bumping him out from advancing to day two.
Mismatched Socks on Blademaster with a three-star Master Yi battled it out against GrandVice8 with a triple Giant Slayer Jinx Rebel plus a second Jinx equipped with Thieves Gloves for the first-place finish. And it was GrandVice8 with the win at one HP. Winners in the other lobbies were Kiyoon and Escha.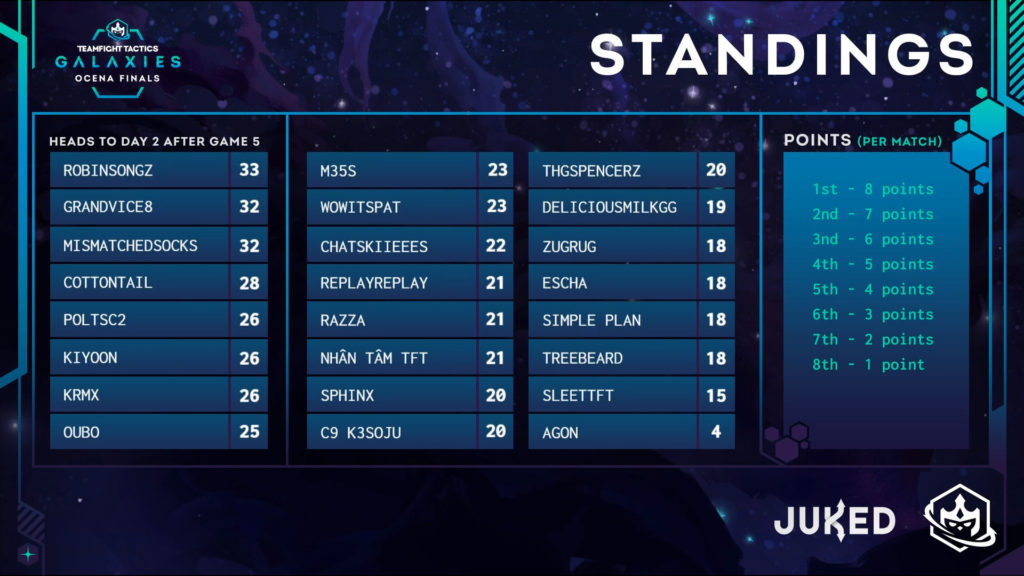 Here were the top-eight TFT players advancing onto day two:
RobinSongz: 33 points
GrandVice8: 32 points
Mismatched Socks: 32 points
Cottontail: 28 points
PoltSC2: 26 points
Kiyoon: 26 points
Krxx: 26 points
OUBO: 25 points
M35S and WowitsPat were the two players who finished just shy of making the cut at 23 points.
Day two of the Teamfight Tactics OCENA Qualifier Finals would feature a stacked final lobby, starting at 8pm CT on Aug. 16.
Day two
Lead design of TFT Stephen "Mortdog" Mortimer joined Becca and DoA as the casters for day two. Points awarded had changed for the second day, with the top eight players from day one competing in a single lobby.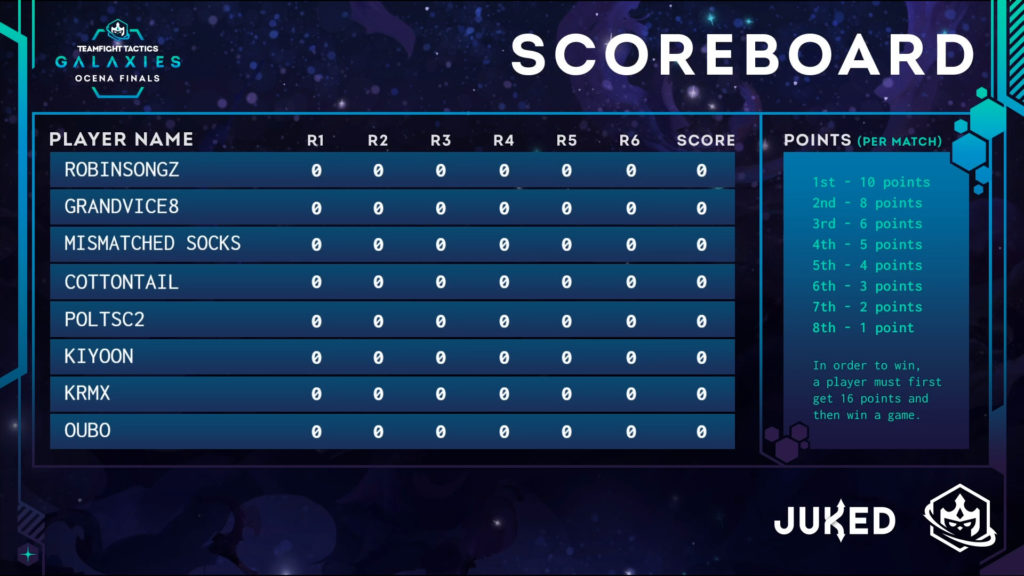 First: 10 points
Second: eight points
Third: six points
Fourth: five points
Sixth: three points
Seventh: two points
Eighth: one point
Players who reached 16 points needed to win the following round to win the OCENA Qualifier Finals. Second through fourth place were determined based on total points once a player won, with the top two players advancing to the Galaxies Championship on Sept. 3.
Round one
Round one featured gameplay in the Treasure Trove Galaxy. RobinSongZ was the first to make a major move, going level six at 3-1 to keep his win-streak going with Cybernetics. Mismatched Socks was also win-streaking off of Demolitionist, taking over first place at 3-3. GV8 was also sitting comfortably during the mid-game with two-star Neeko Protector and two-star Shaco Dark Star.
Mismatched Socks transitioned into Mech Infiltrator with odd items like Last Whisper and Shroud of Stillness on Rumble. Kiyoon also went Cybernetic, placing triple Giant Slayer on Vayne, as RobinSongZ dropped to the bottom of the lobby and finished in seventh. GV8 finished in fifth and Kurum grabbed fourth. First and second came down to Mismatched Socks and Kiyoon with Polt finishing in third.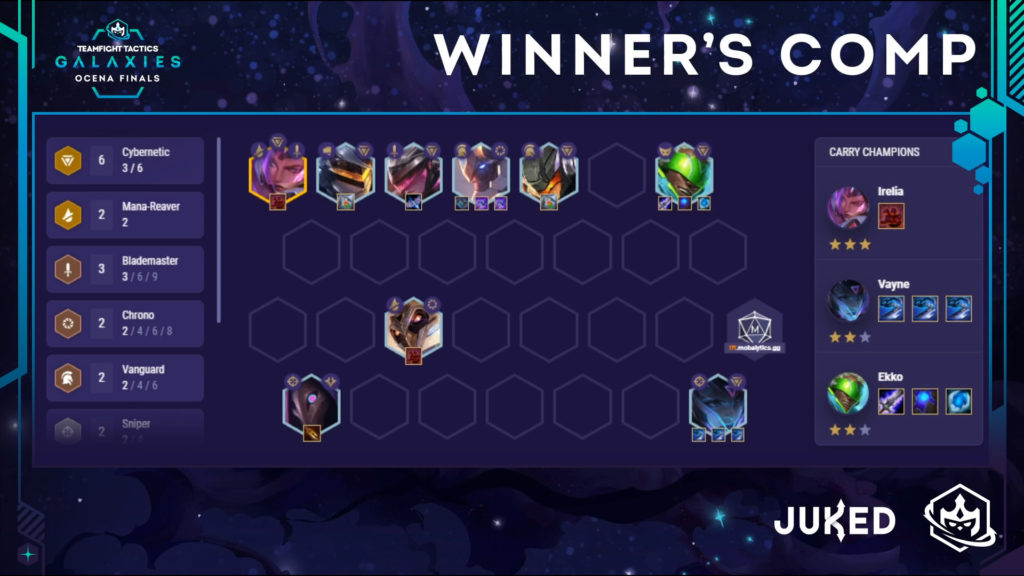 Mismatched Socks ran double-fully itemized two-star Viktors to combat Kiyoon's triple Giant Slayer Vayne, along with a two-star GP. But it wasn't enough as Kiyoon earned his first win of the day.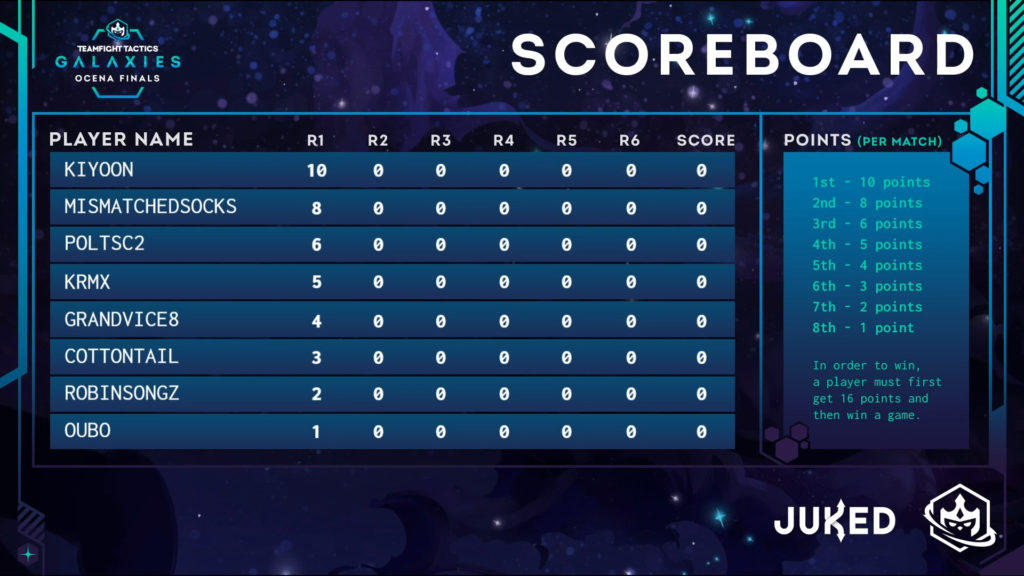 Round two
Round two featured a normal Galaxy, providing a likely sigh of relief from all eight players. Heading into the mid-game, all the players were relatively close to one another in HP.
Mismatched Socks slid into first, running four Infiltrator while searching for Mech units at stage 4-1. He rolled down on 4-2 and was able to find a much-needed Rumble on stage 4-3. RobinSongZ transitioned into Astro Snipers with four Vanguard, sitting in second place at stage 5-2.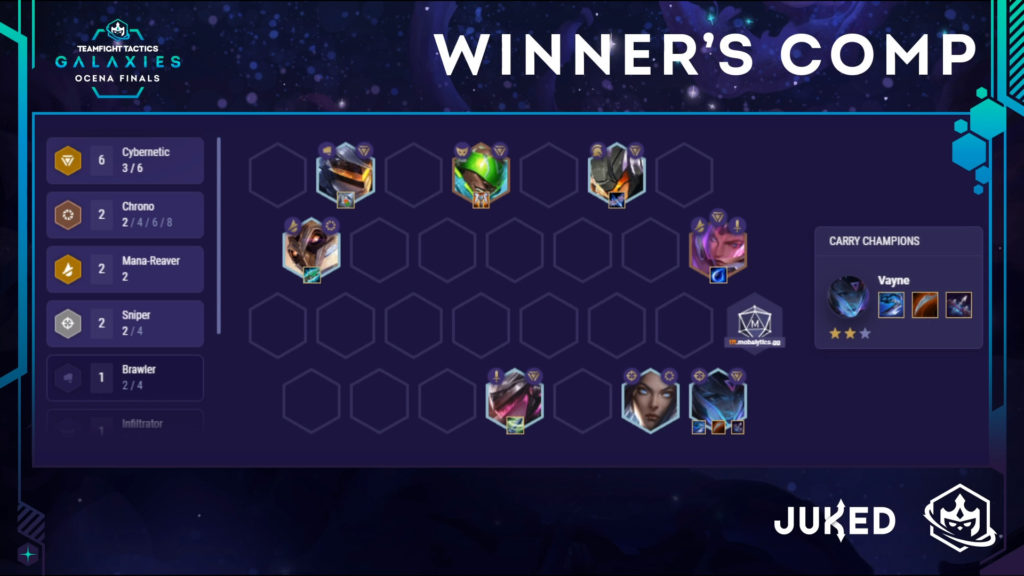 Kurum was the first player to get eliminated in round two, also running Astro Sniper, finishing in eighth. Mismatched Socks and Kiyoon dropped to the bottom of the lobby at stage 6-1, but both survived as Polt finished in seventh. Cottontail ended up winning the lobby, thanks to a Dragon Claw on Vayne, with Mismatched Socks finishing second.
Round three
Mismatched Socks was the first player to reach 16 points, with a first-place finish in round three guaranteeing him a win at the OCENA Qualifier Finals. It was still anyone's game, however, as a first-place finish by any of the other players would put them in contention of winning the tournament as well.
Round three was fought in the Galatic Armory Galaxy, with Mismatched Socks calling out Mortdog for no bows in the first carousel. But he did find a Bard and began win-streaking with Chrono, Brawler, and Sorcerer—hitting level six at 3-1 with a solid economy, before the rest of the lobby. He then hit level eight at 4-1, sitting in first with a Mech comp.
RobinSongZ was the first player to get eliminated prior to stage 5-1, while Kurum ended Mismatched Socks win-streak with six Cybernetics. GV8 and Polt were the next to get eliminated at stage 5-2, followed by OUBO. Sitting in third was Cottontail, also running Mech. 
It was a Mech-vs-Mech battle at stage 6-1 with Mismatched Socks earning the victory. Cottontail was eliminated at 6-2, leaving only Mismatched Socks and Kurum. Mismatched socks won the first one-vs-one matchup, but Kurum came back to win the second. Mismatched Socks hit a two-star GP at stage 6-7 while Kurum got a Last Whisper for Vayne heading into 7-1.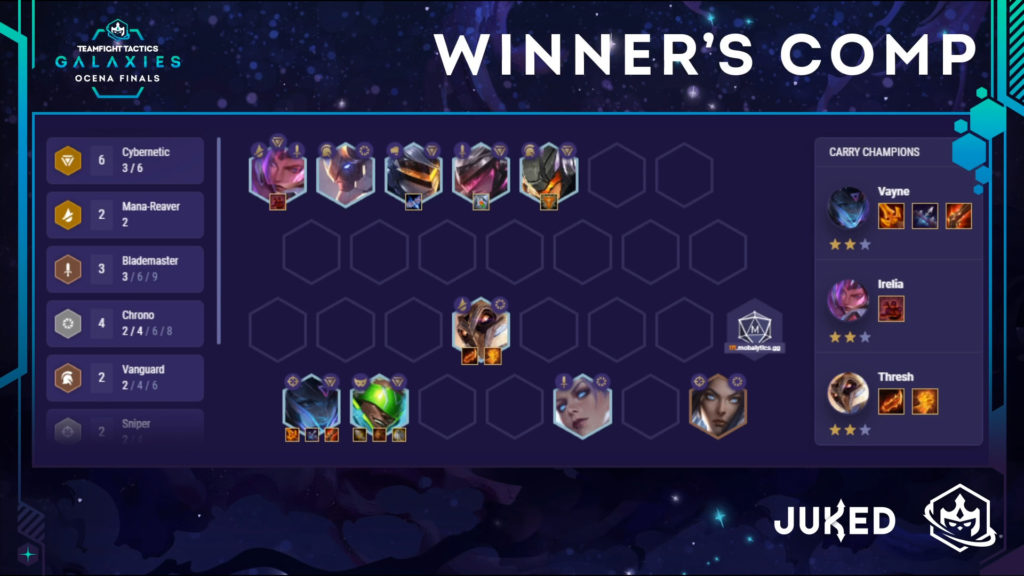 Kurum won the next three matchups thanks to Vayne, and ended up beating Mismatched Socks to keep the tournament going.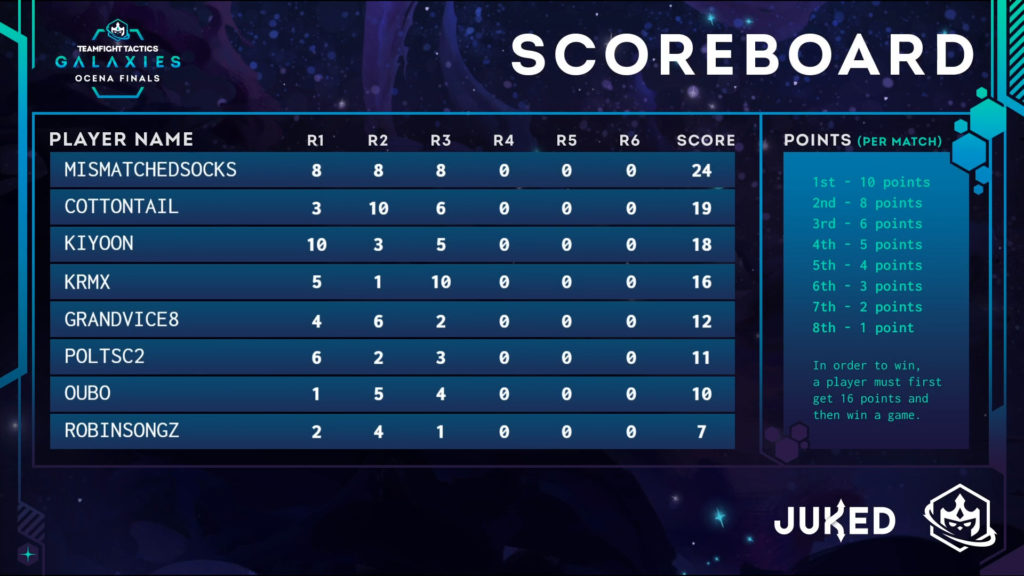 Round four
A win by either Mismatched Socks, Cottontail, Kiyoon, or Kurum in round four would guarantee them a title victory. Galactic Armory was the Galaxy again with Mismatched Socks, GV8, OUBO, and Polt sitting at the top of the lobby heading into the stage three carousel.
Heading into the mid-game, the blade chose Mismatched Socks with him sitting in second. OUBO was in first, playing four Dark Star and Ashe, and GV8 was the first to get eliminated at stage 5-3. At stage 6-3, only Mismatched Socks, OUBO, Kurum, and Cottontail were left. Kurum and Cottontail were eliminated, leaving only Mismatched Socks and OUBO.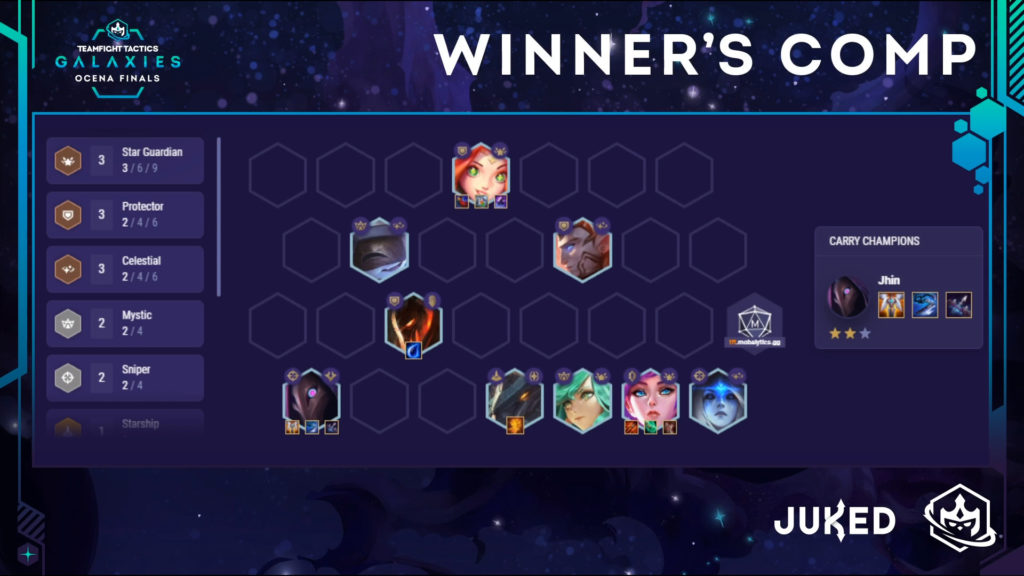 OUBO was able to defeat the three-star Master Yi Blademaster, moving him into contention to win the tournament in round five.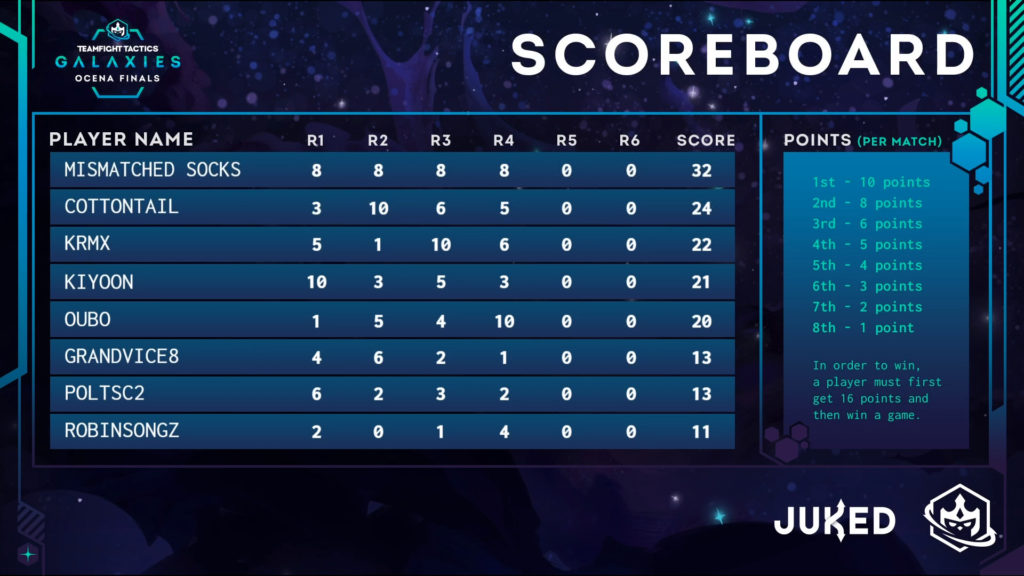 Round five
Five of the eight players were qualified to win the tournament in round five, with Mismatched Socks pretty much guaranteeing an invite to the Galaxies Championship due to his point standings. Round five was a Superdense Galaxy with Mismatched Socks grabbing a bow in the first carousel and slamming a Statikk Shiv.
In the mid-game stage, OUBO was in first on Mech Infiltrator, followed by GV8 playing six Protector/Star Guardian. Polt was the first player eliminated at stage 5-2, followed by Kiyoon and GV8. Left in the top four was OUBO in the lead, followed by Mismatched Socks, Kurum, and Cottontail.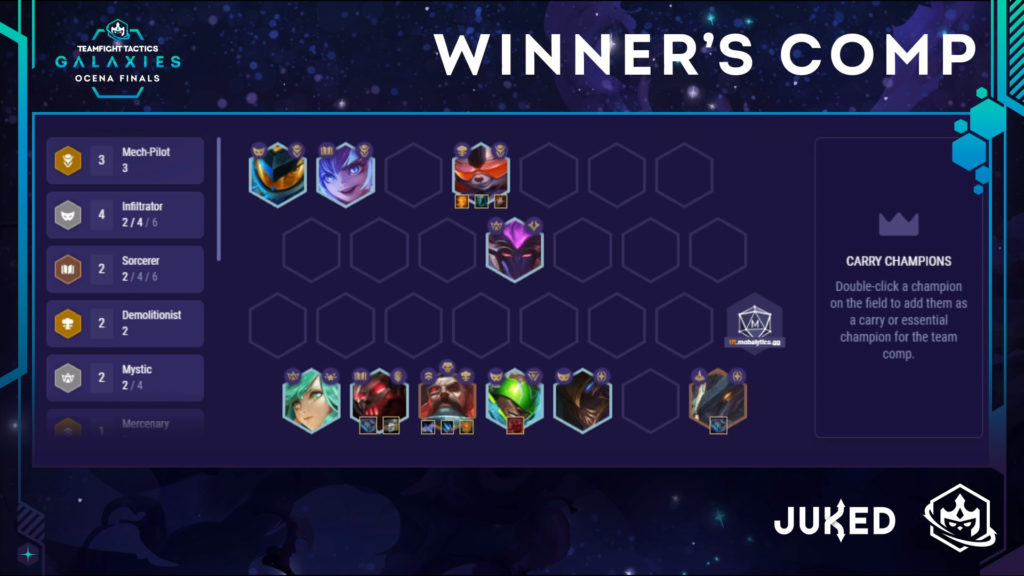 Cottontail and Kurum were eliminated leaving only Mismatched Socks and OUBO. Mismatched Socks needed a comeback to win but couldn't pull it off.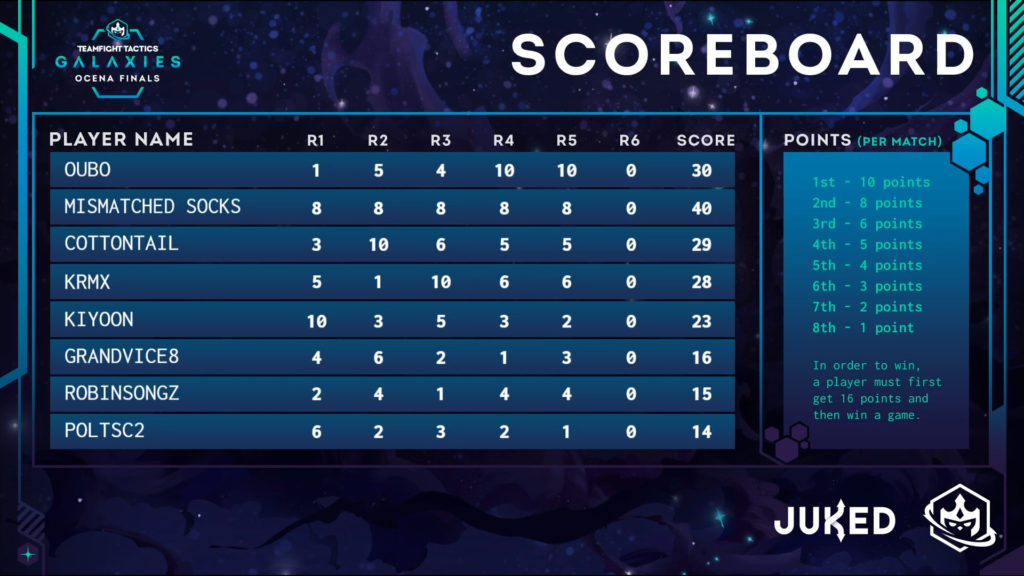 OUBO from Oceania took first place, qualifying to compete at the TFT Galaxies Championship on Sept. 3, along with Mismatched Socks from North America.