More than 600 Overwatch teams entered Blizzard's developmental league, Overwatch Contenders—but only 16 will move into the tournament's North American group stage.
A mixture of professional, amateur, and casual Overwatch teams battled for two days, June 3 and 4, in a massive open bracket.
After hours and hours of Overwatch matches, these were the 16 teams that made it through: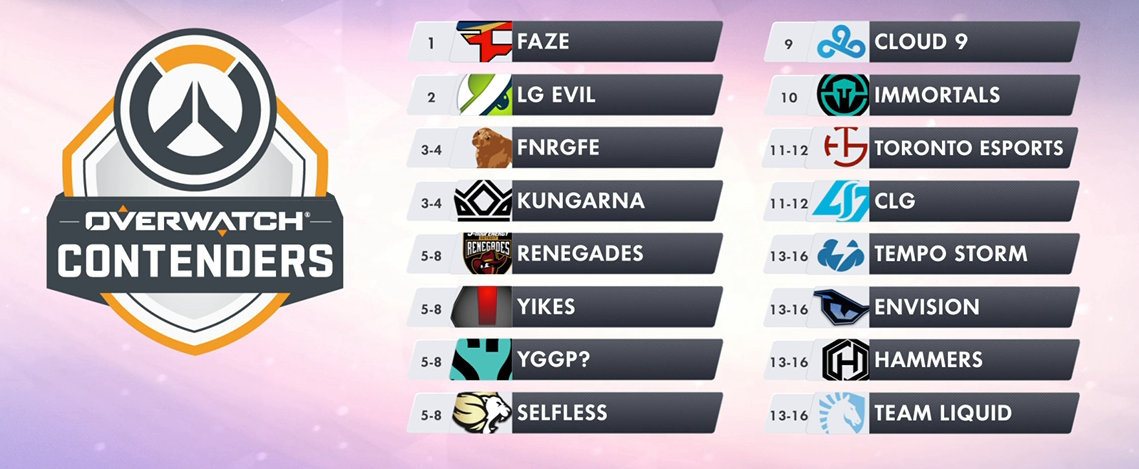 Many of these won't come as a surprise to Overwatch fans. Save FNRGFE, Kungarna, Yikes!, You Guys Get Paid?, all teams are professional, sponsored rosters. Many players, however, on the unsigned teams have extensive experience in professional esports.
Related: Does meditation have a place in esports? For Immortals, it does
FaZe, with a new roster of DPS players (George "ShaDowBurn" Gushcha and Lui Olivares, tank Russel "FCTFCTN" Campbell, flex Alexandre "SPREE" Vanhonwegan, and supports Shane "Rawkus" Flaherty and Joe "Joemeister" Gramano) found themselves in the first seed after the first day of tournament. To get through the round of 16, FaZe took out Team Liquid, You Guys Get Paid?, FNRGFE, and Luminosity Gaming Evil.
Excitement and good gameplay continued throughout the second day of the open qualifiers, leading up to Immortals and Toronto Esports in the second day finals.
With just a few days of practice with their new roster (which swaps out support player Athen "Aythen" Zhu and tank player David "nomy" Ramirez for former Mighty AOD players support Young Seo "KariV" Bak and main tank Pan Seung "Fate" Koo) impressed at Overwatch Contenders. The newly restructured team 2-0'ed all of their opponents from the round of 16 on, including Tempo Storm, Counter Logic Gaming, and Toronto Esports.
The fight their share of a $50,000 prize pool continues on June 18 and 25, as the top 16 teams battle for a top eight slot in the playoffs. From there, the top eight teams will head to the playoffs on July 2 to determine the champions.
The top teams from season zero of Overwatch Contenders will be invited to compete in season one of the same tournament, with the chance to earn their share of a $100,000 prize pool. Perhaps more importantly, Overwatch League owners will be scouting players to fill their rosters.
About the author