Day one of Europe's group stage for Overwatch Contenders is in the books, and it was full of typical dive compositions and close competition.
Sixteen European teams came out of over 700 entrants in last week's open qualifiers, a day-long test of endurance. To kick off the group stage, the teams all played four-game sets, meaning that draws were possible, and ties definitely came into play on day one.
The majority of the games saw common dive compositions with some deviation here and there. Just like it has been over the past few months in Overwatch, it's all about the dive.
The biggest story of the first day of group play was Group B, which was dominated by two of the EU region's best teams in Misfits and Laser Kittenz. The final game of the day featured a matchup between these two squads, and they both came into the matchup with a record of 2-0-0.
The series was closely contested throughout, as Laser Kittenz won the first game on Eichenwalde and took a 2-0 lead on Nepal before Misfits stormed back to force a fifth round, where Kittenz eventually held them off to win it and take a 2-0 lead in the series.
The third game on Hanamura was close, but Laser Kittenz won it by capturing the first point a bit further past one tick. Misfits was finally able to win a game in the series, however, as they barely outlasted a torrid Laser Kittenz push on Route 66 to finish the day.
Elsewhere, Team Expert is a surprise at the top of Group A, while top overall seed eUnited sits in second in the group with one win and two draws. EUnited tied their matches with Team Expert and Bazooka Puppies, while they swept ESPORATI four games to none.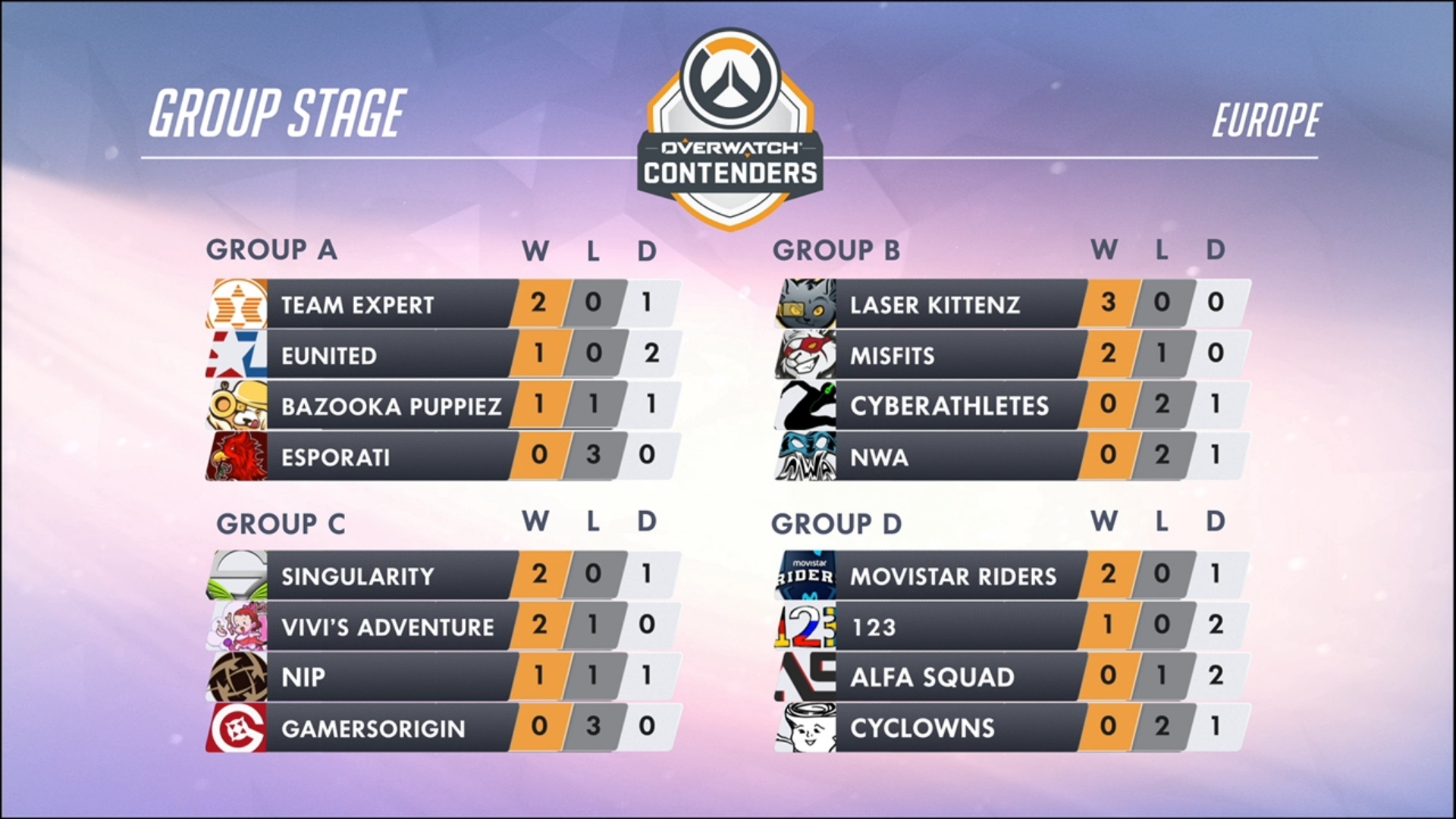 Meanwhile, in Group C's "anybody can win" games, Singularity Ninjas hold the top spot with two wins and one draw, while Vivi's Adventure is 2-1. Ninjas in Pyjamas sit even in third place with a record of 1-1-1.
Group D favorites Movistar Riders had a strong showing on day one to lead their group with two wins and one draw. The rest of this group is still somewhat up in the air, although 123 is the only other team with a victory.
There are still more games to be played in the EU group stage, and at this point, anything can happen. The matches continue next weekend on June 24, after which the top eight teams (two teams from each group based on points gained per set) will move on to the EU branch of the Overwatch Contenders playoffs.
About the author