Nicol Bolas is amassing a giant army on Ravnica in MTG War of the Spark—and with it, he's zombified four of the gods from the Amonkhet expansion.

The War of the Spark expansion details the final battle taking place on Ravnica. Containing over 30 planeswalkers and a host of legendary creatures, it'll also include God-Eternal zombies and the rise of a foreshadowed Gruul god.

History of MTG Amonkhet Gods

Corrupted by Bolas, Armonkhet became a Plane where its people attempted to reach a warriors perfection status by killing one another in what was known as the Trials. Viewed by the inhabitants as an honorable path toward the afterlife, it was merely a way for Bolas to create zombie warriors for his army.

Using the gods as tools, Bolas deceived everyone. The only god to survive Bolas' wrath and deceit was Hazoret. Meanwhile, the other four were not as fortunate during the Hour of Promise, Devastation, and Glory.  

God-Eternal Oketra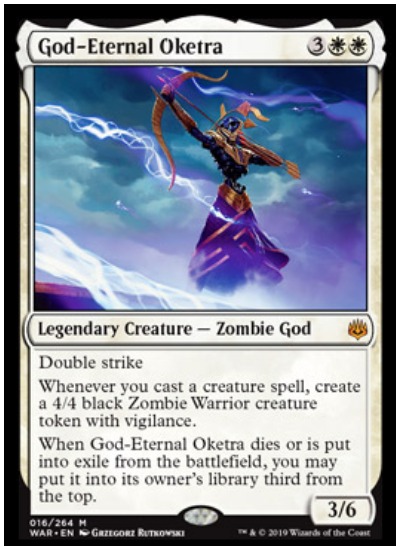 Oketra was the god of order, in charge of protection and stability. It was her trial that initiates first attempted to pass, known as the Trial of Solidarity. She was an archer with perfect aim, using arrows made from the Second Sun. Oketra, however, was killed in the Hour of Promise by the Scorpion God and later zombified by Bolas to become a God-Eternal.

As the God-Eternal Oketra, she still wields her infamous bow with a power of three and a defense of six. She also has doublestrike (the first attack counts as a first strike). In addition to her strength, the white zombie God-Eternal Oketra creates a four/four zombie token creature with vigilance every time you cast a creature spell.

At a five mana casting cost, God-Eternal Oketra is a tad clunky for Standard but will work in EDH and in Limited decks. If played in Standard as a fun zombie jank deck, she would pair well with Lilian, Dreadhorde General (also five mana) who creates two/two zombie tokens with her plus one loyalty counter.
God-Eternal Kefnet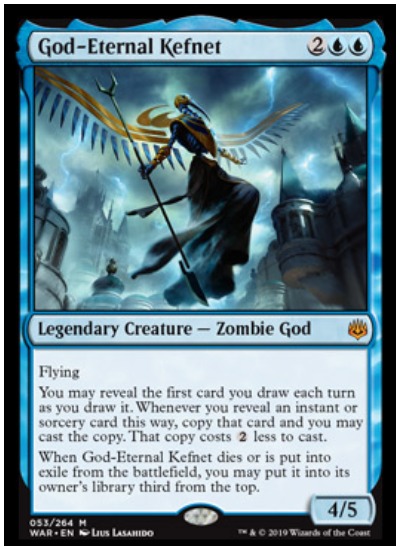 Representing intellect, Kefnet was the god of knowledge on Armonkhet. Creating the second trial, known as the Trial of Knowledge, Kefnet was also in charge of maintaining Hekma (water pool power source). He believed knowledge was the foundation of power and would fight alongside Oketra against the Scorpion God during the Hour of Promise.
Later zombified by Bolas, he became the God-Eternal Kefnet with a power of four and a defense of five. He costs only four mana to cast and has flying. His static ability fits blue nicely, allowing a player to reveal an instant or sorcery that was drawn and copy it. The copied spell then costs two less mana to cast.

The God-Eternal Kefnet is a good fit for mill decks, possibly in combination with Jace, Wielder of Mysteries, Spark double, and Jace's Triumph. In Commander, he'll also work well with Traumatize.

God-Eternal Rhonas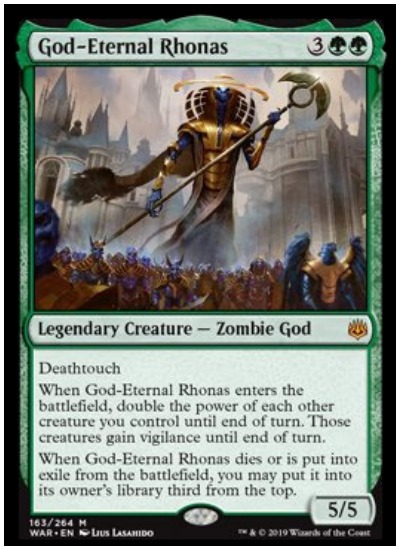 Known as the god of strength and physical superiority, Rhonas was a warrior at heart. In charge of the third trial, adequately named after himself, it taught initiates to resist their fears and enter a battle with an immovable will. The Scorpion God also defeated Rhonas during the Hour of Glory.

Due to his nature, the God-Eternal Rhonas is a green five/five with the ability of deathtouch. He costs five mana to cast and doubles the power of other creatures you control when he enters the battlefield. Those creatures also gain vigilance, in addition to their power ramp, until the end of your turn.

The God-Eternal Rhonas will pair well with mid-range decks, although his ability might not end the game since it only provides vigilance and not trample.

God-Eternal Bontu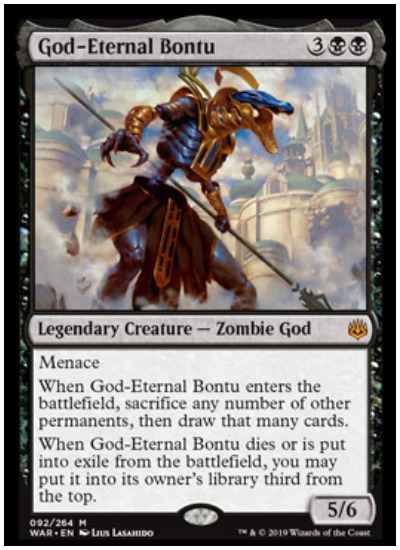 Bontu is a god who's helping Bolas conquer Armonkhet. She played a major role in the embalming process of initiates and was in charge of the fourth trial. Known as the Trial of Ambition, Bontu believed nobody was born strong and powerful—they needed to become it. Bolas ordered Bontu to defeat her sister, Hazoret, and then betrayed and killed her during the Hour of Devastation.  

As a zombified God-Eternal, Bontu is a black (five mana) card with a power of five and a defense of six. She also has menace (only two or more creatures can block her). Her ability is card advantage through sacrifice, allowing a player to sacrifice any number of permanents and then draw that many cards.

Paired with Angrath in a sacrificial type deck, God-Eternal Bontu holds value. She'll also play well in limited, thanks to the card draw advantage, and in an aristocrats deck.

Ilharg, the Raze-Boar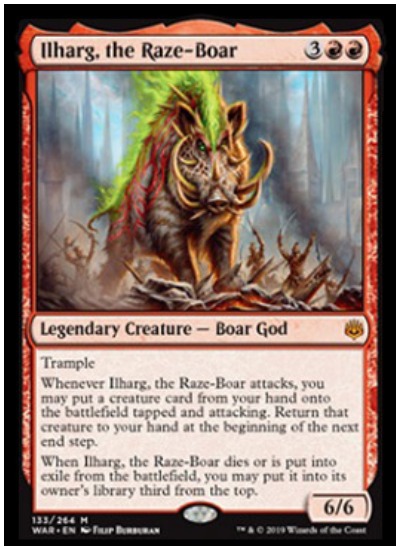 Joining the party of gods in War of the Spark is Ilharg, the Raze-Boar. He isn't a God-Eternal, rather a prophesied god stemming from the druids of the Gruul Clan. As foretold in ancient stories, Ilharg, the Raze-Boar is on Ravnica to destroy everything. Thanks to the Domni Rade ascending to Gruul guild master, and the intense war caused by Bolas, Ilharg is formed.

Ilharg the Raze-Boar is a five mana (red) six/six god with trample. In addition, during his attack, he has a trigger that allows you to put another creature onto the battlefield tapped and attacking (from your hand) at absolutely no cost. After the turn is over, the free cost creature then returns to its owner's hand.

Living up to his destructive nature, Ilharg can change the tempo of a game in an instant. And like the God-Eternals, he can't permanently be removed from the game. All gods in War of the Spark return to the third spot in their owner's library when killed or exiled.

Enter the God-Eternals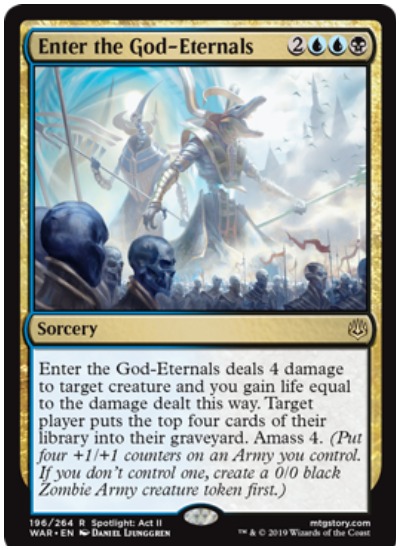 Showing off Bolas' power and his great zombie army is the multicolored sorcery card, Enter the God-Eternals. It's a five mana spell that deals four damage to a target creature and then gives life equal to the damage dealt this way.

Enter the God-Eternals also has an amass of four while forcing a target player to put the top four cards from their library into the graveyard. The amass mechanic beefs up a zombie army while the damage dealt removes threats through destruction and milling. Enter the God-Eternals is definitely a tier two card with the potential to become tier one.