Gogari decks are getting a god with a massive power boost effect in the upcoming War of the Spark expansion in Magic: The Gathering. Shaking Ravnica with 36 planeswalkers and now the return of gods, the war enters its final stages. Up to this point, we've seen god cards in black and red, now green comes onto the scene with the God-Eternal Rhonas.

Deathtouch God-Eternal Rhonas power hitter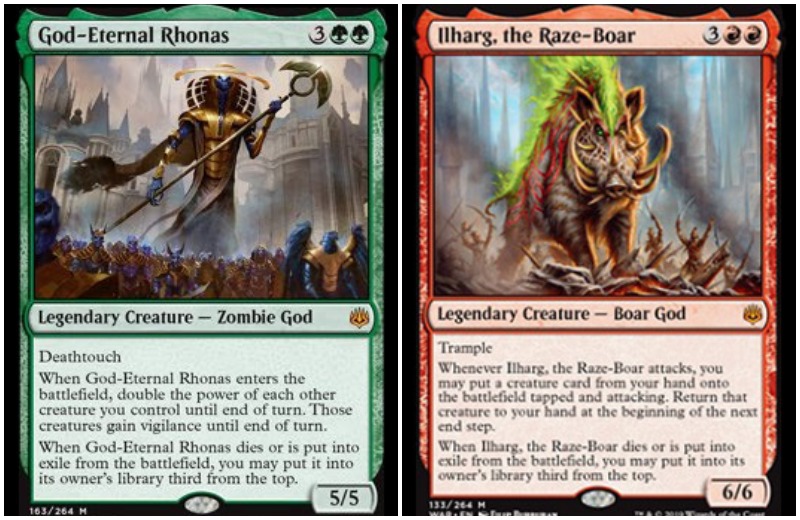 God-Eternal Rhonas is a five mana (double green) legendary god zombie with deathtouch. His power and defense are five, making him a very powerful card in Constructed and Limited play. It's not often we see a five for five with deathtouch, but God-Eternal Rhonas isn't done yet.

When Rhonas enters the battlefield, all creatures in play get double the power and vigilance until end of turn. Simply put, God-Eternal Rhonas is a game-changer. In addition, due to his god status, he can't be permanently killed.
"When God-Eternal Rhonas dies or is put into exile from the battlefield, you may put it into its owner's library third from the top," the card explains.

Mono green and Golgari decks are going to have a blast dropping Rhonas early in aggro decks, or later in the game as a win condition. Plus, his god status brings him back in a few turns while his static ability lights up the battlefield once again.

Gruul will also have a huge card advantage with God-Eternal Rhonas when paired with Ilharg, the Raze-Boar. Especially, if goblins, Steel Leef Champion, or Rhythm of the wild are already on the battlefield.

The final battle in Ravnica is coming to a close with War of the Spark on April 25, only in MTG Arena and everywhere else on April 27.