RGB lighting is a divisive issue among gamers, with some loving it and others finding it too gimmicky. There's no right or wrong answer, and it comes down to the user's preferences and how the lighting is applied. Some users prefer bright, head-turning RGB lighting, while others prefer a more discrete ambient lighting effect.
Most case manufacturers add RGB lighting to their cases, and it's up to the users to decide whether to use it or not. Many cases featuring built-in RGB lighting strips or RGB fans come with headers to connect to the motherboard and control the lighting. Certain brands and models of RGB components might not be compatible with others, so double-check beforehand to ensure your motherboard has the correct headers.
Software is another consideration when buying an RGB case. Most brands have proprietary software that might not be compatible with third-party components. It's sometimes beneficial for users to stick to a particular brand when choosing components. If they use components from a single brand, only one app controls their system instead of different apps and remotes for each part.
These are some of the best RGB gaming cases to suit any budget.
Best overall case
Cougar's Conquer 2 isn't about subtlety or discretion. Instead, it proudly displays its RGB lighting on the front of the case for everyone to see. This case is ideal for users who want to stand out from the crowd with a unique design that turns heads.
This ATX case has a durable steel construction with three RGB lighting bars running vertically along the front. The RGB lighting bars start at the top of the case and run down towards the center. There's also a 120-millimeter RGB fan enclosed behind tempered glass on the bottom of the case.
One of the fascinating aspects of the Conquer 2 is its detachable sub-chassis. The Conquer 2 uses an outer casing and an inner chassis. The internal chassis has a handle for users to remove it from the outer casing to adjust components, like the motherboard and GPU. Once the components are in place, the chassis slides back into the outer case. This system makes it easier for users to build since they don't have to remove any panels to get the job done.
For such a complicated case, the Conquer 2 has fairly basic ports. There are two USB 3.0 Type-A ports and two USB 3.1 Type-C ports on the front panel. Other features on the front panel include the audio in and out jacks, the power button, and the RGB control button.
The Conquer 2 has isn't for everyone. Its bold design with prominent RGB lighting may be too much for some users, but others will appreciate how the unique design accents their build.
Best mid-tower case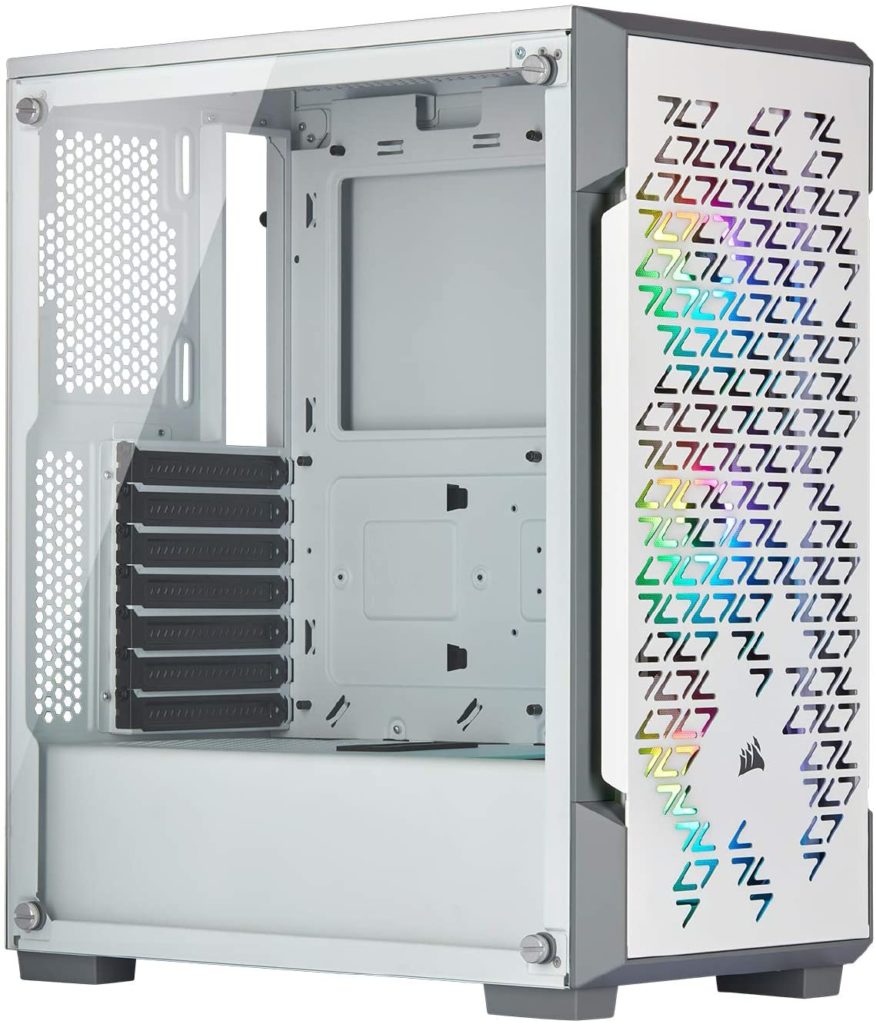 Some users prefer cases with ample airflow to keep their system cool. Corsair's iCUE 220T RGB uses a push-pull design with large cutouts in the front to promote greater airflow.
One of the ways the iCUE 220T RGB improves airflow is by having a removable metal front panel with perforations to let air flow through it. It also has three included 120-millimeter RGB fans sitting behind the panel to suck air into the case. There are also ventilation holes on the tops and back of the case, but users must install additional fans to exhaust the warm air.
The only RGB lighting on the iCUE 220T RGB is on the three front fans. Each fan has eight individually addressable RGB lighting zones, and they connect to Corsair's Node Core RGB controller. The controller has connections for an additional three fans and allows users to configure the lighting with the iCUE app. There's also a tempered glass side panel to show off any additional interior RGB lighting.
For a mid-tower case, the iCUE 220T RGB is slightly smaller. Corsair's case measures 15.6 by 17.7 by 8.3 inches and weighs 14.33 pounds. Despite its smaller size, this case should still fit most builds, especially since many builders have moved away from large optical drives and HDDs.
This case has a unique lighting display compared to the usual three-fan design found on many rivals, like the MB520 RGB. The perforated patterns on the front create an effect that stands out as a refreshing design. Since the Node Core controller comes with the case, users can easily connect more RGB fans.
Best compact case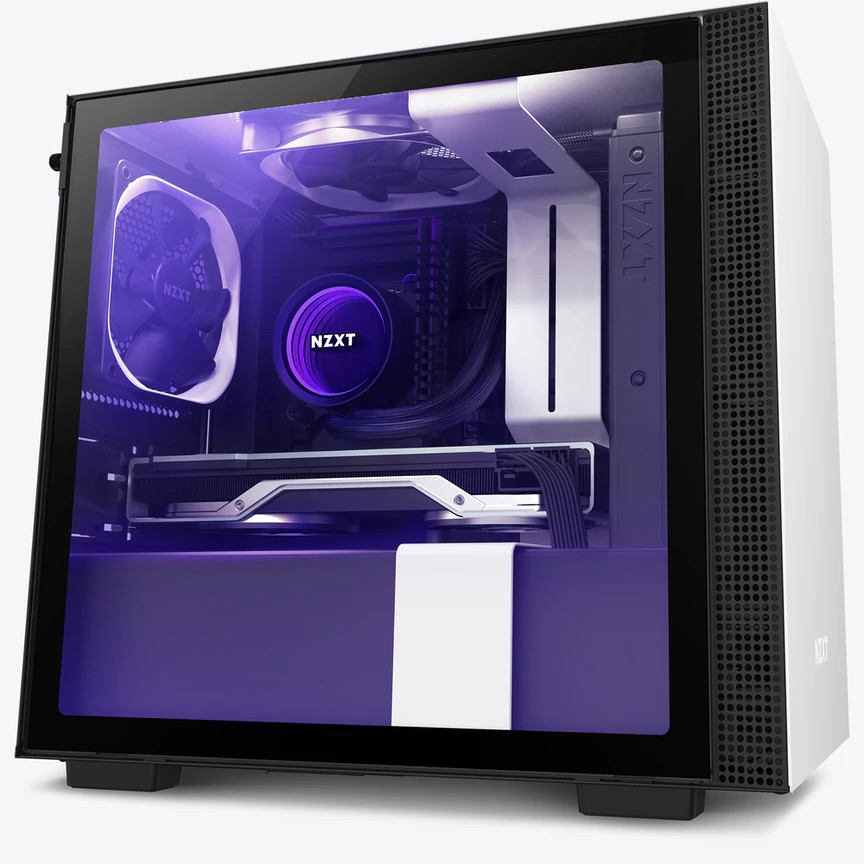 Builders looking for a compact case with RGB lighting might consider the NZXT H210i. At 14.65 by 8.27 by 13.74 inches, this mini-ITX is smaller than the other cases on this list but still provides enough room for all the necessary components.
The H210i comes in three different colors, and all of them have built-in fans. Users can choose between white and black, black and red, and black. All the options come with one 120-millimeter fan on the top of the case and one on the back. Users can show off their build with the tempered glass panel on the right side.
Compared to the Conquer 2 and the iCUE 220T RGB, the lighting on the H210i is more subdued. There's no flashy lighting on the front panel, and instead, it has an LED strip running along the top of the case providing ambient lighting. The lighting strip has individually addressable LEDs, and it comes with a controller. Users can configure presets or adjust the colors with NZXT's CAM software.
One of the disappointing parts of the H210i is its front panel. It has limited connectivity options and features a single USB-A port, a USB-C port, and an audio out port.
Like most small form factor cases, the H210i has little room to build. It's still worth considering for users who want a more compact PC with built-in RGB lighting, though. This case is also reasonably priced, making it appealing to users on a limited budget.
Best dual-system case
Corsair's Obsidian Series 1000D is a monster of a case designed to fit two complete computer systems. There's enough space for a full-size Extended Advanced Technology eXtended (E-ATX) system and a smaller Mini-Information Technology eXtended (Mini-ITX), including motherboards, GPUs, and SSDs.
The Obsidian Series 1000D has massive dimensions to house all the components. It measures 27.3 by 12.1 by 27.3 inches (LxWxH), with space for up to six 2.5-inch drives and five 3.5-inch drives. Users can also add eight 120-millimeter fans on the front, three 140-millimeter fans on the top, and two 120-millimeter fans or a single 140-millimeter fan on the back. At 65 pounds, the Obsidian Series 1000D is also quite heavy to accommodate all the components.
There aren't any light bars on the Obsidian Series 1000D like on the Conquer 2. Instead, it has four tempered glass panels to showcase the RGB lighting on the fans and motherboard. The Obsidian Series 1000D includes Corsair's Commander Pro RGB controller, allowing users to connect and manage the fans and other RGB lighting using Corsair's iCUE software.
While Corsair designed the Obsidian Series 1000D as a dual-system setup, it also works for a single system with plenty of space to show off a single build. The only disadvantages to this Corsair case are its bulky size and high price.
Best budget case
Cooler Master's MasterBox range offers a selection of budget-friendly cases featuring RGB lighting. The MasterBox MB520 RGB clocks in at less than the H210i, but it has a larger mid-tower form factor.
The distinguishing feature of the MB520 RGB is the three 120-millimeter RGB fans on the front panel. These fans have four LEDs each, and they sit behind an easily scratched tinted plastic panel. Since an RGB controller and a one-to-three RGB splitter cable ship with the case, users can configure the lighting with popular apps like Asus Aura or MSI Mystic Light.
Similar to the H210i, Cooler Master's MB520 RGB has minimal connectivity options on the front panel. There are only two USB-A ports and the audio in and out ports. It's a bit disappointing that there's no USB-C port, but it's hard to complain at such an affordable price.
While the front panel is basic, the rest of the case has enough space for most builds. The MB520 RGB measures 19.53 by 18.46 by 8.53 inches and has four bays for 2.5-inch drives and another two that fit either two 3.5-inch drives or another two 2.5-inch drives. There are also seven expansion slots and space enough for two fans at the top. Users can also add a 360-millimeter radiator in the front, a 240-millimeter radiator at the back, and a 120-millimeter radiator at the rear.
The MB520 RGB isn't the most advanced or spacious case, but it remains a solid choice for budget-conscious buyers. Despite its low price, the tempered glass side panel and prominent RGB lighting give it a premium look to compete with more expensive cases, like the iCUE 220T RGB.
This article includes affiliate links, which may provide small compensation to Dot Esports.