Valentine's Day is a day of love, and gamers definitely seem to love Apex Legends.

The battle royale title has taken the gaming community by storm over the last week, and now Respawn has offered players a way to celebrate Cupid's favorite holiday.

In honor of the holiday, Respawn added a number of unique cosmetics to Apex Legends that scream love. You'll have to act fast, though, since these limited-time cosmetics are only available until Feb. 19. The items were added with Patch 1.03.


Respawn added a total of three Valentine's Day items to the game, but only one of them is attainable for free. The free item comes in the form of an account badge, but you won't be gifted this item without a little effort. In order to obtain the account badge, players will need to revive or respawn a teammate during the event (Feb. 13 to 19).

The other two items will only be obtainable by purchasing them through the in-game store. One such item is an Epic skin for the Longbow called "Through the Heart." This skin has vibrant pink and purple tones and is sure to make you feel like Cupid as you strike your enemies through their respective hearts.
The second item up for purchase is sure to tickle the fancy of quirky robot fans. The item is a Legendary Pathfinder banner frame that is animated with a tiny little robot shooting a heart. If you didn't kill your enemy, at least this frame will melt their heart.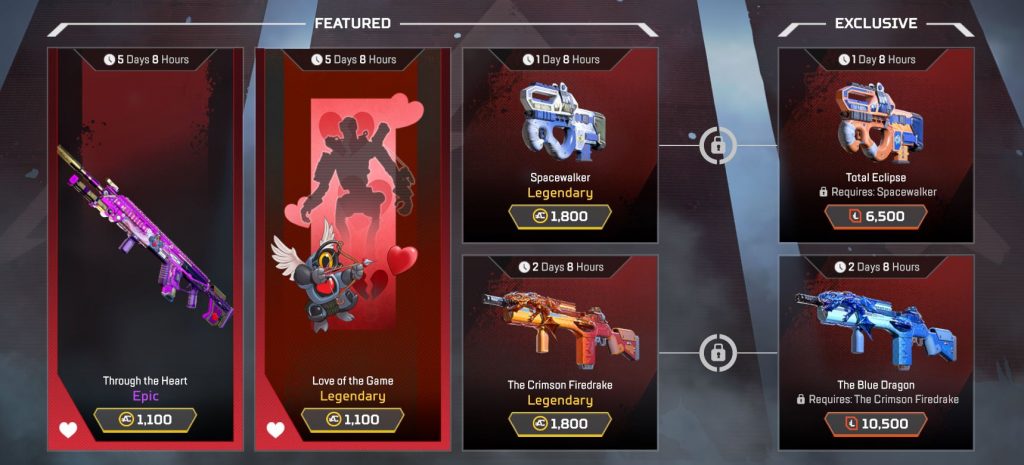 Both the frame and gun skin cost 1,100 Apex Coins. Unfortunately for players, the minimum Apex Coin purchase at the moment is $9.99 for 1,000. This means players who don't have any spare coins already will need to purchase more than $9.99 worth of Apex Coins just to afford one item.

If your significant other hasn't already purchased your Valentine's Day gift, tell them you need Apex Coins so you can slay your enemies with a high-powered, love-themed rifle.