It's not the ideal day for a ball game.
Thunderstorms threaten to cancel the New York Mets match against the San Diego Padres at Citi Field—never mind the humidity that stuffs up the air. It's drizzling when New York Excelsior pulls up to the stadium at 10:45am. There's a large crew in tow, but everyone's clustered around team captain Park "Saebyeolbe" Jong-ryoel.
Saebyeolbe is nervous—he thinks he might resort to some of his Overwatch League game day ticks. He puffs out his cheeks, blows on his fingers. Somewhere in the labyrinth of Citi Field in Queens, New York, Saebyeolbe is practicing his pitch, the first time he's thrown a ball in a while. "I'm more nervous than I am during an Overwatch League match," he told me. "I haven't practiced."
A ball boy decked out in Mets gear hands him a ball and steps back. Saebyeolbe's going to throw the customary first pitch when the Mets face the Padres at noon today. That's more than 60 feet—60 feet, six inches to be exact. He's a natural, though; his first practice pitch goes a little high, but it's fixed by the next throw. He's going to be fine.
Related: Philadelphia Fusion complete the upset, send New York Excelsior packing
NYXL wasn't supposed to come home to New York without a win, but here they are. During the Overwatch League's semifinals matches last week, something went wrong with the team. One match down heading into their July 21 matches, NYXL put up a fight, taking two map wins to Philadelphia Fusions' three. It wasn't the team that ended the regular season with 34 wins and six losses. Something wasn't right, whether it be the meta, the month-long break, or just a stroke of bad luck.
Saebyeolbe says it's on him. "I could have done more," he told me. "I should have done more in clutch moments and that would have helped get better results. I could have played better on Widowmaker. I just didn't perform very well."
Related: The story behind New York Excelsior's one-of-a-kind logo
It stings coming back to New York without a chance in the finals, but he's putting it behind him. It's time to throw out the first pitch—or, rather, in a half hour. The game's been delayed, a gigantic rain jacket's been pulled over the field, with fans ducking for cover under the stadium's overhangs.
Someone throws a Mets jersey on Saebyeolbe before we're ushered up a few flights of stairs to a suite overlooking the field. NYXL is owned by Sterling Equities, which is a majority owner of the Mets. Naturally, Mets owner Jeff Wilpon is going to treat the Overwatch League team well. (He came down to rapid-fire shake our fans before pitch practice.) A bunch of NYXL players have already planted themselves in the seats, focused on the field, their phones, or the Shake Shack burgers piled high on the suite's buffet.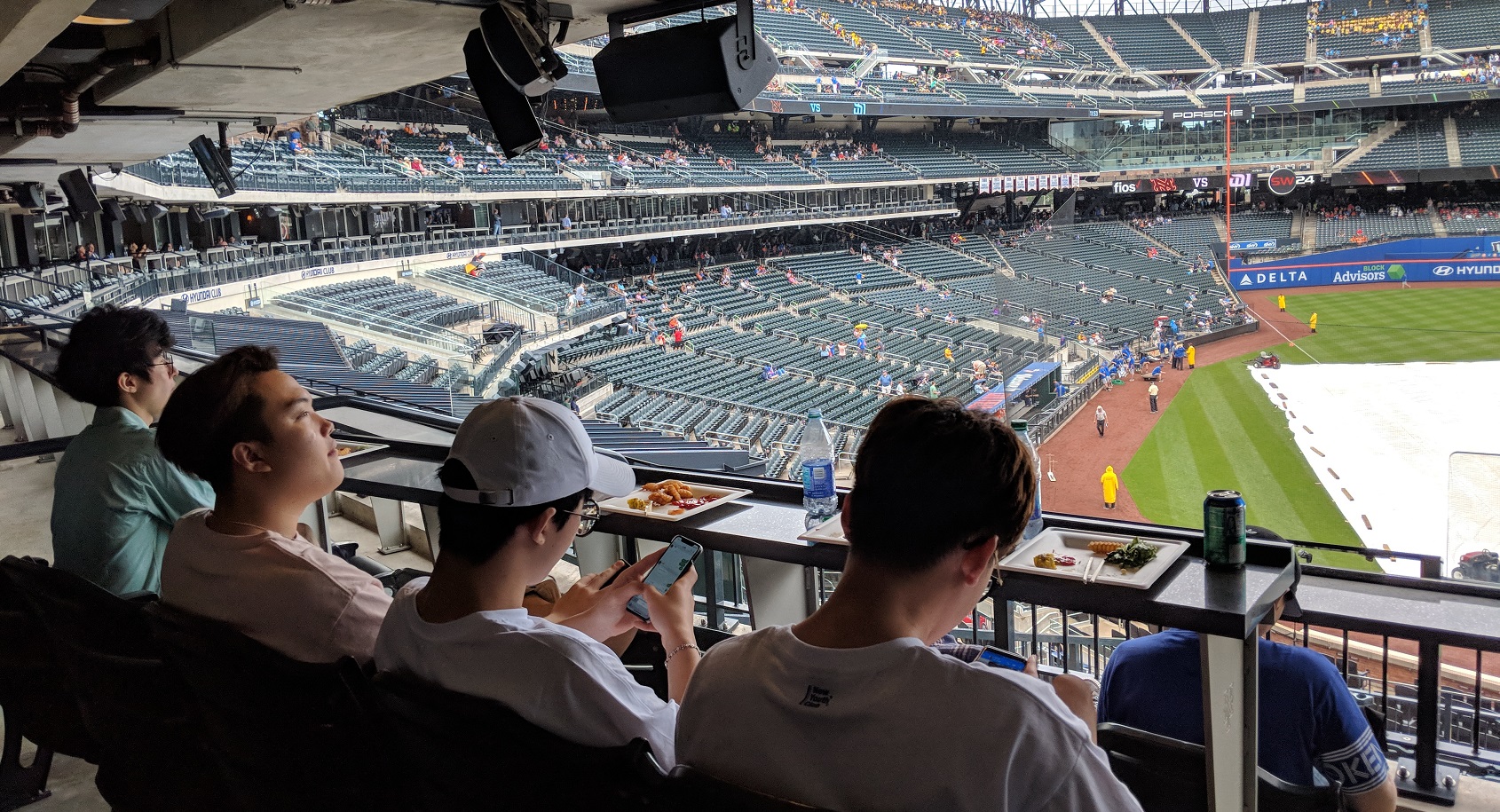 Singer Charlie Puth's "One Call Away" is playing over the stadium's speakers. Bang "JJoNak" Seong-hyun dances along, belting out the chorus. It's bittersweet to return without the win, but the team doesn't seem to mind too much. NYXL's fans are unwavering in their support of the team. They're here for them, Saebyeolbe said. "It's an honor to do the first pitch," he added. "It feels like I'm coming home to meet my fans."
It's not Saebyeolbe's first time in New York. He was here in April for another Mets game, one that was eventually called off for snow. He didn't get to throw the first pitch then, nor did he get to go to Central Park. He'll go this time, he said, but he wished he could have brought his dog, a Shiba Inu named Bebe. Instead, he's looking forward to dog-watching other folks in the park.
When the Mets field crew starts pulling back the rain tarp, the crowd cheers. Despite the rain, Citi Field is loud. The team's not having a great season, but New York fans persevere. It's almost time.
A few minutes of goodbyes and good lucks and we're taken through the stadium, through back hallways and into the stands before heading onto the field. First it's the national anthem, then a kid hobbling onto the field to deliver the game ball. A quick check of his hair through someone's cellphone sceen and Saebyeolbe's up. Mets catcher Kevin Plawecki is opposite Saebyeolbe, 60 feet, six inches away. The NYXL logo flashes up on the big screen. Saebyeolbe, it's your pitch.
Just like the Overwatch League's semifinals, it's over in an instant. But it's definitely a happier moment. He's landed the throw.
The good thing is that now Saebyeolbe can relax, enjoy the Overwatch League's off-season and meet with fans. Eat Korean food in New York and then in Korea. When he comes back for next season, he'll be met with opponents old and new—he's heard six teams will join the league. "Our team's system can be improved," he said. "I'll treat every game like the Philadelphia game, try my best every game. I think that'll bring better results."