Wizards of the Coast is investing in Magic Online, hoping to make it an alternative digital platform for Magic: The Gathering players who enjoy formats outside of what's offered on MTG Arena.

Magic: The Gathering headlined the Magic Online Championship on Twitch in May to abysmal viewership numbers, leaving many to wonder if MTG Arena would become the sole digital platform.

Wizards of the Coast, however, is seeking to improve its reputation. Long-term Magic: The Gathering players are used to the complexity and archaic design of Magic Online. But if Wizards of the Coast is going to attract a new generation of players to its original digital platform, it's going to need some major upgrades.
The recent upgrades towards the digital platform add visual appeal and lobby simplification for gamers seeking to play other formats in Magic: The Gathering like Modern, Legacy, Commander, and Pauper.

In addition to improving the visual aspect, sometime in the latter part of 2019, Wizards of the Coast will remove the $9.99 downloading fee attached to Magic Online. In providing a free download option, players can experience the new upgrades and various formats without spending money. Not all options, however, are accessible for free users and will require an upgrade.

Visual and formating updates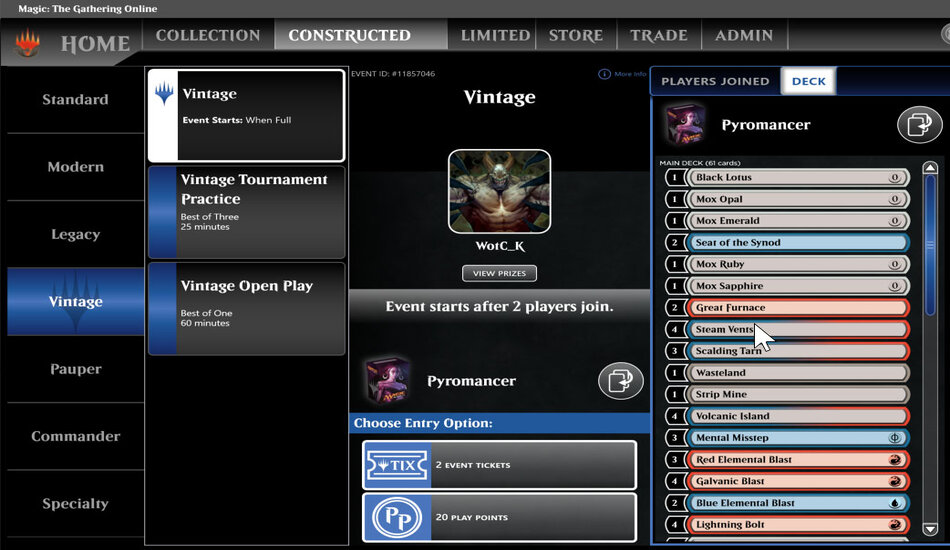 The new lobby update in Magic Online removes much of the clutter from before. All events and play options are now listed under the various formats offered. Using larger buttons for visual simplicity, Wizards of the Coast is hoping the new lobby format will make it easier for newer (and returning) players from MTG Arena to gain interest in Magic Online too.

In addition to the lobby upgrades, Magic Online now has a decklist setup similar to the one in MTG Arena. The decklist format allows players to easily view and manage the names and quantity of the cards in individual decks. Whereas before, Magic Online players would have to open their "collection scene."

For those who compete on a higher level in Magic: The Gathering or simply enjoy a good matchup, Magic Online has upgraded the open play styles. Players can now hookup in single 60-minute or tournament style best-of-three matches.

There's also a comment section when setting up a match, the ability to limit games on a players buddy list, and an option to prevent other players from viewing a match. Considering how many players practice on Magic Online for upcoming Pro and Grand Prix tournaments, not having others view a match is a big deal.

Modern Horizons updates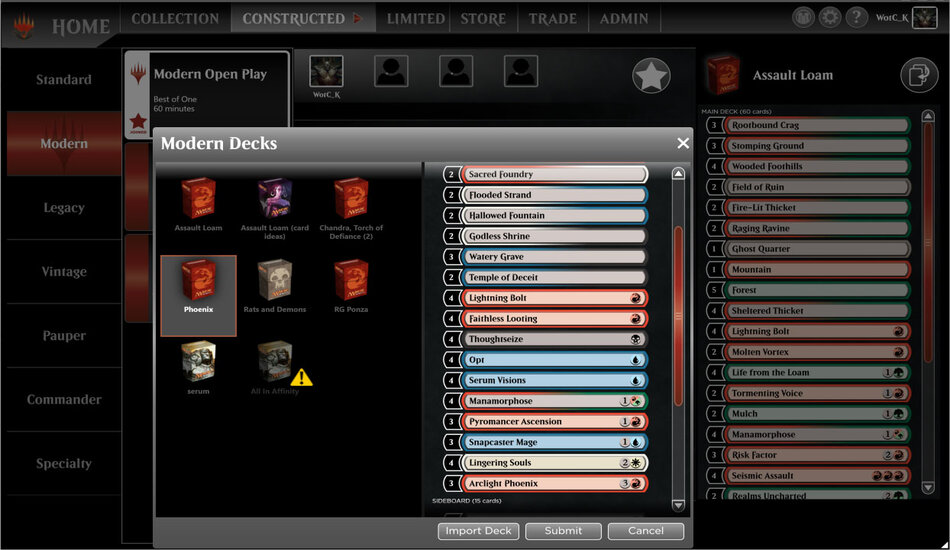 Releasing on June 6, via Magic Online, is the highly anticipated Modern Horizons set. Featuring new and reprinted cards, the new set is unlike other Modern sets in the past. Players will have access to Limited, Sealed, and Phantom draft leagues with Modern Horizons beginning on June 6.

For the more serious and competitive players, there's a Modern Horizons MOCS Preliminaries event from June 9 to 22. Then on June 15, there is a Modern Horizons Magic Online Championship Series Open, in which the winner gets an invite to the 2019 MOCS Championship.

The Magic Online Championship Series Open is a Sealed deck and draft for the top eight playoffs in which players keep the cards they open. The cost for the event is either 50 Event Tickets, 500 Play Points, or 25 Modern Horizons Tokens. A Modern Horizons bundle with 25 tokens and various cosmetics is available for newer players who want to try to advance.
Modern Horizons is releasing on Magic Online June 6. Pre-release in paper form is from June 8 to 9 and the official release date for the set is June 13.