A total of three planeswalkers are joining the Magic: The Gathering format via Innistrad: Crimson Vow, providing narrow but solid synergies within certain builds.
There are two planeswalkers that have consistently seen gameplay within the Standard format since rotation: Wrenn and Seven, and Lolth, Spider Queen. Out of the three new Innistrad: Crimson Vow (VOW) planeswalkers, Sorin the Mirthless is likely the most versatile. Chandra is primarily a Mono-Red planeswalker, while Kaya remains somewhat of a mystery until VOW digitally releases on Nov. 11. 
Here are the three planeswalkers within the VOW set:
Sorin the Mirthless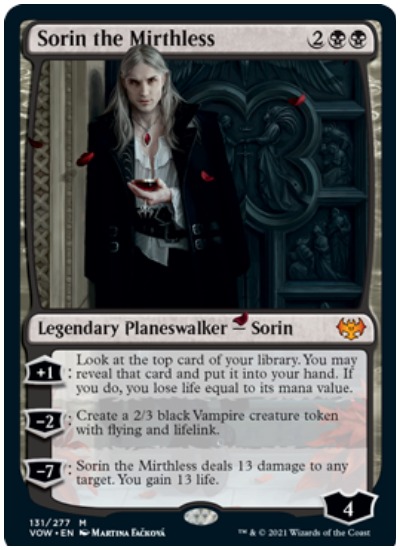 Mana value: 2BB
Type: Legendary Planeswalker Sorin
Rarity: Mythic Rare
Starting loyalty: Four
Plus-one ability: Look at the top card of your library. You may reveal that card and put it into your hand. if you do, you lose life equal to its mana value.
Minus-two ability: Create a 2/3 Black Vampire Creature token with Flying and Lifelink
Minus-seven ability: Sorin the Mirthless deals 13 damage to any target. You gain 13 life.
As a Mono-Black planeswalker, Sorin the Mirthless has the potential to slot into a number of archetypes within the Standard format. He synergizes with Edgar, Charmed Groom and the BW Lifegain theme but can work in RB vampire builds as well. Mono-Black Aggro has the option to use the legendary VOW planeswalker to draw cards or go wide with the addition of vampire tokens that have Lifelink. And Mono-Black Control decks can use Sorin the Mirthless to stall within the four-drop slot. 
Chandra, Dressed to Kill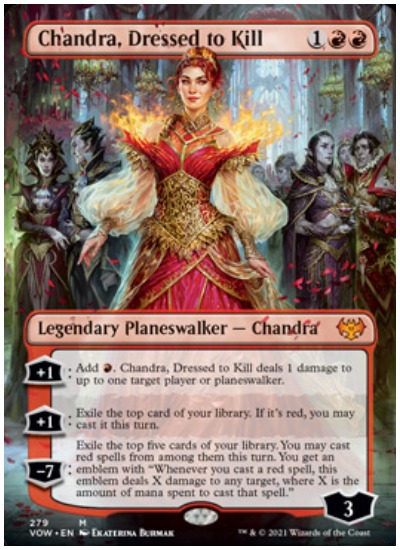 CMC: 1RR
Type: Legendary Planeswalker—Chandra
Rarity: Mythic Rare
Starting loyalty: Three
Plus-one loyalty: Add one Red mana. Chandra, Dressed to Kill deals one damage to up to one target player or planeswalker
Plus-one loyalty: Exile the top card of your library. If it is Red, you may cast it this turn
Minus-seven loyalty: Exile the top five cards of your library. You may cast Red spells from among them this turn. You get an emblem with "Whenever you cast a Red spell, this emblem deals "X" damage to any target, where "X" is the amount of mana spent to cast that spell."
Chandra returns to the Standard format via her VOW planeswalker card, Chandra, Dressed to Kill. She ideally slots into a Mono-Red Aggro build, able to provide card advantage or the option to ping an opponent to face.
The legendary VOW planeswalker has the potential to synergize with RB vampire tribal decks via her first two abilities and can trigger abilities on vampires from MID. There's competition for the three-drop slot in RB, though, and her casting cost of two RR could prove problematic too.
Kaya, Geist Hunter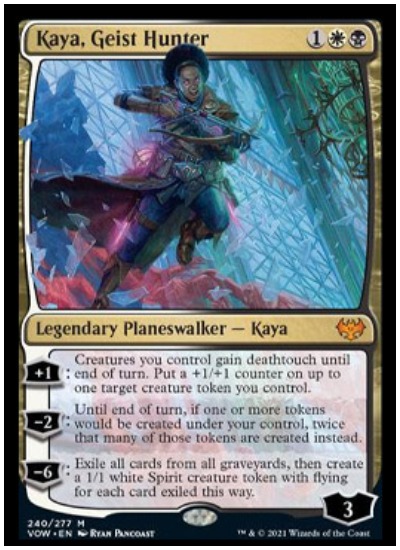 CMC: 1WB
Type: Legendary planeswalker—Kaya
Rarity: Mythic Rare
Starting loyalty: Three
Plus-one ability: Creatures you control gain Deathtouch until the end of turn. Put a +1/+1 counter on up to one target creature token you control
Minus-two ability: Until the end of turn, if one or more tokens would be created under your control, twice that many of those tokens are created instead
Minus-six ability: Exile all cards from all graveyards, then create a 1/1 white Spirit creature token with flying for each card exiled this way
Kaya, Geist Hunter is the most narrow planeswalker of the three within VOW. Her plus-one supports Aggro builds while her minus-two supports Midrange token creating builds. Kaya has solid synergy with creatures that create creature tokens, like Adaline Resplendent Cathar and Sedgemoor Witch. She can also copy Treasure and Blood tokens. And it's possible that Kaya can slot into an Abzan token-themed build, especially with the finished cycle of Rare Dual lands within VOW.
A major downside to Kaya, Geist Hunter is that she doesn't protect herself. Players will need defenders, which takes away from her providing Deathtouch via her plus-one until the end of the turn when played on turn three.