Microsoft's Xbox One comes with 500GB of storage space, increasing to one terabyte on the Xbox One X model. While this might seem like a lot, it's easily filled due to the massive size of modern games and media files.
The easiest way to upgrade the storage space of an Xbox One is by adding an external storage drive. These drives come in various speeds and sizes to suit users' requirements and provide convenient storage space for game libraries.
For an external drive to work on an Xbox One, it must meet certain requirements. Any external drive connected to the Xbox One must be at least 250GB in size and have USB 3.0 compatibility. There's also a 16TB limit on how big the drive can be.
Here are the best external drives for the Xbox One.
Best overall external drive for Xbox One
Western Digital's Black D30 Game Drive SSD is specifically designed for games and boasts a large storage capacity. Its two terabyte capacity is ideal for storing many games and media titles. As a solid-state drive (SSD), it's capable of high speeds of up to 900MB/s for fast data transfer rates.
This external storage drive follows the design of other products in Western Digital's Black range. It looks like a black box with ridges running along the width and exposed screws that give it an industrial look.
The D30 has enough space for most users' needs and high-speed capability. Western Digital also offers users a three-year warranty to have some peace of mind. Its price to performance ratio makes it one of the best options for Xbox One users.
Best mid-range external drive for Xbox One
The Seagate Game Drive Master Chief LE is made for the Xbox One and mimics the two terabyte capacity of the D30. While its capacity is the same, it has much slower speeds because it is a hard disk drive (HDD) instead of an SSD. Users can expect speeds up to 140MB/s, which is enough to play games, but copying large files is a slow process.
Halo fans will appreciate the Master Chief image featured prominently on the Game Drive. Apart from the image on the drive, the Game Drive includes a limited-edition set of Master Chief stickers, which adds little to the value of the drive and only serves as mild fan service.
As an HDD, the Game Drive is far more affordable than the D30 despite having the same capacity. At less than half the price of the D30, it's a more budget-friendly way to get higher-capacity storage for the Xbox One.
Best durable external drive for Xbox One
Users who are on the go need a rugged storage device that can handle a few bumps. SanDisk's 1TB Extreme Portable SSD has a tough silicon exterior that offers drop protection, water resistance, and dust resistance. It has two-meter drop protection, and its IP55 rating means it can withstand a limited amount of dust and low-pressure jets of water from any direction. Sandisk also gives the Extreme Portable SSD an extended, five-year warranty, so users have some peace of mind regarding its durability.
Apart from its rugged design, the Extreme Portable SSD has decent capacity and fast speeds. Its terabyte capacity is smaller than the drives mentioned so far, but it can still hold multiple games and media files. As an SSD, it also has fast speeds and can reach read speeds of up to 1,050MB/s and write speeds of 1,000MB/s.
The SanDisk Extreme Portable Drive can survive harsh conditions and has adequate storage to double the Xbox One's internal storage. It's a worthwhile option for users needing a balance of durability, capacity, and speed.
Best high-capacity external drive for Xbox One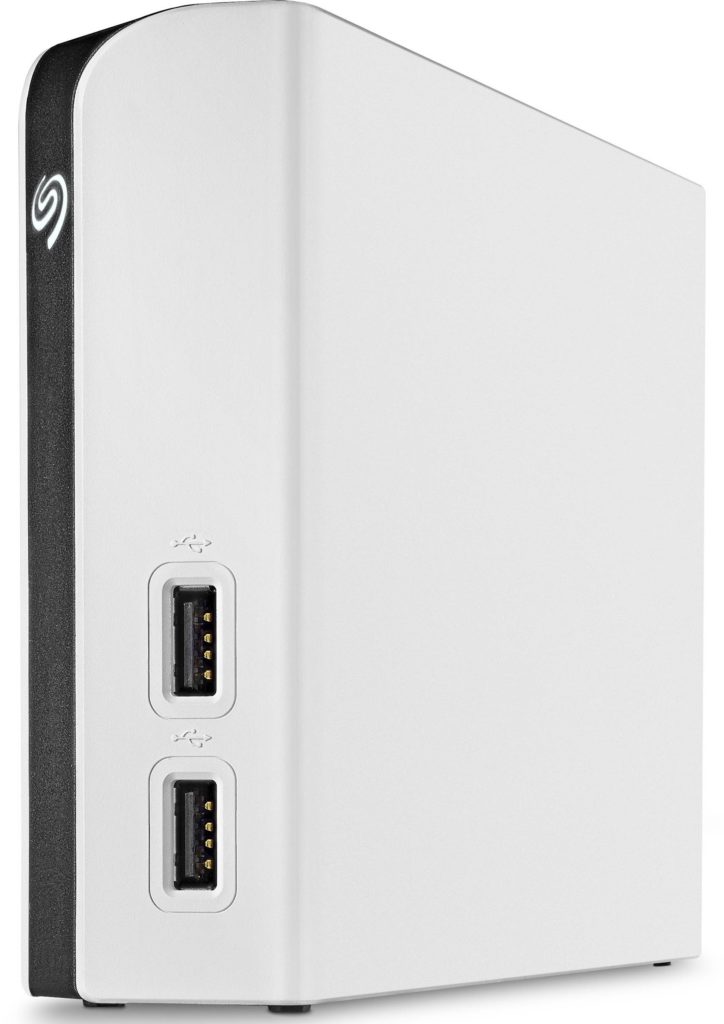 The Game Drive Hub is another officially licensed Xbox storage device from Seagate. Its design caters to users wanting the most capacity possible to store their huge game or media libraries. As such, it comes with a whopping 8TB of storage capacity.
While the Game Drive Hub has the highest capacity of any drive listed here, it's not the fastest due to its HDD design. Users can expect speeds of around 160MB/s, which is enough to run games but could hinder copying large amounts of data.
Another drawback of the Game Drive Hub is its bulk. It's larger than any of the other drives on this list because it contains a 3.5-inch HDD on the inside. Unlike the other drives mentioned so far, it also requires an external power adapter to make it run. On the other hand, the inclusion of dual USB ports somewhat mitigates its shortcomings.
While the Game Drive Hub isn't perfect, its large capacity makes it ideal for players with extensive game libraries. It might not have the fastest speeds, but it's hard to complain, considering its low price.
Best budget external drive for Xbox One
Silicon Power's 1TB A62 is an affordable way to expand the storage space on the Xbox One. Its single terabyte capacity matches the Extreme Portable SSD, but it has slower speeds of around 160MB/s due to its HDD design.
Despite its inexpensive pricing, the A62 has better durability than most external drives. It's shockproof and has an IPX4 water resistance rating. This rating means it can only withstand light splashes, and it's not advisable to get it soaked.
While the A62 won't win any competitions for speed, it's still a practical choice for Xbox users. Like the Extreme Portable SSD, it doubles the Xbox's storage capacity, but it costs less. It also has sturdy build quality, although it can't match the Extreme Portable SSD.
This article includes affiliate links, which may provide small compensation to Dot Esports.