The inaugural NBA 2K League draft has concluded and the 17 league teams have their star-studded rosters for the first season of play.
NBA commissioner Adam Silver took the stage at The Hulu Theater in New York City on Wednesday to announce the first draft pick in NBA 2K League history. The name he called was that of Artreyo "Dimez" Boyd, a Cleveland, Ohio native and the new Mavs Gaming point guard.
Although Dimez was touted as the best player in the world coming into the draft and he was taken with the first selection, he was just one of 102 players that were drafted on Wednesday.
To get down to the top 102 players in the world, there was an open tryout in January featuring 72,000 participants. The tryout was followed by a combine in February, which helped the selection committee narrow down the massive player pool to 250. Those 250 players were then interviewed before the committee determined the top 102 players that would be eligible for the 2018 NBA 2K League Draft.
Each of the 102 players were promised to be drafted as the 17 teams filled out six-man rosters. In the first five rounds, teams needed to draft one player from each position before selecting a final player—the sixth player could be any position—to complete their lineups.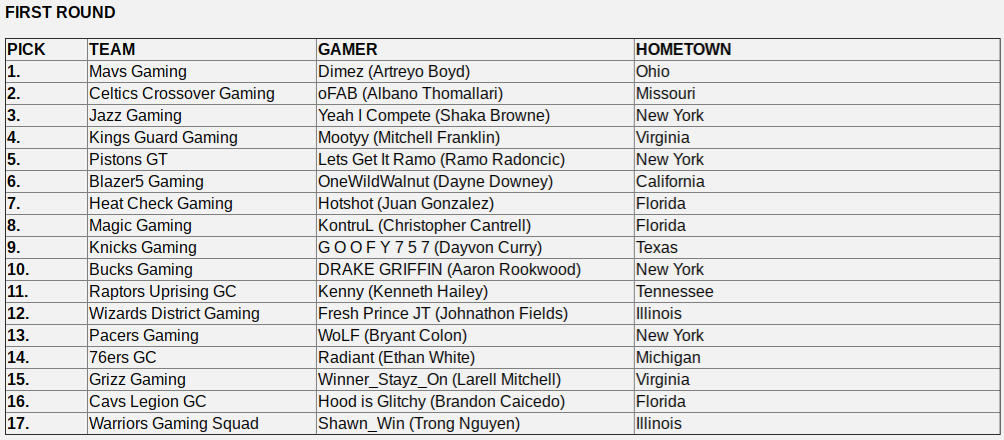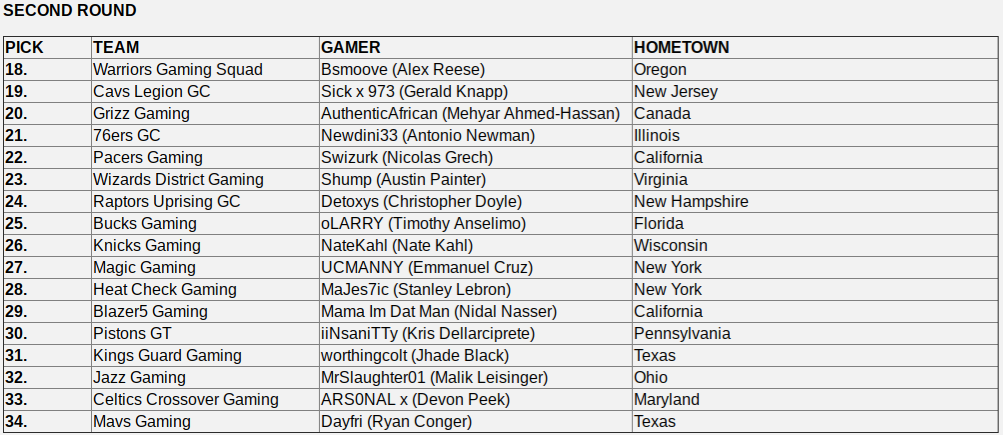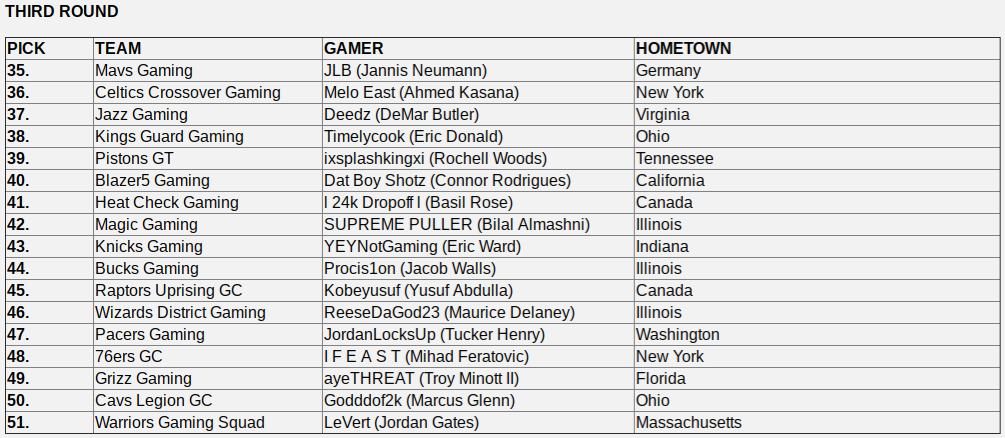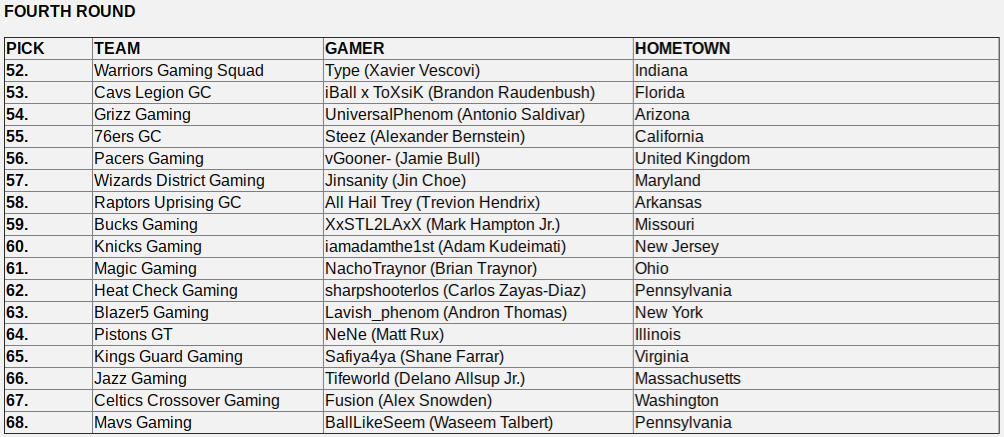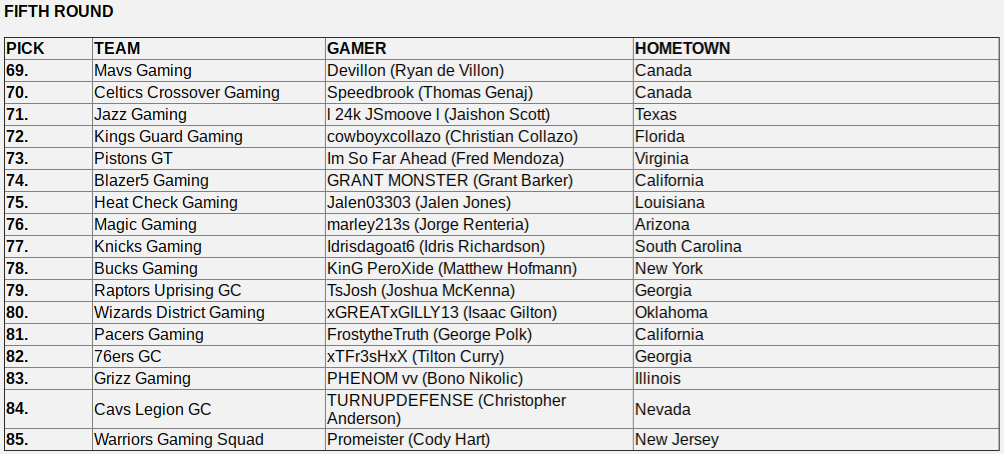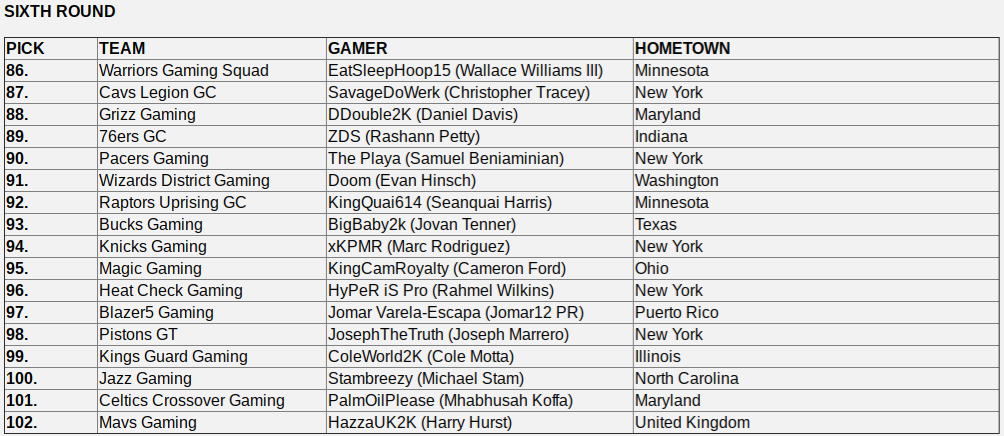 Although the first round passed without an international player being selected, it did not take long in the second round for the first non-American player to be taken. Canadian center Mehyar "AuthenticAfrican" Ahmed-Hassan became the first international player in league history when Grizz Gaming drafted him with the 20th overall pick.
With AuthenticAfrican off the board, only six international players were left in the pool of over 80 remaining draft-eligible players. One of those six will forever be remembered as the league's first "Mr. Irrelevant," a nickname for the last player selected in the draft.
The nickname is most commonly used in association with the NFL draft, but it has also been used in other major sports leagues' drafts, including the NBA draft. Harry "HazzaUK2K" Hurst of the United Kingdom was taken by Mavs Gaming with the 102nd overall selection, completing Mavs Gaming's roster and the first NBA 2K League draft.
With the draft in the past, the league's focus turns to the regular season, which is scheduled to begin sometime in May. The first season will run from May to August, according to the league's website.