Are you, like hundreds of millions of others, experiencing the symptoms of sports withdrawal? Do you crave a David-vs-Goliath underdog story, a come-from-behind-win, or a dramatic last-second victory? Does the prospect of watching The Office for the 14th time not quite scratch your competitive itch?
We have a solution: watch esports.
Esports, as competitive video games, are fundamentally different than traditional sports. But they're also similar where it counts to satisfy hunger for competitive action. And while live attendance for esports is suspended, the matches are still played and streamed (for free) online.
In other words, esports isn't going anywhere during the COVID-19 pandemic.
So if you're missing traditional sports, here's everything you need to know to become a fan.
(And if you want to skip the broad introduction, just jump to bottom for a schedule and links to live broadcasts).
Esports offer the same drama as sports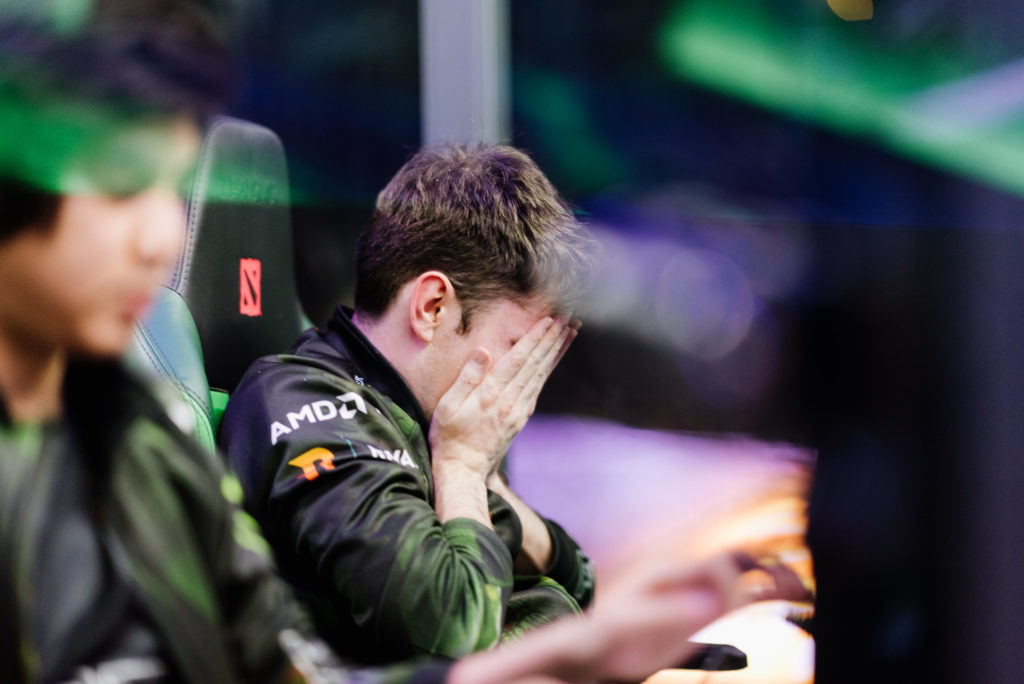 First, let's get the differences out of the way: Esports aren't exactly sports. They're not on a field or a court or a course, and the players use mice and keyboards to manipulate what are essentially in-game avatars. So the action is, obviously, virtual—you won't see bone-cracking tackles, or helmets go flying on impact, or intense stare downs, or blood or mud or grass stains.
But much of the same drama you love about sports remains in esports. There are multi-million dollar contracts and even larger prize pools. There are come-from-behind, late-game victories. There are dynasties and superstars. There's trash talk and transfer sagas and in-team feuds.
It's all there because, fundamentally, the similarities between esports and sports are greater than their differences.
There's everything on the line: careers, reputation, and money—lots of it. The International for Dota 2 last year boasted a prize pool of $30 million. The prize pool for the Masters, the most prestigious tournament in global golf, was $11.5 million in 2019—yeah, that's just a $28.5 million difference.
And think about why you love sports. They're communal, social events. They can be vicarious—you can imagine yourself playing, imagine what you would do in the same situations. You can watch those who have refined their game to the highest levels imaginable level. And in esports, the field of play is programmed in such a way that it's exactly level, meaning teamwork and player skill are the only attributes that decide who wins.
It all creates an aura of emotional intensity in games that's pretty much the same as you'll get in traditional sports. And when you've got emotional intensity paired with fierce competition, that's a recipe for drama.
Here are just a few of the most dramatic moments in esports, as selected by our staff.
Coldzera — Double no scope — Luminosity vs Team Liquid, MLG Major, 2016
Brazilian underdogs Luminosity Gaming claw back from defeat with one of the most impressive plays in Counter-Strike history.
Coldzera, alone on the B bombsite, uses his sniper rifle (without its scope) to take out four members of North America's Team Liquid. Luminosity make the comeback, winning the next five rounds, before taking the series. The team then go onto win the whole major tournament, beating Na'Vi in the grand finals.
Doublelift's incredible play – TSM vs C9 NA LCS 2016 Finals
In this clip, keep your eyes on TSM's Doublelift—he's able to turn around a game-changing fight with his team with incredible positioning and decision-making, all in front of a sold-out crowd at the Scotiabank Arena in Toronto, Ontario. The screams of over 19 thousand people and the play itself made it one of the most exciting moments of the year. Now, the crowd won't be there during quarantine. But plays like this will be.
Evo Moment 37: Daigo Umehara vs Justin Wong
One kind of esport needs almost no explanation: fighting games. In this legendary match between Daigo Umehara and Justin Wong in Street Fighter III at EVO 2004—the biggest fighting games competition in the world—Daigo parried 15 consecutive hits from Justin Wong's "Super Art" move.
Daigo was one hit away from losing, and even a single missed parry would have ended the match, but instead he was able to counter every kick frame perfectly and turn the tables.
Olofmeister in flames – Fnatic vs Dignitas, ESL One Cologne 2014
Olofmeister from Fnatic, one of the best CS:GO players of all time, went for the high-risk, high-reward play at the semifinals of the ESL One Cologne 2014 Major, the biggest CS:GO tournament that year. The match was tied 14-14 and olofmeister went for the five-second defuse while the ground was burning—he meticulously defused the C4 and died right after, giving the series point to Fnatic.
SKT vs Samsung Galaxy – Worlds finals 2017
SK Telecom T1 were a destructive force in the League of Legends competitive scene, winning the World Championship in 2013, 2015, and 2016. And the Korean team is home to arguably the greatest League player of all time, Faker.
It was their 2017 Worlds finals loss to Samsung Galaxy that would become one of the team's most iconic moments. After getting swept 3-0 in the series, Faker broke down crying—the greatest of all time was human, after all.  
Profit's Tracer takes down five – Inaugural OWL Grand Finals 2018
In the inaugural Overwatch League Grand Finals, London Spitfire DPS Park "Profit" Joon-yeong managed to completely turn the tide of a key match by himself.
Just as the Philadelphia Fusion were gaining traction and about to win the map, Profit zipped around the objective as Tracer. In an absolutely mind-boggling set of plays, he eliminated five Philadelphia Fusion players nearly single-handedly. He was later named the Overwatch League Grand Finals MVP, partially off of this performance.
The Play – Invictus Gaming vs Natus Vincere – The International 2, 2012
"The Play" is eight years old now. Most likely, it won't be as mechanically impressive as highlights fans have seen in recent years. But it was the first huge play of the then-nascent Dota 2 esport, seeing Invictus Gaming's then-undefeatable strategy turned around by Natus Vincere's willingness to face it head on and prevail, along with an iconic storyline cast by David "LD" Gorman.
How, where, and what to watch
Esports is a big umbrella. It includes literally any video game that can be played competitively. There's competitive Tetris and Pokémon. But the biggest esports tend to be either MOBAs (basically fast-paced, five-on-five team strategy games) and first-person shooters, though fighting games claim the longest history in esports and some of its most iconic moments.
The biggest MOBAs are League of Legends and Dota 2. The biggest first-person shooters are CS:GO, Overwatch, and Call of Duty. If you're a fan of a more long-lasting, strategic, and cerebral game, give one of the MOBAs a try. If you're looking for intense action right from the start, an FPS title is a good place to start.
Here's how to watch upcoming esports games across a number of titles. For now, major competitions in League of Legends, Dota 2, CS:GO, Overwatch, and Call of Duty will continue to be played online.
League of Legends
For League, you'll probably want to watch whichever regional competition is closest to you. For Europeans, that's the League European Championship (LEC). For North Americans, that's the League Championship Series (LCS). Both are resuming this weekend.
LCS
Schedule
You can watch all games on the LCS Twitch channel.
Saturday, March 21
5pm ET – TSM vs. Golden Guardians
6pm ET – Cloud9 vs. 100 Thieves
7pm ET – Team Liquid vs. Evil Geniuses
8pm ET – Dignitas vs. Counter Logic Gaming
9pm ET – FlyQuest vs. Immortals
Sunday, March 22
3pm ET – Team Liquid vs. Golden Guardians
4pm ET – Cloud9 vs. Counter Logic Gaming
5pm ET – TSM vs. Immortals
6pm ET – 100 Thieves vs. FlyQuest
7pm ET – Dignitas vs. Evil Geniuses
Storylines to watch
Team Liquid—the four-time, back-to-back defending champions—will be looking to bounce back after going winless again a couple of weekends ago, and are now sitting in seventh place.
TSM had a rough start to their season so far but recently took down two top teams in Cloud9 and FlyQuest. They'll need to show that same level of domination against Golden Guardians and Immortals this weekend—the latter being a team they lost horribly to earlier in the split.
Watch for teams like 100 Thieves, Evil Geniuses, and Immortals to push the limit this weekend, to get an advantage over the rest of the pack before the final weekend of games.
If you want an El Clásico-esque match, you should catch Liquid vs. Cloud9 on March 29. This could be the most exciting match of the season, if TL can get their act together in time. We're only two weeks away from the playoffs—every game matters.
LEC
Schedule
You can watch all games on the LEC Twitch channel.
Friday, March 20th
1pm ET – Mad Lions vs. SK Gaming
2pm ET – FC Schalke 04 vs. Misfits
3pm ET – Excel vs. Fnatic
4pm ET – Origen vs. Vitality
5pm ET – G2 vs. Rogue
Saturday, Match 21st
12pm ET – FC Schalke 04 vs. Vitality
1pm ET – SK Gaming vs. Origen
2pm ET – Mad Lions vs. Misfits
3pm ET – G2 vs. Excel
4pm ET – Fnatic vs. Rogue
Storylines to watch
Having lost both previous matchups to LEC frontrunners Fnatic and G2, Excel will face off with both this week. They sit one game out of the playoffs, and losing to both could be the end of their split.
Rogue and especially mid laner Larssen have proven the entire season that they are a force to be reckoned with, and are tied for fourth in the standings. They get games against the two best teams in the league to prove that their championship aspirations are for real.
With two weeks left in the regular season, there are six teams left fighting for five playoff spots (G2 already secured a spot): Fnatic, Origen, Misfits, Rogue, Mad Lions, and Excel.
The top four teams in the standings earn a first-round playoff bye. Only one game separates Misfits in fourth and Mad Lions in sixth, so the Misfits vs. Mad Lions match could shake up the standings.
Traditional LEC powerhouses include G2 Esports and Fnatic. But don't forget Origen, currently tied for second with Fnatic and only one game back of G2. They'll face off with the bottom two teams in the league, giving them an opportunity to sneak into the top two, or even tie for the lead.
Overwatch
If you like franchise sports, you will feel right at home watching the Overwatch League. The league is filled with incredible personalities and brands and in many ways emulates traditional sports production.
The league announced it will be returning this Saturday to host matches between the Seoul Dynasty and the San Francisco Shock, followed by a hometown brawl between the Los Angeles Gladiators and the Los Angeles Valiant. More matches will follow on Sunday.
The next weekend there will be 16 matches to watch, which means there is no shortage of Overwatch esports content coming our way very soon. With no March Madness to watch, it might be worth checking out.
Schedule
All matches will be streamed on the league's YouTube channel.
Saturday, March 21

2pm ET – Seoul Dynasty vs. San Francisco Shock
4pm ET – Los Angeles Gladiators vs. Los Angeles Valiant

Sunday, March 22

2pm ET – Los Angeles Gladiators vs. Seoul Dynasty
4pm ET – Los Angeles Valiant vs. San Francisco Shock
Storylines to watch
This will be the first match for the Seoul Dynasty this season; the other three teams have not played since February due to canceled matches.
The San Francisco Shock, last year's Overwatch League champions, have a lot of pressure riding on them to replicate their dominant 2019 season.
Los Angeles Gladiators vs. Los Angeles Valiant is an important match for fans. The "Battle for LA" gets wild every time, but this is the first one not taking place in front of an LA crowd.
Next weekend, March 28 and 29, the four Chinese Overwatch League teams get to play for the first time this season.
CS:GO
CS:GO is one of the most iconic, unpredictable, and exciting esports around. If you are looking for an easy-to-understand, tactical esport, definitely check out Flashpoint and the ESL Pro League.
Flashpoint, which is a new CS:GO tournament series, is also broadcasting throughout this week and beyond. Flashpoint boasts some of the most famous esports commentators around and includes notable partner teams like Cloud9 and MIBR. Flashpoint is delayed, but not canceled due to COVID-19.
The more established ESL Pro League also moved online and is hosting matches throughout this week.
Schedule
All games will stream on the ESL Pro League Twitch channel.
Friday, March 20
9am ET – NiP vs. GODSENT
1pm ET – Vitality vs. BOOM
5pm ET – Astralis vs. ENCE
Saturday, March 21
9am ET – BIG vs. Complexity
1pm ET – Na`Vi vs. forZe
5pm ET – Fnatic vs. North
Sunday, March 22
10am ET – ENCE vs. GODSENT
2pm ET – Astralis vs. BOOM
5pm ET – Vitality vs. NiP
The event will continue playing through April 3. For the full schedule, click here.
Storylines to watch
Astralis are the one team that you don't want to miss. The Danish squad is the New York Yankees of CS:GO. They have won a Major (the most important CS:GO tournaments) four times, including the last three consecutive, as well as a dozen other important events. Astralis, however, didn't win any of the two editions of ESL Pro League last year and are looking to bounce back after some disappointing performances.
Na`Vi don't have the tactical prowess that Astralis does, but they have s1mple, undoubtedly the most skilled CS:GO player ever. When the Ukrainian is feeling the game, he is unstoppable and can single-handedly carry Na`Vi to glory. His teammate, electronic, is also a rare talent. The Russian team are currently the No.1 team in the world as they recently won IEM Katowice, but they've never stayed top for long. Will 2020 be Na`Vi's year?
If you're looking for a great rivalry, we have to transition to North America. Team Liquid and Evil Geniuses are the best teams of the region and both were the best team in the world at some point in 2019. This was great for NA, who historically is a weaker region than Europe.

Watch for teams like mousesports, G2, Fnatic, FaZe, and 100 Thieves. Not only they are entertaining, but also have a real shot to win ESL Pro League season 11.
If you're free on March 24, spare some time to catch Na`Vi vs. Fnatic and Astralis vs. Vitality later. Vitality's sniper ZywOo was the best player in the world in 2019, surpassing names like s1mple and device from Astralis. Although Vitality isn't doing so great right now, he can single-handedly tear apart any team on his best day.
Dota 2
The WeSave! Charity Play is bringing together almost every top Dota 2 team to fill in the gap left by the postponed ESL One Los Angeles Major.
The tournament will have 24 teams, four from each of the six Dota regions, competing for a $120,000 prize pool that will be split into $20,000 for each region and donated to help raise awareness and fight the coronavirus. The event is being held completely online, with full broadcasts available in English here.
Friday, March 20
7am ET – Geek Fam vs. BOOM Esports
12pm ET – B8 vs. Natus Vincere
4pm ET – Cloud9 vs. CR4ZY
Saturday, March 21
8am ET – PSG.LGD vs. Invictus Gaming
1pm ET – Team Liquid vs. OG
5pm CT – FURIA Esports vs. NoPing e-sports
Sunday, March 22
7am ET – TNC Predator vs. Team Adroit
12pm ET – Virtus.pro vs. HellRaisers
4pm ET – Evil Geniuses vs. business associates
Monday, March 23
8am ET – EHOME vs. Vici Gaming
1pm ET – Team Secret vs. Nigma
5pm ET – beastcoast vs. Thunder Predator
Storylines to watch
Europe is going to be a bloodbath; all four teams have been in contention for a Major this season and three of them, OG, Secret, and Nigma, finished in the top four of The International 2019. Secret have been the team to beat this season, but OG have yet to compete against them, meaning there could be an incredible showdown in the finals between Johan "N0tail" Sundstein and Clement "Puppey" Ivanov's rosters.
Despite dominating most SA tournaments, beastcoast actually have some competition this season with teams like FURIA and TP actually taking multiple games off of them. That could make SA one of the tighter regions for the first time in several events.
With how the tournament is set up, there will be no inter-region battles like most fans were hoping for. But keep your eyes on WePlay! because the people running the event usually have a few fun extra things to announce during their tournaments.
If you have to pick one region to tune into, choose the EU matches because you will not be disappointed watching OG and Liquid or Secret and Nigma play. Matches begin on March 20 with Geek Fam vs BOOM at 7am ET, so get ready for a long weekend of Dota 2.
Call of Duty
The Call of Duty League (CDL) will also be returning soon, but the CDL has not announced the schedule for those matches.
We'll update this article as soon as the schedule is released.