ELEAGUE is returning to Counter-Strike for the first time since the ELEAGUE Major in January, and it's through a tournament series called the ELEAGUE CS:GO Premier 2017.
The ELEAGUE CS:GO Premier will feature 16 of the world's best teams to compete in a five week set of competitions, which separates the teams in groups. The first week will be for prospective teams wanting to qualify, while the following weeks will be for group play. Group A through D are listed below with their respective dates and teams.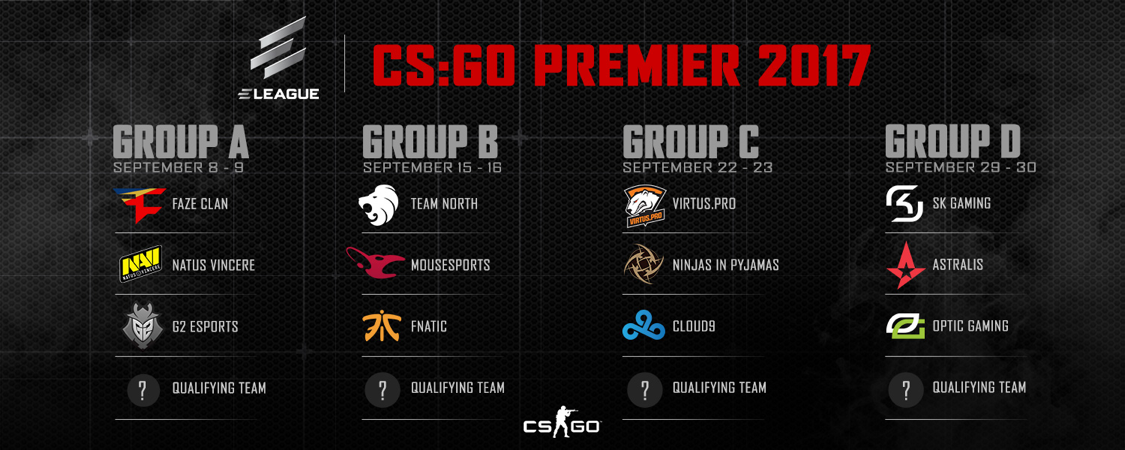 Each group contains three top competitors from past ELEAGUE seasons in 2016 and one spot for a qualifying team to earn through an online open qualifier, which will be held entirely on CEVO game servers on Aug. 26 and Aug. 27. The four slots are given to the top two American teams and top two Europe/CIS teams, who will both originate from 512 team brackets. Registration for both regions is open to the public until the date of the qualifiers.
Related: Tobias Sherman and three colleagues leave WME|IMG's esports division
After the ELEAGUE Major concluded with Astralis on top, the Turner and WME|IMG-backed organizer remained in the shadows of the scene for almost six months.
The skeleton of ELEAGUE's Premier series format is extremely similar to ELEAGUE seasons one and two of 2016, except it eliminated the 24 team lineup from season one. The Premier mirrors season two almost entirely. The venue for offline competition is the same as well, since the action will take place at the G-FUEL ELEAGUE Arena in Atlanta, Georgia.