A total of 24 players fleshed out the new Set 4.5 Fates: Festival of Beasts meta at the Qualifier Four tournament this weekend, hosted by Giant Slayer TV.
Taking place from Feb. 26 to 28, an 11.4 B-patch expanded upon the TFT Set 4.5 meta at one of the final Fates Qualifiers. A total of 24 players earned invites to compete based on the Ladder Snapshot, Open Qualifiers, Qualifier Three, and the Challenger Series events. Several top TFT players who have consistently sat at the top of the Ranked ladder competed—such as C9k3soju, SpencerTFT, Noobowl, GrandVice8, Robinsongz, Mismatched Socks, and Souless.
Format for the NA Fates Qualifier Four was the same as the first TFT Qualifier, hosted by Giant Slayer TV. Eight players were cut following six games on days one and two, with the top four highest-scoring players on day three earning an invite to the NA Regional Finals in March.
Related: Everything to know about the TFT Fates Championship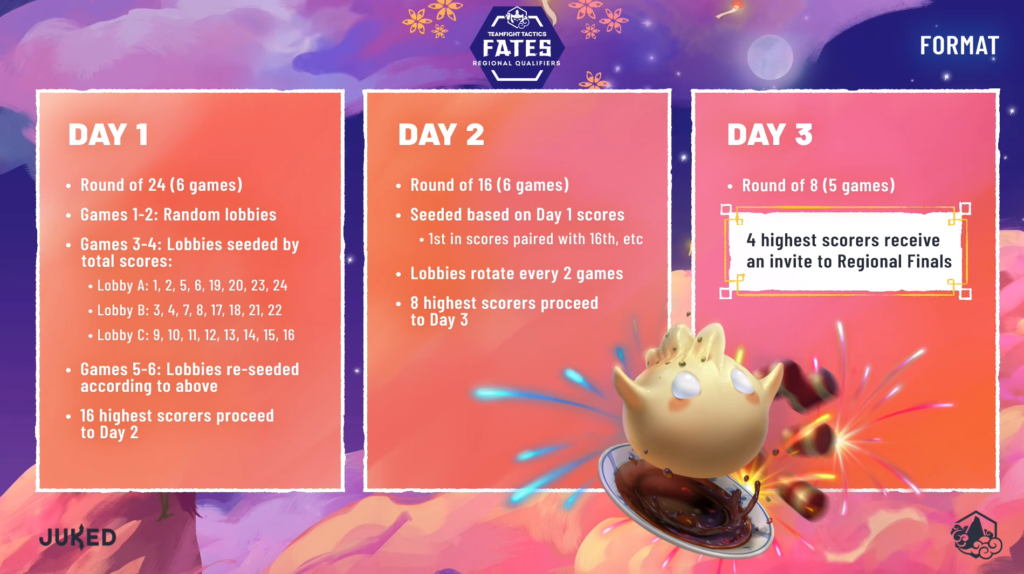 Day one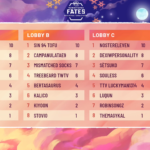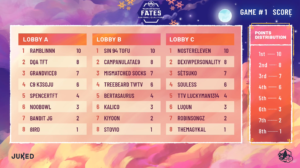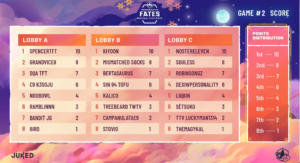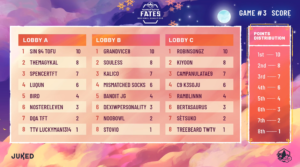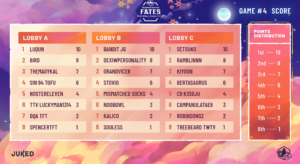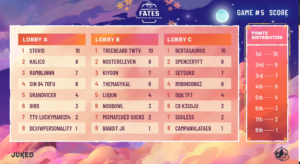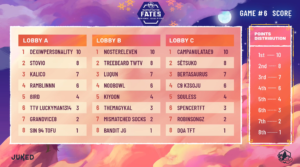 Game one began with a bang via a spatula-only first carousel. Three-star Neeko Fabled/Vanguard went to work eliminating opponents, along with the hot new Tryndamere carry via Slayer/Duelist. The meta throughout day one was wide open—highlighting six Dragonsoul and Executioner traits, along with two, three, and four-cost Chosen carries playing major roles throughout the stages.
Here were the standings following each game: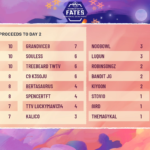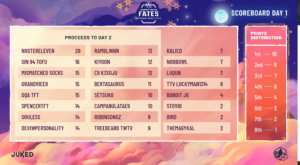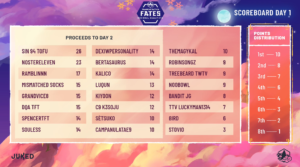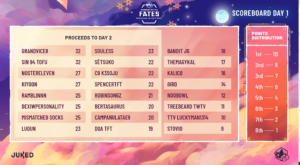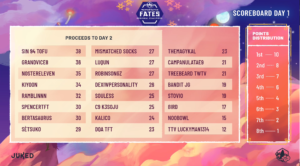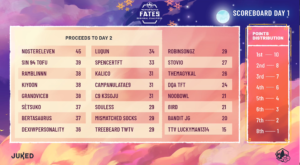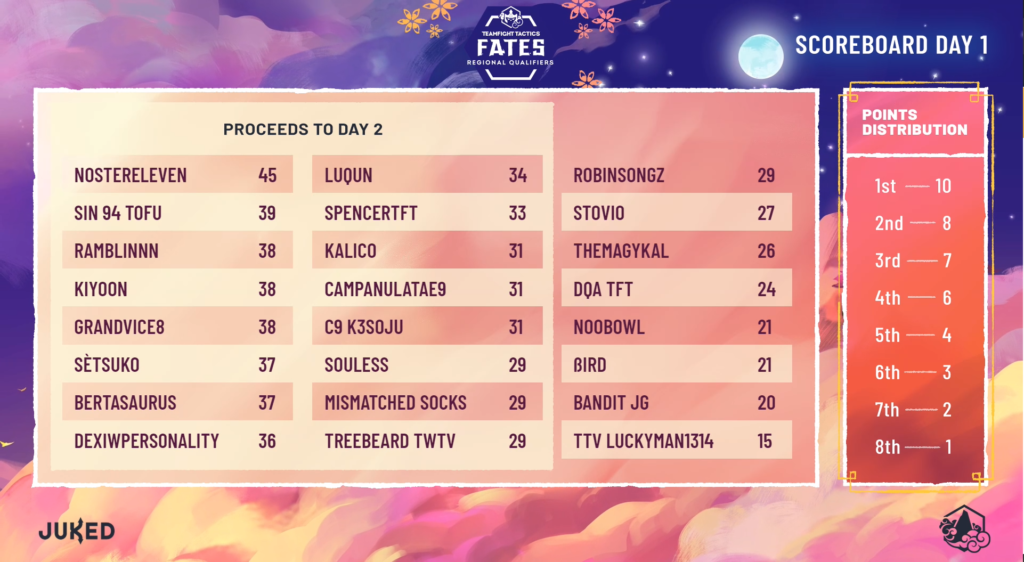 Day two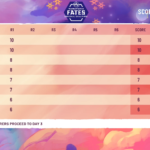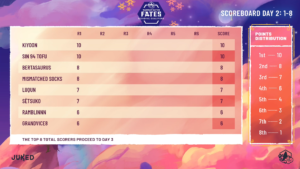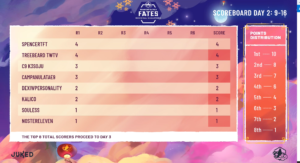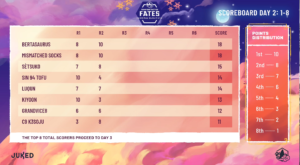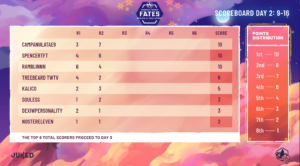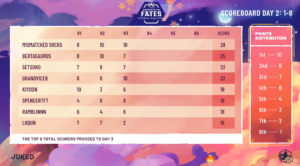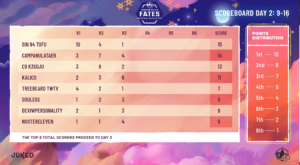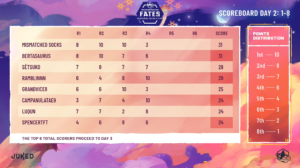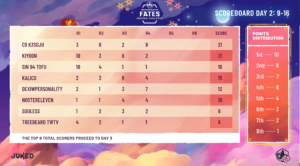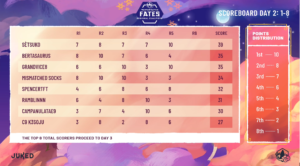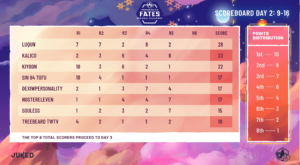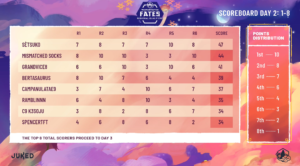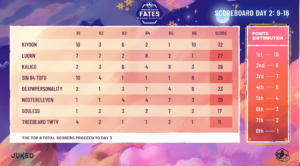 The semifinals of Fates Qualifier Four highlighted the flexibility of TFT Patch 11.4. A total of 16 players competed, with the top eight advancing to the day three finals.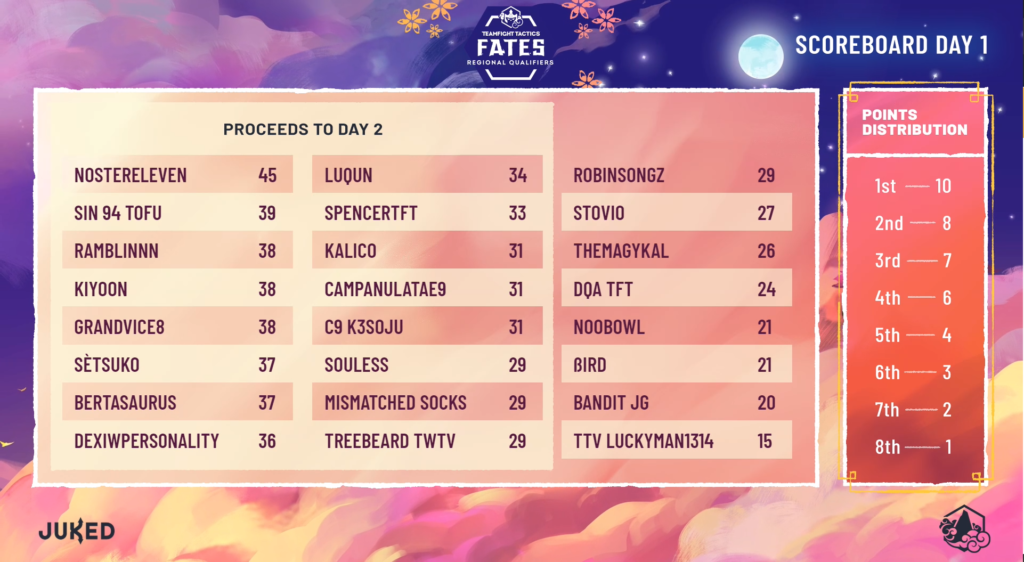 Competition resumed on day two, showcasing early builds that utilized three-star champions like Aurelion Sol and Sivir. Even Kayle showed off her power in conjunction with a four Adept Yone Chosen build by Mismatched Socks. Players in each lobby brought their A-game, with lobby wins coming down to a bit of HP and the placement of a Zephyr.
Players that finished with at least one eighth-place finish did not advance to day three, despite mashing that eighth with a first-place finish over the course of six rounds. Sètsuko finished in the top four of every lobby throughout day two, never finishing lower than third. Finishing second in points for the day, Mismatched Socks had three first-place finishes, followed by GV8 with two first-place finishes.
Here were the top eight players advancing to the Fates Qualifier Four Finals:
Sètsuko: 47 points
Mismatched Socks: 44 points
GrandVice8: 41 points
Bertasuarus: 39 points
Campanulatae9: 37 points
Ramblinnn: 35 points
C9 k3soju: 34 points
SpencerTFT: 34 points
Day three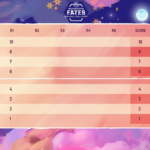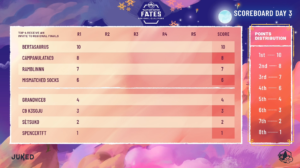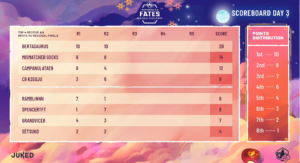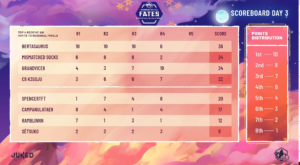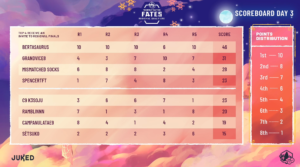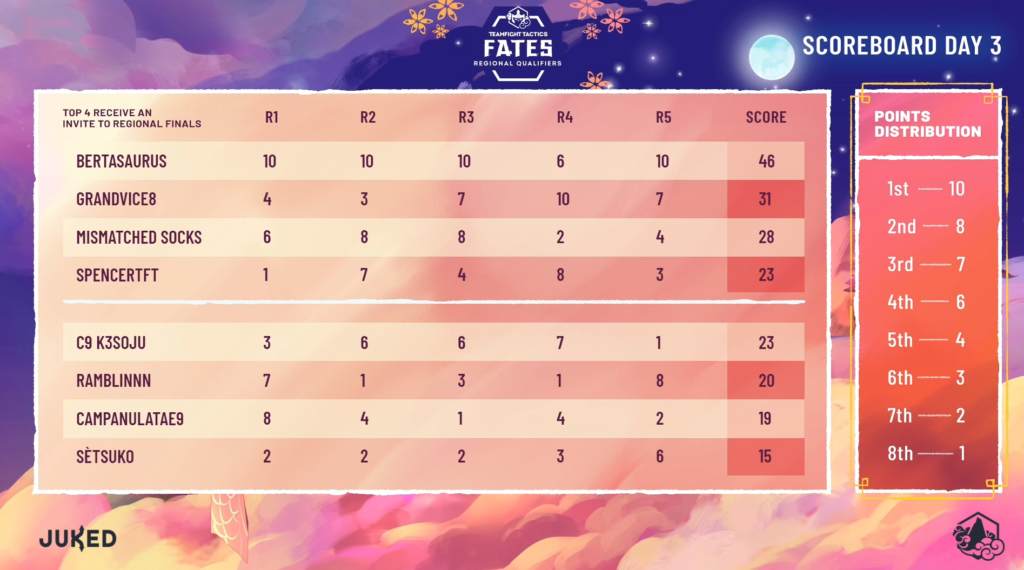 Day three consisted of five games featuring the top eight players from the qualifier weekend and none of the open qualifier players made the cut. A few well-known names on the tournament circuit, such as Souless and Kiyoon, also didn't make the cut. Points were reset heading into day three, with the top four highest scorers earning an invite to the NA Regional Finals in March.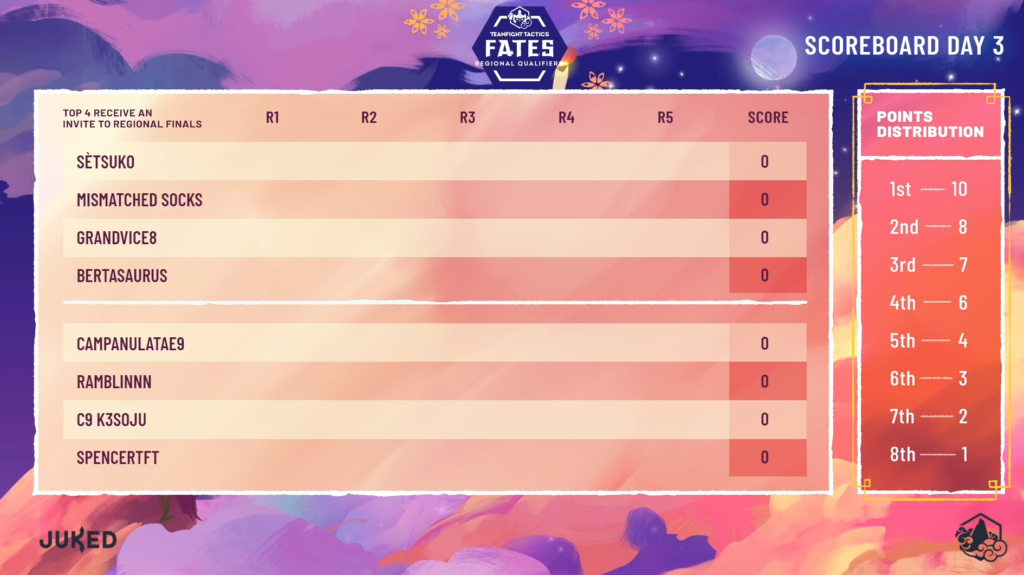 Bertasuaraus kicked off the Fates Qualifier Four finals with three straight first-place finishes, essentially winning the tournament following the fourth round of gameplay by coming in fourth. From a three-star Shyvana with Mage cap in round one and Sivir Chosen in round three to a three-star Zed in round four, Bertasuarus put all competitive TFT players on notice that he's a force to be reckoned with. 
Heading into round five, SpencerTFT was two points shy of fourth place, occupied by C9 k3soju with 22 points. Ramblinnn and sètsuko were at the bottom in points while Campanulatae9 still had a shot at fourth with 17 total points. Bertasuarus finished first in round five with Eight Brawler, three-star Shyvana—placing in the top four of every round at the Fates NA Qualifier Four with four first-place finishes.
GrandVice8 finished round five in third, grabbing second place for the tournament. C9 k3soju had an off round, finishing eighth in round five, dropping to fifth, while SpencerTFT grabbed the fourth-place spot. And Mismatched Socks finished in third with three top-four finishes for the day.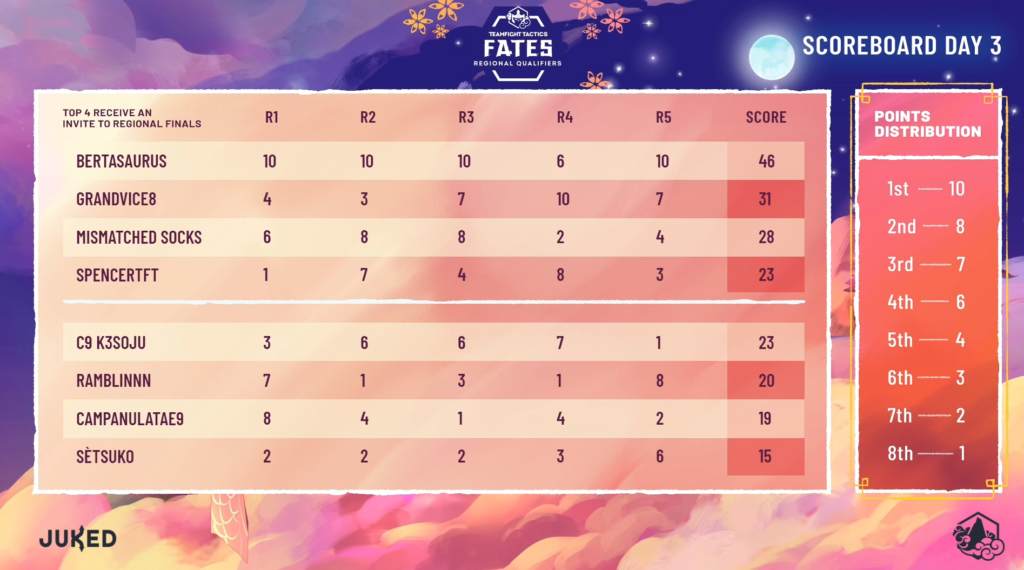 Here are the top four TFT players who earned an invite to the NA Fates Regional Finals:
Bertasaurus: 46 points
GrandVice8: 31 points
Mismatched Socks: 28 points
SpencerTFT: 23 points