It's been a week since War of the Spark released and already there are a few cards surging in worth and price.

Magic: The Gathering War of the Spark expansion isn't like previous MTG expansions in that it not only contains 36 planeswalkers but also has alternative Japanese art, Eternal-Gods, and powerful legendary cards. In combination with the growth of MTG Arena, War of the Spark is exceeding expectations in sales and popularity. In other words, the hype is real.

And with such hype comes an increase in value for cards fans want for tier-one decks and collectible purposes. It's only been a week, but several MTG War of the Spark cards are already rising in price rapidly.

Best MTG War of the Spark valued cards

The value of a Magic: The Gathering card can swing positively or negatively in a single day. War of the Spark cards like Tezzeret, Master of the Bridge started off high due to accessibility but have dropped since launch because of the difficulty plugging him into top decks.

Chandra, Fire Artisan, meanwhile, started off as just a few dollars and is rising quickly in value due to her strength in Burn and Gruul Standard decks. War of the Spark cards rise in value due to demand, either for their artwork or strength in a tier-one Standard meta-deck.

Japanese alt-art Liliana, Dreadhorde General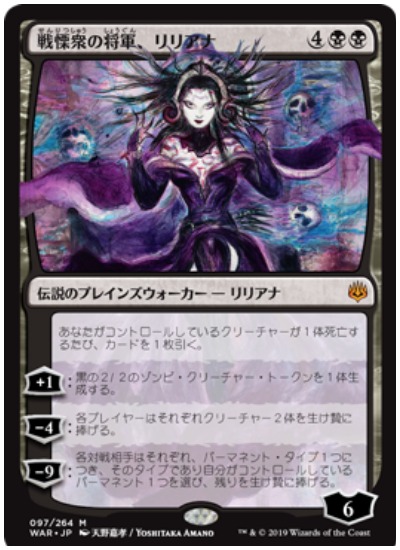 When Magic: The Gathering announce the Japanese alternative art planeswalkers, fans were immediately asking if they'd be available outside of Japan. The hottest one on the market right now is the foil alternative-art Liliana, Dreadhorde General.

Artist Yoshitaka Amano is loved throughout several fandoms, which is why the foil Liliana alt-art is selling anywhere from $350 to $1,000. The value may drop over time depending on how many foil alt-art Liliana's get produced. But don't expect it to drop too much.

God-Eternal Kefnet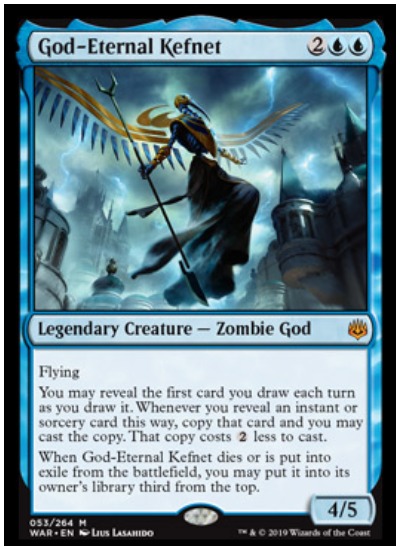 Quickly on the rise in value is the God-Eternal Kefnet. Able to slide into a variety of powerful Standard decks, Kefnet is ranking towards tier one status. Initially costing around five dollars, God-Eternal Kefnet rose from $12 to $19.99 in just a week.

And experts are predicting the God-Eternal mythic rare card to rise even more in coming weeks. If you picked up a Kefnet in a War of the Spark draft or pre-release, hang onto it because its value will rise.

Teferi, Time Raveler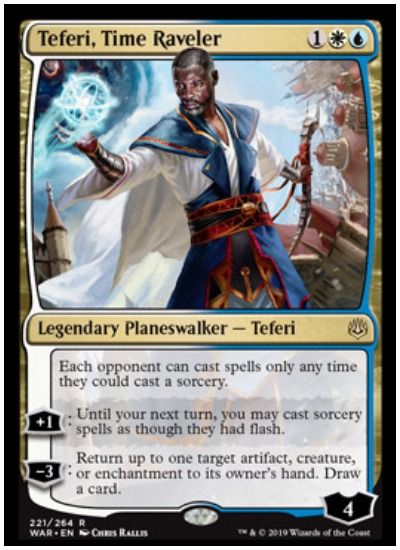 Hated by Magic: The Gathering players, most can't argue the value of having Teferi, Time Raveler in their top decks. While not a tier-one card yet, Teferi is well on his way. Once fall comes and several expansions get rotated out of Standard, expect Teferi, Time Raveler to quickly jump in value.

As of one week after the release of War of the Spark, Teferi, Time Raveler leads the rare cards in value at $13.39 and could double its value quickly.

Gideon Blackblade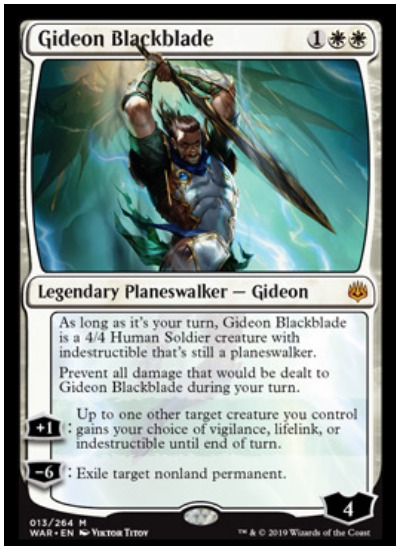 While not one of the best planeswalkers in War of the Spark, Gideon Blackblade might be the most versatile. Every deck splashing white should include a Gideon, and likely will before Core Set 2020 arrives.

The mythic rare Gideon Blackblade is valued at $17.00, although, experts are unsure whether he'll continue to rise or fall in the coming weeks. Either way, it's best to hold onto Gideon and see what happens—especially if it's a foil.

Nicol Bolas Dragon-God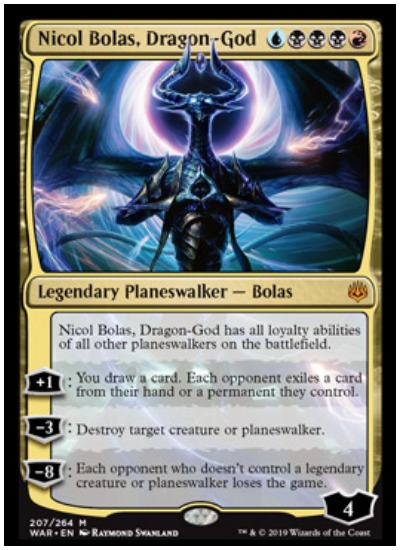 Leading the mythic rare cards in value is Nicol Bolas Dragon-God. Naturally, many Magic: The Gathering fans want Bolas in their collections. Not just because of his power in Standard but due to the storyline in War of the Spark as well.

Nicol Bolas Dragon-God is at a comfortable $25.42 and is expected to inch up slightly in the coming weeks. How high Bolas will climb, however, remains uncertain.

War of the Spark cards to keep an eye on

With the Standard meta still in progress, there are a few cards every Magic: The Gathering player should hang onto as their value could increase rapidly. Here are cards ranging from uncommon to rare, that are increasing daily.

Chandra, Fire Artisan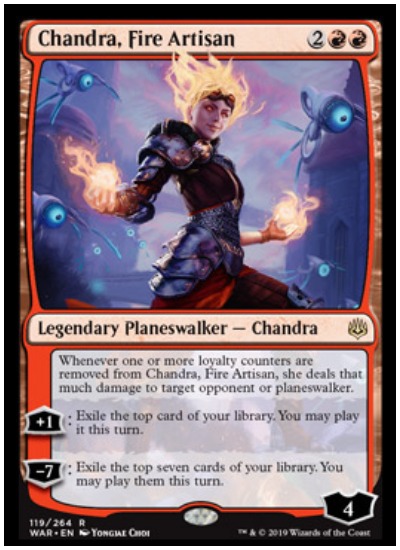 Valued at $5.48, expect Chandra, Fire Artisan to continue to rise rapidly. Her power in Mono-Red Burn and Gruul is unmatched at this point.

Despark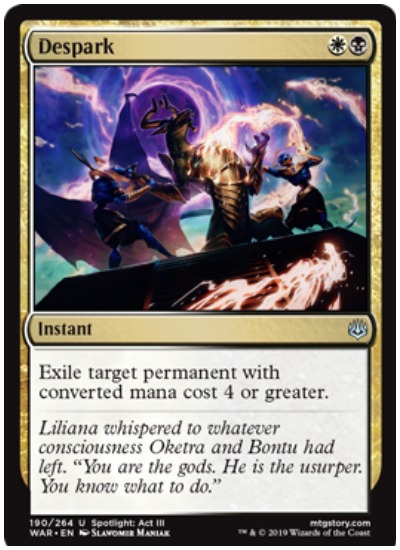 Not an expensive uncommon, Despark holds value in several Standard meta decks. It's only 60 cents now but continues to rise daily.

God-Eternal Oketra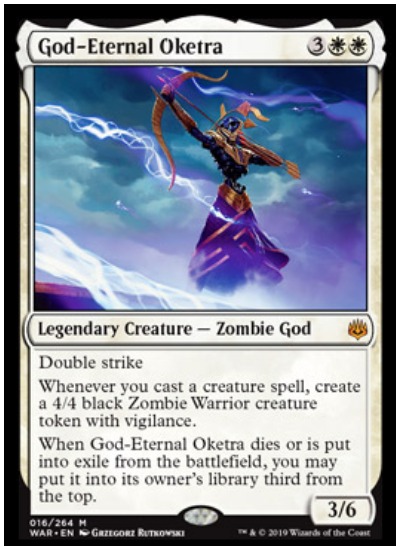 Much like God-Eternal Kefnet, God-Eternal Oketra is making her way into a variety of Standard decks. Oketra's value is at $14.97, almost five dollars more than she was two weeks ago.

Tamiyo, Collector of Tales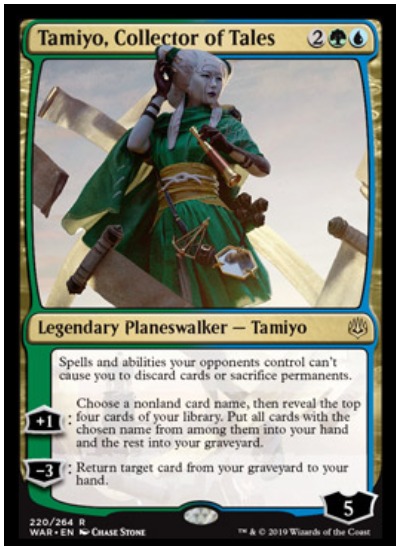 Printed as a rare War of the Spark card, many experts didn't have high hopes for Taniyo, Collector of Tales. Over the last week, however, she's found a home in several Simic based Standard decks that are tearing it up. Tamiyo's value is at $3.25 and continues to climb.