Gideon is pulling out all the stops to defeat Bolas in the upcoming MTG War of the Spark expansion.
Set to release at the end of April, it contains more planeswalkers than any expansion before it. But let's not forget about the instant spells. Gideon and Narset spoilers show how War of the Spark will alter Magic: The Gathering for quite some time.

Gideon's Sacrifice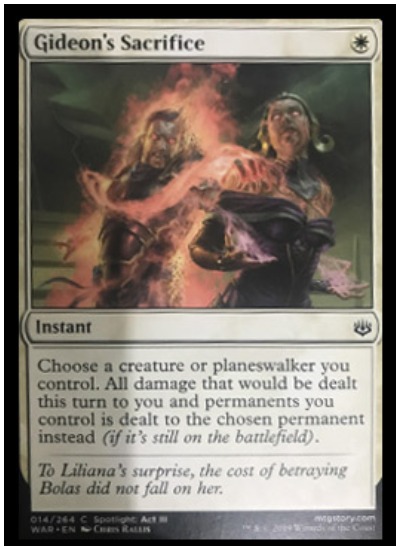 Will Gideon survive War of the Spark? Honestly, it doesn't look like it. The artwork in Gideon's Sacrifice shows him in flames behind Liliana. "To Liliana's surprise, the cost of betraying Bolas did not fall on her," reads the flavor text.

Gideon's Sacrifice is a one white mana instant which redirects damage. "Choose a creature or planeswalker you control. All damage that would be dealt this turn to you and permanents you control is dealt to the chosen permanent instead (if it's still on the battlefield)."

It's not a game-changing card, but Gideon's Sacrifice does work as a nice combat trick when in a pinch. Board wipes that cause damage may be redirected, along with a final blow to your life.

Narset's Reversal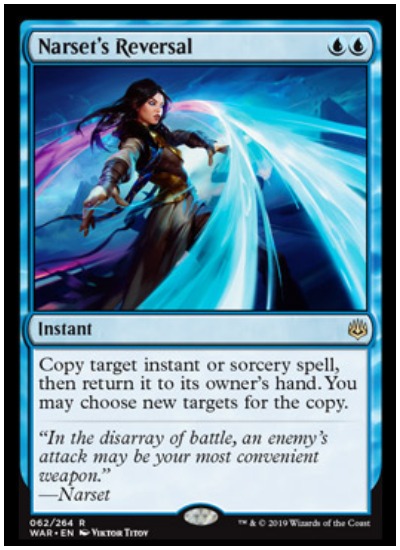 Narset's Reversal is two blue mana instant that copies and redirects a spell. "Copy target instant or sorcery spell, then return it to its owner's hand. You may choose new targets for the spell."

For two mana, Narset's Reversal is a counterspell (without being called one) that bounces damage back to your opponent. It's an excellent answer to Bane Fire, a spell which can't be countered. She's got great value for her mana cost, hence why Narset is a rare card.

War of the Spark is set to release in MTG Arena on April 25. Pre-release for the expansion is April 27.