A Magic: The Gathering set has arrived in the Standard format that's full of folklore spells and fairy tale creatures.
Containing 269 cards, the Throne of Eldraine (ELD) set features new styled cards and spells that have caused a major shift in the MTG Standard metagame. ELD also features Adventure creatures, a Food mechanic, and lots of Knights.
Since ELD marks the rotation of sets in Standard, many of its cards have the potential to be worth money and are worth an initial investment. In addition, the set includes special art and borderless cards that will have an increased value on the open market.
Here are the top ELD cards worth money.
Oko, Thief of Crowns (Mythic Rare)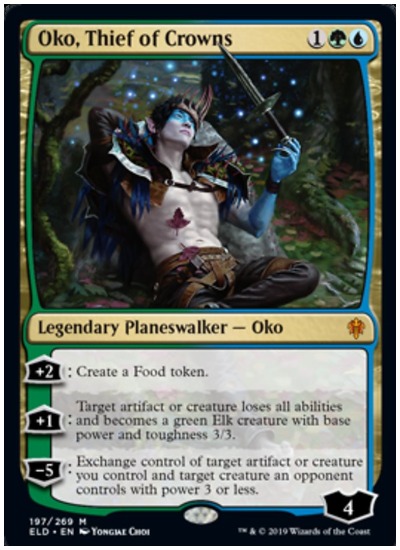 Oko, Thief of Crowns has officially been banned from the Standard and Brawl formats. But the broken planeswalker isn't dead, yet. Once priced at almost $60, Oko is now valued at around $45 to $50.
It doesn't seem like Oko is getting banned in any other formats—for now, at least. And despite his price drop, the planeswalker is still the most valuable card in the Throne of Eldranine set.
Brazen Borrower (Mythic Rare)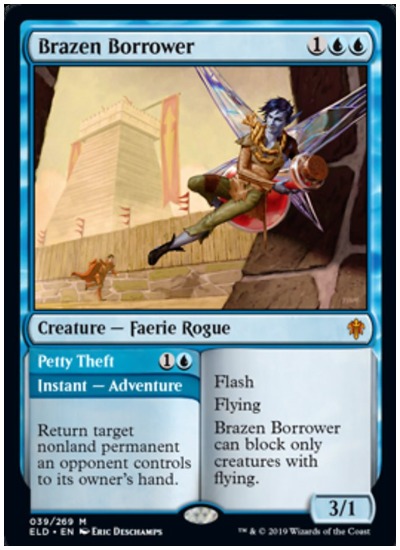 Since the ban on Oko, Brazen Borrower has risen to almost $23. Just in the past week leading up to Mythic Championship VII, the faerie rogue has increased over 30 percent in value.
Brazen Borrower is one of the most versatile Adventure cards in ELD. Expect that after MCVII, the faerie rogue could climb even higher in price.
Questing Beast (Mythic Rare)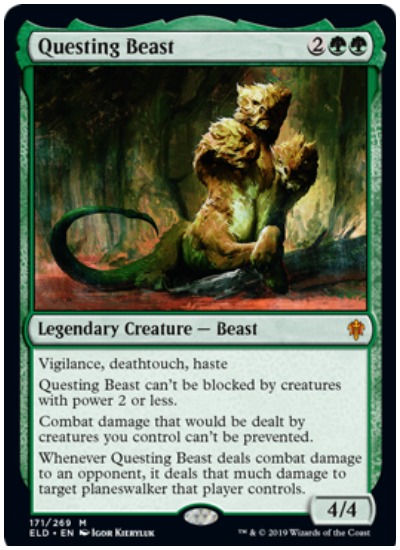 Questing Beast was projected to be one of the best cards in the ELD set. And it lived up to its reputation at Mythic Championship V, helping raise its value. Since then, Questing Beast has fallen to around $22.
Its value could climb once again, though, depending on how much Questing Beast is used at Mythic Championship VII.
Fabled Passage (Rare)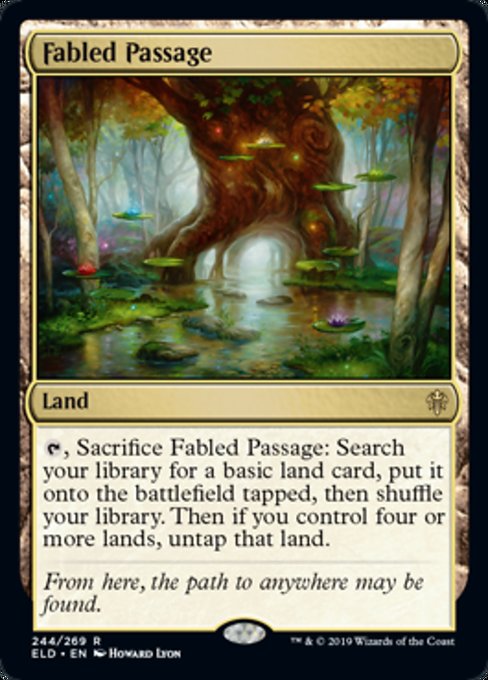 Fabled Passage is the new Evolving Wilds and has value in Standard, Pioneer, Commander, and Modern formats. Just about every multicolored deck is finding a spot for Fabled Passage. Fabled Passage started off under $10 but has skyrocketed to almost $19.
Embercleave (Mythic Rare)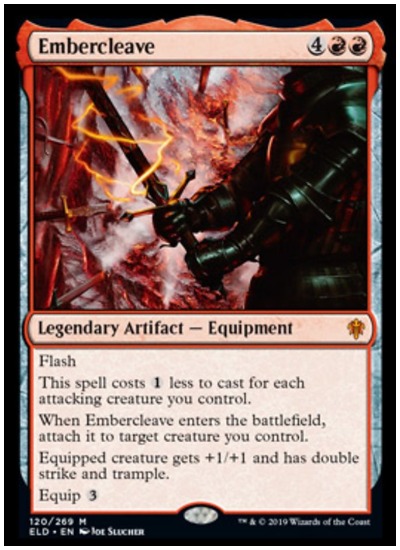 Once a $5 Legendary Artifact, Embercleave rose dramatically in price thanks to Mythic Championship V. Embercleave is a strong equipment card to add in any aggro or midrange deck.
It was valued at around $17.50 but has dropped to around $10. If the pro players go aggro at MCVII, Embercleave could return towards the $20 range. But it may only be temporary as the legendary artifact works only in specific deck builds.
The Great Henge (Mythic Rare)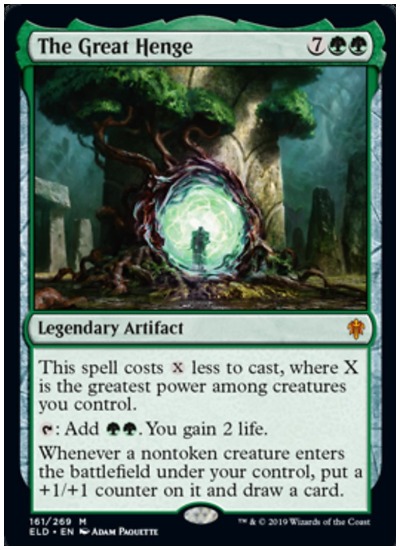 The Great Henge is one of the best artifacts in the ELD set. But it has yet to find a solid home in tier-one Standard decks and in other Magic formats. It was starting to show signs of revival following the Oko ban but has leveled off at around $11.
Once Upon a Time (Rare)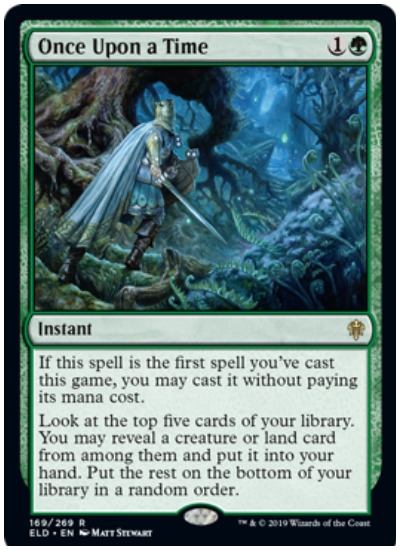 Considered one of the best cards in the Throne of Eldraine set, Once Upon a Time was just banned from Standard. It is, however, still legal in Pioneer and Commander. Due to Once Upon a Time's versatility in other Magic formats, the Instant is still valued at around $15.
The Royal Scions (Mythic Rare)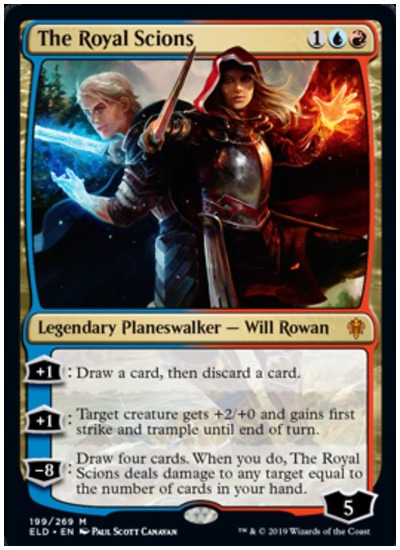 On the battlefield, The Royal Scions weren't having a major impact on the Standard meta. The twin's value was above $12, dropped under $10, and is back up to $13.
The twins have finally found a home in Izzet in a shell with Irencrag Pyromancer. But the build hasn't become tier-one as many hoped. Unless The Royal Scions find a home in another format, the twin planeswalkers aren't likely to climb much higher in value.
Rankle, Master of Pranks (Mythic Rare)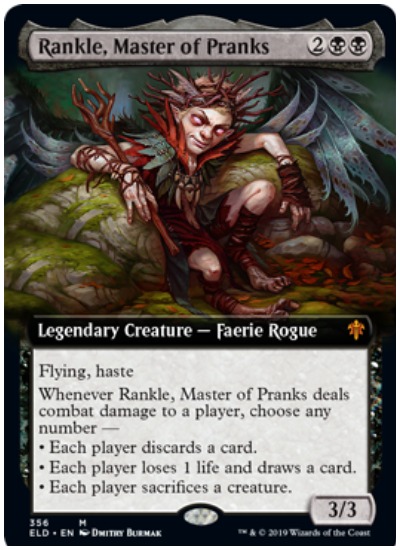 Undervalued during the ELD spoiler season, Rankle, Master of Pranks has proven his worth in Black decks.
Priced at around $9, Rankle has maintained his value while others have dropped significantly over the past weeks. Despite having a slow start, Rankle, Master of Pranks is definitely a card to keep an eye on now that Oko is no longer legal in Standard.
Murderous Rider (Rare)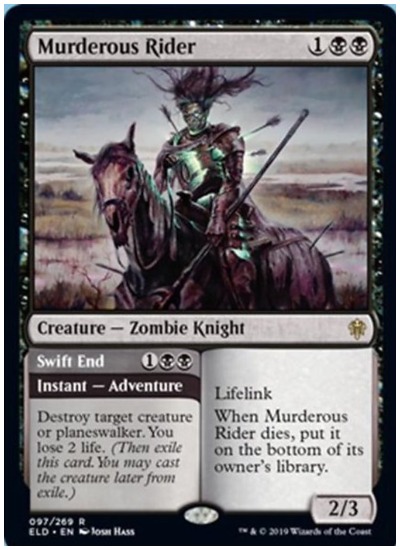 As a three-drop that's removal (including planeswalkers) or a creature with lifelink, Murderous Rider is finding its way into decks like Mono-Black, Orzhov, and Jund.
It was played in Kanister's Golgari Adventures deck at Mythic Championship V, which has helped it retain some of its value. But Murderous Rider has still dropped under $10 and is now valued at around $7. Golgari Adventure is making a comeback with Oko out of Standard.
Garruk, Cursed Huntsman (Mythic Rare)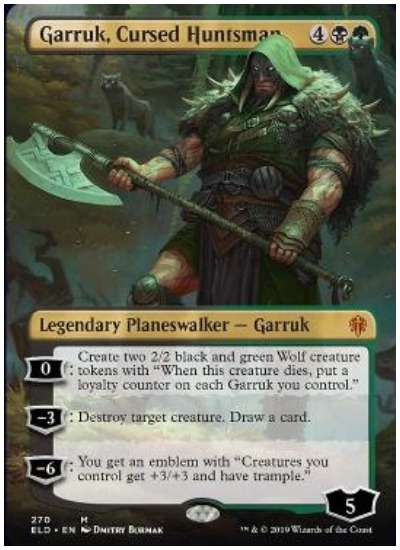 Garruk, Cursed Huntsman is a powerful planeswalker in Standard who has yet to find a decent home. The community has been asking for Garruk to return to Standard for some time now, but without a tier-one deck tied to him, his value has been decreasing since ELD released.
Garruk was valued around $14 but has since dropped to $6. Keep an eye on his value, though, since Wolf-themed decks have increased tremendously in power with the removal of Oko from Standard.