A new Magic: The Gathering set has arrived in the Standard format that's full of folklore spells and fairy tale creatures.
Containing 269 cards, the Throne of Eldraine (ELD) set features new styled cards and spells that have caused a major shift in the MTG Standard metagame. ELD also features Adventure creatures, a Food mechanic, and lots of Knights. 
Since ELD marks the rotation of sets in Standard, many of its cards have the potential to be worth money and are worth an initial investment. In addition, the set includes special art and borderless cards that will have an increased value on the open market.
Here are the top ELD cards worth money.
Oko, Thief of Crowns (Mythic Rare)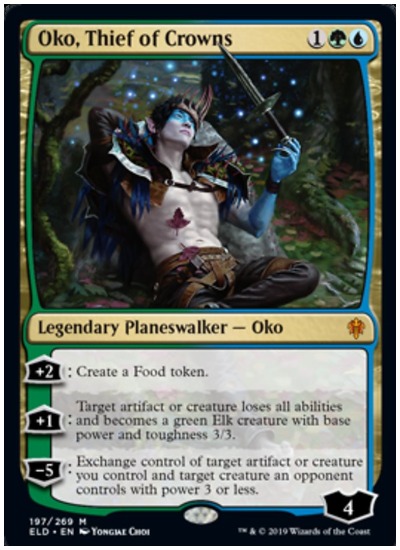 Oko, Thief of Crowns is leading the pack in the No. 1 spot of ELD cards worth money. With only three planeswalkers in the set (not including planeswalker decks), it's hardly a surprise that Oko continued to climb in price over the last week. As of the release of ELD, he's valued around $36.
On MTGA, Oko Theif of Crowns quickly proved his worth with some fans even calling him the best card in the set. And the trend will likely continue via MTG tabletop competitive tournaments.  
Questing Beast (Mythic Rare)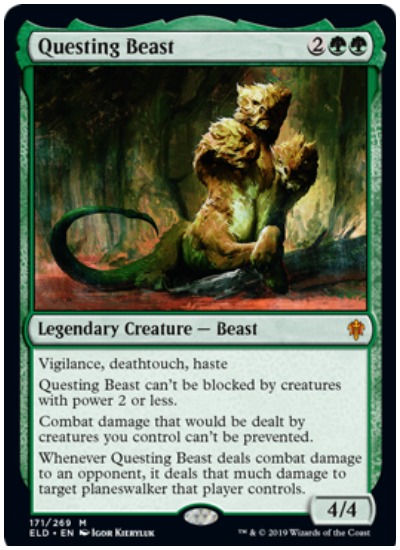 Questing Beast was projected to be one of the best cards in the ELD set. Some thought it would overtake Oko, Thief of Crowns but it hasn't lived up to its hype, leaving it valued at around $17. Questing Beast is finding a home in Simic and Bant ramp decks along with Mono-Green and BG Adventure.
Brazen Borrower (Mythic Rare)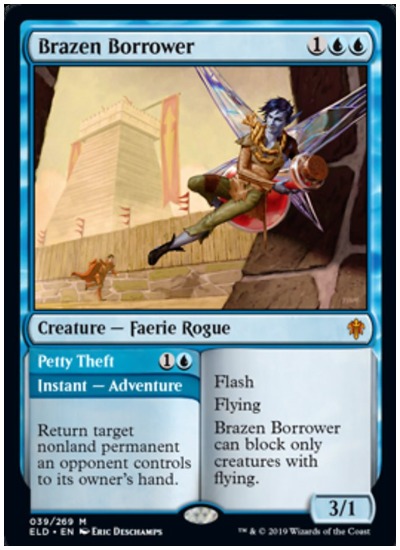 Flash decks are hot in Standard but can't compete with the Simic and Bant ramp decks—not to mention the Golos and Fires decks. It was valued at around $18 but has dropped to around $15. Brazen Borrower might continue to drop but should remain above $10. 
Once Upon a Time (Rare)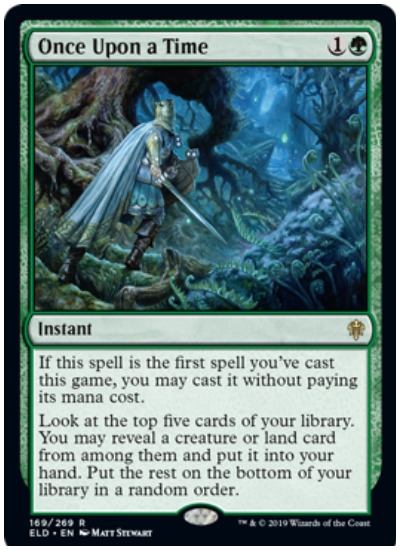 Considered one of the best cards in the Throne of Eldraine set, Once Upon a Time is seeing play in a variety of MTG formats. From Bant Golos to Simic, it's still valued around $12 despite a slight decrease with the launch of the ELD set.
The Royal Scions (Mythic Rare)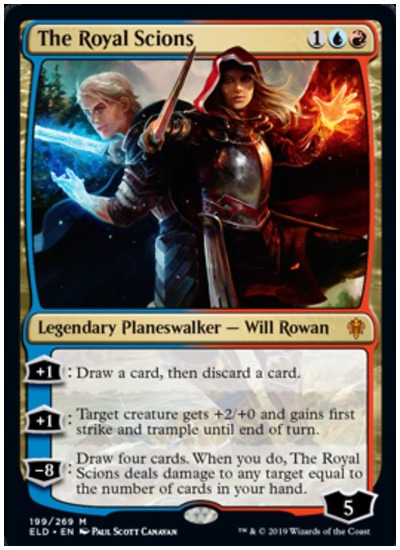 On the battlefield, The Royal Scions aren't having a major impact on the Standard meta. As a Mythic Rare planeswalker, however, the twins are valued at around $12, for now. Now that the ELD set is released, The Royal Scions might prove themselves worthy in future Control decks.
The Great Henge (Mythic Rare)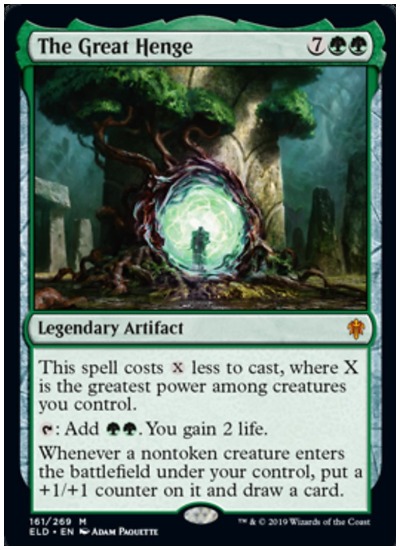 Thanks to the help of mana dorks in Mono-Green and Simic Ramp, The Great Henge is seeing a good amount of play in Standard. Able to cantrip and add counters, the Great Henge retained its value post-release at around $12. While it was initially underestimated, the pros are finding The Great Henge to be a game-changer.
Murderous Rider (Rare)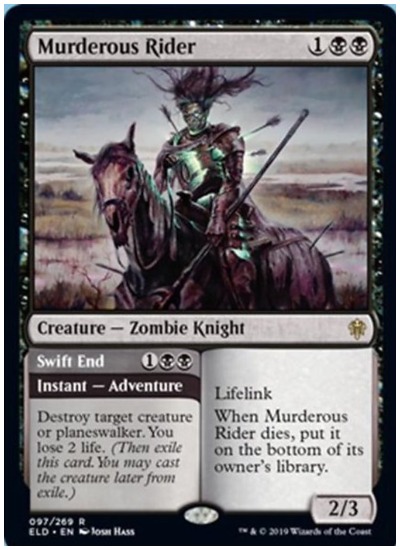 As a three-drop that's removal (including planeswalkers) and/or a creature with lifelink, Murderous Rider is finding its way into decks like Mono-Black, Orzhov, and Jund. Much like The Great Henge, Murderous Rider retained its value and is priced appropriately at around $12.
Garruk, Cursed Huntsman (Mythic Rare)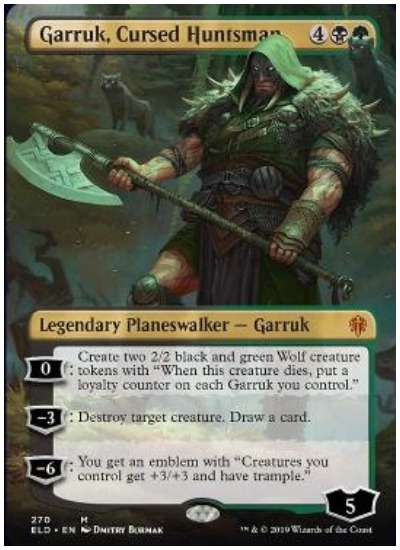 Garruk, Cursed Huntsman is likely the best planeswalker in the ELD set. The MTG community has been waiting for Garruk to return to Standard for some time now, with the huntsman immensely improving Wolf tribal themed decks. Garruk was valued around $14 but has since dropped to $11. MTG players are trying to find additional homes for him, but for the moment, Garruk, Cursed Huntsman will remain in the Wilds.
Fabled Passage (Rare)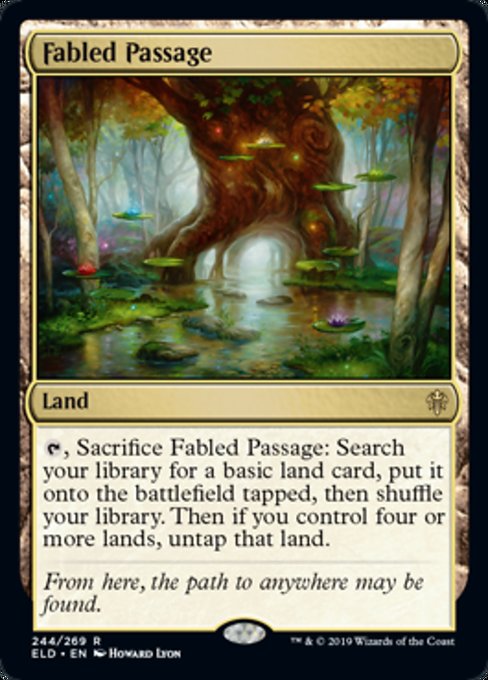 As the new Evolving Wilds in Standard, Fabled Passage has value due to the reduced number of dual lands in Standard. Just about every multicolored deck is finding a spot for Fabled Passage. It's getting played in Standard and in other MTG formats, like Commander. Fabled Passage is valued at about $10 and could creep higher in the coming weeks.
Rankle, Master of Pranks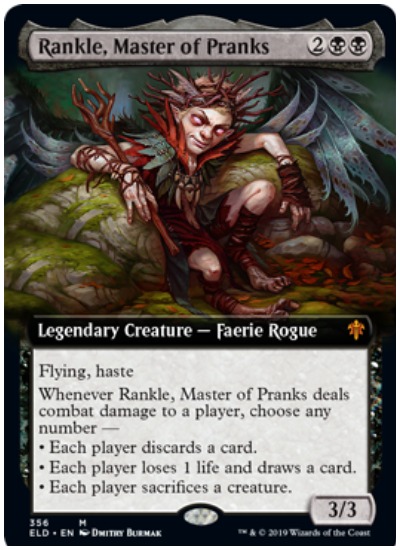 Undervalued during the ELD spoiler season, Rankle, Master of Pranks has proven his worth in Black decks. Valued at around $9, it's risen almost $2 since spoilers began. Of all the cards on this list, Rankle, Master of Pranks is definitely one to keep an eye on.
---
The Throne of Eldraine set is officially available for purchase.