Modern Horizons continues to revive and hype up fans with the reveal of new ninjas and a two-mana mythic rare planeswalker.

The Modern Horizons set contains 239 cards and is set to release on June 13. Magic: The Gathering is revealing Modern Horizons spoilers during the last week of May, with the most recent being a legendary planeswalker named Wrenn and Six, along with a zombie ninja called Fallen Shinobi.

Wrenn and Six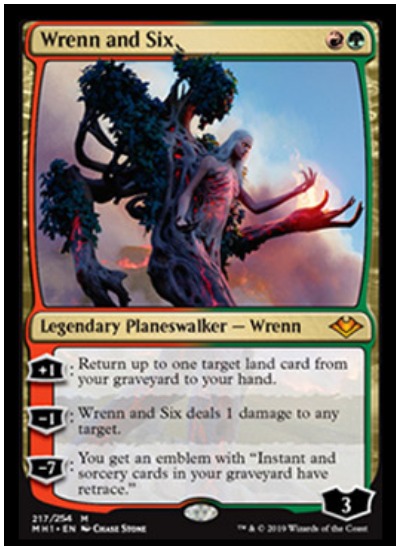 Due to Modern being a fast-paced format in Magic: The Gathering, Wrenn and Six is a two-drop (one green, one red) mythic rare planeswalker. Another popular Modern format ability is bringing creatures back from the graveyard. Wrenn and Six, however, has a plus-one loyalty counter that brings a land back from the graveyard to your hand.

Wrenn and Six start off with three loyalty counters and have a minus one that "deals one damage to any target." Because it's a mythic rare, the ultimate is a minus-seven that creates an emblem, which says "instant and sorcery cards in your graveyard have retrace."

Introduced in Eventide, retrace is a mechanic that allows a player to play cards from the graveyard. The cost for doing this is the regular mana cost, plus discarding a land.

Fallen Shinobi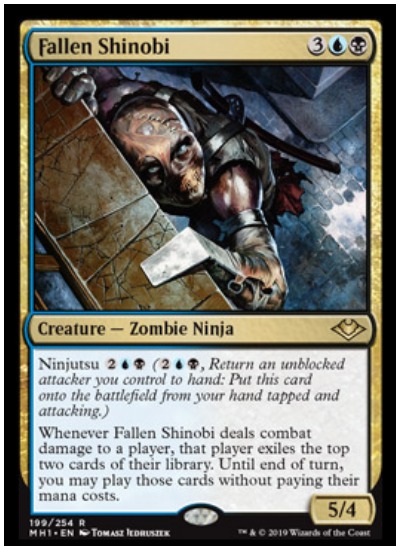 Based on the Commander 2018 card Silent-Blade Oni, Fallen Shinobi is the first reveal in a new line of zombie ninjas for Magic: The Gathering. Fallen Shinobi doesn't have a cheap casting cost at five mana (one blue and one black), but his abilities make him highly valuable.

For an additional four mana ninjutsu (one blue, one black Naruto mana), Fallen Shinobi can "return an unblocked attacker you control to hand: Put this card onto the battlefield from your hand tapped and attacking." Now that's some slick ninja moves.

But Fallen Shinobi's static ability is even better than his mana ability. "Whenever Fallen Shinobi deals combat damage to a player, that player exiles the top two cards of their library," the card reads. "Until the end of turn, you may play those cards without paying their mana costs."

This is like Hostage Taker on steroids. Based on the strength of Fallen Shinobi, we can't wait to see what other ninjas Modern Horizons has hidden away.

Magic: The Gathering's new set, Modern Horizons, will be released on June 13. There's a pre-release on June 8 and 9 and the set can be played in full on Magic Online starting June 6.