Magic: The Gathering's newest expansion, War of the Spark, is almost here, and with it comes another spoiler that potentially could break the game. Coming to MTG Arena at the end of April is a host of 36 planeswalkers, gods, and new mechanics. Now players can copy those creatures and planeswalkers with Spark Double.

Creature Illusion Spark Double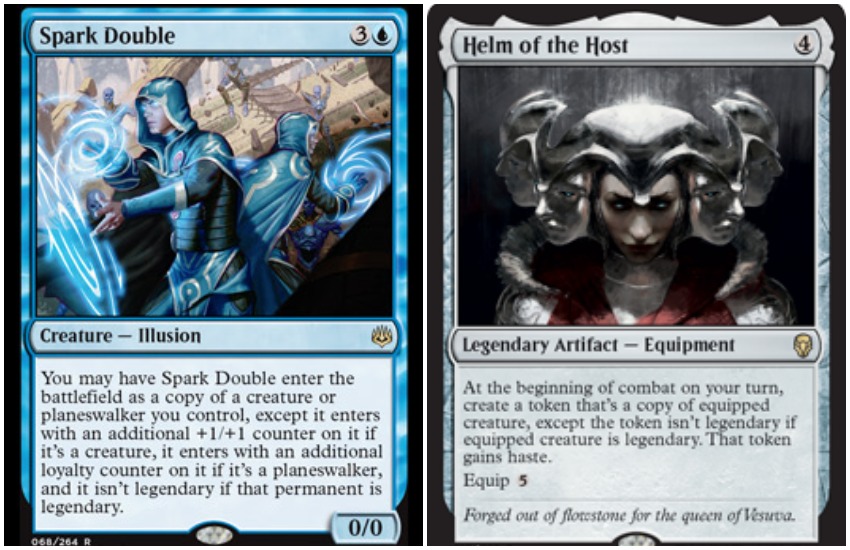 Spark Double is a 0/0 Illusion who may copy any creature or planeswalker you control. He costs only four mana (one blue) and isn't considered legendary when copying a legendary creature or planeswalker. If that wasn't enough, Spark Double also gains a +1/+1 counter upon entering the battlefield and one loyalty counter if copying a planeswalker.

The implications of what Spark Double can do are mindblowing. You or an opponent can potentially have up to five Saheeli, Karn, Iliana, Ral, Teferi, or Niv-Mizzet at one time. Spark Double is comparable to Helm of the Host, except it can enter the battlefield quicker because it doesn't have an equip cost. It also increases loyalty counters by one when copied on planeswalkers and adds a plus one/one counter to creatures.

Jace and his illusion Spark Double is a playable card in Standard and Limited. He will also find his way into a variety of decks, whether they be control or creature based, simply because cloning is fun.
Spark Double and all the War of the Spark cards are set to be released on April 25 in MTG Arena.