This 2017 Worlds story is brought to you by Predator.

---
Which SK Telecom T1 League of Legends Worlds team is your favorite?
Is it the first one, the 2013 edition, when Lee "Faker" Sang-hyeok still needed to prove himself worthy of the Team 1 (T1) designation? This team went into Worlds as an unknown, almost lost to Najin, but emerged as champions.
What about the 2015 version, which featured new top and bot lanes around Faker and jungler Bae "Bengi" Seong-woong? This roster was doubted after missing Worlds the previous year and then losing an international final to EDG. But they ultimately stomped through the bracket stage with only one loss, leaving no doubt that SKT were back at the top of their game.
Don't forget last year's team. They received little respect as they mounted a title defense, with everyone saying that ROX Tigers were the top team. When they got their shot at the Tigers, they didn't miss, gutting out a close series on their way to the repeat.
What about this year's team? This is perhaps SKT's most star-studded roster, but also the most flawed. They went into Worlds this year with a top laner who had scarcely played in the Summer Split, a rusty bot lane, and controversy at jungle. Now, they're in the Worlds final yet again, and they're out to prove everyone wrong despite being on the right side of history every time before.
No matter which team is your favorite, there's one thread that runs through all of them: SKT are the most clutch team in history.
Survive and advance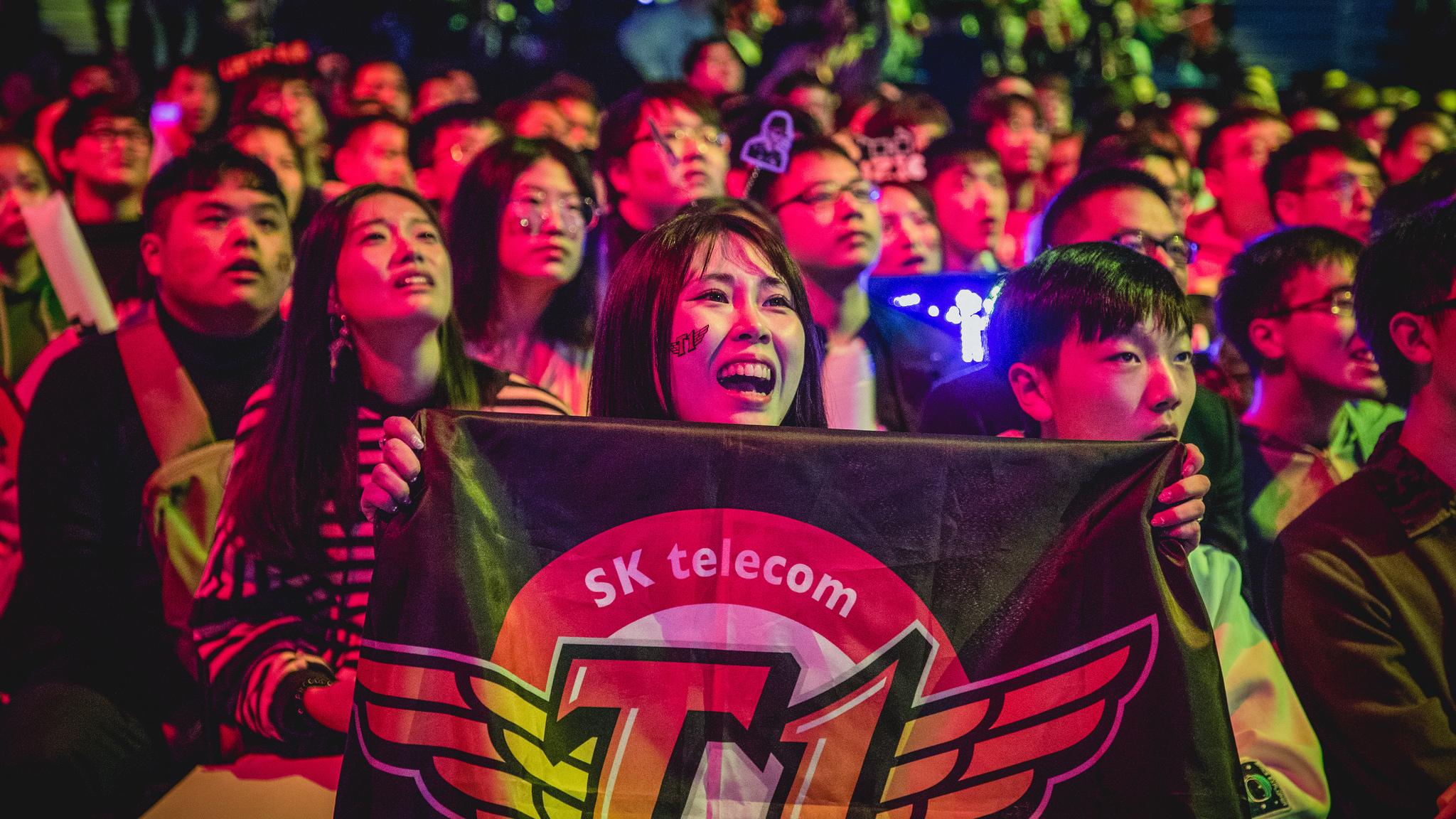 It's crazy that every year we find new reasons to critique SKT at Worlds. In 2013, it was because they didn't have the experience with a rookie mid laner. Two years later, it was their stumbles at MSI that caused worry. Last year, we wondered if Lee "Duke" Ho-seong could stand up to LCK MVP Song "Smeb" Kyung-ho, despite Duke being a former LCK MVP himself. This year, top lane is still an enigma. Two of the three analysts had Royal beating them in the semifinals.
Each year, they respond by winning. No matter the odds, what the analysts are saying, or even the deficits they face within series and games, SKT find a way to come out on top. When the lights shine the brightest and the Summoner's Cup is on the line, Faker and crew find a way to make it happen.
Against Misfits in the last round, they did it via late-game objective control. That has been an SKT staple for years—they'll fall behind and then in one magical teamfight, everything turns.
Against Royal, they tried something new. Jungler Han "Peanut" Wang-ho has had a tough time this year acclimating his aggressive, invade-oriented style of the staid play of SKT. But in this match, the team decided to trust him, giving him the green light for a level two gank that totally changed the complexion of the game.
Royal never recovered from that play, as Peanut used his map control and predictive abilities to constrict Royal's jungler, which suffocated the entire enemy team.
It's not just luck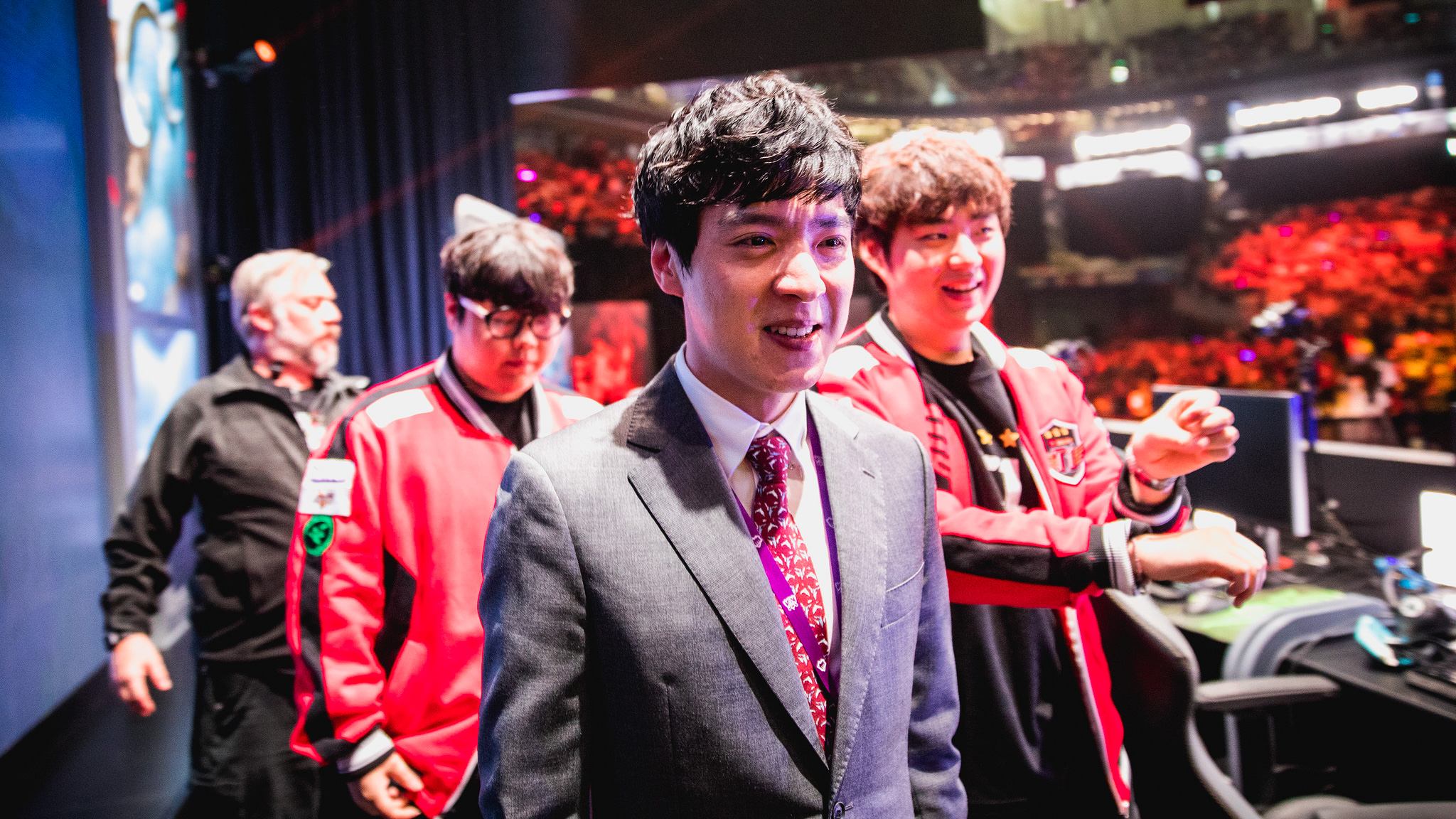 If this was any other team, we might chalk it up to luck. SKT can't keep going down 1-2 in games, surviving by the skin of the teeth, can they? Some of these series could have been totally different if just one play or one skillshot landed differently. What would SKT's history look like then?
But after clenching out so many wins, we can't just call it luck. Being so good for such a long time is not luck. Knowing how to adapt when others fold does not rely on fortune. Playing your best when the stakes are highest is a trait that comes from practice and preparation.
Coach Kim "kkOma" Jung-gyun has built his team into the most clutch unit in esports—maybe all of sports. Even as the quality of opposition has risen—and it has—kkOma has found a way to keep pace, and even innovate. Galio started as a Faker specialty—who can forget when he pulled out the pocket pick in the KeSPA Cup last year?
Over the years, kkOma and SKT have struck a fine line between being a ruthlessly efficient machine and a living squad that can adapt and change—one that can try hard enough, but not too hard. SKT doesn't tilt, no matter what happens. It's incredible to watch this group get tested at every turn and somehow figure it out. For those who criticize them for too much success, for turning each Worlds into a foregone conclusion—are you serious? Seeing them play is art. Enjoy it while it lasts.
Fortunately, we can enjoy this year's squad a little bit longer. They'll play next Saturday, Nov. 4 in the final at the Bird's Nest Stadium in Beijing. They're playing for more than just a title. Three straight championships is immortality. Lee "Flash" Young Ho couldn't even win three-straight OSLs.
You may have a favorite SKT team from years past. But for now, we get to watch as a new group of players seek immortality.