Some champions in League of Legends are just flat-out stronger than others.
For the marksmen and markswomen of League, there are several types of champions to play. There are attack-speed-focused hyper carries like Jinx and Tristana, and then there are the face-melting high early damage carries like Draven and Jhin. Fortunately for players, the ADC meta in Patch 12.9 allows players to choose whichever one suits their tastes because all the marksmen champions are mostly viable right now.
This list of top-tier champions can change depending on a number of factors. Sometimes the meta shifts for no apparent reason other than players' tastes, but usually there's some kind of balance adjustment behind those changes. It can be difficult to keep up on the flavor-of-the-month champs, so let us do that for you.
Here are our top five ADC for League's Patch 12.9.
Jhin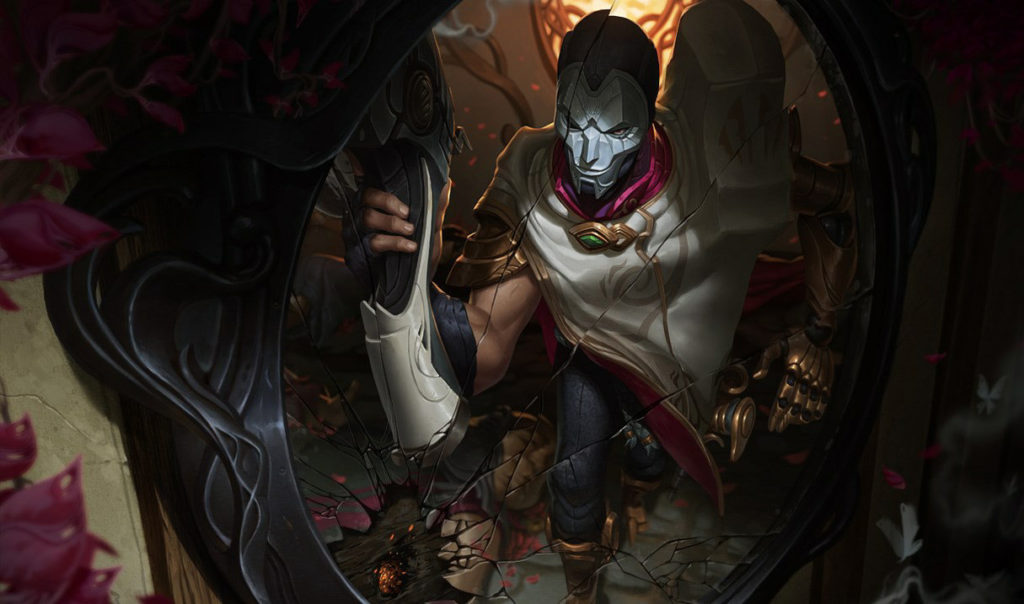 Pros
High damage

Not mana reliant

Great ultimate to finish off low on health enemies
Cons
Easy to catch due to no mobility

Weak early
Jhin possesses a strong kit for the current meta, with great scaling and the ability to shred through the enemy front line in a matter of seconds. With low mobility and having to reload your gun every four basic attacks, however, it's not easy to get the hang of the champion.
Item build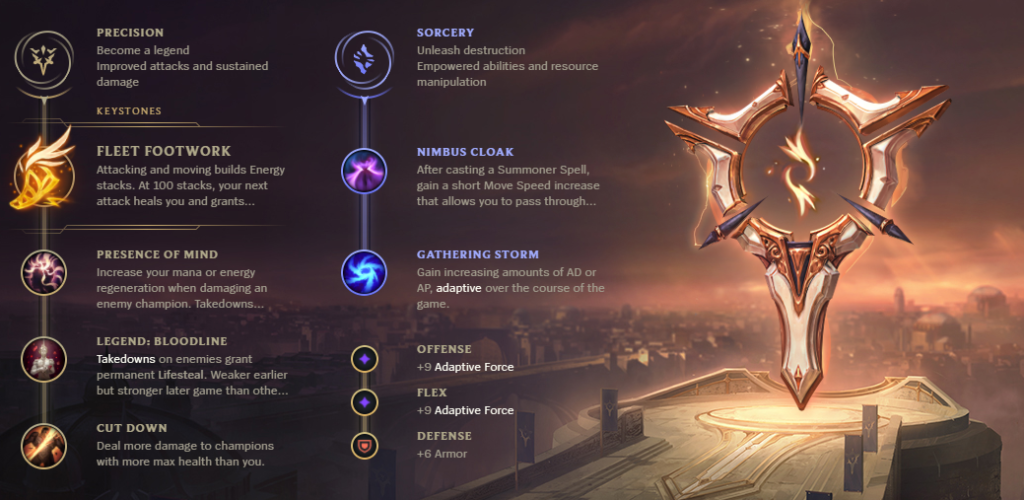 Jhin's greatest weakness is his low mobility, which is a pain in the neck in the current meta. With hypercarries being so popular, enemy teams can often eliminate you in the blink of an eye.
To count this as Jhin, you should stack AD and lifesteal. Fleet Footwork, the main rune in your tree, is pretty much self-explanatory. You want to increase your movement speed and gain a bit of health as well.
That won't always be enough, so players should go for Nimbus Cloak, which boosts your movement speed after you use your Flash and Heal. You should be picking these Summoner Spells in almost every game. Gathering Storm and the rest of the runes are pretty obvious picks as well. They increase your damage and survivability versus other AD carries in the lane. If you get matched against an AP champion like Veigar, though, don't shy away from some additional magic resistance.
Ability priority
On Jhin, your priority will be R>Q>W>E. His ultimate, as mentioned, is a powerful skill when finishing off your enemies. It's also key in lowering enemy tanks' health before pivotal teamfights begin. You should always maximize this ability when you get the chance.
Besides that, you want to prioritize your Q and your W. The former is a great wave clear tool, which will come in handy during the earlier phases of the match, while the latter is great for poking down your opponents.
Game plan
With Jhin, you're able to go for aggressive plays from the early minutes of the game. With your low mobility, though, it's dangerous to do so, especially without a support who will bail you out when needed. Therefore, aim to scale early and make it to the mid-game unharmed.
The fun begins for Jhin past the 20-minute mark. You will start dealing impressive amounts of damage at this stage of the game. But don't try to make solo plays, and be careful when overcommitting in teamfights. With your kit, you should prioritize the front line, while also helping your team from afar with your ultimate.
Ezreal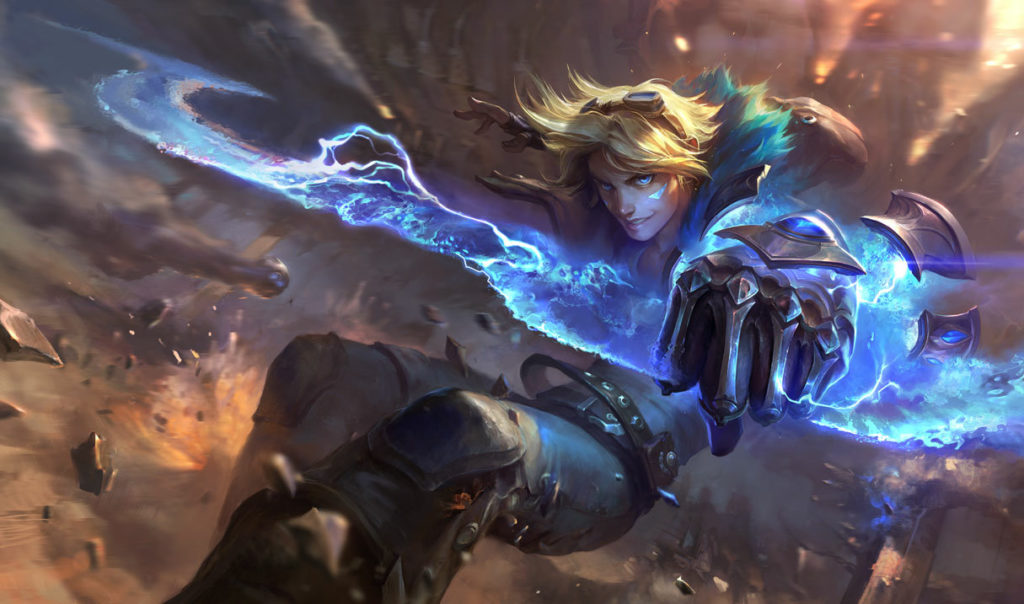 Pros
Effective poke
Great mobility
Scales well
Cons
Requires high mechanical ability
Relies on skill shots
Weak early
The Prodigal Explorer is one of the most popular champions in the bot lane, with a pick rate of 26.6 percent, according to u.gg. Not only that, but he's also one of the best marksmen in the current meta. He's able to deal considerable amounts of damage while also staying alive in teamfights.
Item build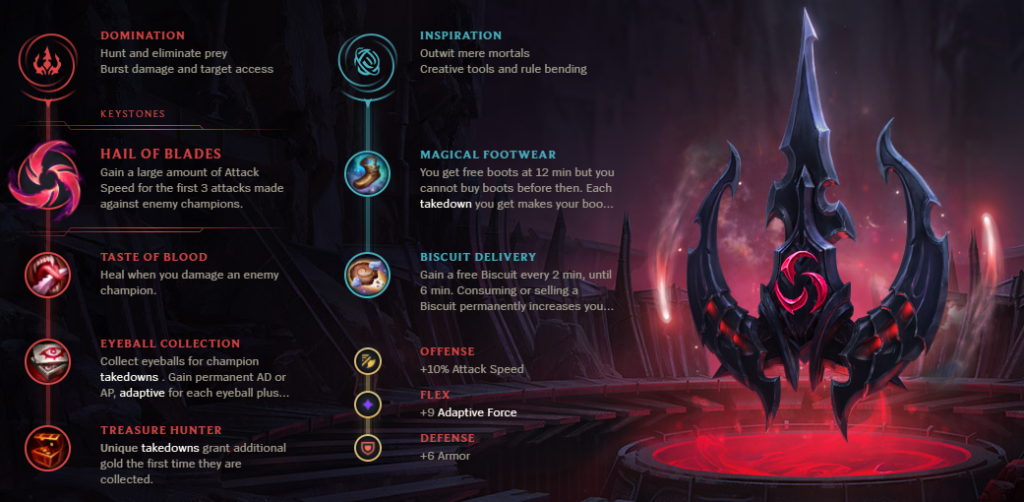 When playing Ezreal, your primary source of damage will be through spamming abilities and sending auto attacks the way of your opponents. Therefore, there's hardly a better choice in terms of the main rune than Press the Attack. It makes enemies take bonus damage if you hit them three consecutive times, which you will be doing plenty, especially in the late game.
Later on, it's best to pick runes that will replenish your mana and increase your damage. When it comes to mana, choosing Presence of Mind can do wonders since it will increase your mana regeneration once you hit opponents. On the other hand, Coup de Grace increases your damage, while Legend: Bloodline grants you some lifesteal, which you won't be building through your items.
As fillers, it's sensible to go for Magical Footwear and Biscuit Delivery from the Inspiration tree. The latter will grant you additional cookies, which can be vital in some tough early-game matchups. And on most AD carries, the free shoes you get just make sense since you don't want to spend gold on them.
Ability priority
On Ezreal the ability priority is R>Q>E>W. Your Mystic Shot (Q) is Ezreal's main source of damage, and after you reach level nine, where you ought to have it maximized, it has a low cooldown. This will allow you to spam Qs and auto attacks one after another, which is crucial for Ezreal's gameplay.
Game plan
While playing Ezreal, the early game isn't the easiest. The Prodigal Explorer is quite mana-hungry, so before stacking your Tear of the Goddess you will have to be careful with using your abilities. Ezreal's early-game damage isn't great either. Luckily for you, the champion has Arcane Shift, which can often get you out of a bad trade. So, before you hit the 15-minute-mark, you should look to play carefully in most cases.
Once you get two major items under your belt, and you don't have to worry about mana anymore, the real fun begins on the champ. You can start being a pain for your opponents in teamfights around neutral objectives and towers. There are some rules you'll need to follow, though.
Firstly, despite having Arcane Shift, you should rarely use it offensively. The same can be said for Tristana and her Rocket Jump. In most fights, you should stay behind the frontline and deal damage.
You won't be able to rely on auto-attacks like most carries in the meta at the moment. Your main source of damage is Mystic Shot and Trueshot Barrage, which are skill shots. Thus, you will need some practice on hitting those effectively before loading into solo queue.
Lucian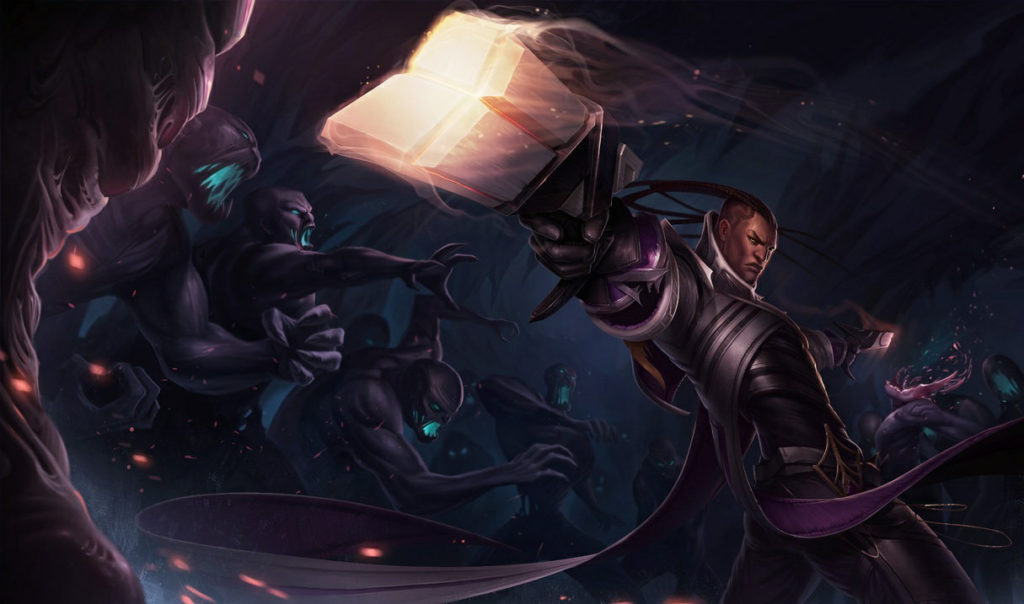 Pros
Strong kit
Great trading

Cheap power spike
Cons
His abilities are costly
Falls off in the late game
As opposed to many other AD carries on this list, Lucian is a marksman who relies on his abilities and his power spike in the mid game. This, however, doesn't mean that you're automatically out of the equation when the game goes for longer than 30 minutes. With Lucian's kit, you will be always able to make an impact.
Item build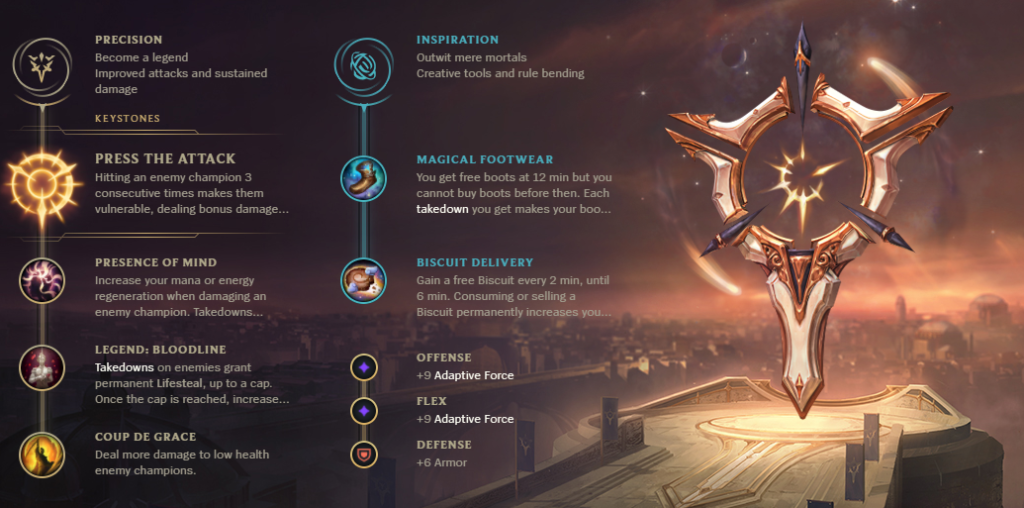 With Lucian's unique passive ability, which makes you shoot an additional auto-attack after every ability, players should aim to deal damage by spamming abilities left and right, and following through with some auto-attacks. To fully unleash his full potential, your best option is Press the Attack, which makes you deal more damage to champions you hit three consecutive times.
Because Lucian is mana-heavy, to refill your mana as much as possible, going for Presence of Mind is almost compulsory. Following that, choose Legend: Bloodline and Coup de Grace. The former grant you permanent lifesteal, which you will lack, while the latter allows you to deal more damage to low-health champions. This will come in handy when trying to finish tanks or in one-vs-one scenarios. Magical Footwear and Biscuit Delivery will also be helpful when laning and hitting your spike.
Ability priority
Lucian's ability priority is R>Q>E>W. Besides your ultimate, your Piercing Light is your main source of damage. Later on, focusing on Relentless Pursuit makes the most sense. You'll shorten the cooldown of your main escape tool while also allowing you to close the gap between you and the enemies more efficiently.
Game plan
With Lucian, it's tough to come up with a game plan, since it depends on your team's composition. The Purifier has all the necessary qualities to go for early trades and skirmishes, and if they're profitable, you'll hit your main power spike even quicker.
Lucian's main advantage is his kit and the trading potential that comes with it. No matter the state of the game, if played correctly, the champion should be able to deal a considerable amount of damage. With your E and skills that are targeted in certain directions, the major part of your gameplay will be movement and your positioning in teamfights, so keep it in your mind.
Twitch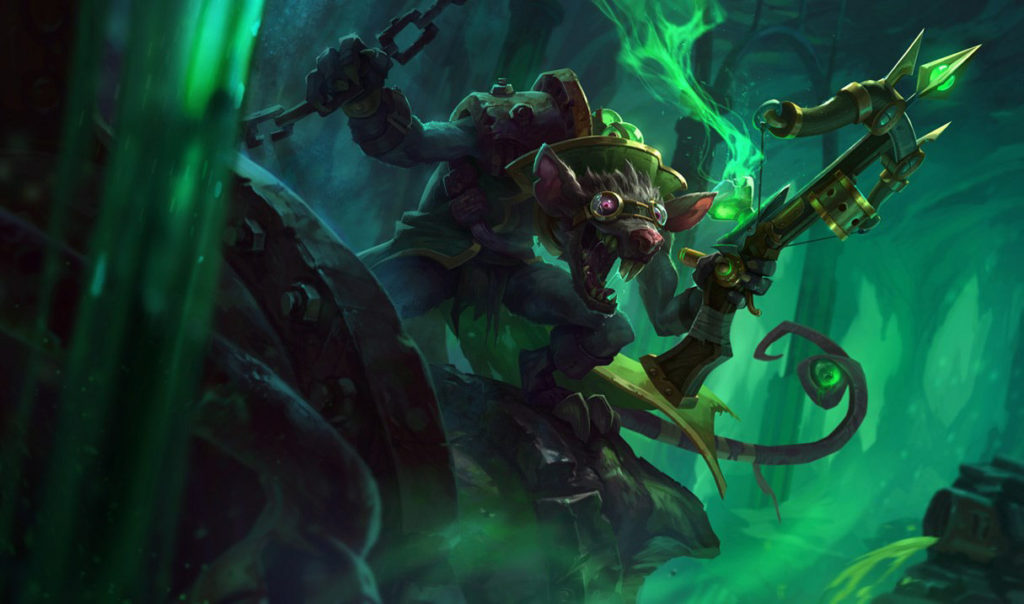 Pros
Carry potential
Mobile
Synchronizes well with many supports
Cons
Relies on positioning
Tough to master
Poor ultimate usage can make him irrelevant
Twitch is somewhere between an AD carry and an assassin. The Plague Rat has a unique set of abilities that make him the perfect champion for flanking enemies and surprising them with a burst of damage. Mastering Twitch, however, requires players to have in-depth knowledge about positioning.
Item build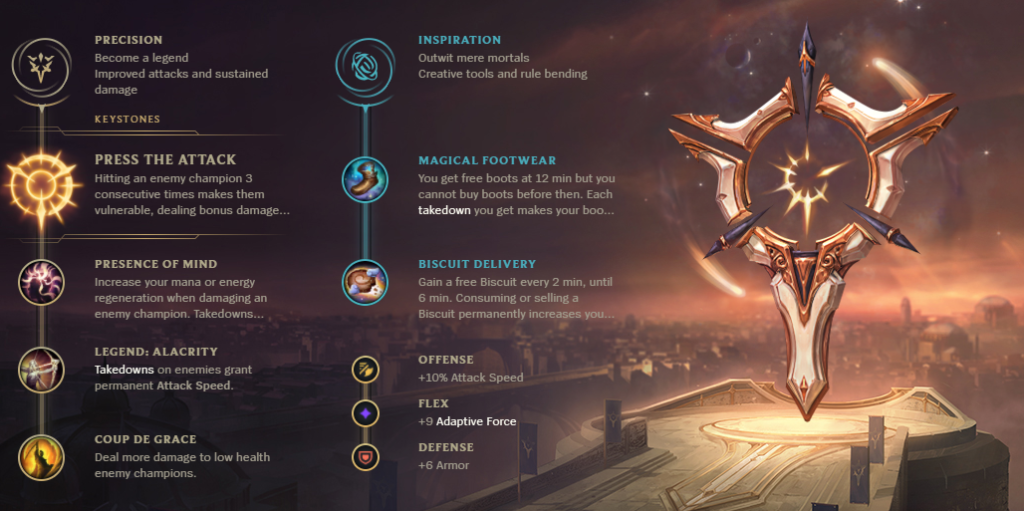 When playing Twitch, players will rely on their auto-attacks to dish out damage, which are enhanced every time they use the champion's ultimate ability. To increase the damage, it makes the most sense to pick Pres the Attack as your main rune. After landing three shots on an enemy, they will take additional damage and will be more vulnerable to damage from all other sources in the following few seconds.
From the Precision tree, it's sensible to go for Presence of Mind, Legend: Alacrity, and Coup de Grace. The former helps you replenish your mana efficiently, which comes in handy in the early stages of the game. The second rune grants you attack speed once you score a takedown. And the last will make you deal more damage to champions low on health, which is ideal when cutting through tanks and bruisers.
As your two runes from the second tree, there are hardly better options than Magical Footwear and Biscuit Delivery from Inspiration. You don't want to be wasting gold on boots, and during the laning phase will be looking to get health and mana from any source that you can.
Ability priority
When playing Twitch, maximize your abilities by picking R>E>Q>W. Contaminate (E) is your main damage source outside of your auto attacks, so putting points in it is pretty much essential. Once the mid-game comes around, you want to start utilizing your kit and potential to surprise enemy carries, so putting points in Ambush (Q) as your second skill outside ultimate makes the most sense.
Game plan
With Twitch, there are a couple of viable ways to play the game. He's an AD carry that's capable of taking out enemies in the blink of an eye. But he requires some practice since trading kills isn't always the most effective play.
Twitch excels in the late game, so you can always bide your time and execute your assassin strategy past the 30-minute-mark. There will be certain matches where it's fine to stay behind your frontline instead of making the game-winning play. Simply dealing damage and staying alive is sometimes the smartest move. Simply follow through with your tanks and look for opportunities to ambush your enemies.
Vayne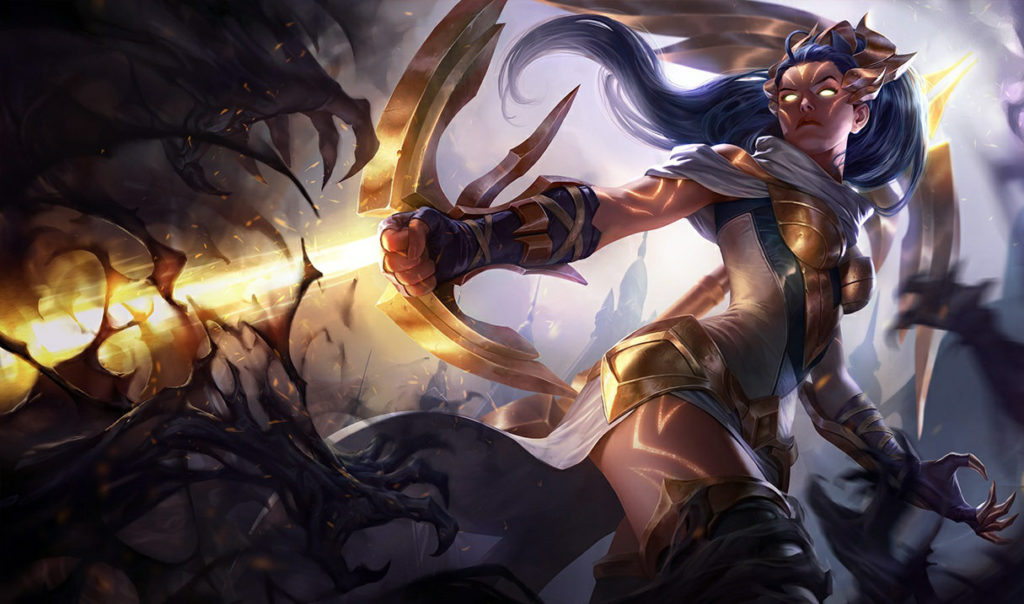 Pros
Hugely mobile and tough to target in the late game
Potential to solo carry the game
Incredible burst damage
Cons
Tough to master
Once behind, hard to come back
With the surge of late-game AD carries making their way onto the list of the best marksmen in the game on Patch 12.9, Vayne surely had to be one that came along. Her strong kit, high mobility, and ridiculously high damage make her extremely dangerous post-30-minute mark.
Item build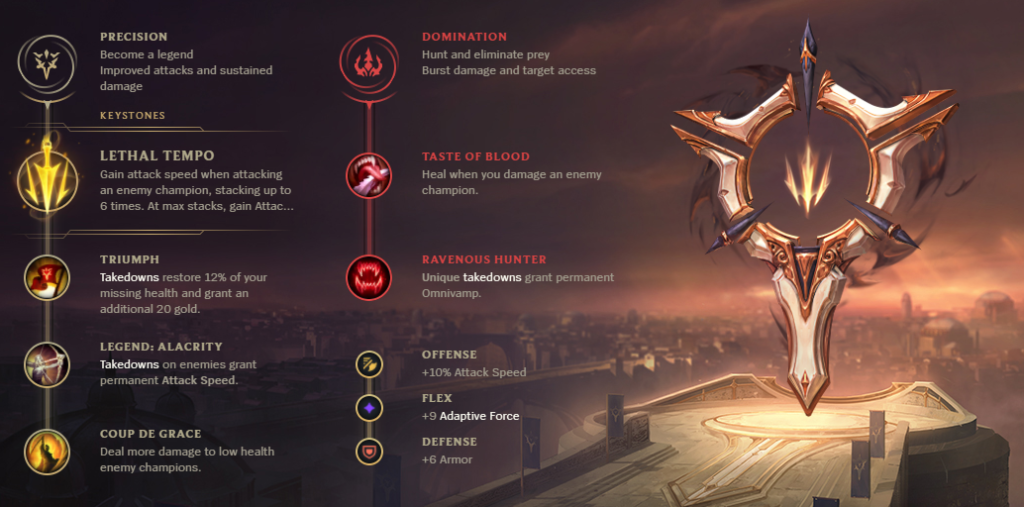 Like the champions mentioned above, she also has a great impact in the late game. Her most deadly weapon is her auto attacks—which, along with her powerful kit, cement her as one of the strongest champions in the game.
With Precision runes, you want to maximize your attack damage and attack speed. But don't hesitate to pick Last Stand when the enemy team has multiple burst-oriented champions. The same rule goes for Cut Down.
Much like with other late-game champions, you should pick the Domination tree to increase your chances of survival.
Ability priority
Choose R>Q>W>E. With Tumble (Q), you increase your damage next hit, which is great for finishing minions early and also escaping skillshots from the enemy bot lane. Both Silver Bolts (W) and Final Hour (R) make Vayne the most deadly. You should spend points on your ultimate whenever you get the chance, and maximize W as your second skill. While Condemn doesn't deal a great amount of damage, it's still useful, especially in one-vs-one scenarios. Make sure to spend a point on it at level three.
Game plan
At this point, you should probably already know what the game plan is in the late game when it comes to hypercarries. Do your best to farm during the laning phase and try to make it past the 25-minute mark. Once you're there, you should be a force to be reckoned with.
Try your best not to fall behind. If you do so, not only it will be harder to catch up with the rest, but it will also make you a vulnerable target. The quicker you make it to your full build, the better.
With Vayne, you have the potential to single-handedly win teamfights in the late game. And in Q and E, you have two incredible abilities to dodge enemies. This, however, will require a lot of practice, so watch your step.
This article includes affiliate links, which may provide small compensation to Dot Esports.