Overwatch is popular on PornHub, so it's no surprise that the release of a new character boosted searches for the adult website.
This shouldn't come as a surprise to anyone that's been on the internet for any amount of time—Brigitte's release in Overwatch caused a spike of search traffic for the name. PornHub said it only took 10 days for Brigitte searches to surpass two million. That's a 6,264 percent increase in searches for Brigitte.
Related: Turns out people are still really into Overwatch porn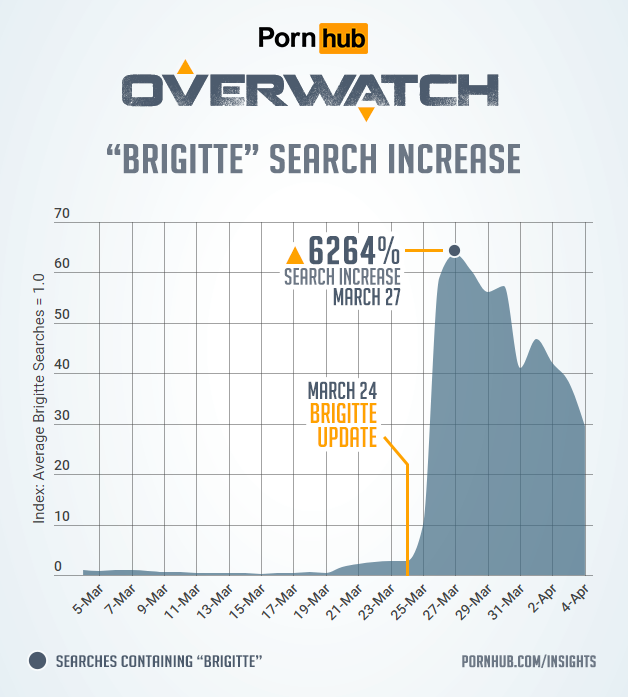 Right after she was added to Overwatch on March 24, PornHub searches for Overwatch also increased by 225 percent.
With the surge of traffic to Brigitte's name, she's massively outranked fellow Overwatch heroes D.Va, Tracer, Widowmaker, and Mercy. Brigitte's most popular in the United States and Canada—not her home country of Sweden. D.Va is still the most popular hero in South Korean PornHub searches, while Tracer is on top in Russia. Chinese PornHub users are most likely to search for Mei, according to PornHub, while European users will usually search for Widowmaker.
Overwatch ranked 13th in PornHub's most search for terms in 2017, two slots lower than the year before. The game's initial appeal on PornHub began shortly after the game entered its public beta period in 2016, where searches for Overwatch-related videos surged by 321 percent. Popularity on PornHub has decreased since then, but it remains a pretty popular search term on the site.