Japan's next Pokémon TCG expansion set has been revealed and follows the release of Sky Legend expansion.
The set, known as "Dream League" will be released on Aug. 2, 2019, and will contain over 49 cards focusing on some of the legendary Pokémon from the Sun and Moon series. These Pokémon include Solgaleo, Lunala, Reshiram, and Zekrom.
There will also be new trainer cards featuring Lillie, Roxie, N, and Red, if the pack artwork shown off is anything to go by. Each pack will be sold for 150 yen but further details aren't available yet.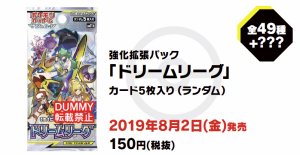 Fans in Europe and America will need to wait awhile before they can get their hands on English translations of the set, however. The recent expansion pack, Unbroken Bond, that release a few days ago was based on a few sets in Japan called "Night Unison" and "Full Metal Wall," which came out at the beginning of the year.
The set is likely to come with an abundance of new Tag Team cards, GX cards, and more new creatures as we slowly get to the end of the Sun and Moon life-cycle. Sword and Shield, the next games in the series, is expected to release sometime later this year.