Tensions have risen between 100 Thieves CEO Matthew "Nadeshot" Haag and several FaZe Clan members following the news that popular Fortnite pro player and streamer Turner "Tfue" Tenney is suing FaZe.
These comments came after The Hollywood Reporter reported that Tfue has filed a lawsuit against FaZe Clan "for allegedly limiting his ability to pursue his profession in violation of California law," while also failing to pay him his share of sponsorship earnings.
"I hope recent news doesn't affect the broader gaming community's perception of esports teams," Nadeshot said in a since-deleted tweet. "There are plenty of organizations in the space whose top priority are their professional players and content creators."
Nadeshot also said that he knows and is friends with multiple people in the FaZe Clan organization, and "knows for a fact" that they wouldn't have any ill intentions for their players.
Several FaZe Clan members have reacted to Nadeshot's comments, as well as the Tfue situation as a whole. FaZe owner Ricky Banks notably had some strong words for Nadeshot's tweet. "Matt, I will personally make sure that you regret tweeting this and adding to this bullshit dumpster fire," Banks tweeted.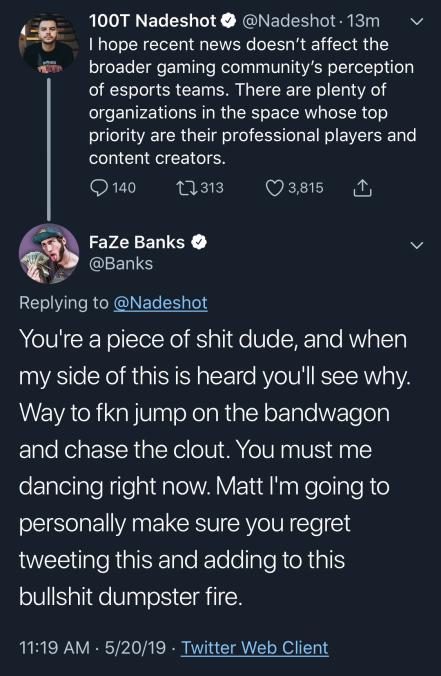 Banks also went on a tirade on his Twitter, expressing his anger and disappointment in Tfue and the whole situation. "This is so beyond numbers and contracts," Banks said. "Homie, I called you my family and not only did I get blindsided but you can't return a call?"
Multiple people in FaZe Clan also reacted to the lawsuit, including owners Thomas "Temperrr" Oliveira, Nordan "Rain" Shat, and Yousef "Apex" Abdelfattah. FaZe Clan also released a statement on Tfue, which claims that the team hasn't taken any of his tournament winnings or any of his revenue from Twitch or YouTube.