Ghost Gaming's Rocco "Saf" Morales and NRG Esports' Williams "Zayt" Aubin used an impressive performance on Sunday to capture a championship at the $400,000 ESL Katowice Royale Fortnite Duos tournament.
They had a few games in which they accumulated a massive amount of points through picking up Victory Royales and multiple eliminations. Heading into the final match of the tournament, Saf and Zayt held a 161-point advantage over second-place duo TSM's Vinny "Vinny1x" Gilgan and Anthony "ZexRow" Colandro.
Despite coming in 10th place in the final game, Saf and Zayt did enough earlier in the day to secure the championship. Thanks to their first-place finish, Saf and Zayt will take home the $80,000 grand prize.
Saf is no stranger to winning big Fortnite tournaments, though—he also recently won the $100,000 Secret Skirmish Duos tournament with Rise Nation's Ronald "Ronaldo" Mach in February.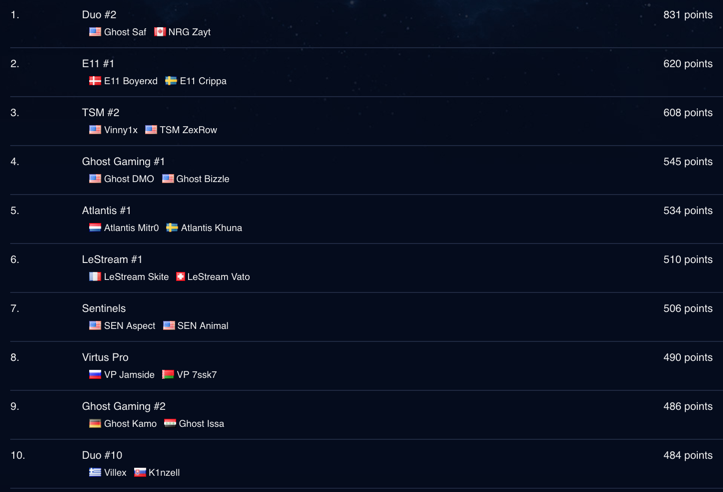 Most notably, Vinny, who won the ESL Katowice Royale Solo tournament, and ZexRow ended up coming in third place. Saf's teammates on Ghost Gaming has secured top 10 placings. Dylan "Dmo" Moore and Timothy "Bizzle" Miller (who won the $400,000 Secret Skirmish Solo tournament in February) earned a fourth-place finish, while Liam "Kamo" Fillery and Issa Rahim came in ninth.
Saf and Zayt will likely try to carry the momentum from this victory into the next Fortnite Duos competition later this year.