The biggest Call of Duty tournament of the year is quickly approaching.
The 2018 Call of Duty World League Championship will take place in Columbus, Ohio from Aug. 15 to 19. But before that, the tournament field needs to be filled out for the $1.5 million event—16 of the 32 total spots are still available.
Related: Every team that's qualified for CoD Champs 2018
That's where the Last Chance Qualifier comes in. The 2018 CWL LCQ is a LAN event where 32 teams from around the world fight for one of the highly-coveted spots at CoD Champs 2018.
Here's everything you need to know about the 2018 CWL LCQ.
Teams
Thirty-two squads will head to the MLG Arena in Columbus to compete from July 24 to 25. These teams are coming from several different regions for the opportunity to qualify for the biggest CWL event of the year.
Related: These are the teams competing at the 2018 CWL Last Chance Qualifier
Here are all of the teams participating in the 2018 CWL LCQ.
EZG Esports: Saul "Parzelion" Masse-Siguenza, Ricky "Atura" Lugo, Michael "Apox" Williams, and Robbie "RobbieB" Brugnoli
Elevate: Michael "SpaceLy" Schmale, Chance "Maux" Moncivaez, Nicholas "Proto" Maldonado, and Michael "MajorManiak" Szymaniak
Enigma6: Jordon General, Troy "Sender" Michaels, Steven "Diabolic" Ribero, and Tyler "aBeZy" Pharris
Team Blackout: Derrick "Envader" Borgdon, John "JHaZe" Otero, Matthew "Neod" Powers, and "Frosty"
GAS Gaming: Jared "Nagafen" Harrell, Mikhail "Blfire" Glushenok, Matthew "KiSMET" Tinsley, and Aidan "GorgoKnight" Provenzano
Ghost Gaming: Andres Lacefield, Adam "GodRx" Brown, Casey "Pandur" Romano, and Christopher "Parasite" Duarte
Gone Gaming: Colt "Havok" McLendon, Devin "LlamaGod" Tran, Jimmy "Evasion" Svetich, and Cesar "Skyz" Bueno
Havok Esports: Ethan "FA5TBALLA" Wedgeworth, Michael "Beehzy" Said, Remington "Remy" Ihringer, and Mike "MRuiz" Ruiz
In2ition: Christopher "ProFeeZy" Astudillo, Sean "Pemby" Pembroke, Steven "Stamino" Damiano, and Tanner "Mosh" Clark
InControl Gaming: Eric "TwiZz" Servello, Teegan "TcM" McCarthy, Tyree "Legal" Glover, and Joey "SupremeAgility" Torres
Lethal Gaming: Ted "TeddyRecKs" Kim, Vlad "Ramby" Sanchez, Tanner "Super" Bowen, and Alexander "Zaptius" Bonilla
Lightning Pandas: Jevon "Goonjar" Gooljar-Lim, Mathew "Royalty" Faithfull, John "Xotic" Bruno, and Dylan "Theory" McGee
Mentality Esports: Nick "Hate" O'Connor, Paul "Tisch" Tischler, Tom "GRVTY" Malin, and "Demise"
Morituri Esports: Mehran "Mayhem" Anjomshoa, Dakota "Nova" Williams, Tristan "Spoof" Green, and Timothy "Phantomz" Landis
Team WaR: Austin "Believe" Smith, Kade Jones, Dylan "Cells" Mock, and Darien "NauX" Chverchko
Vertacon: Anthony "DraMa" Padilla, Andrew "Hitman" Rostran, Eric "JetLi" Phan, and Carson "Brack" Newberry
WrangleR Gaming: John "Johnny" Cookson, Steve "Mochila" Canle, Brandon "Nelson" McKinney, and Caton "Riviction" Dell
Alle Snakes: Stelios "SteLios" Vardalis, "Genesis," "Iviano," and "Phantom" (This team may miss the LCQ.)
Black Forest Games: Tom Sharko, Michael "Revolt" Eaton, Gabriel "Gabi" Zazoniuk, and Frank "Verdict" O'Sullivan
Brash Esports: Koen "Benji" Haakman, Ehsan "DREAL" Javed, Robbe "Nevo" Dhondt, and "Dylan"
ZoneGG: Bradley "endurAAA" Hughes, Adam "Defrag" Mathews, Cameron "Cammy" McKilligan, and Luke "Bidz" Biddle
Heretics KFC: Juan "JurNii" Antonio González, Alejandro "Lucky" López, Jorge "MethodZ" Bancells, and Endika "Sukry" Andres
iDomina Esports: Pasquale "Pacobey" Calabrò, Ronaldo "Wartex" Lavado, "Blade," and "PredaX" (This team may miss the LCQ due to visa issues.)
Team Sween: Shea "QwiKeR" Sweeney, Tom "Moose" Handley, Adam "Peatie" Peate, and Connor "Weeman" Chilton
Les Blues: Wailers Locart, Eddy "Malls" Maillard, Arthur "Zayrox" Chabas, and Cédric "TonyJs" Ruault
Supremacy: Tommy "Eazy" Besse, Nathan "Natshay" Dupuis, Paul "Breszy" Breszynski, and Jean-Baptiste "ATLAS" Duzert
Team Vitality: Thomas "Tommey" Trewren, Bjarne "Denz" Sleebus, "Chain," and "JMaple"
The Imperial: Niall Sunderland, Nick Nolson, Deleo "Zerg" Devitt, and "Disarray"
Vodafone Giants: Antonio "TojoR" Jorda, Carlos "Lgend" Pereiras, Iván "YaKo" Rodríguez, and Brian "Braaain" Fairlamb
Synergy Esports Club: Nathan "Bacabec" Munro-Ireland, Ryan "Killerpie" Wallath, Tyson Grech, and Rory "Cruze" Hunn
Taboo: Cody "Excite" Rugolo, James "Macka" Mckenzie, Jayden "Setzyy" Hewitt, and Mark "Zepa" Zepackic
Virtue Gaming: Gabriel "EliTz" Batista, Diogo "Krevz" Moritz, Leonardo Martino, and Leonardo "Scarz" Henrique
Tournament format and bracket
The 2018 CWL LCQ will feature a double-elimination bracket. The concept is simple—win two series before you lose two, and you'll qualify for CoD Champs 2018. But that might be easier said than done for some teams.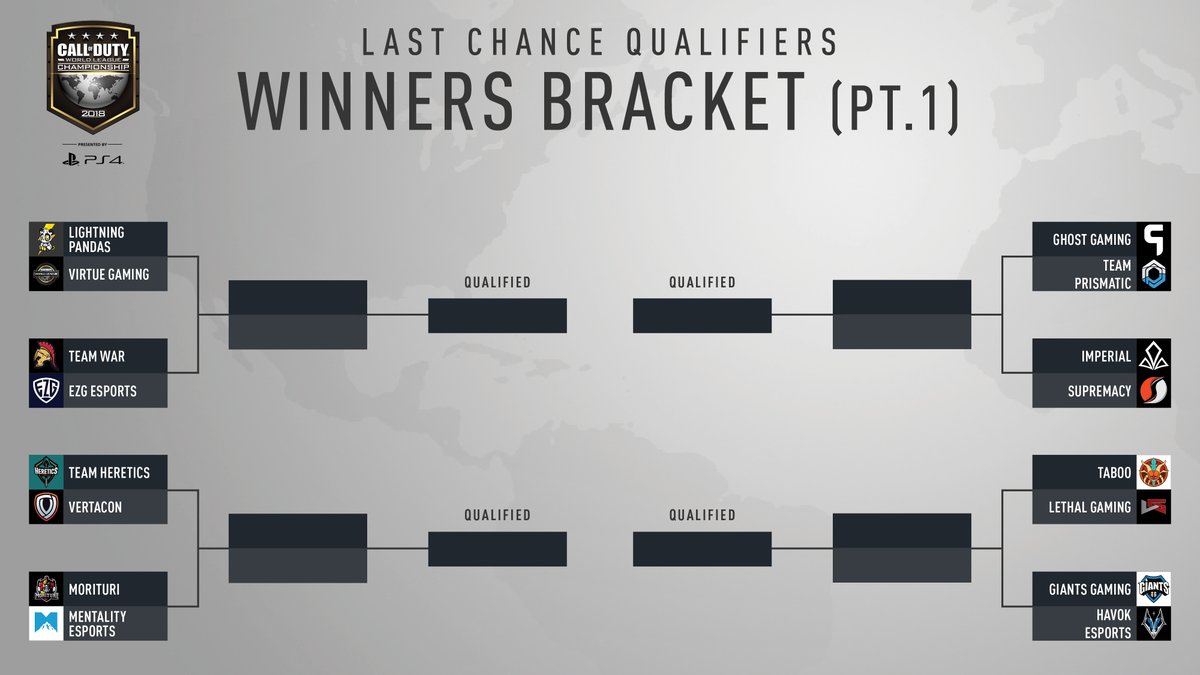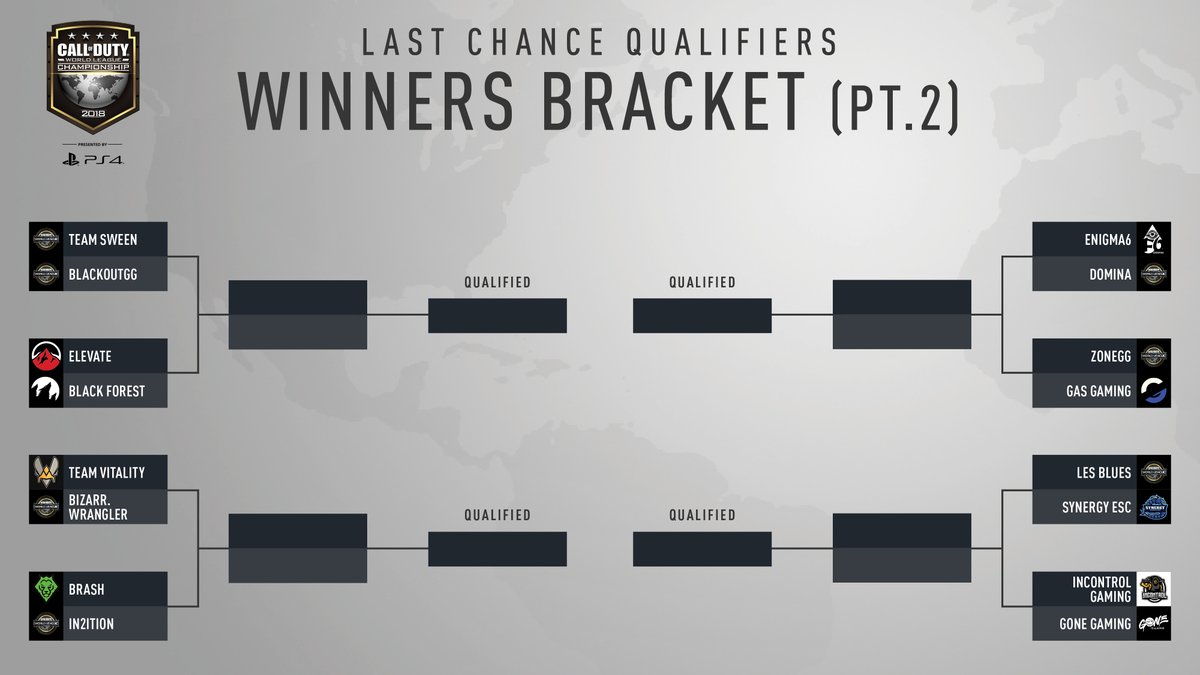 Schedule
The CWL hasn't revealed an official schedule yet for this qualifier, but the LCQ is expected to last two days. The event begins at 1pm CT on Tuesday, July 24.
Some players have tweeted an unconfirmed schedule for the LCQ. This section will be updated when an official schedule for the LCQ is revealed.
How to watch
The LCQ will likely be viewable on a variety of platforms. The tournament is expected to be livestreamed on MLG, as well as Twitch—which will likely only feature an Alpha stream for this event. Call of Duty fans who own WWII on PlayStation 4 can also watch the 2018 CWL LCQ by using the in-game Theater in the Headquarters.
---
Some of the best amateur teams in the world will be competing in the LCQ for their shot at a spot in this year's $1.5 million tournament. Call of Duty fans won't want to miss any of the action—and it all starts Tuesday, July 24 at 1pm CT.