Riot Games has followed the trend of many popular online games over the past few years and has opted to release fully-fledged battle passes for VALORANT on a season-to-season basis.
The battle pass is an affordable way to collect unique cosmetic items, from skins to gun buddies. It rewards you for your time put into the game, adding an extra incentive for you to climb up the ranked ladder.
The more you play, the more rewards you'll earn. In total, a standard battle pass takes roughly 100 hours to complete, with XP scaling up each week.
The first week offers 28,350 total XP and the last provides 60,750. This means you should be able to complete the battle pass without having to break a sweat. If you're a casual player that doesn't play often, however, completing the pass in time will mean you'll have to invest some more time into the game.
There's a free version of the battle pass, offering the bare minimum, and a premium version. With the premium battle pass, you'll have the chance to unlock bigger and better rewards.
The quality of the battle pass rewards also increases over time. The battle pass offers sprays, gun buddies, and titles in the initial few weeks of the season. But over time, weapon skins and even a melee skin will become available.
How to buy the battle pass
The premium version of the battle pass costs 1,000 VALORANT points or roughly $10.
To purchase the battle pass, log in and navigate to battle pass icon at the top left of your client. Click it, look for the premium upgrade option, and press buy. This should automatically activate your battle pass.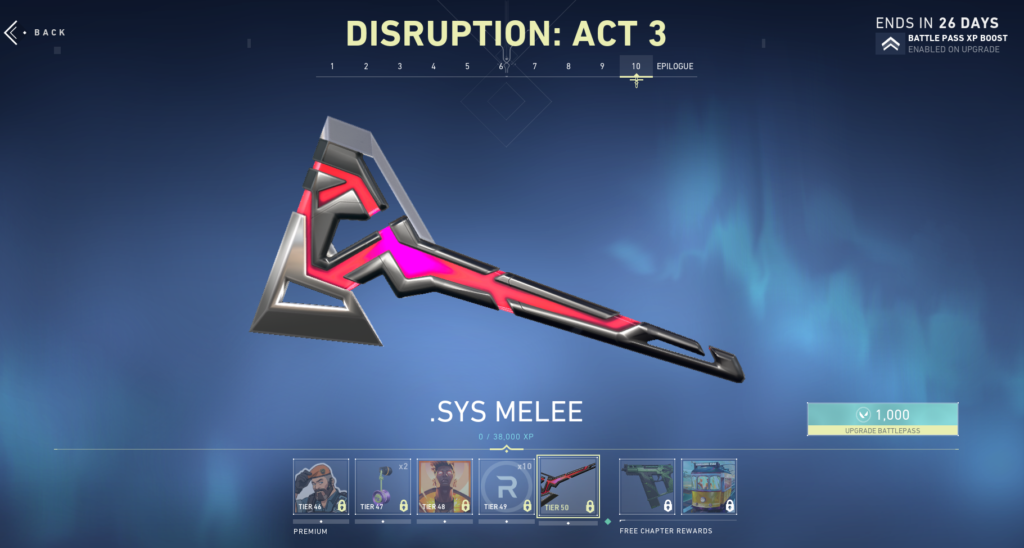 If the icon is gray, it means you have insufficient funds. To buy your 1,000 VALORANT points, head to the top right of the client and click the little V symbol. This will give you a number of options for buying points.