A total of 16 North American Teamfight Tactics players will battle in the NA Reckoning Regional Finals, with three seats to compete at the Set 5.5 World Championship on the line. The competition is scheduled to take place on Sept. 4 and 5 and will showcase the top 16 tacticians who qualified to compete via ladder snapshots and multiple qualifier tournaments.
It was clear that North America would send its best tacticians to Set 5.5 Reckoning Worlds, from previous Worlds qualifiers like Kurumx and RamKev to Robinsongz and NoobOwl seeking their first World Championship. Here are the 16 NA players competing for Reckoning Worlds seats at the Regional Finals: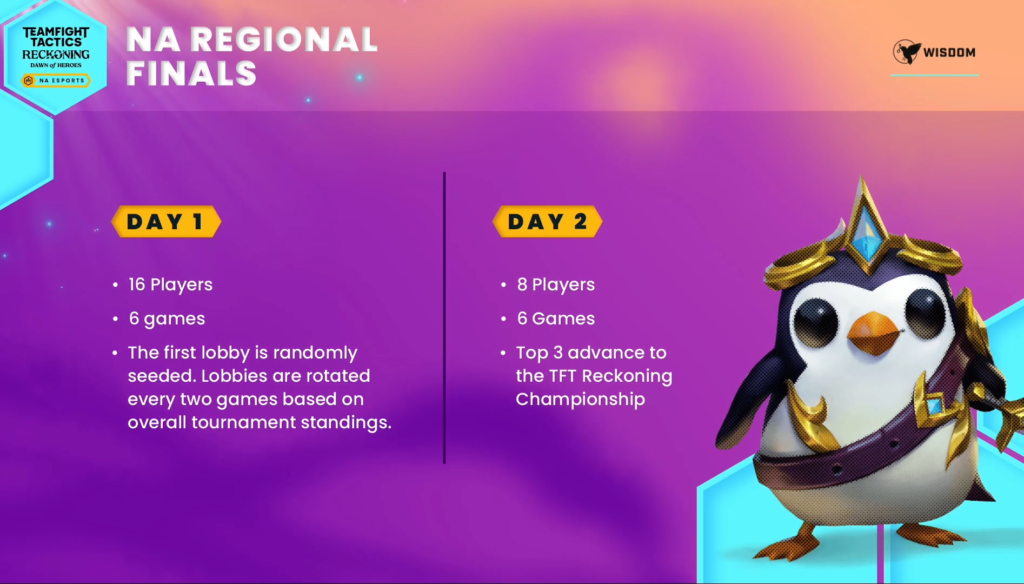 Sept, 4 first six rounds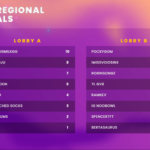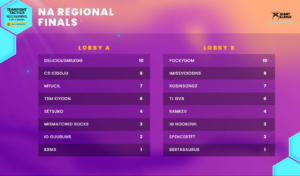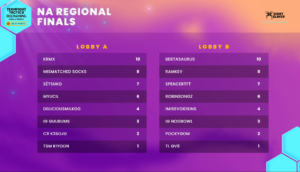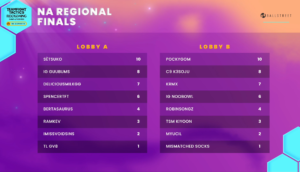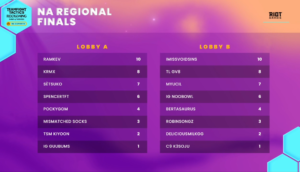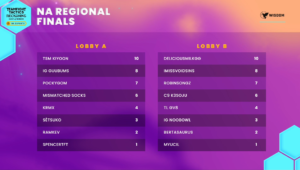 The first day of competition at the NA Reckoning Regional Finals showcased 16 players split into two lobbies. Only eight players could advance to the day two playoffs, with the top three earning a seat at the TFT Reckoning World Championship.
Stage 6-1 had six players in Lobby A under 20 HP during game one—with Myucil, Delicious Milk, and Mismatched Socks each at 4 HP. Lobby A in game one wrapped with Kiyoon in fourth, Myucil in third, k3soju in second with Aphelios carry, and Delicious Milk earning a first-place with Nocturne Assassin. The top four players in Lobby B after game one were GV8 in fourth, Robinsongz in third, I Miss Void Sins in second, and Pockygom with the lobby win.
Game two was a flipped script with Kurumx and Bertasaurus winning their respective lobbies after finishing eighth during game one. After three games, Pockygom earned a second first-place finish to sit a number one with 22 points. On Pockygom's heels were sètsuko and Delicious Milk, tied at 21 points. Sitting in the bottom four for total points after three games were GV8, Kiyonn, Mismatched Socks, and NooBowl.
Heading into the final game of day one, the fight for the top eight had 12 tacticians within six points of one another. The only tactician to have locked a seat at the NA Regional Finals playoffs was sètsuko with 36 total points.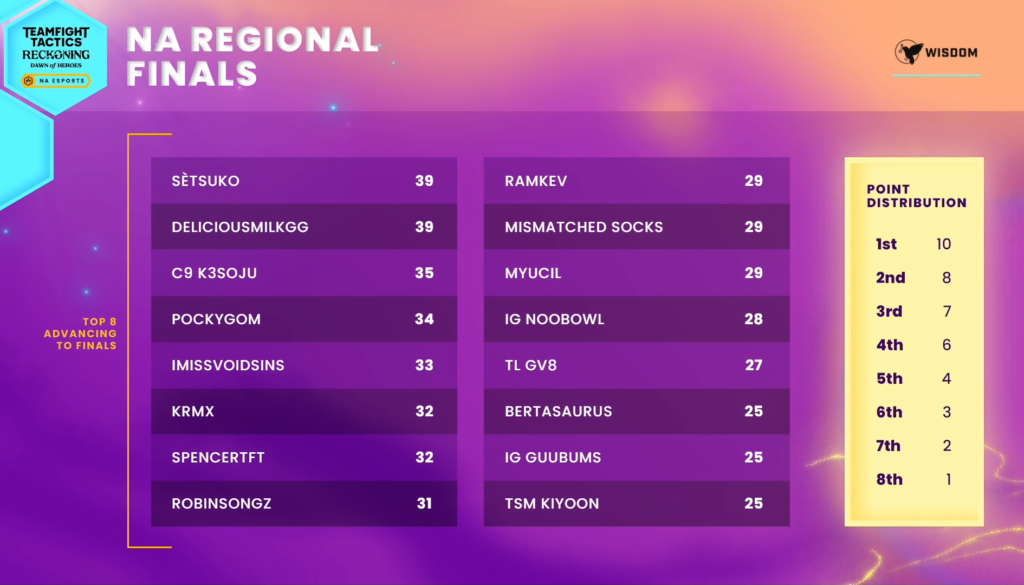 Here were the top eight NA tacticians advancing to the day two playoffs of the TFT North American Regional Finals:
Sètsuko: 39 points
Delicious Milk: 39 points
k3soju: 35 points
Pockygom: 34 points
I Miss Void Sins: 33 points
Kurumx: 32 points
SpencerTFT: 32 points
Robinsongz: 31 points
Sept. 5, day two playoffs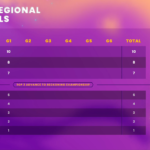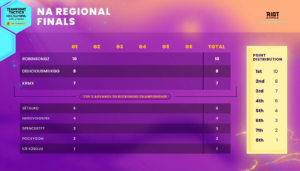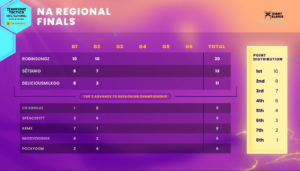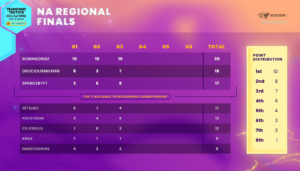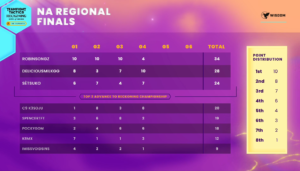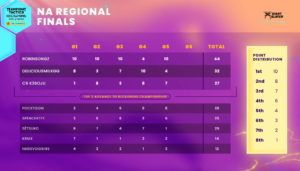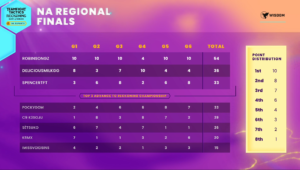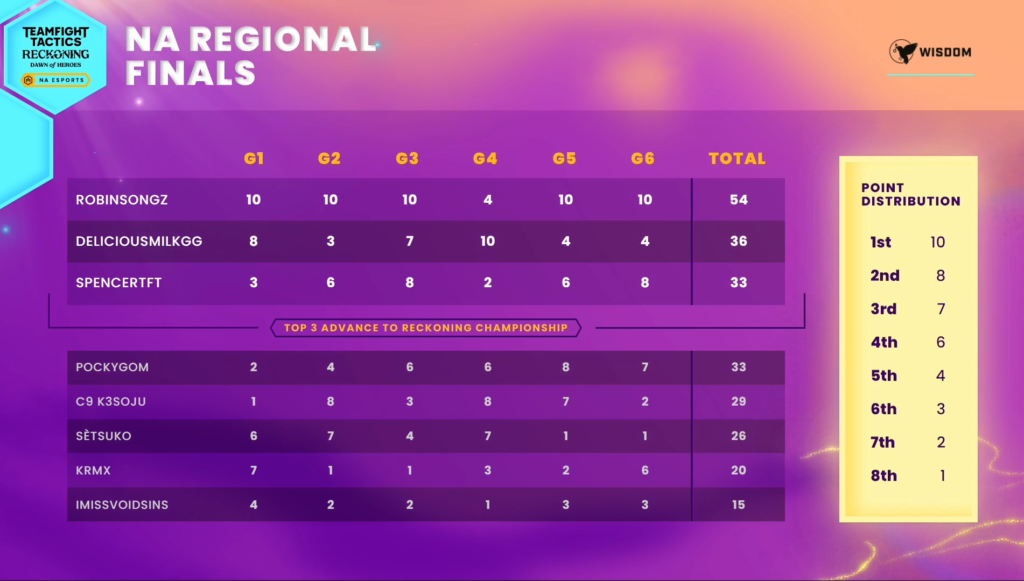 Day two of the TFT NA Regional Finals consisted of six games total, with the top three scoring players earning an invite to Reckoning Worlds in October. Delicious Milk kicked off day two with a three-star Nocturne Assassin build, earning a second-place after getting knocked out by Robinsongz who was running Lucian Knight/Sentinel.
Robinsongz kept the fire going with another first-place finish during game two, running a Jax carry with a three-star Galio as a secondary carry. With back-to-back wins, Robinsongz sat atop the leaderboard with 20 points, followed by sètsuko at 13 and Delicious Milk at 11 points.
Playing Jax main carry with a few high-rolls and intense positioning, Robinsongz pulled out a third first in a row, practically securing a seat at TFT Reckoning Worlds. With three games left to play, Delicious Milk secured a much-needed first to separate from the rest of the lobby in total points. Close on his heels were sètsuko with 24 points and k3soju at 20.
Related: TFT Robinsongz secures Reckoning Worlds invite with five lobby wins
Game five showcased a rare six Spellweaver build by Pockygom, but it was Robinsongz who claimed a fourth first-place running Nightbringer with three-star Yasuo, Sejuani, and Lee Sin. But Robinsongz wasn't done, claiming a fifth victory in game six with a Kayle build. Claiming the other two TFT Reckoning Worlds spots was Delicious Milk with 36 points and SpencerTFT at 33 points.