Smash Ultimate Summit is well underway. The three-day tournament, hosted by Beyond the Summit, showcases Super Smash Bros. Ultimate's best players and features some familiar faces.

The tournament will feature six invited players, five competitors who qualified through Genesis 6 and Ultimate Nimbus, and five players voted in by the community. This means a good mixture of popular players and skilled competitors has been assembled, creating exciting, must-see action.

The favorites of the tournament stem from a career in Super Smash Bros. 4, including Ezrea "Samsora" Morris, James "VoiD" Makekau-Tyson, and Nairoby "Nairo" Quezada. But many of the tournament's attendees have a background in Super Smash Bros. Melee.

The Melee players are the underdogs. So far, they're performing above expectations in the new iteration of Smash, but they've been outclassed by their Smash 4 rivals.
Although Melee has been put on the back burner at Evo, the premier fighting game tournament, the community has remained vigilant.

The newly-released Super Smash Bros. has taken much of Melee's limelight away. Some people in the community insist that the game is dead, but the sheer number of votes for Melee players at Summit only point toward its thriving fanbase.
The only way to find out who will come out on top in the battle between Smash 4 and Melee is to watch Summit.
Schedule
Smash Ultimate Summit's prize pool is still to be decided. It's a crowdfunding tournament that's sitting at $51,000 and counting right now. The event started on March 8 and will end today, March.10. But there's still time to catch up on the VODs.

The final stages of the event were scheduled to begin today at 9am CT.

Bracket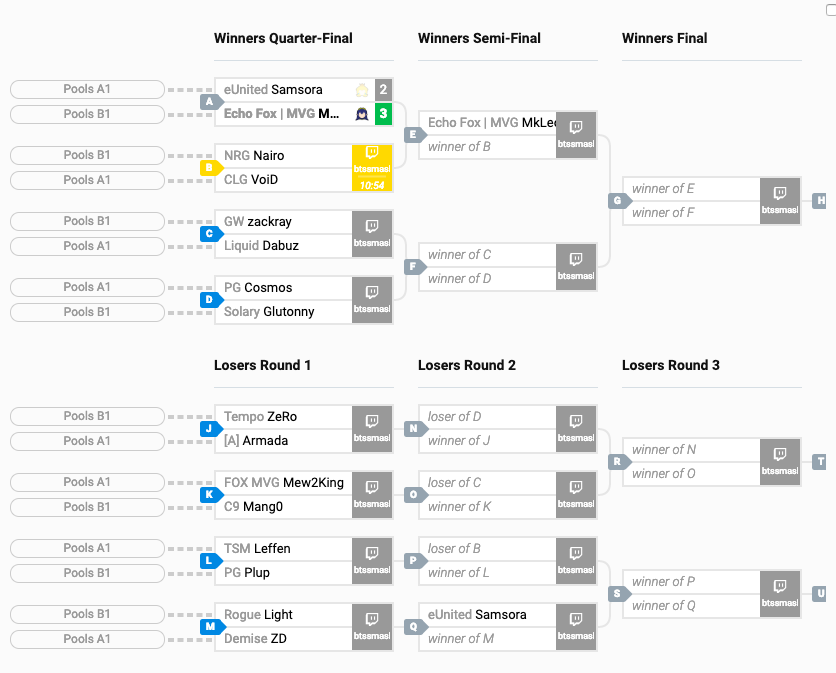 Stream