Lost Ark has introduced its first battle pass on April, 21, the Ark Pass. Many players will be thrilled to see its rewards and challenges, because in addition to Premium and Super Premium versions, it also features a free one.
It means they will get yet another way to gain rewards, including honing gear materials, cards, and ship materials. It's also a great way to encourage the players to try out different activities by completing its challenges and mission and to play everyday.
Here are all rewards of Lost Ark's first Ark Pass for its free, Premium, and Super Premium versions.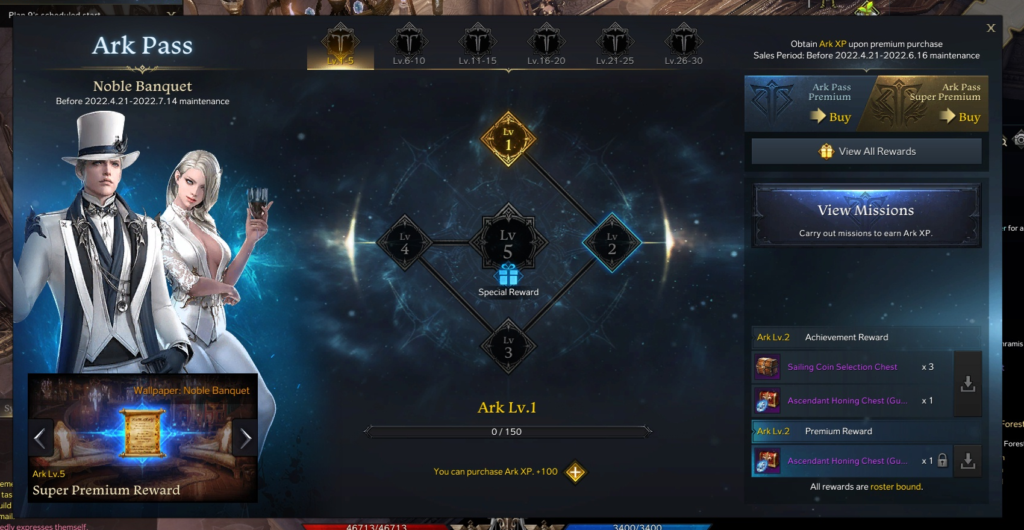 First Ark Pass
Level One

10 Bloodclaw's Glittering Coins or an Ascendant Honing Chest (Destruction Stone I)
Premium: One Ascendant Honing Chest (Destruction Stone I)

Level Two

Three Sailing Coin Selection Chests or one Ascendant Honing Chest (Guardian Stone I)
Premium: One Ascendant Honing Chest (Guardian Stone I)

Level Three

One Ascendant Ship Parts Chest or three Ascendant Honing Chests (Shard)
Premium: Three Ascendant Honing Chests (Shard)

Level Four

One Ascendant Ship Parts Chest II or three Ascendant Honing Chests (Leapstone I)
Premium: Three Ascendant Honing Chests (Leapstone I)

Level Five

Five Regulus' Light Currency Chest
Premium: One Ascendant Honing Chest (Destruction Stone II)
Super Premium: Wallpaper Noble Banquet

Level Six

Three Sailing Coin Selection Chests or five Regulus' Light Currency Chests
Premium: Five Regulus' Light Currency Chests

Level Seven

180 Basic Timbers or five Ascendant Gem Selection Chests
Premium: Five Ascendant Gem Selection Chests

Level Eight

180 Uncommon Timbers or one Fusion Material Selection Chest
Premium: One Fusion Material Selection Chest

Level Nine

Three Ascendant Ship Blueprint Selection Chests or one Ascendant Honing Chest (Support)
Premium: One Ascendant Honing Chest (Support)

Level 10

One Soul Vanguard Selection Chest
Premium: Two Legendary Rapport Selection Chests
Super Premium: Two Legendary Rapport Selection Chests

Level 11

One Ascendant Ship Parts Chest or one Ascendant Honing Chest (Destruction Stone I)
Premium: One Ascendant Honing Chest (Destruction Stone I)

Level 12

One Ascendant Ship Parts Chest II or one Ascendant Honing Chest (Guardian Stone I)
Premium: One Ascendant Honing Chest (Guardian Stone I)

Level 13

One Ascendant Ship Parts Chest III or one Ascendant Honing Chest (Shard)
Premium: One Ascendant Honing Chest (Shard)

Level 14

Three Ascendant Ship Blueprint Selection Chests or three Ascendant Honing Chests (Leapstone I)
Premium: Three Ascendant Honing Chests (Leapstone I)

Level 15

Five Regulus' Light Currency Chest
Premium: One Ascendant Honing Chest (Guardian Stone II)
Super Premium: Noble Banquet Headwear Selection Chest

Level 16

Three Basic Life Energy Potions or one Ascendant Honing Chest (Destruction Stone I)
Premium: One Ascendant Honing Chest (Destruction Stone I)

Level 17

One Ascendant Dispatch Seal Selection Chest or one Ascendant Honing Chest (Guardian Stone I)
Premium: One Ascendant Honing Chest (Guardian Stone I)

Level 18

Three Epic Trade Skill Tools Selection Chest or three Ascendant Honing Chests (Shard)
Premium: Three Ascendant Honing Chests (Shard)

Level 19

Three Epic Trade Skill Tools Selection Chest or three Ascendant Honing Chests (Leapstone I)
Premium: Three Ascendant Honing Chests (Leapstone I)

Level 20

One Ascendant Honing Chest (Support)
Premium: one Ascendant Honing Chest (Leapstone III)
Super Premium: Noble Banquet Chestpiece Selection Chest

Level 21

10 Epic Rapport Selection Chests or one Ascendant Honing Chest (Destruction Stone I)
Premium: One Ascendant Honing Chest (Destruction Stone I)

Level 22

Two Legendary Rapport Selection Chests or three Ascendant Honing Chests (Guardian Stone I)
Premium: Three Ascendant Honing Chests (Guardian Stone I)

Level 23

10 Epic Rapport Selection Chests or three Ascendant Honing Chests (Shard)
Premium: Three Ascendant Honing Chests (Shard)

Level 24

Two Legendary Rapport Selection Chests or three Ascendant Honing Chests (Leapstone I)
Premium: Three Ascendant Honing Chests (Leapstone I)

Level 25

One Ascendant Honing Chest (Support)
Premium: One Ascendant Gem Selection Chest
Super Premium: Noble Banquet Pants Selection Chest

Level 26

Five Any Card Packs or five Regulus' Light Currency Chests
Premium: Five Regulus' Light Currency Chests

Level 27

Five Any Card Packs or five Ascendant Gem Selection Chests
Premium: Five Ascendant Gem Selection Chests

Level 28

Three Eternity Essences or one Fusion Material Selection Chest
Premium: One Fusion Material Selection Chest

Level 29

25 Pheons or one Ascendant Honing Chest (Support)
Premium: One Ascendant Honing Chest (Support)

Level 30

One Legendary Card Pack
Premium: Vertus Pet Selection Chest
Super Premium: Noble Banquet Weapon Selection Chest