Midlaner Tristan "PowerOfEvil" Schrage, and support Lee "IgNar" Dong-geun have officially left Misfits Gaming, the team announced via social media.
While IgNar's new destination is a mystery at this point, PowerOfEvil's future seems to be set. According to a report from ESPN, the midlaner is heading to North America with OpTic Gaming.
Related: PowerOfEvil and IgNar might be leaving Misfits
For many, this news comes as no surprise. Both IgNar and PowerOfEvil had hinted at their departures during their respective streams earlier this month. While PowerOfEvil was more cryptic with his words, explaining the reasons that would make him leave Misfits, IgNar in his chat bluntly said "I don't go [to] Europe again".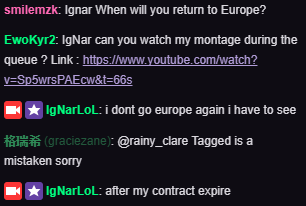 Its entirely likely that both players will end up crossing the pond. These two players impressed Western fans just over a month ago with their stellar performances at the World Championship. And with all the new money that has entered the NA LCS with franchising, it seems unlikely that European organizations can compete salary wise.
Misfits on the other hand, will have a tough time replacing PowerOfEvil and IgNar. The two played an integral role in Misfits 2017 success. But with talent like H2K mid laner Fabian "Febiven" Diepstraten, and Splyce support Mihael "Mikyx" Mehle available through free agency, Misfits may be able to repeat its successes in the new year.
Misfits surprised the League of Legends community with its outstanding performance during the latter half of the 2017 competitive season. Misfits made its first EU LCS final, beat the likes of TSM and Flash Wolves to qualify for the World Championship bracket stage, and almost defeated SK Telecom T1 in a best-of-five.