FlyQuest was one of the more surprising inclusions in the new NA LCS permanent partnership.
The organization, which first joined the LCS in 2016, didn't really make a mark on the league in its first year. Despite signing popular players like mid laner Hai Lam and Jason "WildTurtle" Tran, the team's fan engagement lagged behind some of their competitors. On stage, the team had fun with pocket picks, and even made the spring playoffs, but fell apart as the season went on.
Now, a re-branded FlyQuest looks re-invigorated by its acceptance into the LCS. The team is reported to have signed a slew of interesting talents, with the first official announcement being that of former Immortals top laner Lee "Flame" Ho-jong:
Flame gives the team instant credibility as one of the best top laners in NA. He'll be a big improvement over former top laner An "Balls" Le. Reportedly joining Flame next year are fellow former Immortals players Andy "AnDa" Hoang, playing jungle, and William "Stunt" Chen, at support. Mid laner Song "Fly" Yong-jun is joining FlyQuest from Challenger Series squad Gold Coin United, with WildTurtle as the only holdover from FlyQuest's 2017 roster.
AnDa's addition to the roster was announced shortly after Flame's, in a now-deleted tweet from the FlyQuest Twitter account.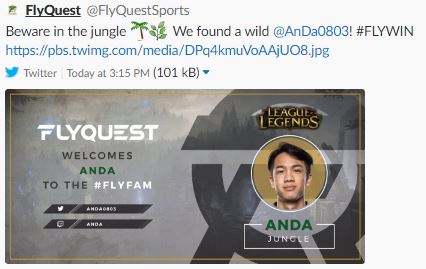 This team is a combination of young players who deserve a shot with a mixed bag of veterans. It may take a bit for the team to learn to play together, with the synergy between jungle and the solo lanes being a major question mark. But the team is clearly more talented than ever before. The just need to stay on the same page and find a shot caller to replace Hai.