A lot of great matches took place on Saturday at the Call of Duty World League Dallas Open, and now pool play is complete.
Only four series were played in their entirety on Friday—due to the venue being evacuated—which made Saturday a hectic day full of many intense matches.
Related: Echo Fox, FaZe Clan, Next Threat, and Allegiance make it out of the open bracket at CWL Dallas
There were a ton of great games in pool play, but only the top two teams from each group will move on to the championship winners bracket. Here are the final standings for pool play at CWL Dallas.
Pool A
1) OpTic Gaming: 4-0
2) Echo Fox: 2-2
3) Team Envy: 2-2
4) Enigma6: 1-3
5) UNILAD: 1-3
Pool B
1) Luminosity: 3-1
2) Ground Zero: 3-1
3) Epsilon Esports: 2-2
4) Allegiance: 1-3
5) Vitality: 1-3
Pool C
1) Team Kaliber: 4-0
2) Red Reserve: 3-1
3) Rise Nation: 2-2
4) Next Threat: 2-2
5) Mindfreak: 0-4
Pool D
1) Splyce: 3-1
2) eUnited: 3-1
3) FaZe Clan: 2-2
4) Evil Geniuses: 2-2
5) Ghost Gaming: 0-4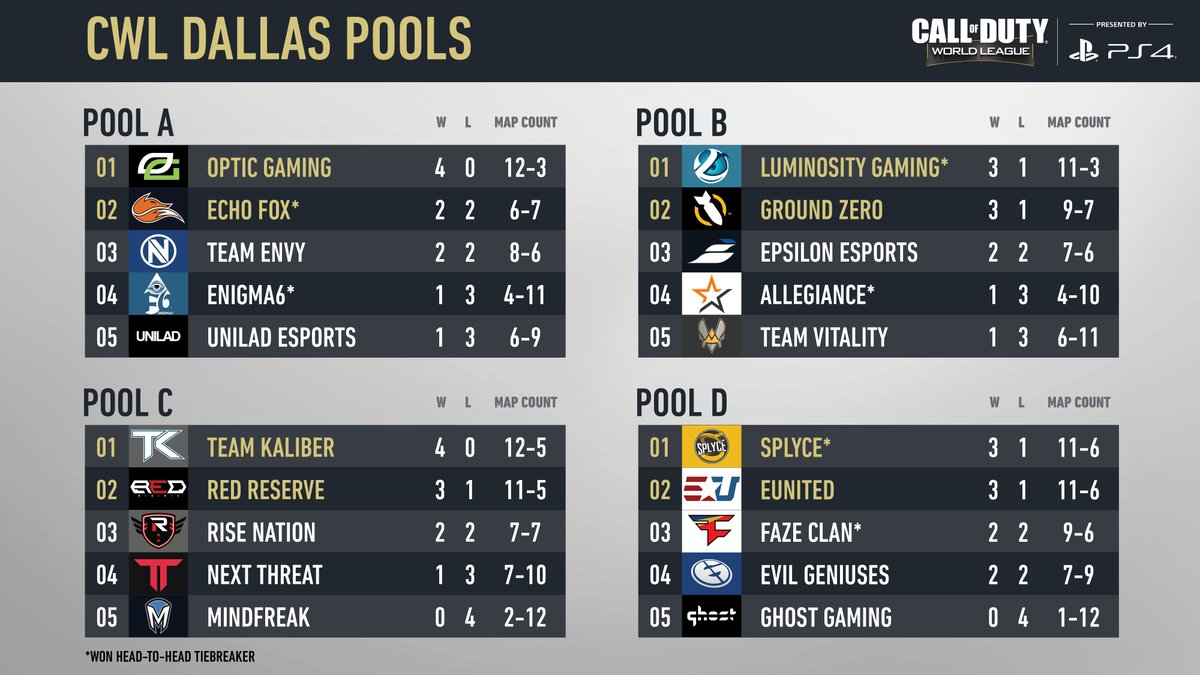 OpTic Gaming and Team Kaliber have played exceptionally well so far this weekend, as they are the only teams who went undefeated in pool play. Echo Fox came out of the open bracket and upset Team Envy to grab the second spot in the championship winners bracket from Pool A.
In Pool B, Luminosity bounced back from a shocking upset against Vitality to finish pool play 3-1. Ground Zero also went 3-1, but Luminosity will be the top seed from this group since they swept Ground Zero earlier on Saturday.
At 3-1, Red Reserve will join Team Kaliber as the Pool C representatives in the championship winners bracket. Meanwhile, Splyce and eUnited survived the "group of death" by going 3-1 in Pool D.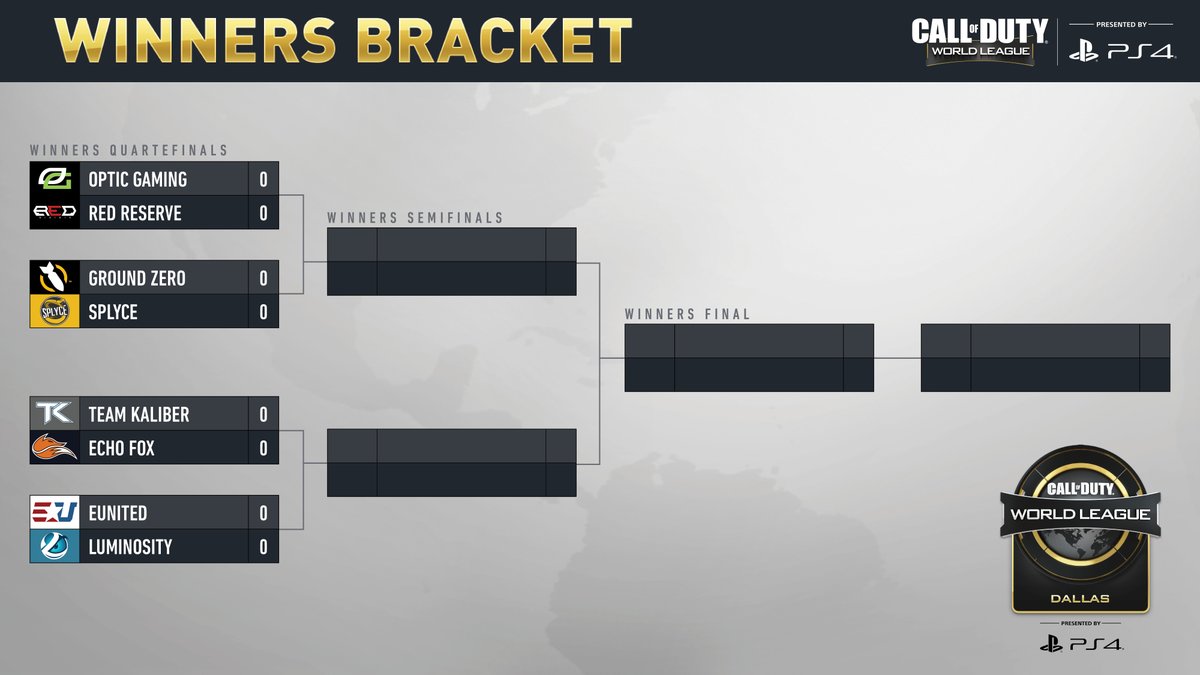 With pool play completed, the championship winners bracket has been finalized—while the bottom three teams in each group will be sent to varying rounds in the championship losers bracket.
OpTic Gaming will face off against Red Reserve, and Splyce will battle against Ground Zero in the top half of the bracket. Luminosity and eUnited will square off against one another alongside Team Kaliber vs. Echo Fox in the bottom half of the championship winners bracket.
Championship Sunday at CWL Dallas will kick off at 10am CT on Dec. 10.