After four days of PlayerUnknown's Battlegrounds at gamescom, we now have a decent idea of how the game functions as an esport—and Luminosity Gaming like it so far, as their four-man team took home the $80,000 grand prize from today's Squads tournament in the gamescom PUBG Invitational.
Tyler "Ninja" Blevins, Hogne "Chipzy" Krogsæther, Justin "JP2" Pate, and Cedrik "Drassel" Lessard were at the top of the leaderboard after three games. They beat out fellow esports organizations Noble, Liquid, TSM, and Cloud9 to finish in first place.
LG finished the first game with a victory, and held a slim four-point lead over the second place team, Tier 3 Gaming, after the second match. Once the final game ended, LG finished with an overall win by a 62-point margin.
Between Squads, Solos, and Duos, it seems like the four-man teams in Squads offer the best viewer experience when it comes to spectating. It's much easier to follow—and easier for the camera crew behind the scenes to follow 19 teams of four, as opposed to 70 solo perspectives or 40 duos.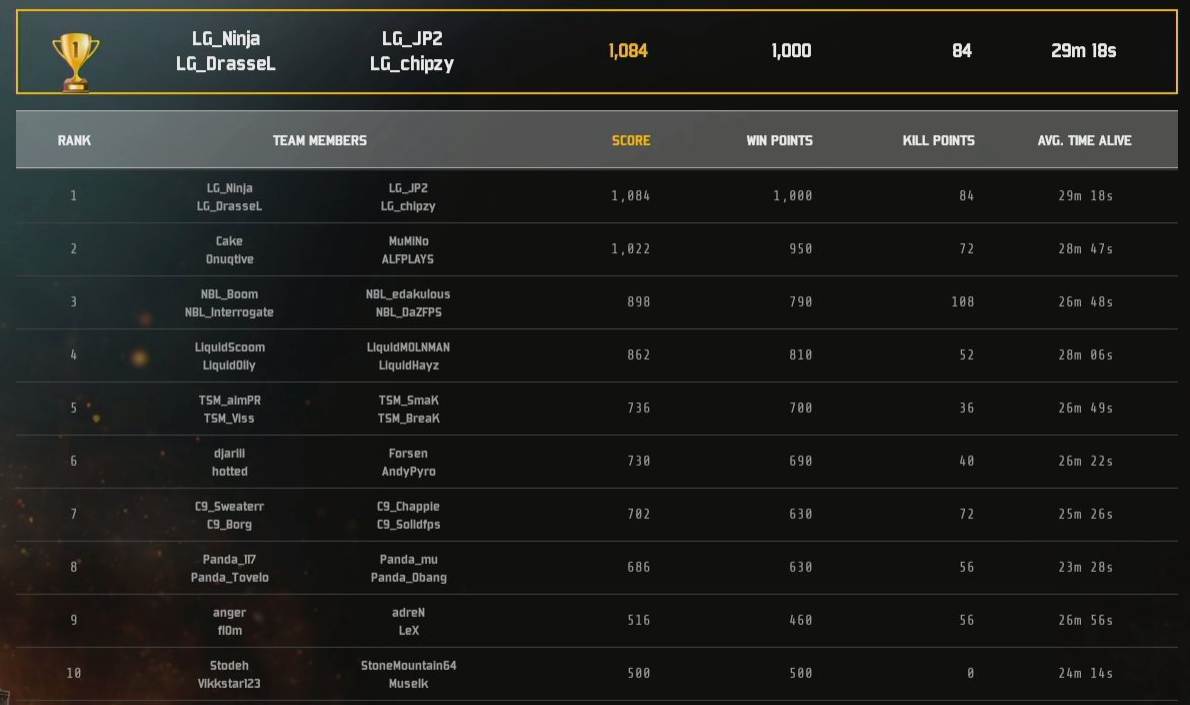 The Squads event was played in third person perspective, but the prevailing thought after this week's first LAN in PUBG was that first person is the way to go for esports, as it offers a more competitive and exciting experience for players and viewers alike.
Still, though, with viewership exceeding 100,000 on Twitch every day, and esports organizations at or near the top in every competition, it looks like competitive PUBG is here to stay. And it will only get better with time as the game continues to progress towards a full release.