Roadhog, once known as Mako Rutledge, fought with the people of the Australian outback to save their home. Instead, they got the apocalypse.
Blizzard's next digital comic, Wasted Land, was released today. Wasted Land gives Roadhog a bit of backstory—we know a bit more about why Roadhog is who he is. He lost everything after the war. "We got the apocalypse," Roadhog says in the comic. "And everyone's left fighting over the ashes."
Related: Meet Overwatch's Junkertown queen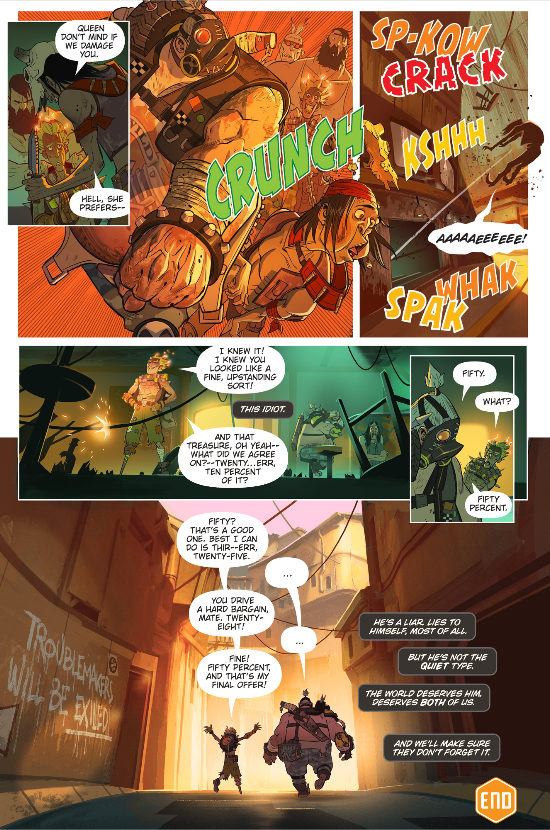 In Junkertown, anything goes. It's a rough place to live for the people of the Australian outback, but Roadhog believes the people there deserve what they have now. It's something he repeats throughout the comic—and that's because he doesn't want people to forget.
We don't get a glimpse of the beloved Junker queen, but Junkrat does make an appearance at the end. And it's the beginning of a beautiful friendship. Wasted Land features the moment where Junkrat and Roadhog leave Junkertown to find a massive treasure. It's unclear where, exactly, the comic falls within the Overwatch timeline, but it appears to be before the two get outright banned from the city.
Written by Blizzard's Robert Brooks and illustrated by Miki Montlló, the full comic is available on the Overwatch website right now. Better yet, an animated version is available through Madefire.
About the author