Fortnite has gone through some really fun limited time modes in 2018. LTMs like Sniper Shootout, High Explovies, Teams of 20, Playground and Infinity Gauntlet all come to mind.
While concocted by fans, this new concept from a pair of Redditors could be the best idea for an LTM yet.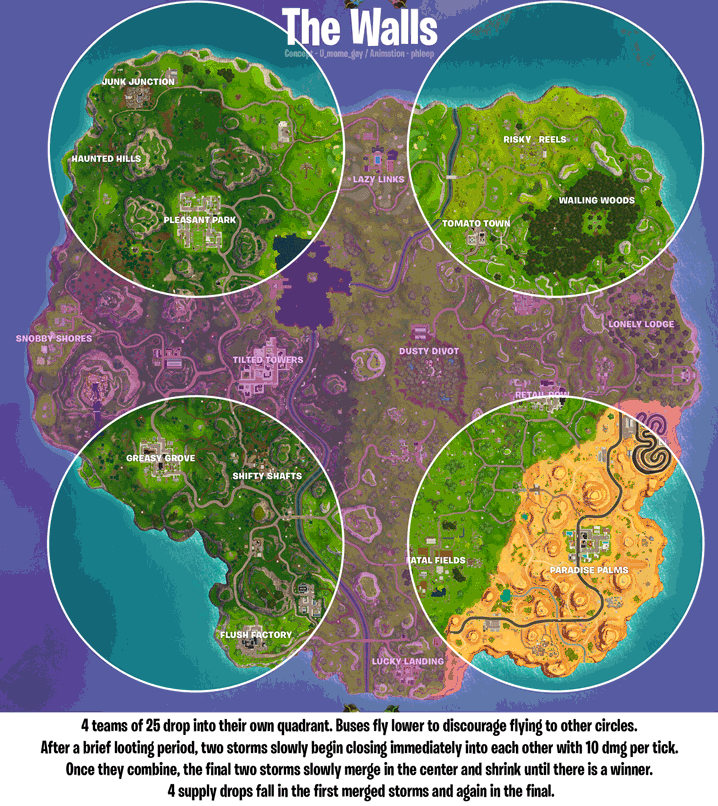 The LTM concept is called The Walls and it imagines four separate battle buses dropping over four separate safe zones. Imagine 25 people (in Squads, Solo, or Duo modes) dropping into each zone. Simple enough, right?
This is where it gets fun. After a brief looting period, the four safe zones merge into two, forcing the teams to move closer to each other while avoiding the storm, which will tick at 10 damage per second.
Once merged into two safe zones, they all pool into one another, creating one last safe zone circle, with supply drops dropping throughout.
The separate safe zones would create a number of mini-skirmishes while players loot. Plus the merging of the separate safe zones on two separate occasions would be absolute joyful mayhem, in theory.
The concept was posted to Reddit and has received universal love, becoming one of the top posts on the game's Subreddit today. It would certainly be amazing to see this fan idea come to fruition in-game one day. In case Epic Games are taking notes.