If you don't want to play Heroes of the Storm, you'll be waiting a while for the new Overwatch skins, Oni Genji and Officer D.Va, to be added to the game's loot boxes.
But if you are willing to pull the breaks on Overwatch for a bit and load up Heroes, we've got you covered. Players who make the switch for the next four weeks will be rewarded with lots of Overwatch loot, including skins and loot boxes. Each tier unlocks weekly, but when they do unlock, they're available until May 22.
Heroes' Nexus Challenge requires players to load up Blizzard's multiplayer online battle arena and play a few rounds. The general idea is that you've got to play five games per week with friends. If you're playing on PC, just log into your Blizzard account and start playing Heroes. You're not out of luck if you're a console player, however: You just need to connect your two accounts. Here's how.
Related: Overwatch's D.Va and Genji battle Diablo in this awesome Heroes of the Storm cinematic
Connect your console account
If Overwatch is your first Blizzard game, you may not have a Blizzard account. You'll need to make one if you don't have one. Once you have an account, you can connect your Xbox Live or PlayStation network accounts. There are two ways, on the Blizzard site, or through Overwatch itself.
Connect through Battle.net
Log in to your Battle.net account on the Battle.net site.
Click your username on the top-right of the page and select account settings.
Click the fifth tab under account management, Security Options then Connected Accounts.
Click the Connect button next to the service you wish to connect to your Battle.net account. If you're playing on Xbox One, click the button next to Xbox Live. If you're playing on PlayStation 4, click the button next to PlayStation Network.
Follow the steps from there to finish the process.
Connect through Overwatch itself
Open Overwatch.
Select Link Account from Overwatch's main menu.
Log in with your Battle.net account, or create one now if you haven't yet.
Hit Return to Connected Accounts.
Heroes can be played on both Mac and Windows systems, with relatively low requirements. Of course, if you don't have a computer that can run Heroes, none of this will matter. You'll just have to wait until Blizzard releases the skins in the game's loot boxes.
Once the game is installed and your accounts are linked, you're ready to start playing. You can choose to install the game in the Blizzard launcher. But to unlock each additional quest, you must complete the one before it. Even if you have Oni Genji, you have to play week one.
Start playing Heroes
The Nexus Challenge runs over a series of four weeks, unlocking new rewards as each week passes. To earn the rewards, all you have to do is play five games of Heroes partied up with a friend.
Week one: Oni Genji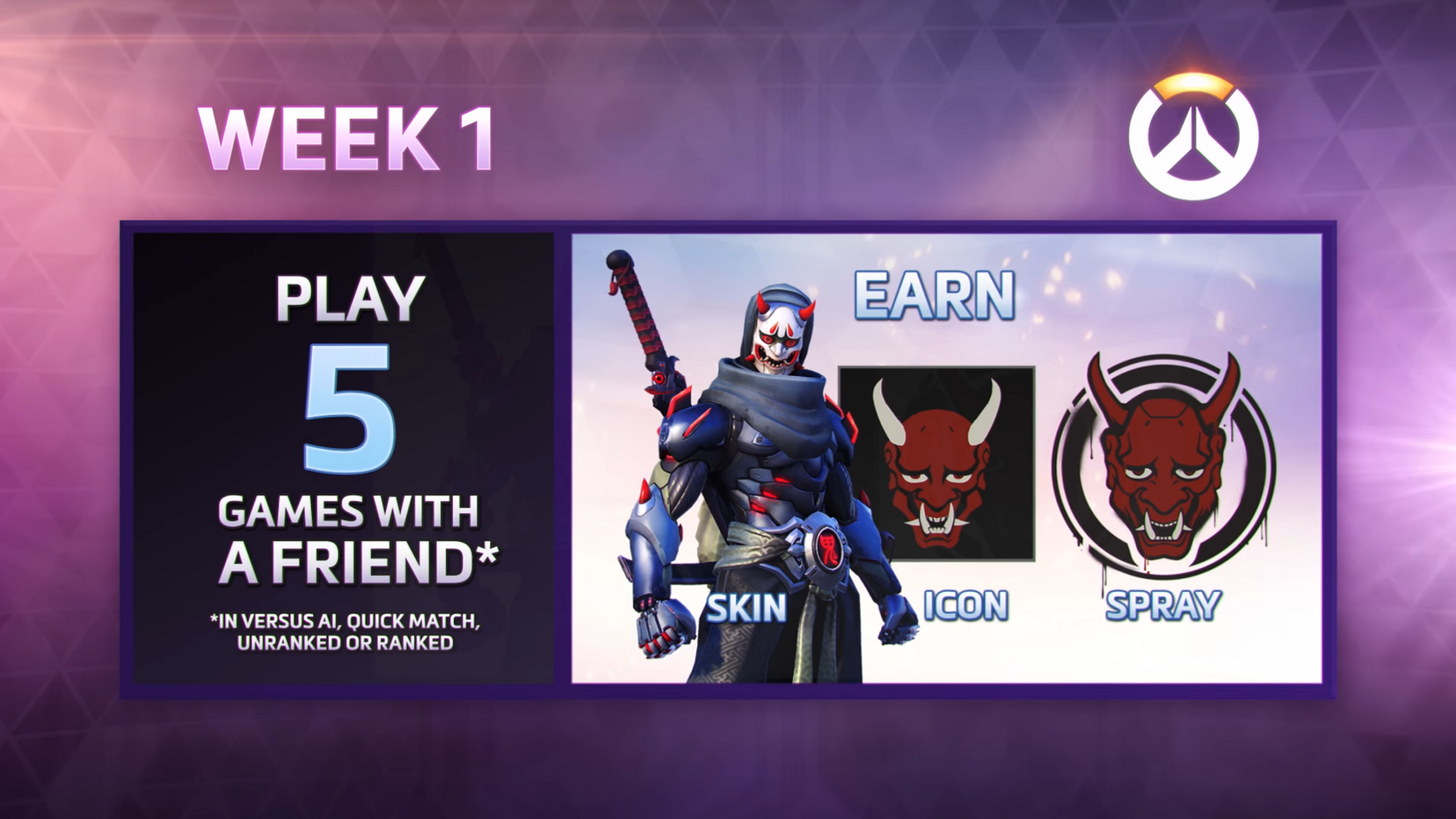 To earn the Oni Genji skin, spray, and icon in Overwatch—plus a bunch of Heroes goodies—you've got to load up and play five games in versus AI, quick match, unranked, or ranked. The quickest way to knock these games out are to play against easy AI. In doing this, you'll be done in no time.
Week two: Officer D.Va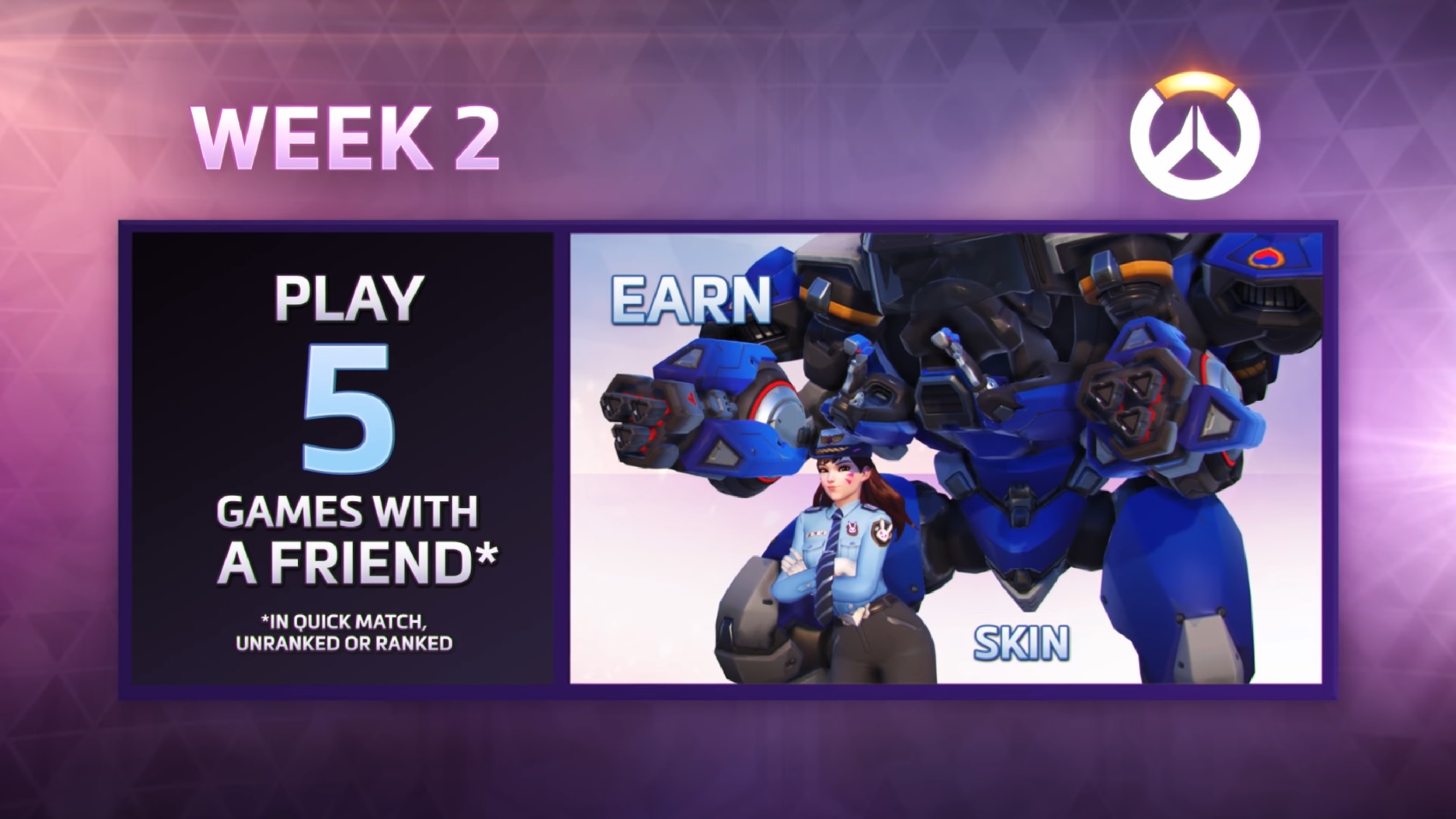 Week two ramps things up, offering the new Officer D.Va skin for players who complete the Nexus Challenge. Unlike the first week, however, players can't just play against AI opponents. To earn Officer D.Va, you'll have to play five games with a friend in ranked, unranked, or quick match.
You must play in week one to unlock the Overwatch skin. This tier also unlocks D.Va's Busan Police mount for Heroes.
Week three: Officer D.Va spray and icon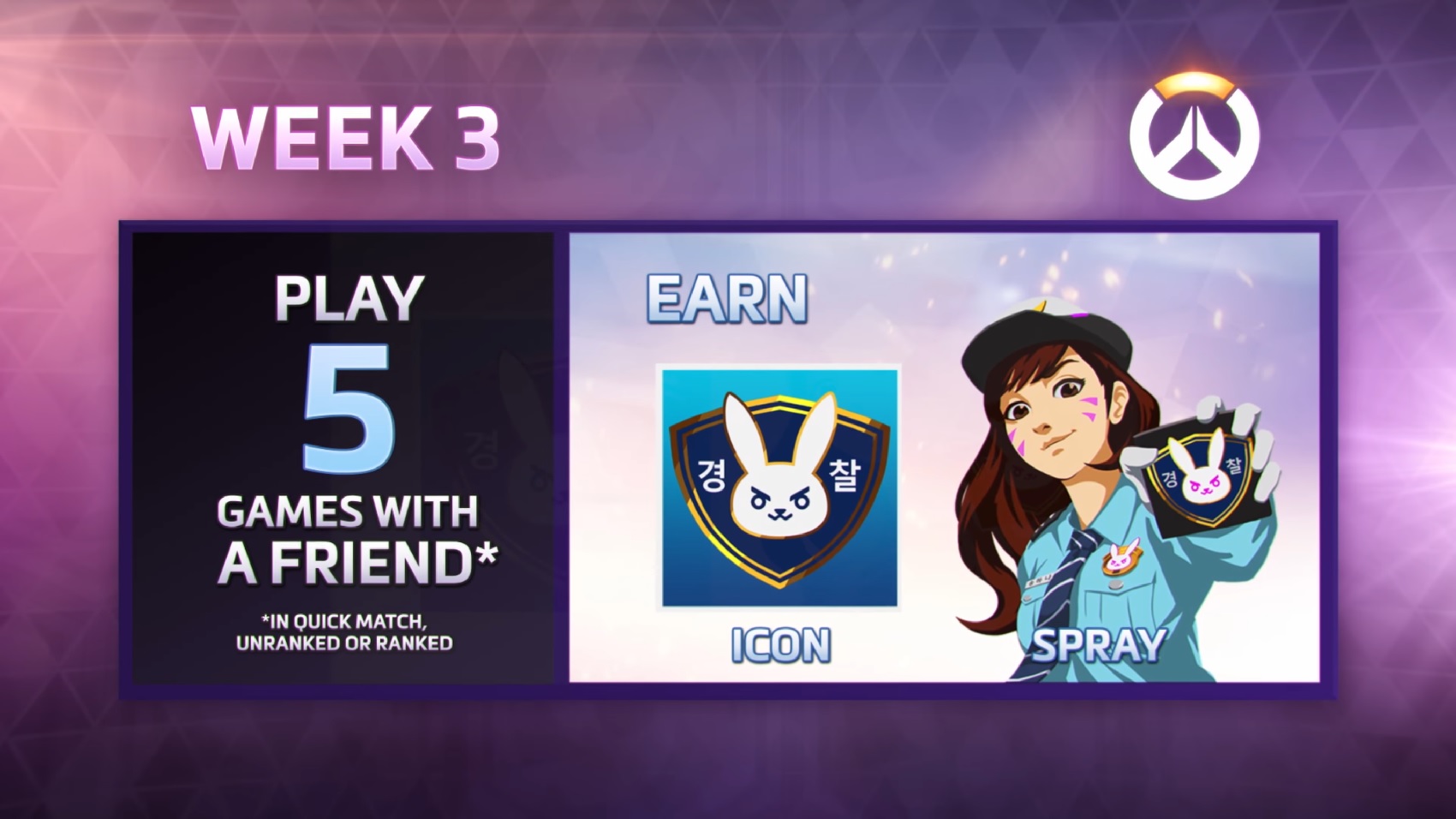 Playing another five games will earn you an Officer D.Va spray and an icon, but like last week, these matches can only be played in quick match, ranked, or unranked—with a friend, of course.
A whole bunch of other Heroes rewards for Officer D.Va will be unlocked, too. This week's rewards aren't as tempting as the others, but to make it to the last tier, you still have to play your five games.
Week four: 10 loot boxes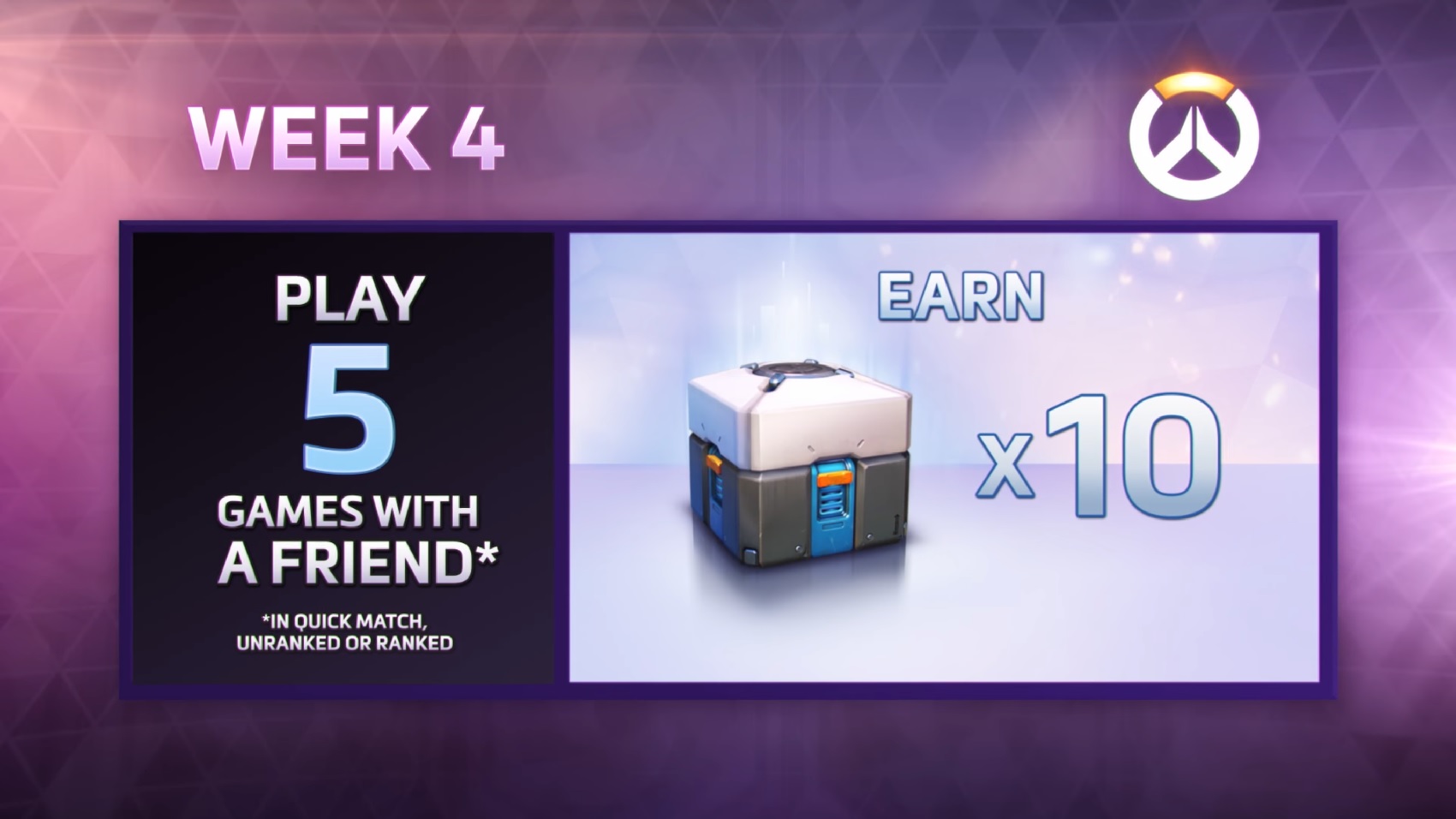 Completing the Nexus Challenge in week four will earn you 10 Overwatch loot boxes and 10 Heroes loot chests. As you may expect, to earn these five games in quick match, ranked, or unranked will have to be played with a friend.
Heroes tips for completing the challenge quickly
Heroes has 13 maps, and each is played a bit differently. The core idea is generally the same, however: Capture a boss camp and then push a lane with that boss. Destroy all the buildings in that lane, then destroy the core. Bosses spawn during the match, and you'll have to work with your team to capture them.
Winning isn't a requirement, so it's okay if you're not too good at the game. Using the Nexus Challenge as a way to get better at Heroes is the perfect idea here. Each quest must be completed to reach the end tier, but all tiers—once unlocked—are open until the event ends on May 22.