The 2017 LCK Summer Split hasn't been the best season for the reigning League of Legends world champions.
SK Telecom T1 recently finished the Summer Split in fourth place and face a difficult run to the summer finals if they have any hopes of defending their Worlds title this year in China on Sept. 28.
There are multiple ways that SKT can qualify for the World Championships without having to face the LCK Regional Playoffs in September. The team currently have 90 circuit points after finishing first in the Spring Split, which might be crucial for the team moving forward.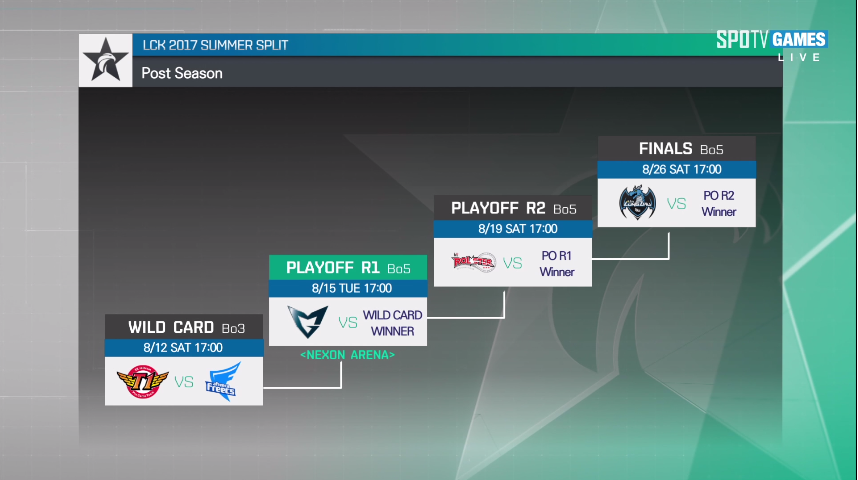 If SKT fail to beat Afreeca Freecs on Aug. 12, they'll need some help. Afreeca would need to beat Samsung Galaxy, with KT Rolster winning the playoffs, in order for SKT to go to Worlds as the LCK's second seed.
If the defending world champions beat Afreeca and lose against either Samsung Galaxy or KT Rolster in the next two rounds of summer playoffs, then SKT will need to hope that KT beat Longzhu Gaming in the finals on Aug. 28 to go to Worlds as the LCK's second seed.
If SKT make it to the finals, regardless of the result, they're guaranteed to go to Worlds either as the first or second seed for the LCK region.
Basically, SKT's fate is in their own hands—they need to beat KT to guarantee a spot at Worlds. Otherwise all eyes will be on Longzhu to take the first seed and force SKT to go through the LCK Regional Playoffs to play against several teams, including Samsung Galaxy and Afreeca Freecs.
If SKT struggle in the LCK Summer Playoffs and fail to win the LCK Regional Finals, then they won't be going to the World Championships at all this year—no pressure.