Two weeks ago, the League of Legends community voted that they wanted Little Demon Tristana to be the next skin for the Yordle Gunner. As we wait patiently for the skin to drop, Riot Games has explained the work process for the skin and revealed videos and images showing the work the team has done so far to bring the diminutive demon to life.
Chelsea "Aeneia" Hughes, the insights researcher for Riot, gave a few reasons as to why Riot chose Tristana to get a new cosmetic. "Tristana consistently has a relatively high play rate," she said. "Tristana's new skin will have the chance to be played in a lot of games, meaning plenty of players will get to see her."
One of the big obstacles for the team, according to visual effects artist Kevin "Sirhaian" Leroy, was how similar some of the fire effects were to Dragon Trainer Tristana. They had to actually scrap an entire kit because it wasn't unique enough. As a result, Riot went on to change the color of her fire to blue, which they called "spirit fire." Check out the work in progress:
The team has also shown some little details that they've added that will make this skin pop. For example, one detail that stands out is the little Devil Teemo icon that pops up above someone with her Explosive Charge. As the opponent is hit, the icon gets bigger and biggers until it begins laughing.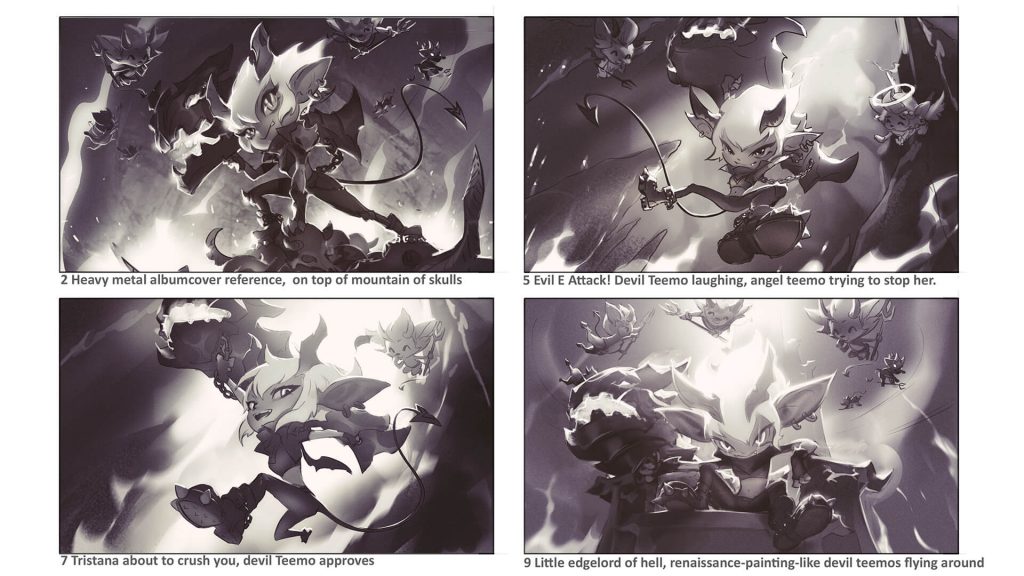 Lastly, the team showed off a few concepts for Little Demon Tristana's splash art. They had nine great ideas for what the art could look like, but have ultimately cut down the options to four.
Which of the splash arts do you think looks the best?