Intro: Jin Air Green Wings
The moment that the Jin Air Green Wings take the stage this Sunday at IEM San Jose (21:40 CET) for their very first international league of legends match, it will be the world debut for many players who have spent their careers locked in Korea, trapped by some of the most talented and successful teams the world has to offer. For players like Chaser, Pilot, and Chei, it will be the culmination of three difficult years of battling it out, and coming up just short in the un-forgiving Korean league. Each year being a tough adversary, a playoff team, but never champions; or even a top three team for that matter. This kind of struggling has been the face of Jin Air since their introduction into Champions in 2013, always stuck somewhere between elite and mediocre. Players have come and gone, the most recent and noteworthy was GBM, one of the many talented Korean mid laners who had made his name known in the west to those who even infrequently follow LCK. Jin Air will play at IEM San Jose this weekend without arguably their most famous player, a player who was vocally frustrated by the lack of any international appearances with Jin Air. Ironically, they have been given the chance almost as soon as he left, but what exactly can the LCK Summer sixth place team accomplish against these world caliber opponents? Enter Kuzan, the longtime substitute for GBM, a player with more history than most might know, a player with a play style almost completely unique to himself, and perhaps a future as one of those many "godly" Korean mid laners.
Part 1: A Stunning Break Through
Back in week three of the summer split, Kuzan made his low key debut in the second game of a somewhat less than appealing fixture, Jin Air vs Samsung Galaxy. The first game GBM had been playing, and while having done okay, his mid lane opponent, Crown, ended up with a stellar 8/1/4 score on LeBlanc. From that result, Jin Air made the decision to substitute in Kuzan for his professional debut.  In his first ever game as a professional he showed little fear and pulled out LeBlanc himself, he had a solid showing, but was partly carried by teammates Chaser and Pilot. However, game two was a different story, Kuzan locked in Azir (now his most competitively played champion) and put on a clinic on how a roaming mid laner can impact a game, eventually earning the MVP reward for game three, and completing the 2-1 reverse sweep. It became immediately apparent that Kuzan was not the same style of mid laner as GBM. Kuzan had more of a bite to him, someone who was going to out roam his opponents and look to make plays from time to time, but maybe most impressive of all was the way he went about helping his teammates succeed in the mid game. Two days after this result, Jin Air made the decision to start Kuzan over GBM in their series vs SBENU, a choice that would lead to a 2-0 victory for the Jin Air squad.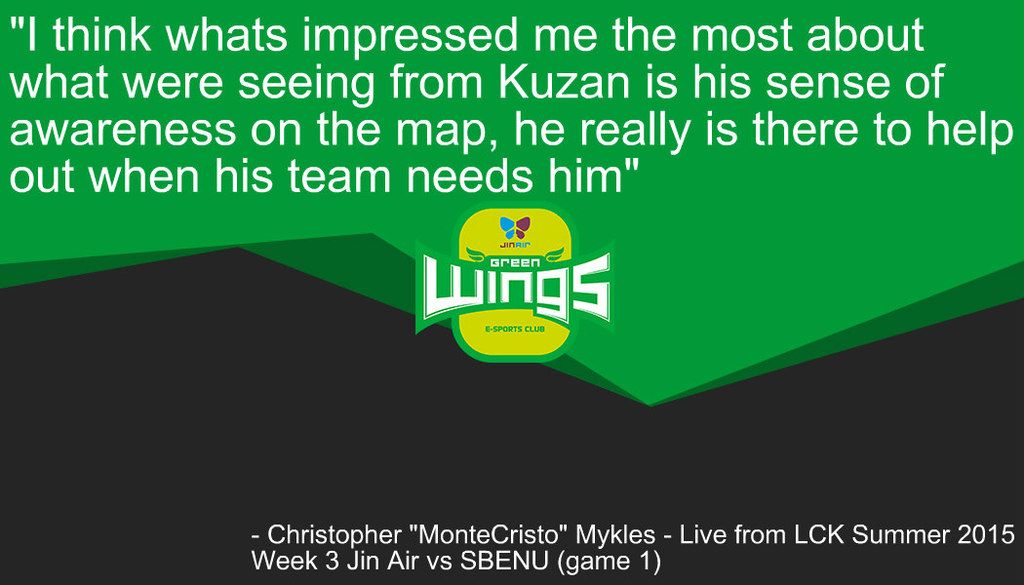 He played a strong Lissandra in game one, where he maneuvered team fights very well and made life easy for Cpt Jacks Sivir to do damage. In the second game he finally showed signs of being a rookie player, missing several key flash Cassiopeia ultimate's. Still, Cpt Jack had plenty enough time to put out damage as Jin Air cruised to a 2-0 win. This concluded Jin Air's week three games and Kuzan had not only made his appearance, but had already won an MVP award and held a 4-0 professional record. The long time substitute player gave Jin Air a completely new dimension to their play. He could give Jin Air better presence in the early game, as he appeared to have an excellent sense at roaming before his in lane opponent could react. While still not incredible mechanically or a team fight stand out star, he could out farm his enemy, and snowball the real carries on his team with a good success rate. Kuzan had in a lot of ways proven that when Jin Air needed a more impactful early game mid laner, he was the clear choice over GBM.
Part 2: Out of the spotlight
Despite making a very impressive debut, Kuzan was destined to end up watching the majority of the season from the bench. Relying on the tried and tested GBM, and desperate for results to keep Jin Air in the playoffs chase, Kuzan only saw the occasional game. From week four to week twelve Kuzan made only five more appearances and most of them to little effect. Jin Air as a team was struggling, and subbing in or out Kuzan didn't make much of a difference for the team overall. In this period of time, Kuzan managed a 1-4 record, and worse than that, had somewhat been exposed. His trademark roaming play style and cs leads were a byproduct of his aggressive lane play, something that can be punished quite easily if your opponent is ready for it. Kuzan became the target of many early game ganks from junglers and roaming supports a like in these games; add in the fact that his opponents in that stretch included SK Telecom, KOO Tigers, and KT Rolster, and it was somewhat expected to see a dip in performance from the rookie.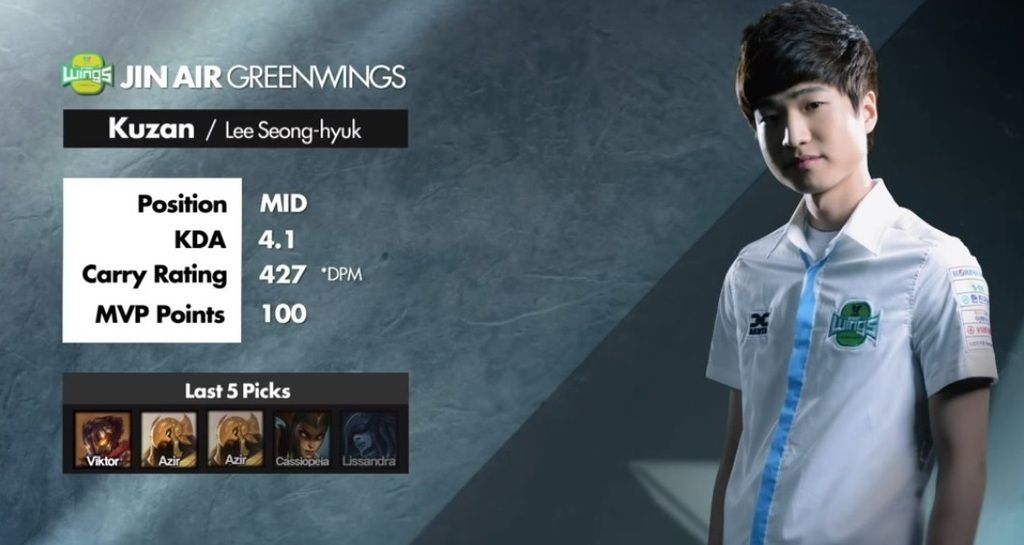 Still, Kuzan definitely added something more to Jin Air than his alternative. After his nine appearances in the Summer season, the stats spoke for themselves. Kuzan had the lowest average cs per minute of any mid laner in the region in Summer season, but actually held the highest cs differential at 10 minutes of all Korean mid laners.* That stat paints a picture of the kind of player that Kuzan is, he uses his advantages in lane to assist and uplift the team as a whole rather than try to solo carry. He sacrifices his farm in the mid and late game to whoever the carry for Jin Air is for that game, typically Pilot or Cpt Jack, leading to him also having the lowest average gold share of any mid laner in LCK last split (with at least eight games played). Those numbers seem somewhat bad, but not if you consider Kuzan as sort of an ultimate team player. The champions he played in Summer season the most, Azir and Lissandra, provide incredible team fight utility as well as damage. When he gets to play the early game the way he wants, he can roam the map and spread his advantages across to his team in a way that is very unique to Kuzan.
Part 3: Opportunity strikes again
Some controversy surrounded Jin Air in the offseason, after falling short in the Korean Regional Qualifiers. GBM was listed off the Jin Air roster before KeSPA Cup, leading many to wonder if changes were coming to the mid lane. The rumors were true, and it was announced that GBM would be departing for the NA LCS for the upcoming season, leaving Jin Airs starting mid lane role completely in Kuzans inexperienced hands. Without having seen Kuzan for a staggering seven patches, it was a bit of a mystery as to what he might pull out. His roaming style wouldn't likely be effective in a meta where mid and top laners ran teleport as a standard summoner spell. In his first game after a long absence, he pulled out his Lissandra vs Longzhu IM, and secured an awesome score of 7/2/3 despite losing the game. Kuzan for perhaps the first time in career looked like a true solo carry, pulling off great plays, but not having enough back up for it to matter. In games two and three, Kuzan pulled out a new champion for himself, but something fans of the competitive scene were all too accustomed to, Lulu. For a player who plays early game strong, and transitions into helping his team as the game progresses, there probably isn't a more perfect champion to match his style than ban worthy yordle. Adding both games together Kuzan was 3/2/20, and looked impressive in both showings, securing the 2-1 comeback victory.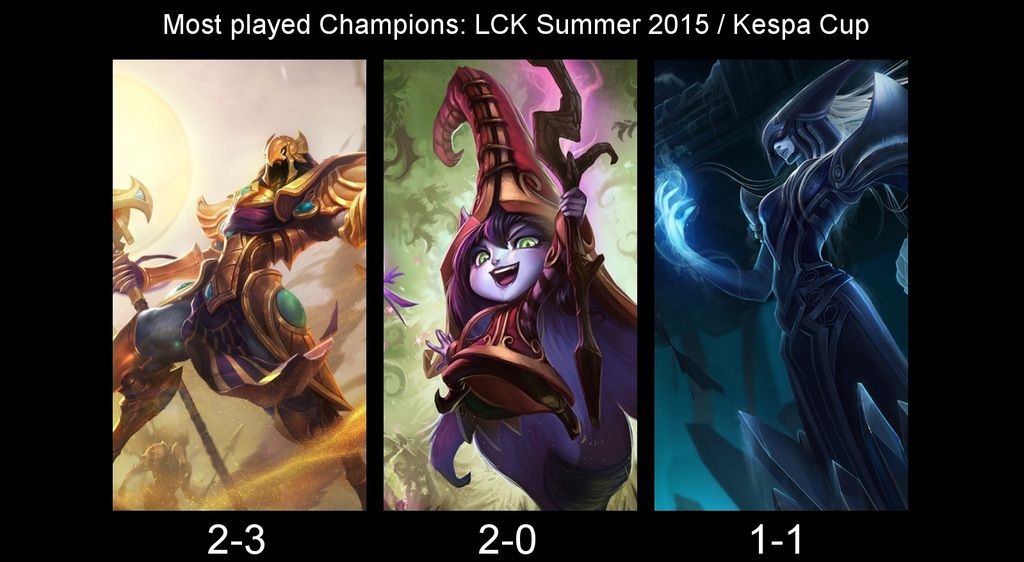 That win moved Jin Air and Kuzan onto the Quarterfinals, and a date vs CJ Entus. This series was destined to be a completely different story form the onset. CJ first picked away Lulu from Kuzan both games, and forced him onto the current style of carry mid laners, in this case, Gangplank and Veigar. While not necessarily bad, Kuzan was completely outplayed by CoCo in both games. He failed to react to teleport plays as quickly as the CJ Entus mid laner, and frankly was not close to having the same impact in team fights. The real positive here is that he only looked so poor because CoCo was having a killer day, something that 99% of professional mid laners would struggle to handle. However it remained clear, Kuzan still was not at the level of the elite tier Korean mid laners.
Part 4: Into the eyes of the world
Before KeSPA Cup had begun, Jin Air and IEM made the surprise announcement that the Korean e-sports club would be attending the next tournament in San Jose. Jin Air, having never played at an international event in League of Legends, seemed like a shock move to invite, considering their sixth place finish last season. Still, the opportunity for these Jin Air players to finally make an appearance before the international fan base had arrived, albeit at an awkward time.

Kuzan has still yet to prove that he is a player that Jin Air can win with consistently. He has shown a nice champion pool and a style of play that is as unselfish as it is effective. But for a mid laner who considers his rival to be Faker, he will have to show that his play is not only effective, but strong enough to lead Jin Air against some of the world's best. Their opponent in the semifinals will be the winner of Unicorns of Love and CLG, offering an opponent that is guaranteed to be more disorganized then Jin Air, and for that matter, a very beatable team. What this tournament and future hold for Kuzan is still unpredictable, but at the very least, he will have his shot at making a name for himself before the eyes of the world, and if his debut in LCK Summer is any implication as to how he handles pressure, don't be surprised to see him supporting Jin Air to an IEM finals victory.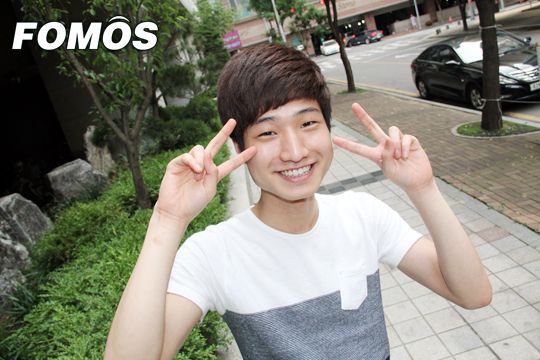 Thanks for reading and please check out my twitter @ablindpuppy for more LCK related content!
Sources
esportspedia : General Information, Statistics
LOL Ongamenet: Pictures
Azubu: Pictures
Lolesports.com: Pictures
Fomos.kr: Pictures
lolesports youtube channel: VODS
*Oracleselixir.com: Statistics
wallpapereditor.com: Graphics