One of the most influential casting duos in recent esports history is leaving behind the role that helped catapult them to fame.
Christopher "MonteCristo" Mykles and Erik "DoA" Lonnquist will not cover the 2017 season of League Champions Korea, the league which the two helped popularize due to their unique blend of analysis and humor.
Their vacancy in the league will now be filled by Chris "Papasmithy" Smith, Seth "Achillios" King, and a still-unnamed third commentator.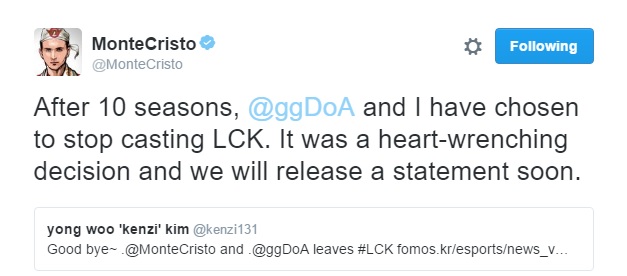 The writing has been on the wall for some time, however. The duo recently covered competitive Overwatch at the 2016 World Championship hosted by Blizzard, as well as the South Korean Apex league which is broadcasted on domestic TV-station OGN (OnGame Net).
Though widely respected in the League community, the duo was never shy to air their grievances with the game's developer Riot Games. Last year, MonteCristo, DoA, and Papasmithy released a joint statement criticizing Riot for offering freelance commentators a rate far below the industry standard, and as such declined to attend the 2016 Mid-Season Invitational in Shanghai, China in May.
MonteCristo clashed with Riot again after the developer forced him to sell his stake in his team, Renegades. The developer alleged that MonteCristo had an agreement to return part of the organization to his former co-owner, Chris Badawi, who'd been banned from owning the team earlier in the year. Riot also alleged that the Renegades had "endangered" player welfare and had a hidden business relationship with Challenger side Team Dragon Knights.
MonteCristo denied all the charges and backed up his denials with a long YouTube video and volumes of documentary evidence. As his split from Riot became deeper, he became an advocate against developer overreach, eventually helping to push Riot's hand in adopting more progressive policies towards revenue sharing and other issues.
At this point, it was pretty clear that the relationship between MonteCristo and Riot was mostly irreparable. Neither he nor his longtime casting partner DoA worked the League of Legends World Championships. While Riot's game remains the most popular esport in the world and likely won't take much of a hit from losing a caster, no matter how popular, Overwatch's esports scene is far more nebulous. The addition of MonteCristo and DoA to the casting talent pool for Blizzard's wildly popular game could be a huge boon as its esports scene begins to grow and mature.