Baron. A name that evokes fear and wonder among League of Legends players worldwide. The "great and scaly worm… creature… thing," as nicknamed by Riot, is the most hotly contested objective in League. Those that destroy the beast are given a game-changing buff. But the consequences of failure are often equally catastrophic.
Baron Nashor spawns at 20 minutes in a semi-circular pit located in the upper left quadrant of Summoner's Rift. It is hard to take down but gives all living members of the team that kills it a tremendous buff (die, and you lose it). The buff enhances champion stats, but most importantly, it empowers nearby allied minions. This allows a team wearing Baron to siege towers relentlessly.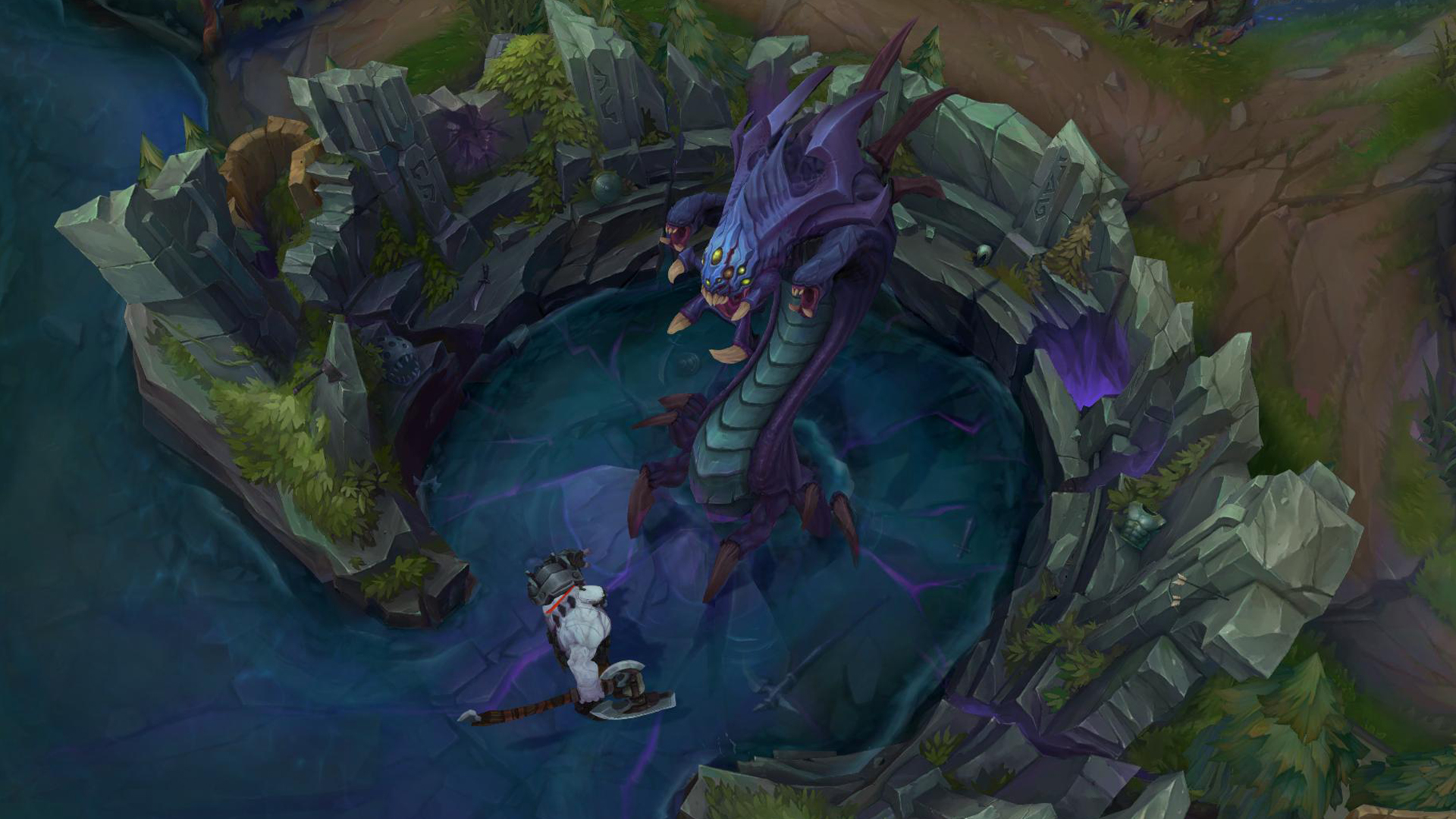 Baron Nashor's power is such that even the best players in League, playing on the World stage, can fail at the Baron pit. At the Season 6 World Championships last October, favorites SK Telecom T1 were in total in control of both the series and the deciding third game—right until they threw at the Baron pit. Twice (more on that later).
If the best team in the world can almost fumble the Championship at the Baron pit, what hope do the rest of us have? That's why we've put together a handy guide for how to not fail at taking the Baron.
Ask yourself: Is Baron even a good idea?
The first rule of Baron is: Don't risk it if it's not necessary. Many games can be won without even thinking about the Baron. In Week 4 of the NA LCS Spring Split, we saw a series between CLG and Phoenix1 that featured an slew of Baron throws from both teams. One such throw came in a situation where Phoenix1 didn't need Baron at all.
Phoenix1 had CLG in a tough spot. As seen in the picture-in-picture, P1 had diligently built a huge minion wave in the bot lane that would have destroyed the CLG inhibitor. CLG were missing both of their teleports and P1 had vision of CLG in the mid lane. There was no way for CLG to respond to both the Baron threat and save the inhibitor.
All P1 needed to do was distract CLG while their minions hit the inhibitor. The bot lane inhibitor is the most valuable because it is the furthest from the Baron pit. Super minions in that lane would keep a CLG member there, giving P1 a five minute window to force a Baron fight with a numbers advantage.
Instead, P1 tried to take the Baron and failed. The nail in the coffin though was P1's complete lack of vision around the objective. They never saw Jake "Xmithie" Puchero coming, making for a straightforward steal attempt. That brings us to the next point.
Establish vision
Earlier in the same CLG vs. P1 game, CLG was in control having destroyed P1's top lane inhibitor. Surely there couldn't be two throws in the same game, right? Well, it's the LCS, so that's exactly what happened. Once CLG saw P1 mid laner Yoo "Ryu" Sang-ook clearing the minions in top lane, they decided to sneak Baron. But the top lane is also the closest to the Baron pit and P1 controlled vision in the top side jungle.
It's a fool's errand to start Baron without vision. CLG's one ward on the back side of the red buff was not nearly enough, especially against a Varus who can poke through the wall. This article from Team Dignitas gives a good primer on neutral objective warding. The goal is to spot enemy engages, especially in bushes around the pit. Here are a few additional warding locations for teams on both sides: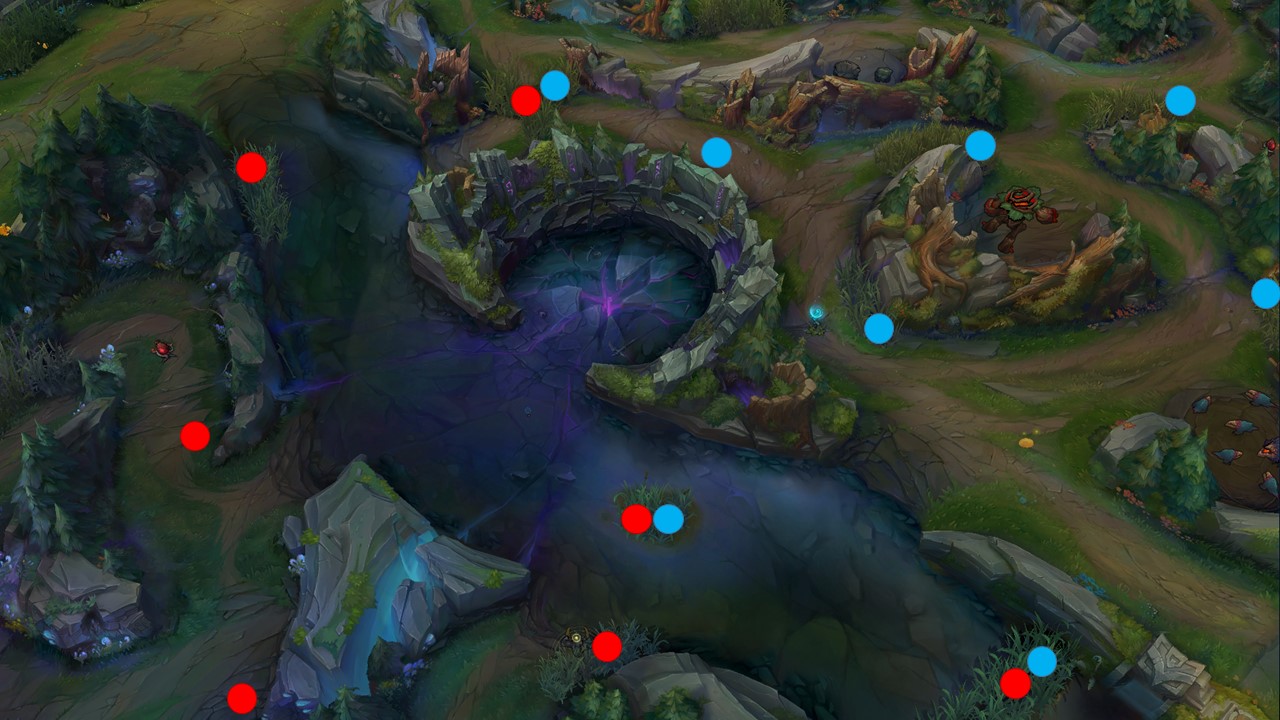 Remember, this is just a start. Ideally, your ward line would be pushed even further–warding into the mid lane and past the blue buff (from red side) and red buff (from blue side) is encouraged. Your ward line also needs to take into account the potential for long-ranged snipes by the enemy team. Oh look, another example from the same CLG vs. P1 series.
P1 doesn't need support Adrian Ma in the pit; he should be setting up wards to spot Varus on the other side. The wards they did place at the back of the pit can't see past the bushes and Trevor "Stixxay" Hayes is able to queue up a miracle steal. Oh, and Varus is just a stupidly overpowered champion right now.
You may be thinking: is this just an LCS problem? No. In fact, we don't have to look very far for an example of a botched Baron call featuring two of LCK's best. This play in the ROX vs. SKT semifinal at last season's World Championship decided the match.
ROX tried to push their advantage and rush the Baron while SKT was in base. But they had zero vision, allowing Bae "Bengi" Seong-ung and Bae "Bang" Jun-sik to clean up. That's how important vision is.
Rushing vs. Turning
In that example, ROX tried to "rush" the Baron, focusing all damage on the objective to take it as quickly as possible. Another strategy is to "turn" the Baron: Do enough damage on the Baron to draw the other team into a fight. The goal of a turn is to win the fight first, or at least kill the jungler to reduce the probability of a steal. ROX didn't get to the semifinals at Worlds without objective control and in this next clip, they show how a high-level team should turn the Baron.
For several seconds, ROX kept the Baron at around 2,000 hp, too high for SKT to steal. Only after they killed SKT's jungler do they take down the Baron. That Kim "PraY" Jong-in out-played Lee "Faker" Sang-hyeok in the ensuing fight was just icing–ROX had already won the engagement. That game will be remembered for ROX's pick and execution of support Miss Fortune, but a key moment was the team showing proper respect and patience in the Baron pit.
Communication is notoriously difficult in solo queue games, and the rush vs. turn decision is not one you want to mess up. Split decisions can be devastating as some team members rush while others try to fight. If you decide to do Baron, make absolutely sure your team is all on the same page for what to do when enemies show up.
Designate a bouncer
Many times, a team doesn't need all its members to take down Baron. In these situations, it's wise to designate someone as a bouncer whose job is to keep others out of the pit. In many cases, trading one teammate's life for Baron on the others is a positive play.
Blue side teams have a harder time controlling vision because of the wall at the back of the pit, so they'll often want someone with CC hanging out on the other side of the wall. Red side teams should place someone in the river bush (after sweeping it first). The bouncer should seek to zone the enemy team while deciding whether to rush or turn the objective.
Getting out
You might think that once you've killed Baron, you've made it. But getting out of the pit can still be tricky. It's easier for red side teams to control vision, but it's also harder for them to get out of the pit. As an example, we'll turn back to the Season 6 World Championship.
This was the throw that almost changed history. Until this point, Samsung had shown no ability to slow SKT down. SKT had the Elder Dragon buff and successfully captured Baron. But Faker and Bengi were stuck in the pit. Curiously, both elected not to flash out and were killed.
Still, SKT was okay. They were at a numbers disadvantage, but had Baron buff on three people. Then Lee "Duke" Ho-seong went back in and was taken down. Now with four against two, Samsung destroyed two inhibitors, took the game, and rode that one fight all the way to game five, nearly toppling the SKT dynasty.
After taking Baron, have a strategy for how to get out (or fight). Make sure your team is going the same direction and is covering each other's escapes. If necessary, leave someone behind so that the others can recall with the buff. Don't be afraid to spam ping teammates to fall back and where to retreat to.
Take it if it's free
So far, we've looked at several examples where Baron is a risky call and requires one team to outplay another in the pit. But the best way to take Baron is to combine all the strategies above and try to take Baron when the enemy team can't even get close. To do so, you need strong vision control of the Baron area and the enemy team. You need pushing lanes, especially mid lane, that require attention from enemy carries. And you need a strategy for what to do and how to do it.
SKT has romped through the LCK again this year, and objective control remains a strength. This completely free Baron against the mid-tier BBQ Olivers is a master class in Baron strategy—note where the wards are and how safe SKT is playing.
Look at where the lanes are: Totally shoved in against BBQ. SKT spent several minutes preparing by clearing the BBQ red side jungle of enemy wards and putting their own vision down. And they pull support Lee "Wolf" Jae-wan at the last possible moment to avoid alerting BBQ of what's going on. BBQ tried to get there but there's no chance. Wolf smartly tanks the Ashe arrow and SKT make out like bandits.
Watch closely, LCS folks. That's how you take a free Baron.
---
Baron Nashor is a worthy opponent. Respect its power and don't rush in haphazardly. If you establish vision, go in with a plan, and communicate with your team, Baron can be yours. Heck, do all that and your Baron calls will be crisper than those of most LCS teams.
Images and videos courtesy of Riot Games and LCK/SPOTV