Ranking the world's best League players seems like a fool's errand. Any such list is guaranteed to cause controversy and make fans upset over the ranking or exclusion of certain players. But that won't stop us from assembling super teams, KT-style, as we attempt to identify the best players of 2016.
Instead of just ranking the players, we assembled first, second, and third teams based on talent first, but also how the players fit together. Also, you'll find a few "safe" picks (Lee "Faker" Sang-hyeok at No. 1, duh), but where possible, we tried to think outside the box and come up with unconventional ideas. This is all in good fun and we wanted to stir the pot a little.
We can almost guarantee that you'll disagree with some (or most) of these selections. Let us know your thoughts and get a conversation going!
First Team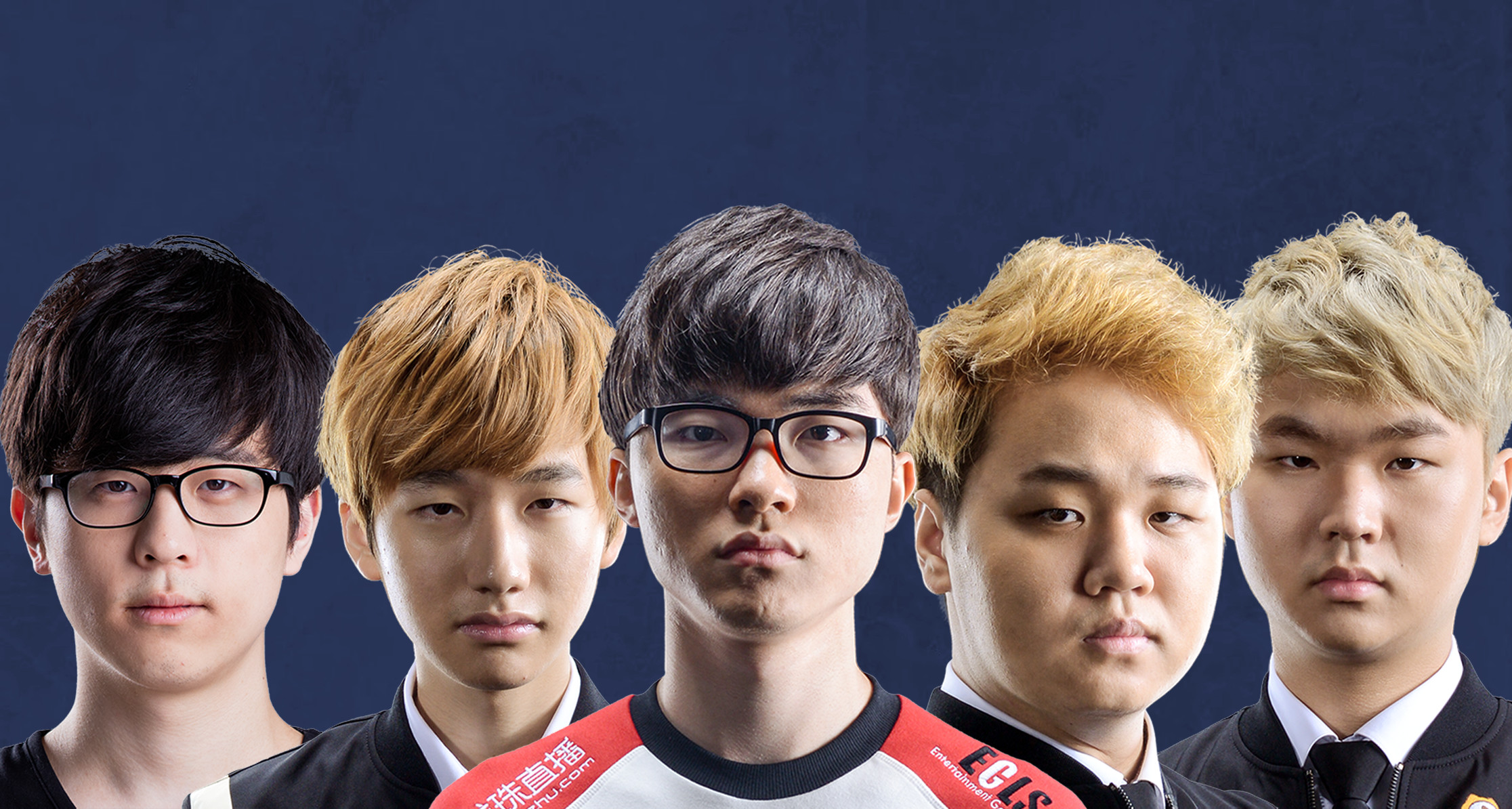 Looper
Peanut
Faker
Pray
GorillA
One of these things is not like the other. Faker in the mid lane is an obvious decision. So is keeping Kim "PraY" Jong-in and Kang "GorillA" Beom-hyeon together in the duo lane. That combination caused fits for SK Telecom T1 at Worlds, especially when GorillA pulled out a surprisingly effective support Miss Fortune out of nowhere. Innovate like that and hit every Ashe arrow as PraY did, and you make the list.
Rounding out the obvious choices is Yoon "Peanut" Wang-ho. There are a lot of junglers who could fit here. But Peanut had a fantastic year and SKT decided he was the best jungler to slot around Faker. Who are we to disagree?
That leaves the one wildcard: Jang "Looper" Hyeong-seok. Looper is obviously not Song "Smeb" Kyung-ho, two-time defending LCK regular season MVP and, before Worlds, the near consensus as the best player in the world, ahead of even Faker. How can it be that Smeb isn't on this list?
The answer is simple: We didn't want Smeb and Faker together. This has become League's premier rivalry, and putting them on the same team kills it. We don't even know if they like each other. And can you imagine Smeb after seeing three of his ROX teammates make the first team and him not on it? This is the ultimate chip for a player that has run through obstacle after obstacle on his way to the top.
As for Looper, he was great for Royal Never Give Up, often their best player. At Worlds, he played SKT's Lee "Duke" Ho-seong pretty even in lane, despite no pressure in the mid lane which resulted in little jungle help. He does well on both carries and tanks, and has World Champion pedigree.
Second Team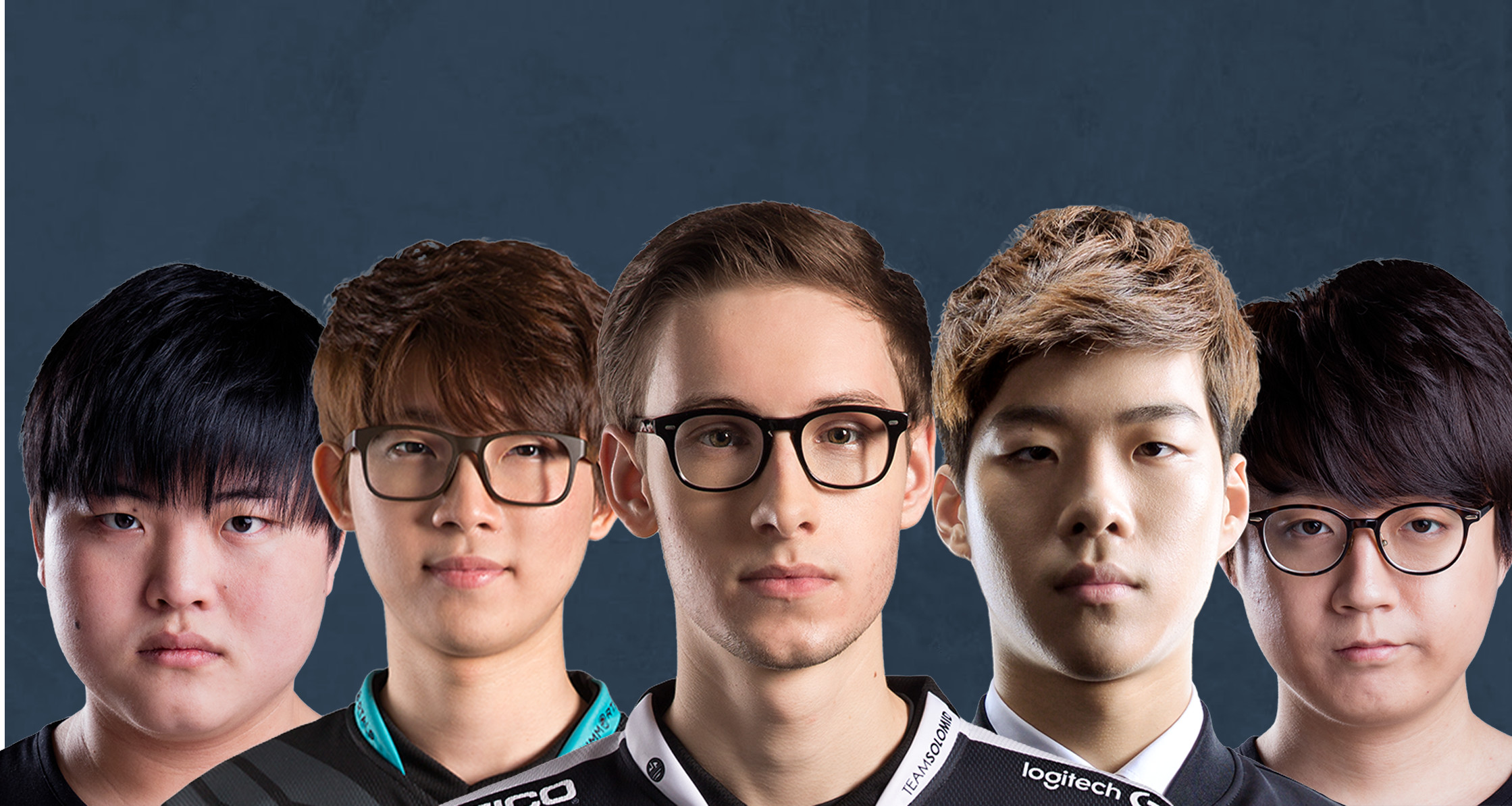 Smeb
Reignover
Bjergsen
Uzi
Mata
Smeb's torture ends here because putting him behind another top laner may break the internet. Joining him is his new KT teammate, Cho "Mata" Se-hyeong and Mata's old lane buddy, Jian "Uzi" Zi-hao. This team will funnel most of its resources into the top lane, so we need a self-sufficient AD Carry. Uzi fits that bill.
And then there's the jungle/mid combo. Soren "Bjergsen" Bjerg was by far the best member on TSM this year—what else is new? Even as they flamed out of the group stage at Worlds, Bjergsen had several carry performances. And throughout the year, he was one of the most consistent mid laners in any region.
To help Bjergsen out, we'll include Reignover, who had a standout year on a new team in North America. Sure, Immortals choked in the playoffs and missed out on major international tournaments, but that was hardly Reignover's fault. His ability to speak English and Korean will be what unlocks the potential of this team.
Third team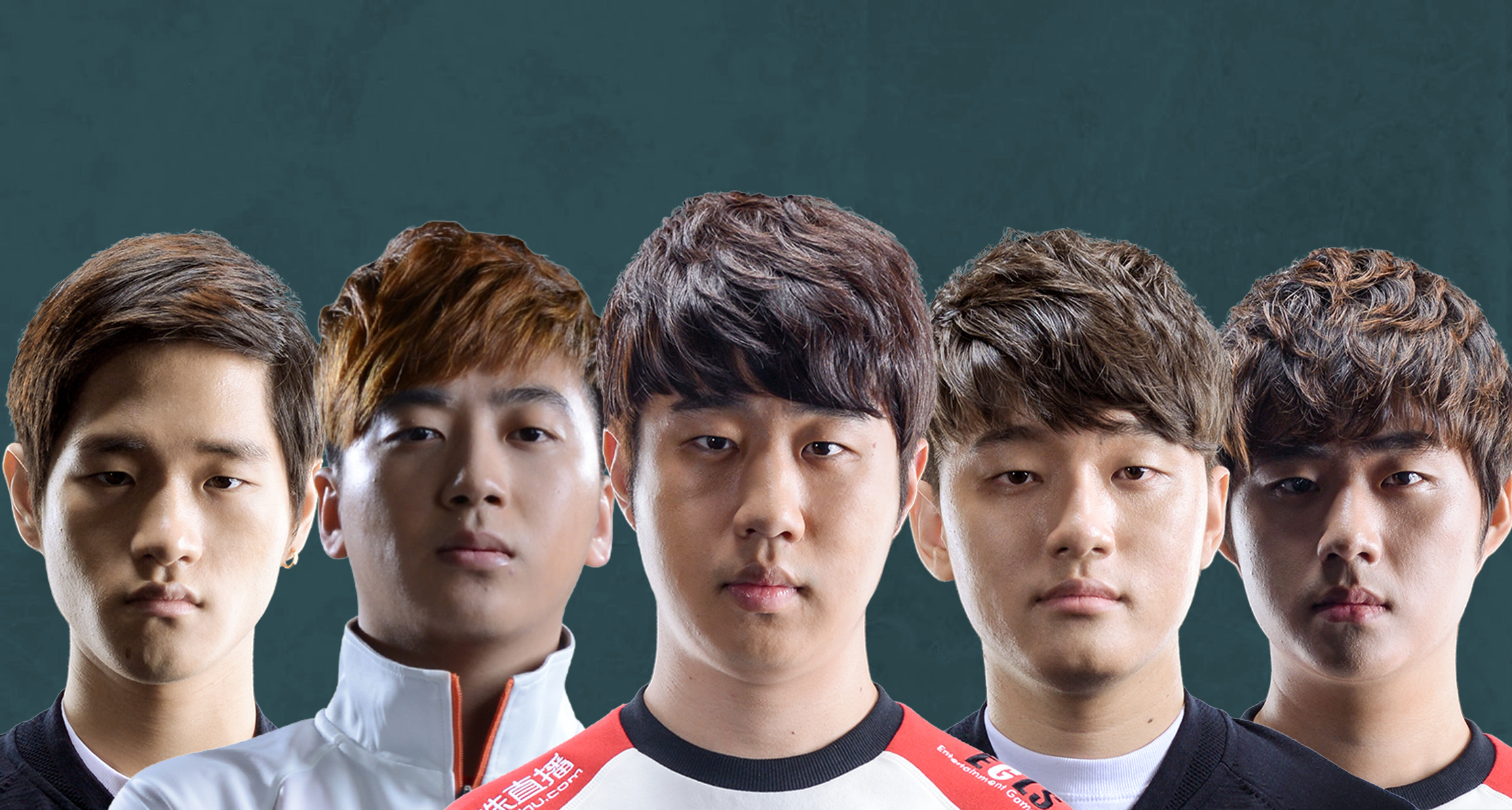 Duke
Score
Crown
Bang
CoreJJ
This team was the hardest to assemble, because we are now leaving people off entirely. ADC Bae "Bang" Jun-sik was again a monster. Ezreal, Jhin, you name it, he would carry on it. He was strong in lane and dominant in fights. It was hard to include Jo "CoreJJ" Yong-in after only seeing him in the last part of the year, but once he was inserted as a starter, the Samsung duo lane became unstoppable.
Samsung teammate Lee "Crown" Min-ho was outstanding at Worlds as well and was able to stand up to Faker. But the decision to include him over others like Song "Fly" Young-jin was very hard. Fly innovated Aurelion Sol in Korea and was strong in both splits, but Crown had the last laugh and gets the call here.
Fly also had the better jungler in Go "Score" Dong-bin, who is included on this list. Score only missed out on Worlds because of inconceivably terrible luck in the Baron pit. Finally, Duke is still a laning beast and deserves recognition for the way SKT played around him.
Bonus: First Team, Non-Korean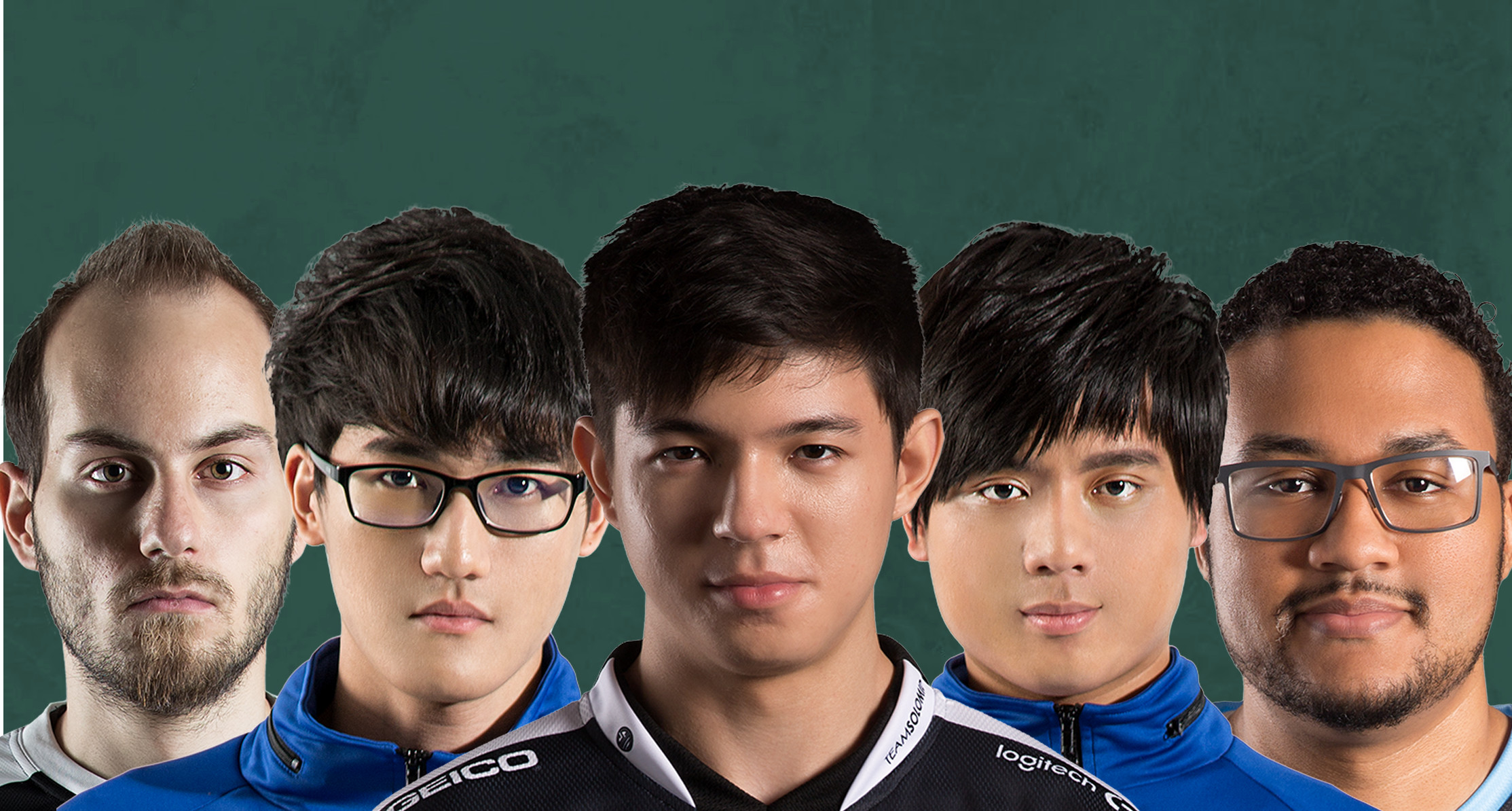 Korea is strengthening its grip on competitive League, and we got tired of picking player after player with Korean roots. We're also excluding non-Koreans who made one of the teams above (so no Bjergsen or Uzi).
Hauntzer
Karsa
Maple
FORG1VEN
Aphromoo
Huang "Maple" Yi-tang and Hung "Karsa" Hau-Hsuan deserve some love after another outstanding year. The toughest part of this group was top lane, where Kevin "Hauntzer" Yarnell barely made it over a fellow LCS player and an LMS star. Hauntzer was a rock for TSM and despite the poor finish, we can't ignore the team's success throughout 2016.
In the duo lane, AD Carry Konstantinos "FORG1VEN" Tzortziou is well versed with flying alone in the bot lane. I'm not sure how good Score's English is, but it's fair to say that any attention FORG1VEN gets from the jungler is icing on top. He was a beast all year when he wasn't hopping from team to team. Zaqueri "Aphromoo" Black gets a spot because of his shot calling and CLG's amazing performance at MSI, where they made the finals in dramatic fashion. There were better supports than him at the end, but he was as rock the whole season.
That's it for 2016! It was a great year and many more players deserved to be on these teams. Let us know what we got right or wrong and we'll get started on 2017.