.
'My name is Ozymandias, king of kings:
Look on my works, ye Mighty, and despair!'
Nothing beside remains. Round the decay
Of that colossal wreck, boundless and bare
The lone and level sands stretch far away.
Percy Shelley's "Ozymandias"
All dynasties end. That's a fact. No king, no tyrant, no emperor, no country rules forever. The monuments we make, the trophies we get, the possessions we attain, all will inevitably return to dust. The only thing that makes us immortal are the stories we leave behind amd the actions we take that reverberate throughout history.
The NiP era ended long ago. Yet the history of the team remains. The most dominant team in the first 2 years of CS:GO. An astounding record placing top 4 in 31 straight tournaments, the 87-0 record, 1 Major victory and the ability to pull out insane comeback maps and victories that could only be dubbed as magic. Even when the inevitable roster shuffle happens, the achievements they won and the story they wrote will be remembered long after the team has disbanded. Their dominance was such that no one believed any other team could ever go beyond what they had accomplished, but one team had.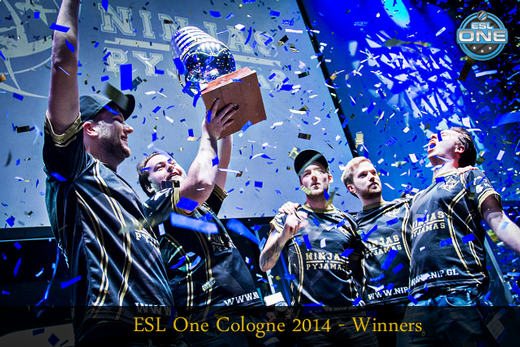 The Fnatic era that extended from the latter half of 2014 to now was did amongst jeering, boos and generally hostile crowds. None of that mattered. You could hate them all you want, but you could never take away their skill, their accomplishments or their record. The best and most consistent team in the most competitive era of CS:GO. 2 Major victories. 22 top 4 finishes, 13 titles. They have ruled the CS:GO with an iron first, yet in the next coming Major, DH Cluj-Napoca, they will for the first time in a long time, not be the favorite to take the whole thing.
In Fnatic's last three lan outings,they got top 4 at ESL ESEA Pro League Invitational, Top 2 at Gfinity Champion of Champions, and 3rd at PGL Season 1. While the placings themselves are good, it is the context of what happened in each tournament that matters. At ESL ESEA Pro League, they lost to TSM in a close overtime match in the group stages, before getting beaten handily by Virtus Pro 2-1 in the semis. At GFinity, they beat Nip to get to the finals where they lost the series 2-3 to EnVyUs. At PGL, Fnatic showed lost to both TSM and VP to get 3rd in the tournament. Fnatic has never looked so weak as now.
And perhaps more importantly, there are three teams that seem poised to try to knock them off the throne: VP, EnVyUs and TSM. VP are always dangerous and always in contention. And if they can get the Virtus.Plow come online (Something that no one really understands why, how or when it does), they can defeat nearly anyone. EnVyUs look to be getting stronger by the day and took revenge on Fnatic for the loss at ESL ONE Cologne with a victory at Gfinity. TSM have always had an edge against Fnatic when it came to head to head matchups, but now the team seems stronger than ever after their PGL victory and with dev1ce inheriting the throne as CS:GO's best player.
It all seems to be coming to a head. Three different teams have risen in strength. All three can topple Fnatic. Fnatic has been looking weaker than ever and man for man doesn't havethe same firepower as TSM, EnVyUs or VP. A fall looks inevitable, yet that was what I thought when I saw Fnatic play VP at ESL ONE Cologne in the semi's and EnVyUs in the finals. In order to win the last Major, Fnatic had to pull out miracles. This could be one of the most critical tournaments in CS:GO's history. A test to see if Fnatic can continue their reign of dominance over the CS:GO world or it could be the place where the fall of their empire begins.